10 Things the LA Lakers Can Provide Dwight Howard That Other Teams Can't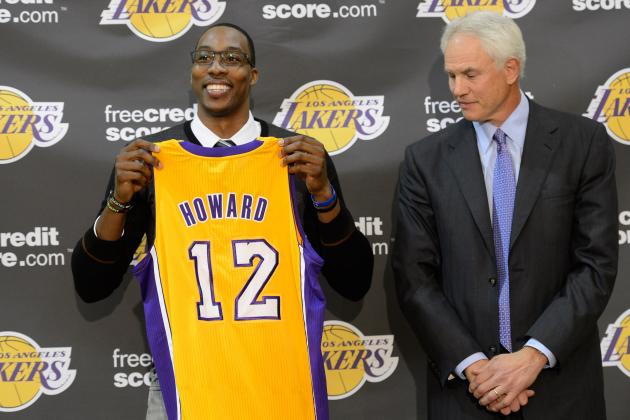 Kevork Djansezian/Getty Images

To many fans across the NBA, the concept that Dwight Howard will be wearing a Los Angeles Lakers uniform when this season tips off is still quite shocking.
Just a few short months ago, it seemed that there was no way the league's top center would find his way to the City of Angels and that he would either be taking his talents to Brooklyn or Dallas for at least one year.

However, a blockbuster deal was brokered between Los Angeles, Philadelphia, Denver and Orlando and Howard now finds himself running the floors alongside Kobe Bryant, Steve Nash and Pau Gasol in the Staples Center.
Although he has not formally committed to staying in Los Angeles beyond the 2012-2013 season, after which he will be an unrestricted free agent, it is widely speculated that he will remain in L.A. for the long haul.
The Lakers are one of the league's most successful and storied franchises and with that are able to offer D12 certain things, both on and off the court, that no other ball club could have offered him to the same extent.

A player of his caliber could easily have gone to any team in the NBA, but here are 10 things provided to Dwight Howard by his new team that will keep him in Los Angeles once the summer of 2013 rolls around.
Begin Slideshow

»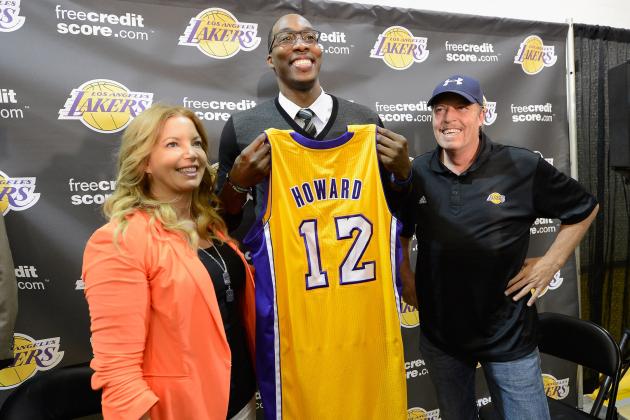 Kevork Djansezian/Getty Images

This one is pretty simple: if you play for the Los Angeles Lakers, you get to live in Los Angeles!

Many were surprised by Howard's past reluctance to be traded to L.A., given that it is a pretty much ideal place to live with warm weather, beautiful women and celebrities aplenty, but the big man seemed adamant that he only wanted to play for either Brooklyn or Dallas.

However, Howard spent time rehabbing from his back surgery in Los Angeles and clearly grew to fancy the city. Howard reportedly did not want to go to Chicago, per CBS' Ken Berger, and many believed it was because of the nature of the city and its cold weather.

For someone who adores the spotlight as much as Howard, who is renowned for his humorous attitude and playful nature, living in Los Angeles is perfect for him. He will be one of the main attractions in a media-minded city that will give him plenty of opportunities be the center of attention.

Living in Los Angeles allows Howard to remain in the kind of environment he clearly wants to be in while also giving him opportunities to pursue his passions outside of basketball, one of which is acting, as he has appeared in several Disney projects, including providing the voice of Disney's Rock Callahan according to NBC Sports' Kurt Helin.

Los Angeles is a city obsessed with its celebrity culture and there is simply no better place for a player who feeds off of public adoration to reside and play professional basketball.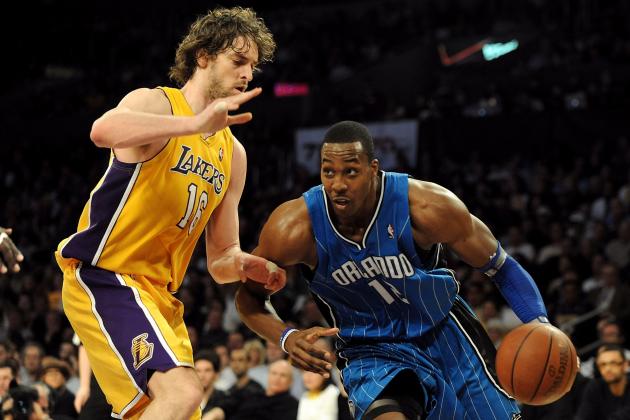 Harry How/Getty Images

With the Orlando Magic, the team was only as good as Howard's play. When he had a stretch of monster games, threw up 20-20s regularly and played elite defense, they looked like potential championship contenders, but when D12 played poorly, the squad simply had too little talent to continue playing at an elite level without him.

In Los Angeles, this won't be a problem. This Lakers team boasts plenty of talent at every position on the court and is more than capable of winning games even if Howard isn't the best player on the court.

Bryant and Nash can make plays on the offensive end and Gasol and Jordan Hill can crash the glass, meaning Howard does not have to be a dominant force on both ends of the floor night in and night out for Los Angeles to be competitive against the league's better teams.

Orlando's offense revolved around spacing the floor for Howard and his ability to find open shooters or attack the basket. When the Magic's three-point shooters weren't connecting, teams crowded the paint and made life very difficult for the star big man.

However, the Lakers have plenty of firepower both in the starting lineup and off the bench, both on the perimeter and in the paint, meaning that if a team keys in on Howard, the Lakers' offense will not sputter much.
When the Magic played teams with elite defensive big men like the New York Knicks last season, it was not as easy for Howard to assert his will and the rest of the team could not pick up the slack, but that should not be an issue during his tenure with Los Angeles.
L.A. needs Howard playing his best in the playoffs, but he can afford to have his share of off-nights during the regular season.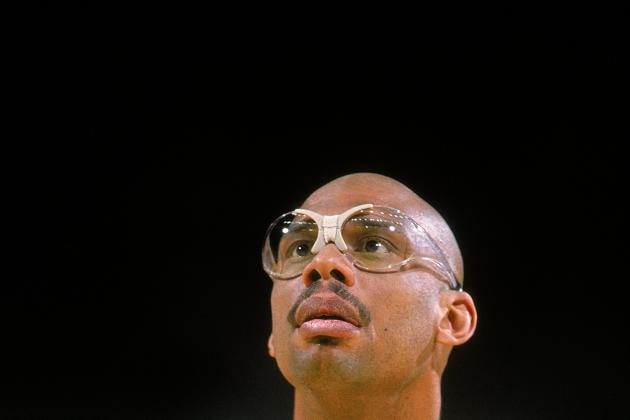 Stephen Dunn/Getty Images

When a basketball fan thinks of the Lakers' franchise, some of the first images that pop into their minds are those of George Mikan, Shaquille O'Neal, Wilt Chamberlain and Kareem Abdul-Jabbar patrolling the paint and manning the middle for Los Angeles. The Lakers have had some of the best centers in the history of the NBA and Howard now has the opportunity to join their ranks.

Howard has often been criticized for his lack of growth over his NBA career, but now has the incentive of living up to the expectations of a Los Angeles fanbase that has seen some of the league's best bigs earn rings in a Laker uniform.

Shaq won a trio of Finals MVP awards and played the best basketball of his career with L.A., while Abdul-Jabbar and Chamberlain both extended their legacies and manned the paint for some of the best teams in the history of the NBA.

Even if Howard doesn't improve statistically, which is unlikely given the amount of talent has has around him, he can improve as a leader both on the court and in the locker room by looking at the players who came before him and what they accomplished when they were in his shoes.

Previously, Howard only had O'Neal, the best center in Orlando Magic history, to look up to, but now he has several of the greatest players to ever swat shots and finish at the rim whose play and impact he can strive to replicate.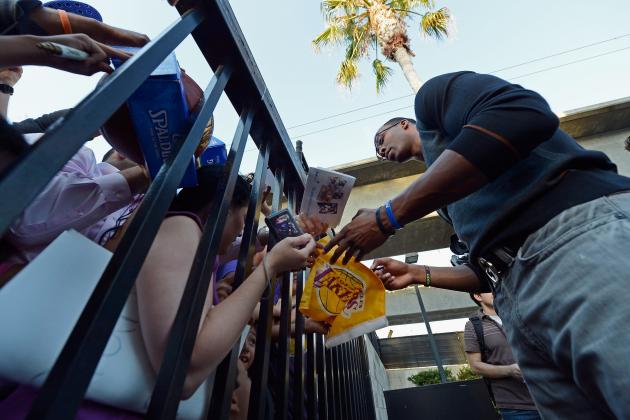 Kevork Djansezian/Getty Images

This may seem like a contradiction of the earlier slide where I stated that Howard now has the ability to have the occasional poor stretch or fluke game and still be a received positively, but that was in reference to a few games during the course of the season and not the overall campaign.

To put it simply, there are few fanbases in the NBA as rabid as Laker Nation. They worship the team, sell out every game and expect their squad to be perennial championship favorites, even when that happens to not be the case.
These kinds of expectations will be new to Howard, who is coming from an Orlando culture where many fans were content to have a relevant team that received consistently high playoff seeds.

For Los Angeles fans, a season that ends in a second-round playoff defeat or even a Conference Finals loss is viewed by many as a disappointment and with the upgrades the front office has made over the summer there is no reason to expect that to change.
Many have already penciled these Lakers in as favorites to raise another banner, and these certainly include those who live and breathe Los Angeles basketball.

These fans are extremely passionate and knowledgeable. They will not tolerate prolonged mental lapses from Howard, a perceived lack of effort or an underwhelming performance in the postseason.

They demand the best from their athletes and as a result they usually either rise to the occasion or wilt under the pressure. Howard has the talent to flourish with these expectations and playing in front of a crowd that expects rings and knows what a dominant center looks like could potentially fuel him to reach an even higher level of play.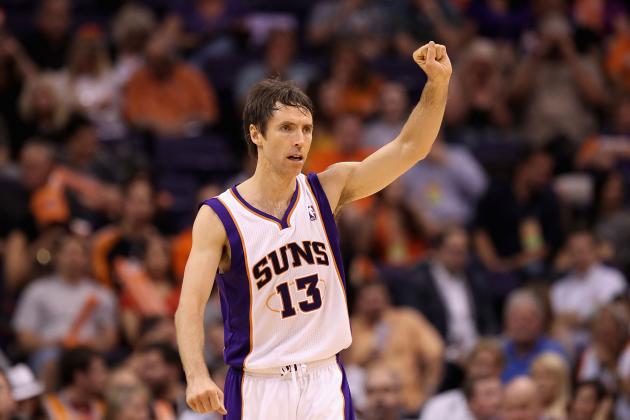 Christian Petersen/Getty Images

There are plenty of teams in the NBA with elite point guards, but with the exception of Boston's Rajon Rondo, none of them have the kind of passing talent possessed by Steve Nash, even at his current age.
Nash remains one of the best pure point guards in the league because of his ability to see the floor, find open teammates and run the pick-and-roll to perfection.

In the 2011-2012 season Nash nearly snuck a Phoenix team with little quality talent into the playoffs and averaged 12.5 points, three rebounds and 10.7 assists per game. He was narrowly edged out by Rondo for the league's assist title and looked every bit as sharp handling the ball for the Suns as he did during his prime.

Nash always makes his teammates better because of his understanding of where to get them the ball to create scoring opportunities. Playing with Nash, big men like Dirk Nowitzki, Marcin Gortat and of course Amar'e Stoudemire have played some of the best basketball of their careers, and there is no reason to think Howard won't follow suit.

Nash is widely considered one of the league's top pick-and-roll playmakers and with Howard rolling to the rim, they should form an absolutely unstoppable tandem. Nash's shooting ability will open up room for Howard to work down low, and the two will also be a force running the floor in transition with Nash spotting him at the rim for some thunderous dunks.

Because he is rarely looking for his own shot and always trying to keep his teammates active and engaged offensively, Nash is the perfect point guard to play with Howard, who has been stuck sharing the court with a declining Jameer Nelson over the past few seasons.
The two should find instant chemistry and consistently bring out the best in each other as the year goes on.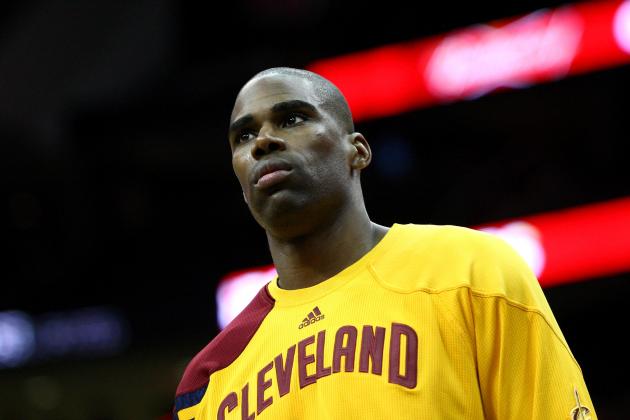 Chris Chambers/Getty Images

When the Orlando Magic were playing their best basketball and ultimately made it to an NBA Finals, it was because they surrounded Dwight Howard with talented shooters that could stretch the floor, keep a defense honest and create space in the paint for Howard to use his brute strength and athleticism to score at the basket.

These Los Angeles Lakers have made moves this offseason to become one of the best outside shooting teams in the league and have a number of players that can knock down shots in spades from the perimeter.

Although Kobe Bryant shot just 30.3 percent from three-point range in 2011-2012, he is always a threat to heat up from distance in an instant and must be guarded closely at all times. Pau Gasol has an excellent post game but is also capable of playing the stretch-4 role and drawing opposing big men away from the basket with his shooting.

Steve Blake shot 33.5 percent from distance last season and is a catch-and-shoot threat along with Metta World Peace, while new acquisitions Antawn Jamison, Jodie Meeks and Nash have all proven to be reliable shooters during the course of their careers.

Because of players like Jamison and Gasol, opposing forwards and centers will be forced to guard the perimeter and it will be more difficult for teams to clog the paint. Los Angeles struggled to hit outside shots last season and as a result, teams could key on Andrew Bynum, but that should not be the case for the 2012-2013 season.

In the event of a double-team, Howard has a myriad of options that can knock down the open shot, and it will be more difficult for teams to throw a second man onto the Lakers' center when they know the unguarded man is capable of burning them off the catch.

It is crucial for a team with a dominant big man to have consistent floor spacing, and Los Angeles' bolstered roster features plenty of perimeter marksmen that should have excellent shooting seasons.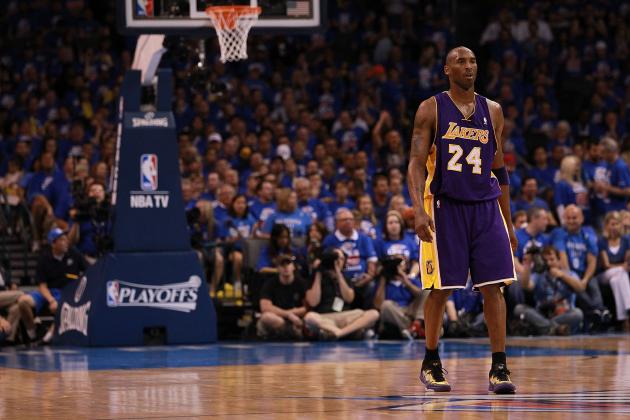 Ronald Martinez/Getty Images

There were stars in any city Dwight Howard was considering playing, from Dirk Nowitzki in Dallas to Deron Williams in Brooklyn, but none of them shine as bright as Kobe Bryant.
Bryant is coming off of another brilliant season in which he was narrowly beaten by Kevin Durant for the scoring title, as well as a gold medal run in the London Olympics.

Even dealing with knee and finger issues all season, the 34-year-old shooting guard still averaged 27.9 points, 5.4 boards and 4.6 assists per game while shooting 43 percent from the floor and playing his typical high-level perimeter defense.

Though Bryant and Howard will need some time to learn each other's games and how to co-exist in the alpha dog/superstar role, they are both elite talents who could very easily form one of the NBA's most unstoppable one-two punches.

Bryant will need to work on deferring to Howard rather than taking difficult shots from the perimeter, and Howard must be aggressive in calling for the ball, but the two have skill sets that should suit each other well.

Howard's ability to protect the rim and play dominant help defense will allow Kobe to conserve his legs a little defensively and stay sharp for the grueling 82-game season, while Bryant's penetrating and shooting ability will take some of the offensive pressure off of Howard and create more open looks for him in the paint.

Bryant is also a natural leader who has played with some of the best big men in recent league history and will be able to push Howard to play his best basketball.
He also knows what it takes to win a championship and will be able to impart that knowledge onto Howard, who has never played with a veteran of Bryant's caliber in his career.
They may not gel instantly like Howard and Nash should, but if they can develop chemistry, the tandem of Bryant and Dwight is more than enough to power Los Angeles back to the Finals.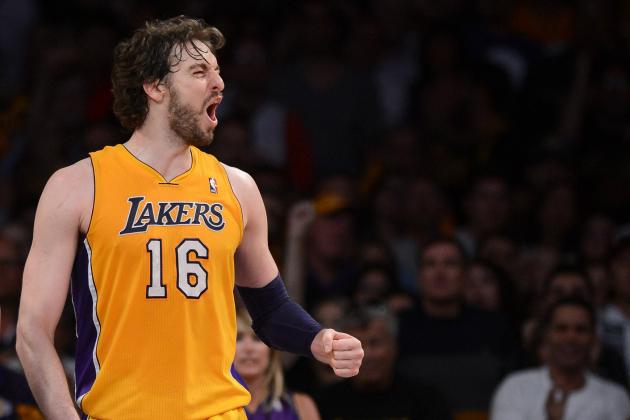 Harry How/Getty Images

Over the past two seasons in Orlando, Howard had been essentially the team's only serviceable big man, save for Ryan Anderson.
Dealing Rashard Lewis and Marcin Gortat left the team with little front-court depth and as a result, Howard was forced to play absurd minutes every night with little consistent rest. Even with Anderson's shooting and offensive rebounding, he was really the only player making a consistent impact in the paint for the Magic.

In Los Angeles, this will not be a concern. The Lakers have assembled one of the league's deepest and most versatile front courts, featuring a number of talented players that can impact the game in a myriad of different ways and who should complement Howard nicely.

Antawn Jamison is coming off of a season in Cleveland where he averaged 17.2 points, 6.3 boards and two assists per game for the Cavaliers. He thrives as a stretch-4 creating mismatches and camping out on the perimeter, fitting the Anderson mold, but is also capable of working with the ball in his hands and contributing on the glass, too.

Jordan Hill found a role with the Lakers last season after being traded from Houston, averaging a solid 4.7 points and 4.4 rebounds off the bench. He is capable of making an impact on the boards, playing inside and doing the little things like drawing charges and running the floor to help his team win games.
The newly acquired Earl Clarke should fill a similar role in the rotation, albeit in fewer minutes per game.

At the heart of Los Angeles' frontcourt, though, is Pau Gasol, the All-Star power forward who should fit perfectly with Howard. He averaged 17.4 points, 10.4 rebounds and 3.7 dimes per game last season while shooting 50.1 percent from the floor and is among the NBA's most talented and polished seven-footers.

Gasol is an excellent interior passer who can find Howard open in the paint and is also capable of blocking shots, rebounding the basketball and stretching out a defense with his outside shooting.

Howard should see his minutes decrease slightly next season and will have to shoulder less of the burden in the middle, thanks to Los Angeles' rotation of bigs.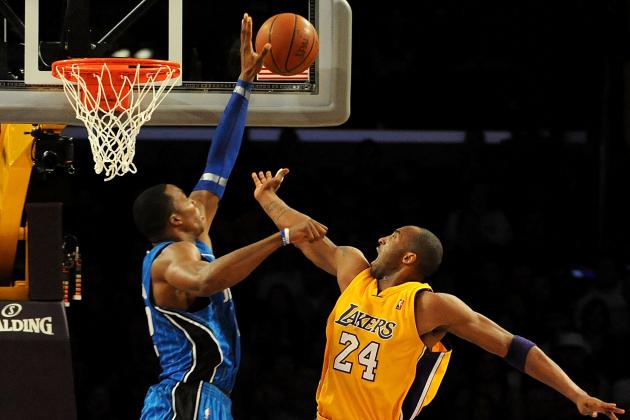 Harry How/Getty Images

These Los Angeles Lakers are undoubtedly championship contenders next season and for the foreseeable future, but beyond that, things start to become incredibly cloudy. This squad is clearly built to win now and was assembled with little thought for the future beyond the contracts of Nash and Bryant.

While Howard is just entering the prime of his career, he is also coming off of a disheartening back surgery and it is still unclear in just what shape he will return in and how it will impact his game which relies so heavily on athleticism and high-flying.

Nash is on a three-year deal, but at 38 it is unclear just how long he will continue to play at a high level and he has started to show some signs of wear over the past few years.
Signing with Los Angeles was clearly an attempt to grab a ring before he hangs up his high-tops and it is difficult to see him remaining in the league after he turns 41, even if he is still a tremendous passer.

Bryant is just 34, but has an absurd amount of NBA mileage on his body and has already had a long and illustrious career. He has had ongoing problems with his knees and hands, and it is difficult to see him remaining in the NBA for too many more seasons, especially with his legacy effectively secured.

Even Gasol, who is 32, has started to show declines in his production and sixth man Jamison turned 36 this past June.

From the start of the season these Lakers will be playing with a sense of urgency, because unlike clubs like Miami or Oklahoma City that seemingly have infinite title windows, this Los Angeles team's hopes of raising a banner rely heavily on the health and production of a number of veteran players.

The addition of Howard gives them a player to build around for the future, but the Lakers' front office has made moves to create a veteran-filled team that knows how to win games, but they have also drastically aged up their team in an effort to earn another title over the next three seasons.

The play and demeanor of this team should reflect this sense of urgency, which will inspire Howard to play his best while his teammates are still elite contributors.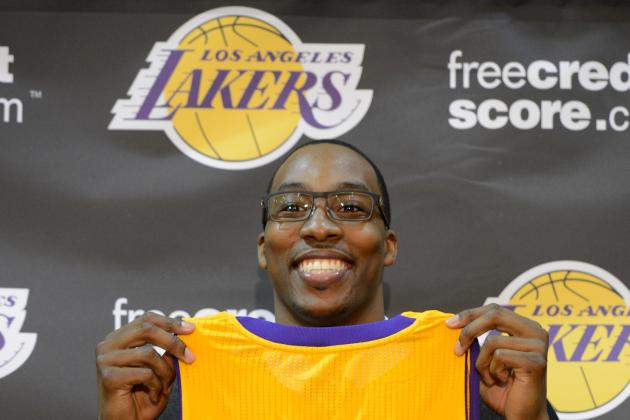 Kevork Djansezian/Getty Images

After handling his free agency and trade desires so poorly, Dwight Howard has earned the resentment of the brunt of NBA fans and turned himself into one of the most universally despised players in the league. It will not be easy, but playing in Los Angeles gives him the best chance at redemption and repairing his tarnished public image.

Howard has the chance to remind fans of just how special of a player he is. Playing in Los Angeles, he will constantly be featured in the media and be a topic of conversation, giving him a platform to show off his MVP-level talent on both ends of the court.

If he can blend quickly with Nash, Bryant and Gasol, that will prove that he is willing to sacrifice his ego for the sake of the team and go a long way towards fixing the reputation of being selfish and spoiled that came with his barrage of trade demands and constant media comments.

Playing under Mike Brown, a defensive-minded coach who previously spent time with LeBron James in Cleveland, will give Howard the opportunity to grow as a player and prove he is not a detriment to his team's locker room and demeanor.
He will be featured heavily in Brown's system next season, as his relationship with Brown will be constantly examined and scrutinized as the season drags on.

For as much criticism as fans heap upon a player when they are injured or playing poorly, that typically evaporates the second they prove just how talented they are.
Plenty of people despised LeBron James or Carmelo Anthony but saw their hatred lessen at their performances in the NBA playoffs and the London Olympics because both played stretches of absolutely transcendent basketball.
If Howard can bounce back and have a very strong year, potentially earn a Defensive Player of the Year award and lead his new team deep into the postseason, he will have taken a tremendous first step in repairing his damaged public image and no team gives him a better opportunity to do that than the high-profile, star-laden Los Angeles Lakers.