Why the San Francisco 49ers Are NFL's Best Bet to Go Undefeated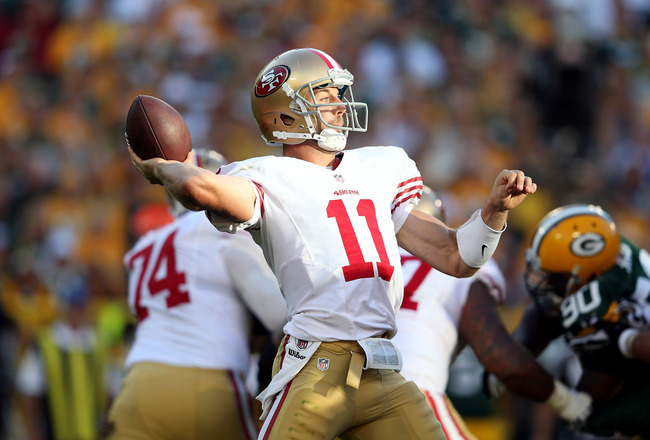 Alex Smith led the 49ers to an upset win over the Packers in Green Bay
Andy Lyons/Getty Images
The San Francisco 49ers' 30-22 win at Green Bay on Sunday would be considered an upset by most NFL pundits. But the 49ers actually dominated play at times.
After Monday night's doubleheader, only 16 teams will have the chance to go undefeated. Can the 49ers be the first team since the 1972 Miami Dolphins to do it?
Realistically, it would be a daunting task and is highly unlikely. However, if any team can do it, here are 10 reasons why it could be the 49ers.
10. Improved Depth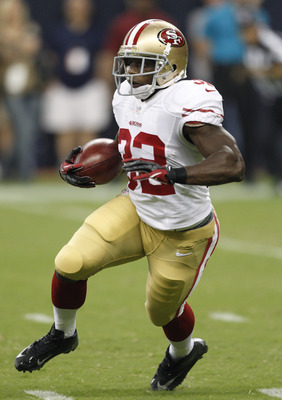 Kendall Hunter had nine carries against the Packers
Bob Levey/Getty Images
The 49ers looked deeper across the board against the Packers.
On offense, Kendall Hunter looked much more comfortable and confident as a runner. He will get plenty of opportunities to spell Frank Gore and gives the 49ers a great change-of-pace back.
The 49ers also utilized several formations in which reserves Mario Manningham, Kyle Williams, Delanie Walker, Will Tukuafu and Leonard Davis saw action. Even backup quarterback Colin Kaepernick made a big play, a 17-yard run that set up David Akers' 63-yard field goal to end the first half.
On defense, several reserves also played key roles, especially in the secondary. Nickel back Chris Culliver looked better than he did in 2011 and dime back Perrish Cox also saw meaningful action. Cox and Culliver more than held their own against the Green Bay receivers.
This increased depth will give the 49ers a lot of flexibility and insurance in case of injury.
9. Jim Harbaugh Will Not Allow the 49ers to Get Complacent
Jim Harbaugh had several heated discussions with the officials
Andy Lyons/Getty Images
Jim Harbaugh is one of the NFL's most animated coaches on the sidelines. However, he also never loses focus about what needs to be accomplished on the field.
In addition, Harbaugh has the 49ers believing in themselves. To a man, the players all play hard for him. He is one of the most intense competitors I have ever seen. He will simply not allow the players to become complacent, even if the 49ers run away with the division.
In order for any team to be undefeated, it will need to play with focus and intensity in every game. Harbaugh will insist on that effort. Although the 49ers may not win every game, the effort will not be lacking.
8. David Akers and Andy Lee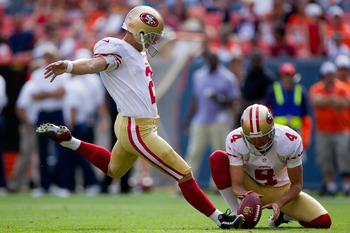 David Akers connected on a 63-yard field goal against the Packers
Justin Edmonds/Getty Images
In kicker David Akers and punter Andy Lee, the San Francisco 49ers have, arguably, the two best kicking specialists in the NFL.
Akers was a first-team All-Pro in 2011 and set an NFL record for most field goals and most points in a season. And he started off the 2012 season where he left off last year, converting all three of his field-goal attempts, including a 63-yarder, which bounced off the crossbar and over. That kick tied the NFL record for the longest field goal.
Lee was also a first-team All-Pro in 2011 and led the league in punting average. He has a strong leg, but also is adept at pinning the opposition deep inside their own territory with directional punts or high kicks that must be fair-caught inside the 20-yard line.
Lee averaged 51.2 yards-per-punt against Green Bay, which was right about where he was in 2011. The only blemish on the 49ers' special teams was a 75-yard punt return for a touchdown by Randall Cobb in the fourth quarter.
On that play, a blatant block in the back, which knocked down Anthony Dixon who was closing in on the tackle, was not called by the officials. This helped to spring Cobb for the score that put the Packers within eight points of the 49ers.
When the 49ers traded Colin Jones and cut Rock Cartwright, both known for their excellent special- teams play, I was worried that there may be a drop-off in the Niners' coverage units. On the long return by Cobb, once he got outside, there was nobody but Lee, the punter, to stop him and it was no match.
The 49ers will need to improve their coverage teams and cannot allow these long returns. Nevertheless, with Akers and Lee, they have two outstanding kicking specialists who can sway the game in their favor.
7. Greater Diversification on Offense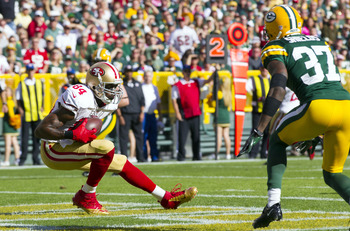 Randy Moss caught his first touchdown as a 49er
Jeff Hanisch-US PRESSWIRE
In 2011, the 49ers' offense consisted largely of Frank Gore, Vernon Davis and Michael Crabtree. In the playoffs, when Crabtree was stifled, defenses double-teamed Davis and stacked the line to stop Gore. The 49ers became predictable and the offense was not productive.
Since then, the 49ers have added several quality skill-position players. This will give the offense much more diversity and make it tougher for an opposing defense to stop it.
Against the Packers, six players caught passes from Alex Smith. Michael Crabtree led the way with seven receptions for 76 yards. Randy Moss chipped in with four catches for 47 yards and a touchdown.
Frank Gore is still the featured running back. Against Green Bay, he had 16 carries for 112 yards and a touchdown.
Kendall Hunter will also be a key asset. He is showing much more confidence and is running with greater conviction. Hunter had nine carries for 41 yards and is a great change-of-pace back.
The 49ers also utilized variations of their multiple tight-end and jumbo formations, where they brought in Will Tukuafu and Leonard Davis. All of this diversity will keep defenses off balance and also will be fun for us to watch.
6. Strong Pass Rush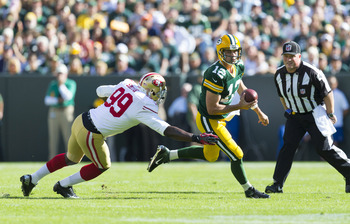 Aldon Smith chases down Aaron Rodgers
Jeff Hanisch-US PRESSWIRE
The biggest difference in the San Francisco 49ers defense in 2011 was a much improved pass rush. Aldon Smith joined the team as a first-round pick and had 14 sacks.
This preseason, Smith was injured in the first game and did not play until he faced the Packers. He applied good pressure, although there were times when he appeared to tire.
The 49ers went with a three-man pass rush at times, which gave Green Bay quarterback Aaron Rodgers time to pick them apart. When the 49ers applied strong pressure, the pass defense was much better.
The 49ers used several blitz packages, sending defenders from all over the field. This kept the Packers' offensive line off balance and forced Rodgers to hurry his throws. The 49ers defensive secondary is bolstered dramatically whenever the Niners apply that kind of pressure on the quarterback.
At times, when the 49ers blitzed, Rodgers was far less effective. This is what will typically happen with every 49er opponent.
5. Defense Against the Run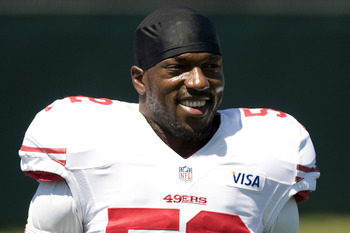 Patrick Willis is a leader of the defense
Ed Szczepanski-US PRESSWIRE
The San Francisco 49ers had an excellent defense in 2011. They led the NFL in fewest rushing yards allowed. If the 49ers' game against the Green Bay Packers is any indication, look for another excellent season from this unit.
The 49ers' defense against the run was excellent, allowing the Packers only 45 yards on 14 rushing attempts. I fully expect this to continue, which will make opposing offenses one-dimensional.
The 49ers' front seven is as good as any in the league.
4. Strong Running Game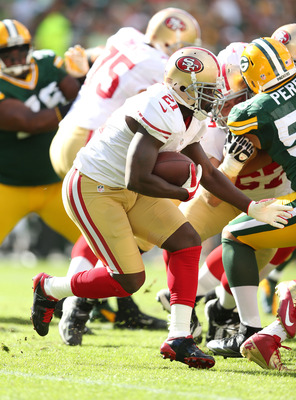 Frank Gore rushed for 112 yards against the Packers
Andy Lyons/Getty Images
Frank Gore showed no signs of slowing down following a 1,211-yard, eight-touchdown season last year, accruing 112 yards and a touchdown on 16 carries yesterday.
The change-of-pace back Kendall Hunter also performed adequately in his role with 41 yards on nine carries. I look for Hunter to see plenty of action this year, as he is running with much more confidence and assertiveness. This will also help to keep Gore fresher in the long-run.
The 49ers' offensive line is better at run blocking, than in pass protection, where there are still periodic breakdowns. The linemen are big, powerful and devastating run blockers, which we saw against the Packers. The running game will also enable the 49ers to control the clock in the fourth quarter when protecting a lead.
If both Gore and Hunter manage to stay healthy, the Niners can use their deft running game to buoy an elite season.
3. Opportunistic Defense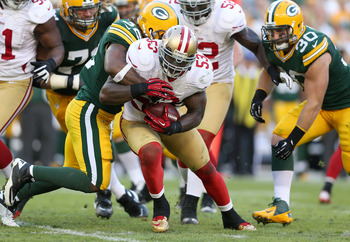 NaVorro Bowman intercepts Aaron Rodgers
Andy Lyons/Getty Images
The 49ers had an amazing year in 2011, creating 38 turnovers while committing only 10, an astounding turnover margin of plus-28. It will be difficult to match that.
But this year's 49ers looked very similar against the Packers. Offensively and on special teams, the 49ers did not give the ball away, and the defense grabbed one interception, when NaVorro Bowman picked off an Aaron Rodgers pass.
Bowman's interception proved to be pivotal, as Frank Gore scored a touchdown just a bit later that provided the 49ers with their ultimate margin of victory.
The 49ers' defense is taught to strip the ball. They are also excellent ball-hawks. Although a plus-28 turnover ratio is very unlikely, the 49ers remain opportunistic on defense and careful not to turn the ball over on offense.
2. Excellent Coaching and Game Preparation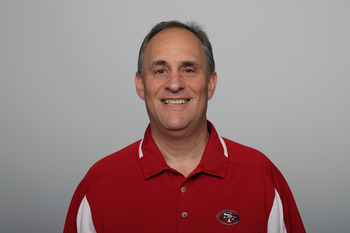 Vic Fangio is in charge of the defense
Handout/Getty Images
The 49ers have an outstanding coaching staff. Head coach Jim Harbaugh has a great offensive mind and is a master motivator. He works closely with offensive coordinator Greg Roman on offensive game plans and play-calling.
Harbaugh focuses on the offense and allows coordinator Vic Fangio to run the defense. This is similar to how Bill Walsh allowed George Seifert to head up the defense. Fangio is an excellent tactician and also prepares his players extremely well.
Special teams coach Brad Seely is the assistant head coach. He has a proven track record of putting together excellent special teams and must be sure to improve his punt coverage team, which gave up a 75-yard touchdown return to Randall Cobb of the Packers.
The 49ers' position coaches are also very good. To a man, the players say how well-prepared they are for the opposition and how much the coaches enhance their development.
Harbaugh empowers his coaches to do their jobs. This is a major reason why so many of his coaches have stuck with him.
1. Alex Smith Has Improved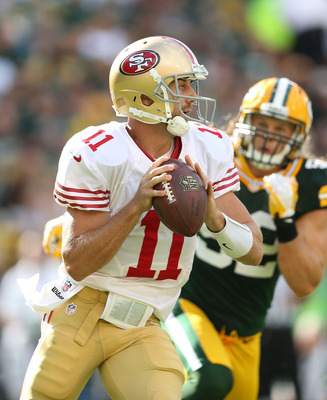 Alex Smith had an efficient game against the Packers
Andy Lyons/Getty Images
Alex Smith had a breakout year in 2011, his first working with Jim Harbaugh. How far the 49ers go in 2012 will depend, to a large degree, on Smith's continued development.
In the offseason, Smith worked with throwing guru Tom House, a former major league pitcher. He improved his mechanics and accuracy, which showed against the Packers.
Smith completed 20-of-26 pass attempts for 211 yards and two touchdowns. He also was careful with the ball, not throwing any interceptions.
The thing that impressed me was how in command Smith looked against the Packers. He never looked flustered or confused, and his leadership showed.
Smith's continued growth as a quarterback, play-maker and leader will be a key factor in the 49ers' success.
The 49ers Looked Great in Their First Game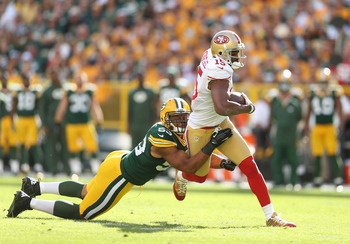 Michael Crabtree led the 49er receivers with seven catches
Andy Lyons/Getty Images
While it is unlikely that any team can go undefeated this year, if anyone can do it, the San Francisco 49ers are the best candidate. They overcame a huge hurdle by defeating the Packers on the road, a game that many thought they would lose.
Although the 49ers did not stop Aaron Rodgers and the high-powered Green Bay offense, they did contain them, giving up only two touchdowns.
The other touchdown came on a punt return by Randall Cobb. Anthony Dixon was clearly blocked in the back on the play as he closed in to make the tackle, but the officials ruled there was no penalty. The rest of the special-teams play was solid, however.
Offensively, the 49ers were efficient and productive. They ran the ball well and quarterback Alex Smith had an excellent game. He was able to spread the ball around to six receivers and executed an effective game plan.
The 49ers still have 15 games to go, plus the postseason. But if any team can run the table, it just might be them.
Keep Reading

San Francisco 49ers: Like this team?