Dallas Mavericks: 3 Ways the Mavs Can Return to the Finals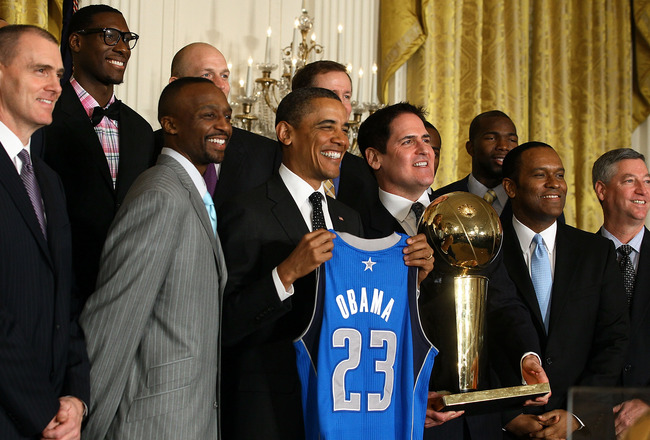 The Mavericks hope to return the NBA Finals trophy to Dallas in 2012-13
Mark Wilson/Getty Images
The Dallas Mavericks will most likely not return to the NBA Finals in 2012-13. Although still remaining a top-tier NBA franchise, the Mavericks will be victims of circumstance in the upcoming season.
The Lakers and Thunder seem to be runaway favorites to compete as the top two teams in the Western Conference, leaving Dallas a long shot to return to its 2011 glory.
Since those days, the Mavericks have lost defensive backbone in Tyson Chandler, veteran leadership at the point in Jason Kidd and explosive bench talent in JJ Barea. Sixth man Jason Terry signed with the Celtics this offseason as a free agent, leaving another hole for owner Mark Cuban and the Mavs to fill.
Entering the season, Dallas' prospect of winning another title this year seems grim. If they are to do it, they are going to need the combination of a few major breaks and individual performances to take them over the top.
Success Factor No. 1: Dirk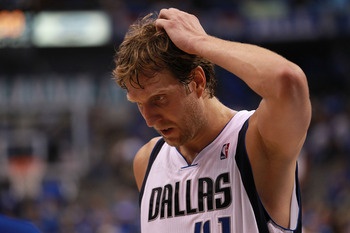 Dallas star Dirk Nowitzki is going to have to turn in a vintage performance to lift the Mavs to their next NBA title
Ronald Martinez/Getty Images
In 2012-13, the NBA will be centered increasingly around star power. No team can ultimately be successful without great performances from its most highly touted player.
For the Mavericks, all attention turns to veteran forward Dirk Nowitzki.
Free agency and blockbuster trades over the last couple of years have created a top-heavy league that features a few power franchises. Los Angeles and Miami are the two most recent exploiters of the talent market.
In order for Dallas to remain in the conversation when surrounded by All-Star lineups like the one in LA, Dirk is going to have to play at his highest level.
In 2011, Dirk was unconscious down the stretch. He quite literally put the Mavericks on his back and helped Dallas to an NBA Finals win over a Heat team not quite ready to assume the mantel as the NBA's best.
This year, the sharpshooting big man will have to match or top his previous effort for Dallas to be in the picture. Dirk shot at a 48.5 percent clip and scored nearly 28 points per game those playoffs (via ESPN).
That just might not be enough this season.
Nowitzki, in his 15th season, will be asked to slow down the likes of Thunder forward Kevin Durant and Lakers forward Pau Gasol in addition to adding his own scoring efforts. The journey will be taxing and improbable, but Nowitzki has proven capable of rising to greatness in the past.
Without comrades Jason Kidd and Jason Terry, Dirk will be forced to be the focal point of the Dallas offense at all times. Cuban and Mavericks fans alike will need their best player to shine once more.
Success Factor No. 2: Elton Brand and Chris Kaman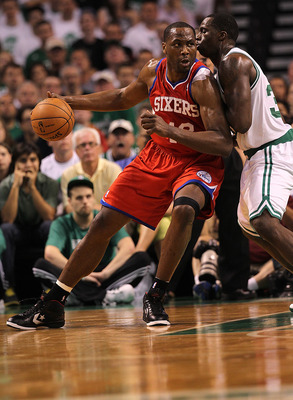 Elton Brand will have to be a bigger factor in Dallas than he was in Philadelphia
Jim Rogash/Getty Images
The loss of center Tyson Chandler following the 2011 NBA Finals run has proven to be a major hole for the Mavericks to fill. Dallas looked unable to stop a major force like OKC without their defensive anchor, and were quickly swept out of the 2012 NBA Playoffs.
Admittedly, the league is changing dramatically as a new generation of athletic talent sweeps in and alters the style and pace of play. The Mavericks made a couple of key acquisitions during the offseason that they hope can counter such athleticism.
The additions of forward Elton Brand (averaged 11 points and seven rebounds per game for the Sixers last season) and center Chris Kaman (13 and nearly eight) should help the Mavs slow down the likes of the Thunder and Lakers.
Although both signings pale in comparison to LA acquiring Dwight Howard or even Philadelphia receiving Andrew Bynum, the move creates a new look to the Mavs offense.
This season, the Mavericks will focus more on exploiting their new size as their biggest advantage. Flat out, they will not be able to keep up with running teams. However, Dallas now has the length to create a rebounding advantage and a dominant paint presence.
At least the high flyers of the NBA will once again have multiple towering obstacles near the basket. If Kaman and Brand play up to their career bests, the Mavericks have the potential to put together a nice playoff run.
Success Factor No. 3: Patience and Good Ownership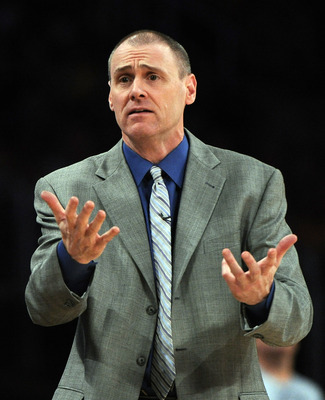 Mavs coach Rick Carlisle has his hands full with the talented teams of the NBA's Western Conference
Harry How/Getty Images
It is more than likely that the Mavericks will not be able to contend for the 2012-13 NBA Finals. That is not to say that they cannot make a few postseason moves that will have them right back in the thick of things come the 2013 season.
Star point guard Chris Paul III has yet to sign an extension with the Los Angeles Clippers, and Dwight has not for LA. After this season, both become unrestricted free agents and can go where they please.
Mavs owner Mark Cuban has deep pockets and has already proven willing to spend his fortune to ensure Dallas' success. Picking up one of the two aforementioned All-Stars would be right in line with the type of move Cuban and the Mavs front office needs to make to stay relevant.
I believe Dallas will have a hard time prying Dwight out of Laker Town but may fare better courting CP3. Adding the point guard's quickness, awareness and big play capability to the Mavericks schemes would elevate the team back to elite status.
Unfortunately, adding Dwight would be a move that closely aligns with Dallas recipe for success; Howard would more than adequately replace Tyson Chandler's absence as the team's defensive anchor.
The Mavericks are only one year removed from reaching the pinnacle of success possible in the NBA. Although the 2012 playoffs were a bit of an eye-opener as the Thunder brushed by Dallas easily, the Mavs have almost all of the necessary pieces in place.
With stellar play from its stars and immediate contributions from recent acquisitions, the Mavericks could make a strong playoff run early in 2013. If they fall short, the next two years present more opportunity to re-level the playing field with their superior opponents.
Keep Reading

Dallas Mavericks: Like this team?