New York Jets: 10 Players to Watch in Week 1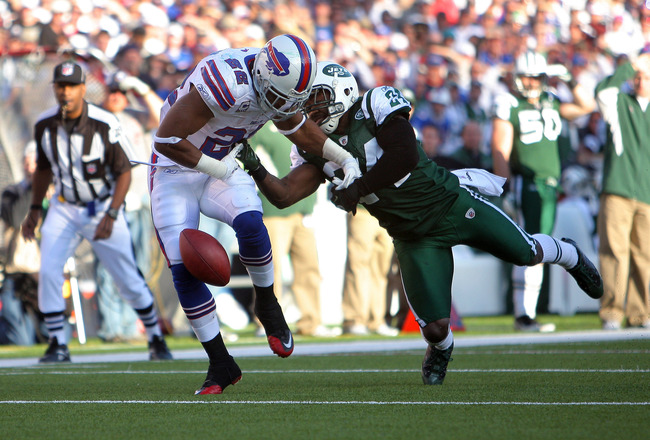 Tom Szczerbowski/Getty Images
The New York Jets' Week 1 matchup with the Buffalo Bills will be an important game in the AFC East pecking order. Many analysts are predicting that the Bills will overtake the Jets this year, but Gang Green has an opportunity to reassert its dominance of Buffalo.
The Jets have traditionally matched up very well with Buffalo, stopping the Bills' spread offense with their deep secondary and asserting their will in the run game. They will likely aim to employ the same formula on Sunday, though Buffalo's improved defensive line may make the run component more challenging.
Injuries combined with a thin depth chart at some positions means that certain Jets will need to step up earlier than anticipated. The performances of the following Jets will determine whether they leave Week 1 with their status as No. 2 in the AFC East intact.
Note: I intend to make this a weekly feature published the day before each game.

Mark Sanchez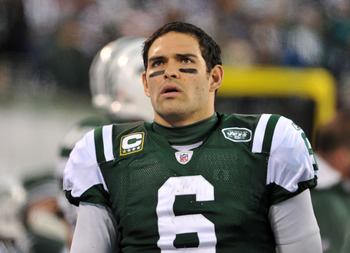 Christopher Pasatieri/Getty Images
Despite the national focus on Tim Tebow, Sanchez remains entrenched as the Jets' starting quarterback. Given the Tebow hype, it is important for Sanchez to get off to a good start for his own psyche as well as the team's.
Sanchez does not need to throw for 300 yards to have a good game; an efficient performance and a Jet victory will do. The Bills' pass rush is formidable, but this goal can—and should—be achieved nonetheless.
Much of the talk about Sanchez in training camp centered around his growth as a leader, and now is the time to unveil Sanchez's newfound role. Improvement at the quarterback position would make the Jets a legitimate playoff contender this year, but the media circus will only get uglier if Sanchez under-performs in Week 1 at home.
Dustin Keller
Mike Ehrmann/Getty Images
Keller can help the Jet offense get off to the efficient start it needs, as the tight end is more than capable of acting as Mark Sanchez's safety net.
Keller has had success in the past against Buffalo, and if he can continue to get open against the Bills in the middle of the field, Sanchez will be able to work him into the game with high-percentage throws. Given the Jets' question marks at the receiver position, Keller's importance in the offense only increases.
There have been some injury questions about Keller all week, but it seems likely he will be able to play. If not, Jeff Cumberland will become an important part of the Jets' offensive game plan this week.
Stephen Hill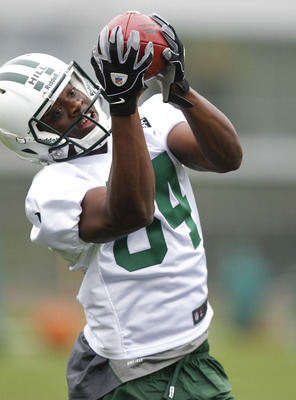 Jeff Zelevansky/Getty Images
The Jets are undoubtedly thin at wide receiver, and the fact that Stephen Hill will be their Week 1 starter opposite Santonio Holmes is a pretty clear indicator of that.
Hill, who played in the run-heavy Georgia Tech offense, is raw even as far as rookies are concerned, with Pro Bowl talent but questionable polish, He showed in the preseason that he will be a deep threat from the moment he takes the field, but also displayed inconsistent route-running and hands.
Hill does provide the Jets with another weapon, as he will stretch the field and force the Bills to commit safeties deep regardless of his overall performance. This should open up the middle of the field for Keller.
Austin Howard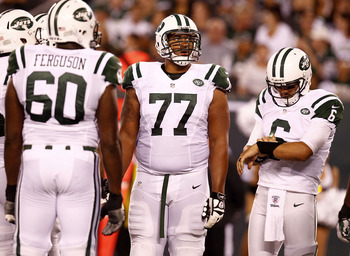 Jeff Zelevansky/Getty Images
After Wayne Hunter's performance last season, the Jet offensive line should improve regardless of his replacement. If Howard is merely close to league-average this season, the Jets will have one of the best lines in the NFL.
Howard will be tested immediately, as prized free-agent signing Mario Williams will be lining up across from him frequently. Howard will get a lot of help, but as Jet fans saw firsthand last year, that's not always an automatic fix.
If Howard gives Sanchez time to throw, his job will get a whole lot easier this year.
Brandon Moore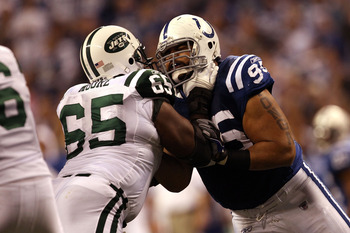 Jonathan Daniel/Getty Images
The Jets will look to run the ball early and often against the Bills, and they will look to their strong interior line to lead the charge.
Brandon Moore will be a huge part of this. Nick Mangold and D'Brickashaw Ferguson justifiably dominate attention on the Jets' line, but Moore may be just as good. He is a quiet yet crucial component of the Jets' running game.
If the Jets can establish the run early, this game may start to look like New York-Buffalo games of old. If not, the Jets may indeed have to start worrying about a changing of the guard.
Kenrick Ellis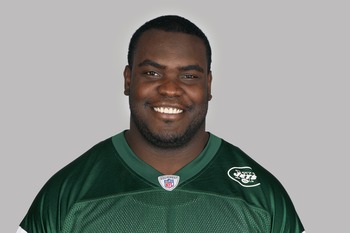 Handout/Getty Images
The injury to Sione Pouha was a big blow to the Jets this week, and as a result Ellis will see much more playing time than anticipated.
The second-year player out of Hampton is a big body and a talented player, but he is raw and this will be his first big test. Ellis looked good in preseason and has earned more playing time, but the regular season is a different animal.
Ellis' role will not be as large as the starting nose tackle's would normally be, as the Jets will often abandon their base defense to counter the Bills' spread offense. But Ellis will still see a lot of snaps in his first game as a starter.
Calvin Pace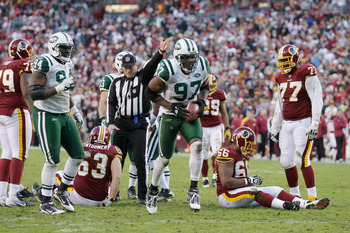 Rob Carr/Getty Images
The Bills will look to utilize Fred Jackson and C.J. Spiller in the passing game, getting their quick running backs out in the open field against linebackers.
Coverage responsibility for the Jets usually falls to Calvin Pace in these situations. Pace will often cover backs early in their routes before potentially handing them off. If Pace can take away Ryan Fitzpatrick's safety valves, the Jets can make the Buffalo quarterback, uncomfortable early.
When Pace is not covering opposing running backs, he is one of the Jets' primary pass-rushers. Fitzpatrick has not always shown the greatest composure in the face of pressure, so the pass rush may be a focus for New York as well.
Darrelle Revis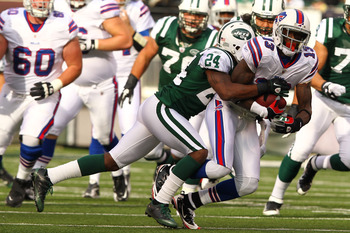 Al Bello/Getty Images
Darrelle Revis will not usually make this list, as watching Revis in most games means you are not watching the football. Revis locks down opposing receivers week after week—nothing to see here.
But this week it will be interesting to see how Revis responds to the idea that Steve Johnson has his number. Johnson has in fact had some success against Revis in the past, so the ball will likely be thrown Revis' way more often than usual.
Given Revis' history, it is likely he will take the challenge personally and shut Johnson down.
LaRon Landry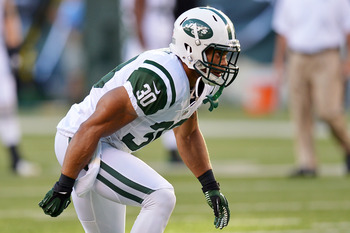 Drew Hallowell/Getty Images
The Jets' new safeties will have big roles this year, especially given the injury to Erik Smith.
Landry and Yeremiah Bell are both hard-hitting safeties, but they will be tested in pass coverage as Jets. With Revis usually locking up half the field, Landry and Bell can make life particularly difficult for opposing quarterbacks by taking away the middle of the field.
Ryan Fitzpatrick doesn't have the strongest arm, so forcing him to throw outside can have particularly large benefits for the Jets.
Kyle Wilson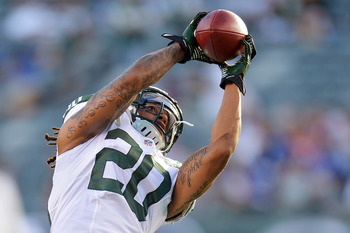 Drew Hallowell/Getty Images
The Jets will likely spend most of this game in nickel packages, making Kyle Wilson a de facto Week 1 starter. The Bills are deep at the wide receiver position, so Wilson will be tested in the slot.
Rex Ryan is clearly comfortable with Wilson in this role. The former first-round pick is said to have improved this offseason, and the Jets feel that Wilson has the ability of a starting corner.
If Wilson adds his considerable talents to those of Revis and Antonio Cromartie, the Jets will likely have the best secondary in football. But he needs to transfer his offseason growth to regular-season performance.
Keep Reading

New York Jets: Like this team?