New York Jets: 4 Reasons Mark Sanchez Will Handle the Pressure in Week 1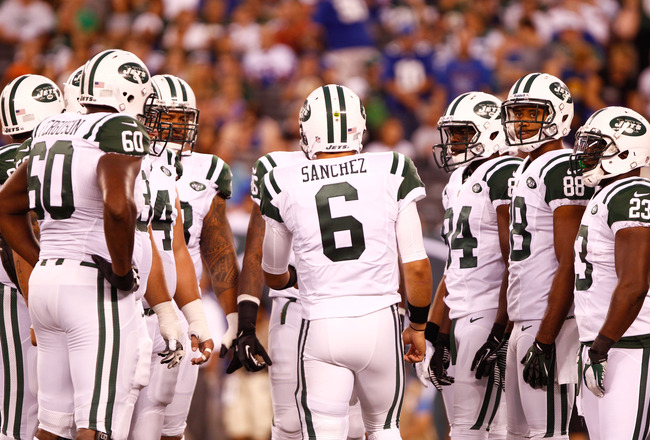 Mark Sanchez will need to handle the pressure all season if he wants to remain the starter
Debby Wong-US PRESSWIRE
The New York Jets will host the Buffalo Bills in a Week 1 game that will almost certainly bring with it overblown reactions and implications, and no individual is under more pressure than Mark Sanchez.
The public perception of the Jets heading into the start of the NFL season under Rex Ryan has progressed from fascinatingly confident underdog, to arrogant overachieving underachievers, to, at the present, a time bomb in a nearly talentless desert.
Everybody, and I mean everybody, is predicting a nightmarish season for Sanchez and company. Friends and family have mocked my fandom. While out to dinner last week, my waiter, after overhearing me say something about the Jets, told me, "I made yours extra special."
Is it possible that America has played the Jets out to be a brewing disaster to the point of undervaluing them? Don't you think this will actually help the Jets after three consecutive years of monumental expectations? Haven't things become so ubiquitously grim that Sanchez's issues with Tim Tebow and Santonio Holmes are nothing more than an insignificant blotch in an enormous hellhole of a blob?
No, Adam, stop it. You promised yourself after last season that you'd expect no more than six wins in 2012. It's not worth having a heart attack before your 25th birthday.
The bottom line is, whether he's under pressure to succeed or under pressure to fail, Mark Sanchez has to realize he's going to be under "it" for his entire career. For as long as he plays professionally, Sanchez will need to find ways to manage the expectations.
Here are four reasons why he will do this successfully in Week 1.
1. History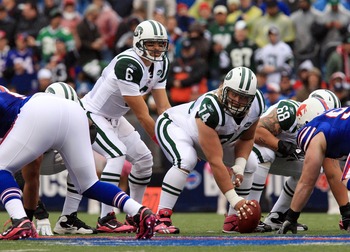 The Jets have done well against Buffalo as of late
Kevin Hoffman-US PRESSWIRE
The Sanchez-led Jets have been good early in the season. This could be because the games "matter less" or because they have ample time to prepare for them. Whatever the case, the concept of "pressure" seems less existent.
The Jets are 7-2 in their first three games since 2009. It's not until midseason that their typical problems arrive.
History also tells us that the Jets have dominated the Bills as of late. They are 5-1 against them since Sanchez and Rex Ryan became the respective face and gut of the organization.
This success, however, probably has more to do with the next slide...
2. Won't Be Behind Early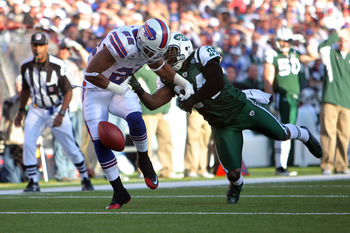 The Jets will have a tremendous defense once again in 2012
Tom Szczerbowski/Getty Images
Mark Sanchez averaged seven more pass attempts in New York's 2011 losing efforts than in their winning ones. Even if you ignore the 59-attempt mind-bomb against the Giants, Sanchez still chucked it an extra four times per loss.
Maybe this was some ill-advised effort to appease the receivers, or maybe airing it out was the only possible response to an ineffective running game. A good deal of the elevated pass attempts, though, were because the Jets had fallen behind.
Suffice to say, New York was winless in shootouts in 2011. No victory came in a game in which their opponents surpassed 24 points, and they allowed less than 29 in only two of their losses.
Early two-possession deficits are difficult for Sanchez to overcome. It is under these adverse conditions, that the words "pressure" and "Tim Tebow" will be uttered from the fans and media. (Of course, Sanchez brings a good deal of this on himself with turnovers and the like).
None of this should be a concern in Week 1.
Buffalo has done some great things on the defensive side of the ball, but the offense has remained the inconsistent, overpaid, Amish-led one of a year ago. The Jets defense will control the pace of the game when they are on the field, and Sanchez should avoid excessive pass attempts.
3. Tony Sparano
Sparano will be a vital component of Sanchez's 2012 season
Howard Smith-US PRESSWIRE
The 2008 Miami Dolphins will be forever remembered as the team that brought the wildcat into the NFL. Their Week 3 whipping of the New England Patriots has to go down as the greatest single game plan in recent NFL history.
But the phenomenon, which will allegedly see a revival in 2012, really had little to do with Miami's divisional championship.
Miami took the AFC East through good, not great defense (25th against the pass, 10th against the run, eighth in sacks, eighth in interceptions), a reliable and traditional running game (11th) and, most importantly, a strikingly efficient passing game.
Despite ranking 21st in pass attempts, Chad Pennington led an offense that finished the year 10th in yardage. He also threw only seven picks.
The man behind the offense was the new Jets offensive coordinator, Tony Sparano. Forget about the wildcat. The best, and most important thing Sparano can do for the Jets this year is allow Sanchez to hone his inner Pennington. This means fewer senseless seven-step drops and more slants and play action.
If you told me I'd be asking for a New York Jet QB to do such a thing five years ago, I'd have had a hard time believing that same guy has played in two AFC Championship games.
It's important to know the difference between smart and overly conservative. Sparano has shown this ability, and he will relieve Sanchez all season.
4. The Tight End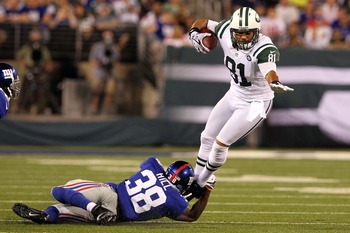 Dustin Keller is maybe the second most valuable non-lineman on the New York Jets offense
Brad Penner-US PRESSWIRE
Mark Sanchez relies on Dustin Keller as a means to dissolve pressure and bring about success in big moments.
Keller was a key component to New York's limited success in 2011 and, for that matter, an equally attributable element of their losses. The Jets were 3-1 in games in which Keller scored and were 1-3 when he finished with less than three receptions.
If you try to find commonalities between New York's wins and loses, you will find that their opposition's ability to defend the tight end is an easy way to predict the outcome. Their eight wins came against teams that allowed a combined season average of 60 yards per game to the position. That total falls to 49 for the teams that defeated Gang Green.
The Miami Dolphins allowed an average of 67 yards to opposing tight ends in 2011. That's the second most of any team. They also gave up 0.8 scores to the big guy—good for worst.
Mario Williams and Mark Anderson will improve the pass rush, but neither will do much in the way of defending the tight end. Dave Wannstedt was promoted to defensive coordinator from linebacker/assistant coach in 2011, but any scheme is only as viable as the people who try to execute it.
Unfortunately for Buffalo, no significant moves were made to help them in the tight end department. Third-string, fourth-round selection, Nigel Bradham, is the only new linebacker. Undrafted free agent, Delano Howell, is Buffalo's only newcomer at safety.
Dustin Keller is currently listed as questionable for the Sunday matchup. This is actually a step down from his probable status of a few days ago.
In the event that Keller is unable to play in the season opener, the Jets should still make a point to test the coverage abilities of Buffalo's linebackers, either with backup Jeff Cumberland or running back Joe McKnight.
Keep Reading

New York Jets: Like this team?