Steve Nash, L.A. Lakers Key to Dwight Howard's Image-Rehabilitation Project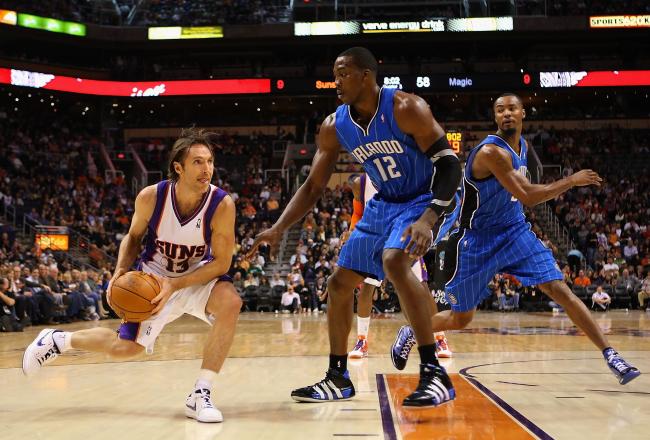 Christian Petersen/Getty Images
Dwight Howard's "Dwightmare" situation this offseason has soiled his image around the league as a popular and likable player, meaning he needs an image-rehabilitation project to commence when he starts to play for the Los Angeles Lakers.
The "Dwightmare" rivaled LeBron James' "Decision" from 2010. James followed the decision to take his talents to South Beach with this clown act of a welcoming party for the Big Three, which played host to James' infamous "not five, not six, not seven..." speech.
Although James' actions were rash and blatantly self-promoting, they were carried out as a free agent; the key word being "free."
By contrast, Howard opted in to another year with the Orlando Magic before handcuffing the organization by forcing a trade out of town. Howard's actions resembled a young kid kicking and screaming in a Toys R Us for the latest toy, while James simply made the best choice for himself and his NBA career (making some admittedly bad choices for his image along the way).
Howard may not have overtaken James' spot on the pedestal as one of the league's most hated pariahs in the eyes of some, but he certainly came close
Now the image rehabilitation process begins for Howard, and that process can get jump-started by the presence of Steve Nash.
Fans around the NBA either love the Lakers or love to hate them. Kobe Bryant has had more than his fair share of off-court drama, while Andrew Bynum's on-court drama in a Lakers uniform often became a headache. Nash is the first truly likable NBA star the Lakers have had in years.
As a former back-to-back MVP award winner, Nash created the famous "Run-and-Gun Suns" teams of old when he rejoined the franchise that drafted him out of Santa Clara.
The Nash-led Suns squads won over fans around the league for their run-and-gun, hyper-offensive style of play. They were a threat to score 140-160 points on any given night with Nash at the helm, and he became extremely popular as a result.
Nash's unselfish, teammate-first style of play is infectious. His ability to win over fans could help Howard win back his favorable image as he carves a niche as one of Nash's go-to options.
If Nash is given the freedom to run the offense in Los Angeles, his surgical play out of the point guard spot will make the Lakers extremely fun to watch (a la the Phoenix Suns of old). His ability to set up teammates for open looks and alley-oop finishes on a regular basis will create for an exciting and entertaining on-court product that even fans who hate the Lakers won't be able to ignore.
Even though Howard's offseason actions have labeled him a drama queen and ruined the Magic's chances at relevancy for the foreseeable future, playing beside one of the league's most popular faces—who came into the league as an unheralded underdog before having tremendous success—may allow some fans to overlook his past actions (not in Orlando, but still).
For the first time in Howard's entire NBA career, he won't be seen as his team's main offensive focus. Instead, he'll have to defer to the veteran leaders (Nash, Bryant and Pau Gasol) and look up to NBA champions who know how to win on the highest stage.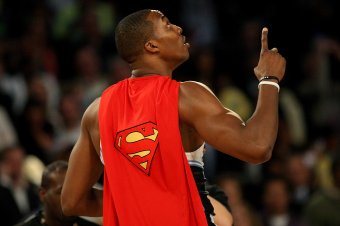 Ronald Martinez/Getty Images
Rebuilding his positive image as the bubbly "Superman" who won the 2008 Slam Dunk Contest will take time. However, if Howard can humble himself by playing behind veteran NBA legends in Los Angeles next season, he can try to erase an offseason marred by negativity and vitriol.
If Howard ends up an NBA champion in 2013, however, he may not care how fans around the league view him. Nevertheless, embracing the villain role didn't work for LeBron James, so Howard should try to return as the hero to match his "Superman" moniker.
This article is
What is the duplicate article?
Why is this article offensive?
Where is this article plagiarized from?
Why is this article poorly edited?

Los Angeles Lakers: Like this team?