Can the Lakers Starting 5 Co-Exist Throughout 2012-13?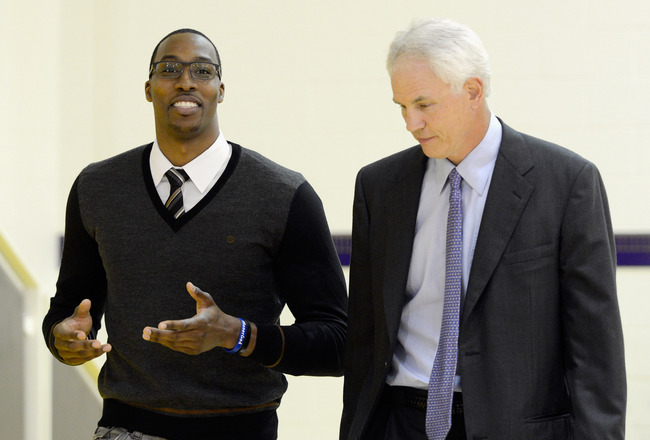 Dwight Howard with Lakers GM Mitch Kupchak
Kevork Djansezian/Getty Images
The L.A. Lakers starting five has no shortage of star power and personality. Between Kobe Bryant, Dwight Howard, Steve Nash, Pau Gasol and Metta World Peace, it's safe to say that the Lakers are chock-full of ego.
Many are arguing that the Lakers simply have too much talent and too many undefined roles for their own good.
However, in reality, the Lakers starting five is set to dominate NBA opponents this year. Co-existence will not be an issue for this starting five.
The success of the Lakers season entirely depends on this co-existence. While it will take some time for the team to completely gel, expect big things from the Lakers this year.
The Lakers will have some issues to work out, but here's why L.A. is prepared for huge success.
Nash-Howard Dynamic Is Lakers' Best Asset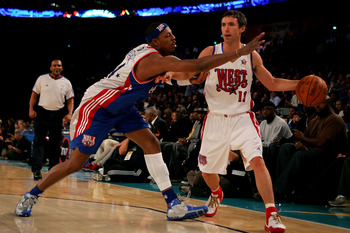 Ronald Martinez/Getty Images
When the Lakers nearly acquired Chris Paul in December, Lakers fans immediately dreamed of a Paul-Kobe-Howard future.
Of course, these dreams only lasted a few hours and were burned when David Stern controversially vetoed the deal. Yet the Lakers got just about the next best thing when they traded for Steve Nash and Dwight Howard.
From a chemistry perspective, it's just about perfect. It's hard to do better than pairing an unselfish, skilled passer with a low-post dominator and high-flying dunker.
Acquiring both Nash and Howard in the same offseason is a dream-come-true for the Lakers. They instantly boast one of the best pick-and-rolls and can now run just about any offense imaginable—run-and-gun, half-court, you name it.
Everybody knows L.A. is Lob City. Only now, both L.A. teams share the title. Nash and Howard will come to play in 2012-13.
Pau Gasol Is Now a Perfect Fit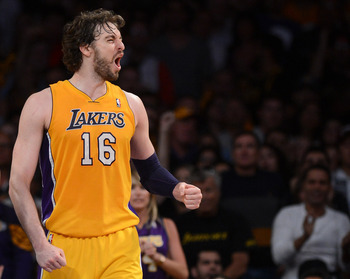 Harry How/Getty Images
It's clear that the Pau Gasol-Andrew Bynum duo never lived up to its fullest potential. The two big men basically disappeared in the playoffs against the Thunder and never used their dual seven-foot size to its fullest potential.
A Gasol-Howard combination, however, is a whole different ballgame.
While Howard may be less "skilled" in the post than Bynum, he is much more dominant in the paint. He'll draw more double teams and create more open low- to mid-range shots for Gasol.
The addition of Steve Nash also makes the Lakers one of the best pick-and-roll teams in the NBA. While Howard is the biggest beneficiary of Nash running the point, Gasol will also benefit greatly—particularly if Howard misses some games at the beginning of the season due to a back injury.
Make no mistake about it. Even though Gasol is the team's No. 4 option on offense, he's extremely important to a Lakers championship run.
Gasol is a perfect fit alongside Howard and gives the Lakers the best center duo and pick-and-roll offense in the league.
Metta World Peace Is Odd-Man Out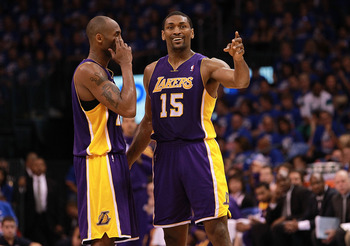 Ronald Martinez/Getty Images
Even after chucking up three after three and brick after brick last season, Metta World Peace still thinks he's Ray Allen. This mentality is going to hurt the Lakers ability to score this season.
World Peace shot an abysmal 29.6 percent from long-range last season, attempting three per game.
That's approximately three shots too many.
With Steve Nash running the floor, Howard drawing low-post double teams and Kobe drawing top defenders, Lakers fans can expect more "Don't do it, Ron!" moments this year. He needs to either improve his shooting, or Coach Brown should explicitly tell him to not shoot.
The Lakers offense could benefit from a spot-up shooter at SF with good defensive skills (a Shane Battier type), and for now, World Peace is a poor fit in the high-powered Lakers offense.
While World Peace boasts elite on-ball defense and size, he needs to dramatically improve his offensive game plan and skills to co-exist in this offense.
The Kobe Question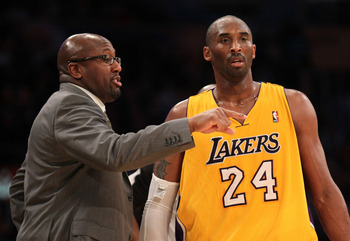 Stephen Dunn/Getty Images
It's clear that the Nash-Pau-Howard chemistry is pretty close to perfect. But will Kobe Bryant disrupt the flow of the offense and decrease the effectiveness of his fellow superstars?
This question will be the Lakers' No. 1 worry this season. Doubters have brought this up all offseason, claiming that a great iso-scorer like Kobe can never work in a Nash and Howard-driven full-court offense.
In reality, the notion that Kobe could be a cancer on this team is absurd.
Nash, Pau and Howard can still run their fast-paced offense even with Kobe on the floor. However, having Kobe also gives the Lakers a top on-ball defender and one of the best one-on-one scorers of all time.
Additionally, having all this star power will keep the entire team healthy. The Lakers can sit Kobe and hand the reigns over to Nash to run the offense. A Nash-Pau-Howard trio is certainly good enough to win a ton of games by itself, and it would also keep Kobe fresh for the playoffs.
Essentially, the Lakers can rest any of its starters and still win most of its games. Kobe undoubtedly plays a huge role in this dynamic.
Finally, he's simply a winner. Kobe's won five championships and knows exactly how much or how little he needs to do to win. He'll play any role the Lakers need him to play to get the job done.
The Lakers have some worries coming into 2012-13. Kobe, however, is not one of them.
The Bottom Line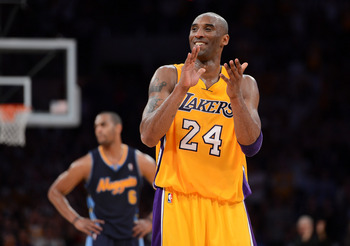 Harry How/Getty Images
The Lakers are going to have some kinks to work out at this season. However, the Lakers starting five will be more than fine and is set to win the Western Conference.
Metta World Peace may not be the best fit; Dwight Howard's back is still in question, and the offense is highly unconventional.
Yet none of these issues should be dominant storylines heading into 2012-13.
The bottom line is that the Lakers are one of the most talented and championship-motivated teams in recent memory. The starting five will have no problem co-existing this year and should be considered the team to beat this season.
Keep Reading

Los Angeles Lakers: Like this team?