10 Reasons Why LeBron James-Dwyane Wade Can Be Most Potent NBA Duo Ever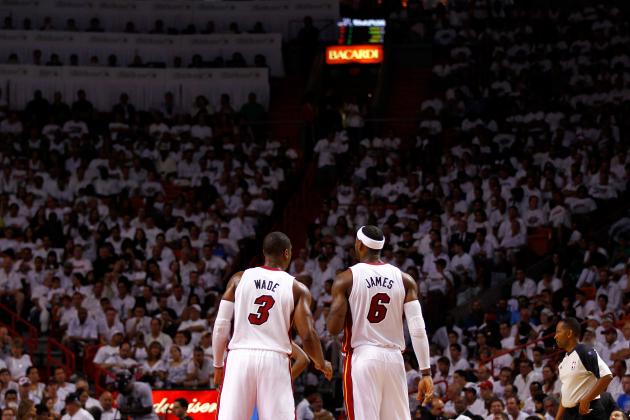 Mike Ehrmann/Getty Images

Never before have we seen a tandem of two superstars at the highest points of their career teaming up, until LeBron James decided to take his talents to South Beach and join Dwyane Wade and the Miami Heat.
James was already a two-time MVP, scoring champion and led some mediocre Cleveland teams to consecutive 60-plus win seasons. Wade was a scoring champion, NBA champion and Finals MVP, who was coming off the two best statistical and most efficient years of his career. You can see why Mark Cuban and Dan Gilbert began to cry unfair upon this decision, especially when Chris Bosh was already on the team as well.
All the crying and complaining didn't matter.
Since the two paired up, the Heat have represented the Eastern Conference in the NBA Finals and became the first team from the East to win an NBA title since the 2008 Boston Celtics. The team has received significant help from the likes of Bosh, Shane Battier, Mario Chalmers and Mike Miller, but it's Wade and James, as the team's catalysts, deciding who would inevitably end up coming out victorious.
In the past two years, Wade and James have gone from playing like strangers to featuring some full-fledged chemistry that includes full-court alley-oop's and realizing how to play this game the correct way. Wade played with a superstar in Shaquille O'Neal. James was essentially gaining his first ever experience playing with a teammate who was on the same plane as him.
With two more years until they have the opportunity to opt-out—and the high possibility they stick together—Wade and James have the potential to become the best duo the league has ever seen; and, yes, that does include Michael Jordan and Scottie Pippen and Karl Malone and John Stockton.
However, we need to let the games happen and we need to see how well James and Wade continue to play together. So, before we make any insane assumptions, let's allow these two, and the rest of the Heat, to continue the push to possibly becoming the NBA's next dynasty.
For now, we take a look at 10 reasons as to why Wade and James could become the best duo to ever step onto a court in the same uniform.
Begin Slideshow

»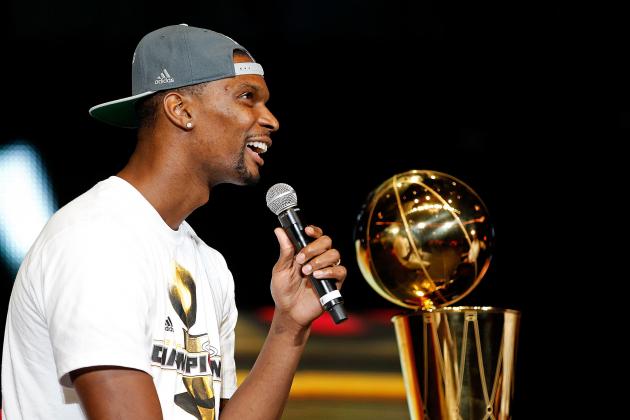 Mike Ehrmann/Getty Images

Basketball isn't won by individuals. In order to be a success in the game of basketball, you need to be a good teammate who can distribute and involve other teammates, as well as receive the help back.
As much as LeBron James' critics want to argue, no NBA superstar has ever done it on their own. Michael Jordan needed Scottie Pippen; Wilt Chamberlain needed Hal Greer; and LeBron James needed Dwyane Wade in order to get over the hump. If those three superstars didn't align themselves with a roster that's capable of providing consistent support, they may have never won a title.
LeBron and Dwyane find themselves with a roster that may just overshadow the Bulls of the '90s. While the Heat's roster doesn't compare for the first two years of the experiment, they may just give any dynasty a run for their money if Ray Allen and Rashard Lewis pan out. Miami's offense relies heavily on LeBron and Dwyane's penetration into the middle, which would free up open opportunities for Allen and Lewis to do their work along the perimeter.
Most of all, they have Chris Bosh—a 6'11" power forward who can also play center and once averaged 24 points and 11 rebounds per game.
The fact that Wade and James are both in the prime of their careers wasn't enough for the Heat. They knew they needed a presence in the post who could also hit the mid-range shot, in order to free up those drives to the lane that Dwyane and LeBron embrace so much. Bosh, who averaged 18 points and eight rebounds last season, gives those two the boost they need to elevate their games to a higher level.
As much as we like to think that Wade and James shoulder the burden, Bosh's absence in the postseason proved the Heat are barely an elite team without him. His ability to space the floor and release took some of the pressure off of his two superstar teammates. Having Bosh on the floor only strengthens the games of Wade and James, even if their stats suffer as a result.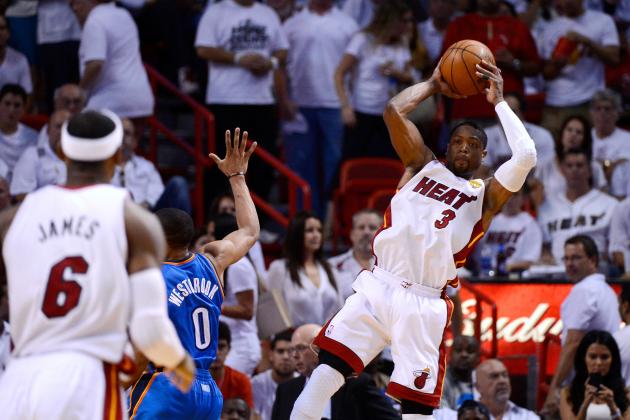 Ronald Martinez/Getty Images

What makes the dynamic duo of LeBron James and Dwyane Wade so dominating is their natural-born ability to score at will.
Wade won a scoring title in 2009 after scoring 30.2 points per game and is averaging 25 points per game for his career. James won the 2008 scoring title with 30 points per game and has a 27.6-point average for his career. These two are scoring juggernauts who constantly attack the rim and possess the mid-range jumpers to keep the defense honest and wary.
LeBron James also has a decent three-point shot when he's in the right rhythm; Wade cannot say the same, although he can go off on infrequent occasions.
Together, they both share the similar qualities of being scorers. Although some would argue that James is a pass-first type of facilitator, he is always looking for the best possible option to score. It just so happens that, most of the time, the best possible scoring option is himself. He could have the mentality of a Carmelo Anthony or Kevin Durant and always look to score, but that may have resulted in a LeBron James that would still has no titles.
What it comes down to is Wade and James are both excellent scorers who can go off on any given night. What this means for the good of their legacy and the team is the idea that each player contains the capacity to lead on any given night. If LeBron James is struggling, then you'll usually see Dwyane Wade go off and vice versa.
Only rarely will you see both players struggle and even then you'd see Chris Bosh step up.
They're two extremely aggressive players who will do whatever they can to get to the rim, which was proven this past season when both players made a conscious effort to restrict their long-distance shots and instead relied on taking high-percentage shots. The new ideal resulted in Wade shooting nearly 50 percent and James shooting a career-high 53 percent.
As long as these two maintain their hard-headed mentality that allows them to constantly attack the rim and never be the type to shy away from putting their head down and doing what they can do score, they'll be destined to become known as one of the league's top duos because they're so dynamic on the offensive end.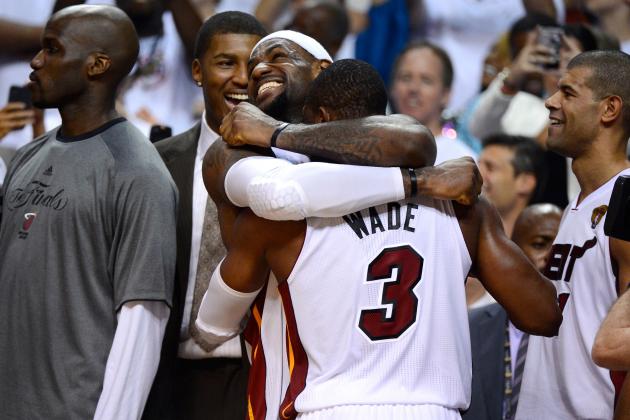 Ronald Martinez/Getty Images

Communication is key when it comes to being a wildly successful team and a possible dynasty in the making.
Coaches want their team to be connected with each other—always talking and discussing how they can improve themselves on the court. Whether it's a positive or a negative message, players and coaches need to discuss all things basketball with each other. Without proper communication, you're going to continue running into the same problems and making the same mistakes.
The great thing about LeBron James and Dwyane Wade is that they're really close friends who aren't afraid to get into each other's face. If one thinks the other needs to do something, he'll tell them to do it. If one of them doesn't believe the other is playing to their fullest capacity, they'll make sure to let them know that, too, which explains why we heard Wade yelling at James during the 2011 NBA Finals.
The media will attempt to spin these arguments as a problem behind-the-scenes, but it's usually just players arguing with each other or with their coaches over something in the game. These players are human just like us, it's natural for them to get frustrated and allow their feelings to come out and express them to those they are closest with.
The Heat are a close-knit group. It's a family setting in the locker room and every single player within the Heat organization is well aware of everything that is going on. If a problem needs to be raised, it will be raised because this is a team that doesn't let things grow internally, just like when the Heat held a players-only meeting that ended up with the team winning 20 of their next 21 games in late November and throughout December of 2011.
Dwyane and LeBron share a bond off and on the court, and Wade giving the reins to LeBron near the end of the season gives a clear sense of how strongly these two feel for each other as basketball players and teammates who are attempting to achieve a similar goal.
They know how to win and, more importantly, they know how to do it together, which is why the NBA community should be more worried about the prospects of LeBron and Dwyane coming off their first championship together rather than a new-look Lakers team.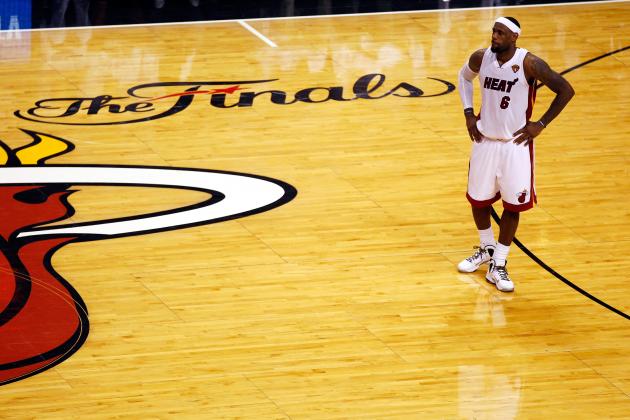 Mike Ehrmann/Getty Images

When Dwyane handed the Miami Heat over to LeBron James, it allowed the three-time MVP to be more in his element and in a more comfortable situation.
It wasn't quite isolation-ball like he played with the Cleveland Cavaliers for seven years but it was similar.
The Heat featured James as their point guard but had him moving with and without the ball as well, which is a new trait that James added to his game upon joining the Heat. Miami wants LeBron James to be comfortable but they also don't want him succumbing to playing how he played in Cleveland.
LeBron still runs isolation plays, but it helps when he has teammates that aren't Mo Williams, 34-year-old Antawn Jamison and 37-year-old Shaquille O'Neal. Having guys like Wade, Bosh and Allen only make life so much easier for LeBron, who is constantly faced with the burden of carrying the heaviest expectations of any player in NBA history.
Since moving to the Heat, James has redefined his game and has come out of it a better player. Winning a championship didn't change LeBron. It's what happened in the championship series he lost that completely changed him. He knew right then and there that changes in his game had to be made and he may never get the monkey off his back if he didn't reinvent himself as a more well-rounded all-around threat.
As a result, James garnered a post-game and it's paying off in dividends for the Heat. Miami's offense runs more smoothly with LeBron constantly forcing himself near the rim and his teammates, especially Wade, are feeding off the attention James is receiving when he posts-up. Dwyane, an excellent cutter, is constantly thriving off the open opportunities he's receiving courtesy of James.
With James handling the ball more effectively, it's leaving Wade with less to do on the court. That's exactly what the Heat could use at this point, considering that Dwyane will be 31-years-old in January. Miami needs Wade to not put his body on the line as much as he did early in his career and wants him to make scoring easier, a key reason why James is playing a completely different game compared to what he did with Cleveland.
With the two superstars feeding off each other, and James only growing as a player, it aids both players in their endeavors to win a title, further their legacies, and continue to create some chemistry with each other that results in easier offensive plays.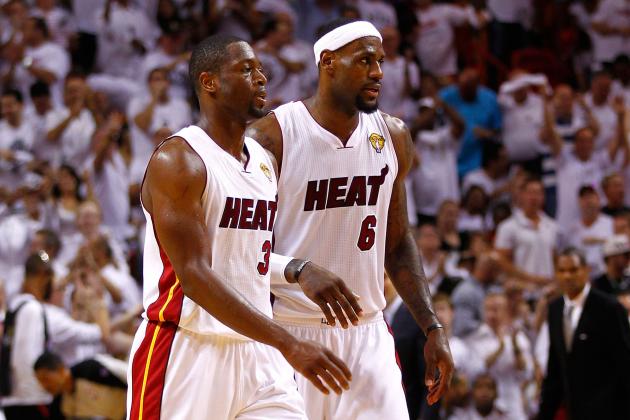 Mike Ehrmann/Getty Images

By allowing LeBron James to take full control of the team, Dwyane Wade found himself in unfamiliar territory that he hadn't seen since early in his rookie season.
Wade is a second option. A full-fledged second option who moves to the beat of LeBron's drum. Not since he was a rookie and playing alongside Brian Grant, Lamar Odom and Eddie Jones has Wade played under the direction of a teammate. Not even when Shaquille O'Neal joined the team a year later did Wade back off; he's been the leader of the Heat since the 2004 postseason.
Being the intelligent basketball player he is, Wade knew that it was time for the younger, stronger and more athletic player to find his niche, rather than forcing the issue of having both players take turns. While it's led to the expected and anticipated result of LeBron flourishing, it also featured Dwyane struggling at times to find his place on the floor.
I understand that Wade was also dealing with injuries throughout the year, but he had the look of a different player. His demeanor didn't possess the same confident swagger he boasted throughout his years when he was the obvious leader of the team. That's the effects of taking away the role of a superstar from a superstar, which is similar to how we saw Chris Bosh struggle to adjust to his new role as a third option last season.
As humble as Dwyane may appear to be, he still possesses the same superstar mentality that every other elite player has; you just don't see him strut around the court like you'd see from someone like LeBron. A mentality like that is what has allowed Dwyane to win two championships and a Finals MVP but it could also lead into problems for Wade and his approach towards accepting his new role.
Luckily for the Heat, Dwyane is willing to do whatever it takes to win, just like everyone else on this Heat team. They've all made sacrifices in order to win and Dwyane will continue adjusting to the role of a second option for the purpose of winning another title.
After all, it's no coincidence the Heat won a title when LeBron was leading the way—it's what tends to happen when you put the ball in the hands of the best player.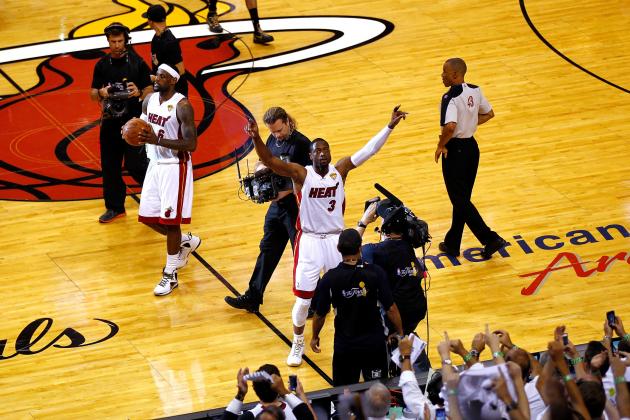 Mike Ehrmann/Getty Images

And they said LeBron James doesn't live for the big moments, huh?
A lot of analysts found their foot in their mouth's shortly after the conclusion of the NBA Finals when the Heat had blown out the Thunder by 15 points, courtesy of a LeBron James triple-double—because that's what players do who don't live for big moments: they record triple-doubles in championship-clinching games.
We knew that LeBron was effective in the fourth quarter—or any point in a crucial setting—but it just helped our sanity to see the idea that had wrongly existed finally eradicated. You had to feel good for the guy once he hit that crippled three-pointer in Game 4 because it was so much more than a shot, it was a tremendous release of a heavy burden that had been draped over his shoulders for the entirety of his NBA career up until that point.
But he's been doing that his whole career. For some reason, however, there became a sudden fascination with hitting game-winning shots at or near the buzzer and this worked against LeBron. It was all a fabrication created by the media-hype machine to draw in ratings and stir up some debates and controversy but it didn't make much sense in the end since they're basically lying and utilizing any stats—even creating stats—that weighed against LeBron.
In the end, we found out that LeBron is actually pretty good at living up for those top-bill moments. Whether it was scoring 17 points in the fourth quarter of Game 3 against New York; going off for 40 in a pivotal Game 4 against Indiana; the historic Game 6 in Boston; dropping 32 in Game 7 against Boston; banking in a shot in the waning moments of a hotly-contested Game 2 against Oklahoma; or hitting the big shot in Game 4, James has proved the criticisms of many moot.
LeBron also shot 45 percent in the fourth quarter of the 2011-12 season.
There's not much to be said about Dwyane. It's well-known that he's always been the type to embrace and flourish in those situations, ever since the hellfire he rained down upon the Dallas Mavericks in 2006 to the tune of 35 points per game.
With these two are capable of taking and hitting those big shots, don't forget that Udonis Haslem, Mario Chalmers, Ray Allen, Chris Bosh and Shane Battier love those moments too. The Heat will be one of the league's most comfortable and successful teams in crucial games for years to come.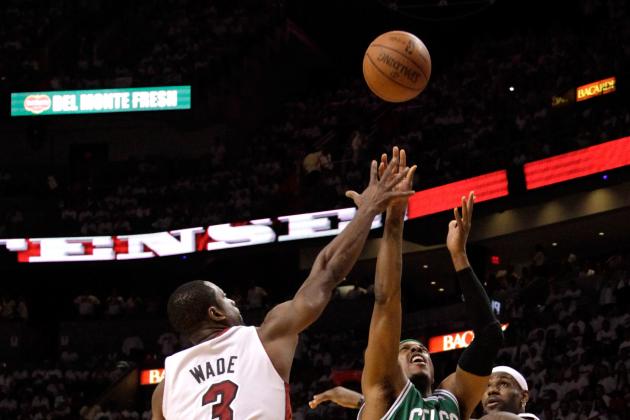 Mike Ehrmann/Getty Images

It's no secret that the key to winning a championship is having an elite defense that either beats you with constant activity or strong chemistry and a great foundation to consistently rely on against any type of opponent.
Just look at the 2012 NBA Finals as a prime example. The Oklahoma City Thunder were a better offensive team than the Heat, but when it came down to those moments late in the games when the defense needed to step up, it was Miami—not the Thunder—doing what it had to do to win.
They may have allowed Kevin Durant and Russell Westbrook to have great performances but they didn't allow multiple players to get into a rhythm and played aggressive, keeping their opponent out of the paint.
You live by the jump shot and you die by the jump shot. As good as Durant, Westbrook and James Harden can shoot, shots don't fall for 48 minutes, for seven games. The Heat allow their opponents to get their shots off the in first half, which ends up building the team's confidence in those shots. However, the more confident they get, the more reliable and dependent they become.
By the time the fourth quarter comes, the opponent is forced into being jump-shot happy.
Leading the forefront of this is Dwyane Wade and LeBron James. Both are former All-Defensive Team members—James has been on five first teams alone—and both are extremely intelligent defenders who possess active hands, great lateral quickness and excellent timing when going for steals and blocks, especially the 6'4" Dwyane Wade who will go down as the best shot-blocker for a player his size to ever play the game.
It's scary to think that the same players who are wearing down their assignment on offense are also shutting them down on defense. We all know how LeBron James went off for that fabled statline in Game 6 against Boston, but not many people recognize just how excellent LeBron was on both ends of the floor.
Future Hall-of-Famer Paul Pierce, who lives for moments like closeout games, scored nine points on 18 field-goal attempts and turned the ball over four times. Next time we break out the old comparisons to downplay LeBron's legendary performance, let's also make sure to recognize the other end of the floor that the three-time MVP also dominated on.
With these two playing lockdown defense at the 1, 2, 3 and 4 positions, and Shane Battier capable of backing both players up, the Heat are going to continue finding themselves amongst the league's top defensive squads, especially with the strict defensive mindset instilled by coach Erik Spoelstra.
Ronald Martinez/Getty Images

In order to unite your soldiers, you need to give them a common goal to strive for. One that's worth sacrificing many coveted things for. This goal is worth the sacrifice; worth being in uncomfortable settings and making the adjustments to better accommodate those who you consider your brothers. If there's one thing that's going to unite a group of people, in the sporting world at least, it's success.
Sure every bright-eyed rookie comes into the NBA with the ideology that they're going to take the basketball world by storm but eventually end up with only a few or no titles. However, many players can get sidetracked and begin to stray away from those initial goals of winning a title. Some become driven by money and others by individual success, but it's those who stay the course and keep their eye on their originally intended goal that eventually reach it.
The main reason why this whole "Big Three" experiment didn't have a chance at failing was because the two best players are championship-driven. They are driven enough to give up the individual spotlights; driven enough to give up the millions upon millions of dollars they would have received with a max-deal; and driven enough, in LeBron and Chris's case, to leave the admiration of a loyal fanbase for foreign waters that were plagued with uncertainty.
Talent helps, too, of course.
Sacrifices were made and it resulted in the Heat winning a championship. Wade and James did all they had to do in their first two years to break the surface and win their first title and this train isn't stopping yet. This team wasn't formed for the purpose of being a one-and-done team. They teamed up to form a dynasty that would result in them furthering their legacies by way of winning multiple titles.
Eight championships may be a little too much but who knows? When your two best players are the league's best player and the other is arguably top five, anything is possible if they're able to possess the same mindset they had when originally coming up with the idea. This game is mental as much as it is physical and having two championship-driven players with the talent on par of nearly any Hall-of-Famer is definitely something these two can share in common.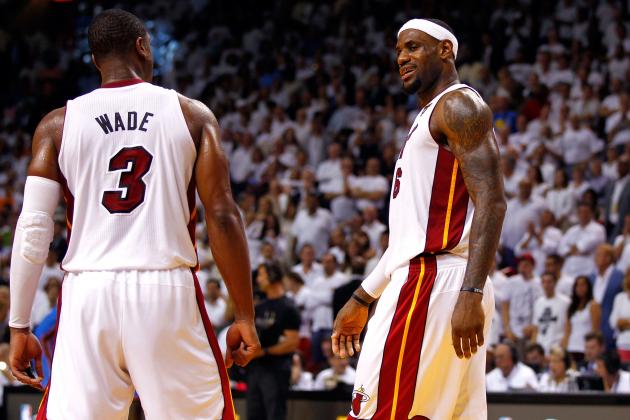 Mike Ehrmann/Getty Images

When you achieve success, there will always be a group of misfits on the outside looking in that want to downplay the achievements of those that were ambitious enough to complete their primary objective.
The Heat won a title, but there are still plenty of doubts surrounding this team by those who are uneducated and who just plain don't like to see LeBron James and Miami winning. So they do what they can to make themselves feel better by going against the grain and making wild assumptions and criticism that don't make too much sense.
A favorite criticism of mine has been the idea that the team is too old and won't be able to keep up with a team like the Oklahoma City Thunder. While it is absolutely true the Heat have one of the oldest teams in the league, the majority of the talent is in the players who are either entering their prime, in the middle, or nearing the end.
LeBron James, who is just beginning to figure out this whole concept of playing basketball as effectively as he can, is only 27-years-old and will be turning 28 on December 20. A three-time MVP, one-time NBA champion and one-time Finals MVP will just be cresting the wave by the start of the 2012-13 season. James still has at least five good years in him, and we can't rule out that he could end up becoming a smarter and more experienced player through his later years.
However, there is a concern over Dwyane Wade, who will be 31 years old in January. Up until this past season, where he sporadically dealt with injuries, Wade had been healthy for three consecutive seasons. While health has been on Wade's side for the most part since a series of surgeries in 2008, the Heat would prefer not seeing him continuing to put himself in situations where he could get himself seriously hurt.
Injuries don't heal up as fast when you're 31 years old. Those same bumps and bruises Wade was taking as a 24-year-old in 2006 carry much longer lasting effects by this stage of his career, so there is an obvious need for Wade to begin developing a jumper and to become reliant on a game that doesn't always involve him crashing his way to the rim.
But, as stated before, Dwyane is a smart player and he knows just as well as everyone else that he plays a risky style of basketball. He will find ways to score without having to put his body on the line and will also receive more time to rest on the bench with the likes of Ray Allen, Mike Miller, Shane Battier and James Jones playing the role of backups.
With James coming into his own and Dwyane set to receive plenty of help in order to prolong his storied career, these two could look forward to at least three more productive years together.
Even when Dwyane begins to hit the downside of his career and can't attack as well as he used to, he will still be able to hit the shots that matter, utilize experience as a critical part of his game and depend on the younger LeBron James and Chris Bosh to assume more significant roles.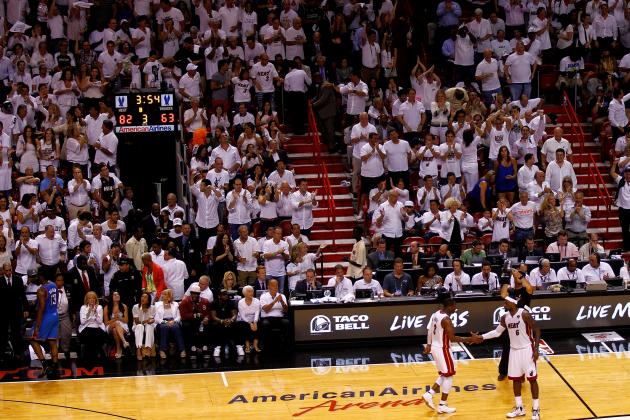 Mike Ehrmann/Getty Images

Following the untimely conclusion of the 2011 NBA Finals and the madness that would follow, Dwyane Wade, LeBron James, Chris Bosh and Erik Spoelstra all got together and stated how each of them needed to make improvements.
As a result, Bosh came back noticeably stronger, Spoelstra created new ways for his offense to run more free-flow and without as many desperation shots taken from the perimeter, Wade lowered his body fat level to inhuman numbers, and James came back with that post game that everybody is so worried about these days.
Improvements from Bosh and Spoelstra could have been expected, but Wade and James? Those are two of the league's best players with countless accolades to their name and eight-year careers that are already worthy enough to put them in the Hall-of-Fame. It's a testament to their dedication and ambitious nature, as well as a nod to how adamant they are when it comes to making things work and turning this experiment into a success.
As a result, LeBron James came out and played the best basketball of his career. Dwyane Wade, unfortunately, didn't have much time to display his talents with injuries cutting his season by 17 games. However, with the necessary knee surgery taking place and Wade already on the court on schedule, Dwyane should come back more driven than ever because he has been in a situation similar to this before.
In 2008, many doubted that Wade would ever return to form following several surgeries. He led the United States basketball team in scoring and then led the NBA in scoring with a career-high 30.2 points per game the following year.
And LeBron? He's only going to continue improving that post game of his. He has seen the success it generated and he's only going to look to further his repertoire. Plus, with the high he's riding from winning his first championship and his second gold medal, James is on a level of confidence he hasn't been near since his high school career.
Considering LeBron is a player who heavily relies on his confidence to get him going, it's safe to say that he's going to be entering his third year with the team with a more fluid and well-rounded game.