Roy Hibbert will have a better season than the last one. His statistics will improve, but he won't repeat as a NBA All-Star.
Many people were surprised about Hibbert being named to the All-Star team last season, I was not among them. From his numbers alone, 12.8 points, 8.8 rebounds and two blocks, Hibbert had a decent season.
How would those numbers stack up against the Washington Wizards' Nene?
Nene is just one of a few viable centers that play in the NBA East. The East have recently become filled with competitive big men.
The fortunes of the Eastern Conference teams changed with offseason trade that sent Dwight Howard to the Los Angeles Lakers.
The biggest beneficiary of that trade was the Philadelphia 76ers. In the intricate four-team deal, the 76ers received Andrew Bynum.
Bynum is widely regarded as the NBA's second-best center and will come out with something to prove.
First off, Bynum will be looking to prove the Lakers made a mistake in trading him. Secondly, he will be an unrestricted free agent at the end of the season. While there is very little doubt the 76ers will attempt to re-sign him, a motivated Bynum could be primed to have his best season to date.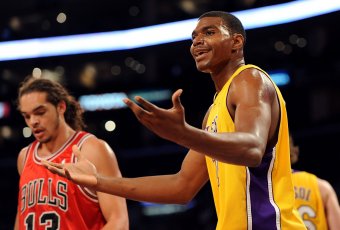 Harry How/Getty Images
Another center that assured to get attention is the Chicago Bulls' Joakim Noah.
Noah is a consistent double-double threat. He is also a polarizing figure amongst NBA fans. He's both loved and despised, but respected nonetheless. That can work in Noah's favor or against him. The question is, will this be the year the fans decide to vote Noah in as an All-Star after finishing in second place the last two seasons?
Hibbert has his work cut out for him to repeat as an All-Star and Bynum and Noah are probably the least of his worries.
The aforementioned Nene will also get some looks. So will the Atlanta Hawks' Al Horford, who was injured most of last season. To add to the suspense, if the Boston Celtics' Kevin Garnett gets listed at center, things will definitely become interesting.
For Hibbert to stand out he must first avoid foul trouble.
The longer Hibbert can stay on the floor, the better. His rebounding totals should immediately improve; there is no one in the NBA his height (7'2") that plays on his level. His scoring should increase with more opportunities as the Pacers begin to understand how best to use his height advantage.
Hibbert does not wow anyone with his athletic ability but he does not have to. He simply has to realize that he is the biggest player on the floor at all times.
I will not completely rule Hibbert out to repeat as a NBA All-Star. The task seems to be a daunting one, though not out of the question. For Hibbert, the competition will make it tougher this year. If he turns in a terrific season, the Pacers will be better for it.