Breaking Down Peyton Manning's Form at Preseason's End
Mark J. Rebilas-US PRESSWIRE
"If Peyton is still Peyton..."
Every preview of the Denver Broncos' season contains a phrase like that. Peyton Manning, at the top of his game, might be the biggest difference-maker in the NFL. For 13 seasons, Manning elevated the Indianapolis Colts to permanent contender status.
If Manning being replaced by Curtis Painter dropped the Colts from 10-6 to 2-14, how good could the AFC West champion Broncos be after replacing Tim Tebow with Manning?
Of course, the Colts let Manning walk for a reason: He might never "be Peyton" again.
Manning underwent a cervical spinal fusion procedure to relieve pressure on the spine and nerves in his neck. He'd suffered weakness in his shoulders and arms, due to possibly permanent nerve damage. Dr. Hassan A. Riaz of FootballPHDs.com explained:
If [Manning] has diminished strength from his healthy baseline, he is unlikely to recover any time soon, if at all. ... If Manning were a bricklayer and applied for permanent disability through Social Security, he would ultimately get permanent disability because of the fact that he has already had two cervical surgeries to correct issues with pain and neurological deficiencies and has to use his hands to make a living.
But the time for speculation is over. Manning has, for the first time since 2010, played competitive football. For months, all we could see of Manning's progress was a surreptitious camera phone video, broken down by Doug Farrar of Yahoo! Sports, of someone who might be Manning at a place that might be the Broncos' facility.
Now, he's playing for everyone to see. Officially, here's how Manning performed: He completed 30 of 42 (71.4 percent) passes for 343 yards (8.17 yards per attempt), two touchdowns and three interceptions. But let's see for ourselves:
On the first drive against Chicago, we saw Manning adjusting to the speed of the game. Several throws were behind the the receiver, low or tipped, including the drive-ending interception at the goal line. But there were a few examples of Peyton being Peyton: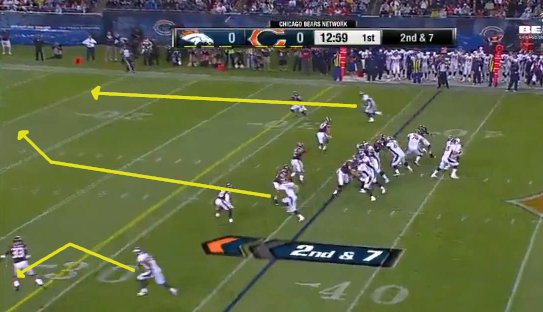 0:13: The Bears drop seven back in zone coverage, and Manning waits for his downfield options to get open. They don't. The protection is good, so Manning turns to his left and fires toward Eric Decker, who found a soft spot in the zones at the sideline. NFL fields are 53.5 yards wide, so a throw from the far right hash to eight yards down the left sideline is actually a 31-yard throw.
It's not a great spiral, but Manning gets enough zip on it to get it to Decker between two defensive backs.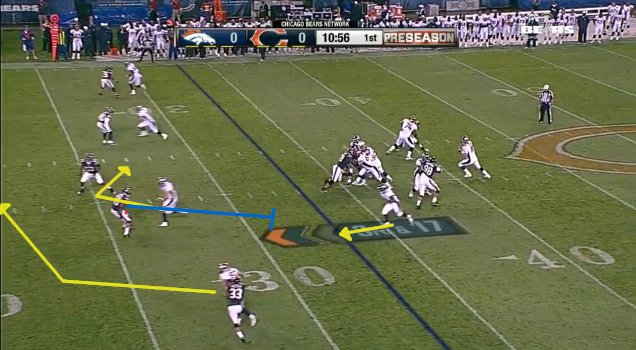 0:50: On 3rd-and-17, the Broncos line up with three receivers, and the Bears counter with their nickel package. With the tight end, the Broncos use "four verticals," where all four targets streak downfield for 10 yards, split into different routes. The tight end sits between both linebackers, holding them close to the line of scrimmage.
The nearer 'backer steps up to cover the releasing running back, and Manning fires to Decker just behind the space the covering linebacker vacated. When he sees Manning prepare to throw, he tries to hit the brakes—but it's too late. Third-and-17 converted.
In the game against the Seahawks, Manning threw a few medium-to-deep balls. They looked good in the air, but his accuracy was inconsistent.
2:51: This is a situation where it's tough to tell without knowing the route that was supposed to be run. Manning's pass has plenty of zip, but it's overthrown; looking at the receiver's eyes, it appears to be on the opposite shoulder of the one the receiver was expecting. The safety steps up and intercepts the pass.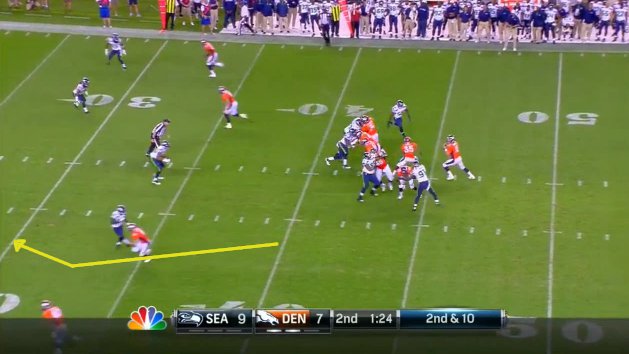 3:52: Again with four verticals, Manning looks down the left seam and sees Brandon Stokley, who he'd just connected with the play before. Stokley does a good job of getting past the coverage, and Manning delivers it right on the money: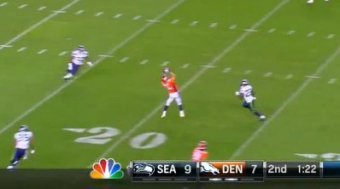 Stokley, along with Decker, seems to be developing chemistry with Manning more quickly than the other targets.
5:25: This is an excellent example of Manning and the Broncos not being afraid to attack the defense. On 3rd-and-2, the Broncos go five-wide from the shotgun: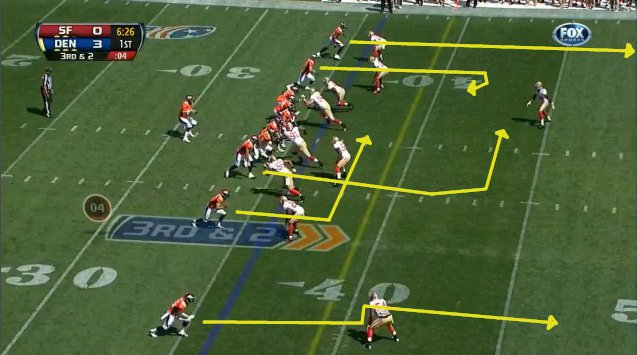 Manning has three short options, all attacking the zone in front of the strong safety at various depths. One of those three targets is likely to be open for the first down. But they also have the two outside wideouts go deep, leaving the free safety stuck playing center field.
Lance Ball, the tailback, is the one split wide to the right; he uses his speed and a clean double-move to beat linebacker Larry Grant deep. Manning has the patience, and the protection, to see Ball get open and hit him it in stride before safety Donte Whitner can get over.
So, Is Peyton Peyton?
The verdict is...not quite, but enough.
Back in February, NFL Network's Michael Lombardi said the rumor was Manning couldn't throw to his left. After the game against the Seahawks, some said it appeared Manning couldn't throw to his right, which Bleacher Report's AFC Lead Writer Christopher Hansen debunked.
However, as Hansen pointed out, the accuracy, velocity and spiral of Manning's throws aren't up to his pre-injury form. That said, Manning has enough arm to pick apart good defenses (as the Seahawks' and 49ers' are) out to at least 25 yards. Better yet, the Broncos' pass protection has held up very well, giving Manning the time he needs, and offensive coordinator Mike McCoy is giving Manning excellent options.
Manning is most of the way there, and as he develops a rapport with his receivers and continues to work those muscles, he should look more and more like himself as the year goes on.
As he is right now, though, he's still worlds better than the quarterback he replaced.
This article is
What is the duplicate article?
Why is this article offensive?
Where is this article plagiarized from?
Why is this article poorly edited?

Denver Broncos: Like this team?