Week 1 Prep Football Recap: News, Notes, Photos and More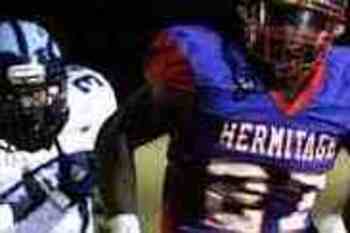 RB Derrick Green, Hermitage (Richmond, Virginia) High School
What a fantastic start to the high school football season.
Jumbo-Tron. Prescription Turf. Packed Stadiums. Stars Born. Big-Time Recruits. Small-School Powers. Freshman to Phenom. Ten TD Passes. Battle in the Desert. And ESPN'S High School Football Kickoff.
These story-lines and more as high school football keeps getting bigger and better.
It's all here and we are ready to roll.
Five-Star Player Watch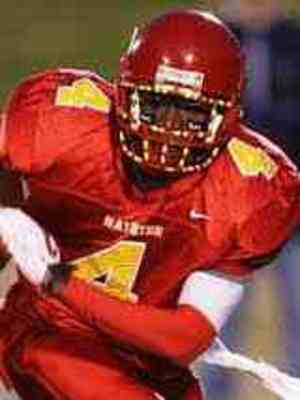 RB Taquan Mizzell, Bayside (Va.) High School
The 2013 Rivals Top-100 Prospect Rankings was updated Aug. 20 and the list is crowded with 22 five-star recruits. Sixteen have declared their college choice and six remain uncommitted.
Southern Cal tops the list with five, followed by Auburn with three. The Trojans also lead the Rivals Team Recruiting Rankings, followed by the Michigan, LSU, Notre Dame and Florida.
Here's how five of the five-stars performed over the weekend.
QB Shane Morris, De La Salle (Warren, Michigan)
Shane Morris is a pro-style quarterback committed to Michigan. He passed for 1,684 yards and 19 TDs as a junior.
He guided the Pilots to a 35-7 win over Pioneer High School (Ann Arbor) Friday. The 6'3", 183-pounder completed 14-of-26 passes for 178 yards and two TDs.
Morris is one smooth operator and takes what the defense gives him.
RB Derrick Green, Hermitage (Richmond, Virginia)
This is no one-trick pony. Derrick Green is a versatile running back who punishes defenders and wears defenses down. It was evident in the Panthers' 38-0 victory over Fork Union Academy (Virginia) Saturday on ESPNU.
The 6'1", 200-pound specimen rambled for 127 yards on 23 carries and two scores. This uncommitted talent showed a rare combination of speed and power and got stronger as the game progressed.
RB Greg Bryant, American Heritage (Delray Beach, Florida)
Don't blink or he is gone. Greg Bryant rushed for a spirited 113 yards on 23 carries. Not bad considering black jerseys swarmed the heralded recruit all afternoon.
Cocoa High School (Fla.) thumped Heritage High School 25-7 Saturday on ESPN. It was billed as a battle of small-school Florida powers.
But it was tough sledding for the 5'11", 197-pound Bryant. Despite the score, this cowbell kept grinding for four quarters. He has narrowed his choices to Alabama, Auburn, Georgia and South Carolina.
RB Ty Isaac, Joliet Catholic (Joliet, Illinois)
Ty Isaac romped for 66 yards on seven carries, including a 44-yard TD run, all in the first quarter. The bad news, he injured his shoulder and missed the rest of the game. On top of that, the Hilltoppers lost to state rival Providence Catholic High School 40-34 Friday on ESPNU.
This man-child has committed to the USC Trojans. He is 6'3", 215 pounds and all downhill.
RB Taquan Mizzell, Bayside (Virginia Beach, Virginia)
Nicknamed "Smoke" by his head coach Darnell Moore his freshman year, Taquan Mizzell turned in a steady performance Friday. He slinked and slithered for 119 yards on 21 carries and scored twice.
The Marlins defeated crosstown rival First Colonial High School 28-3.
It must be the water. Two of the four, five-star running backs are from the state of Virginia, and the 5'10", 183-pound Mizzell is headed to the University of Virginia.
Battle in the Desert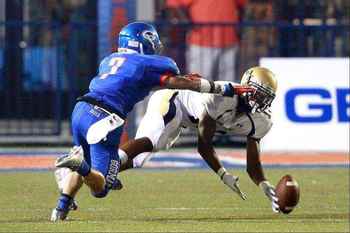 The Mojave Desert came to life when MaxPreps Xcellent 25 Rankings No.10 Our Lady of Good Counsel High School (Olney, Maryland) invaded No.11 Bishop Gorman High School (Las Vegas, Nevada) before a nationally televised audience on ESPN2 Friday.
Bishop Gorman QB Anu (Jarrett) Solomon threw for three touchdowns and ran for another as the Gaels secured a season-opening 27-22 victory over Good Counsel.
The Arizona-bound, four-year starter completed 13-of-17 passes for 243 yards.
Solomon set the tone early on, engineering an 82-yard, six-play drive, punctuated by a 27-yard TD strike to WR Ryan Smith.
The Falcons answered with a grinding 14-play, 85-yard march, capped by an eight-yard TD run by Dorian O'Daniel. Virginia-bound QB Brendan Marshall completed 7-of-7 passes, including five to Kendall Fuller, a Maryland commit.
Good Counsel led 8-7, but that would prove to be the last time as Bishop Gorman scored 20 unanswered points for a commanding 27-8 lead with 5:10 left in the third quarter.
Solomon hooked up with Smith again on a nifty 70-yard catch-and-run score. The 5'7", 160-pound Smith caught two passes for 97 yards and the two scores.
Good Counsel stormed back and closed the gap 27-22 with 2:05 left in the contest, but too little, too late.
RB/LB O'Daniel, a Clemson commit, finished with 130 yards on 20 carries and three TDs.
The Falcons showcased 14 Division-I blue-chippers.
Who? What? When? and Where? We Know...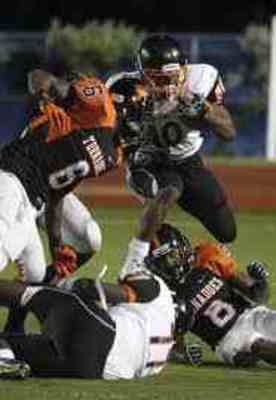 RB Tarean Folston, Cocoa (Fla.) High School
Undeclared athlete Tarean Folston's stock rose with a stellar performance Saturday on ESPN. His versatility and athleticism was on full display with 14 carries for 127 yards and a TD reception. Cocoa High School defeated American Heritage High School 25-7. Folston has received 30 offers.
Remember the name Jordan Scarlett. This sophomore RB from University School had 20 carries for 115 yards and two TDs against a stout Trotwood-Madison defense. He is already about 6' 2" and weighs 200 pounds. He gashed the defense and showed explosive power. University School handled Trotwood 33-14, dominating both sides of the ball. Ohio loses to another Florida school.
From freshman to phenom. Sophomore QB Jake Browning never played a single varsity game for Folsom High School (Calif.) last year. In his first start, Browning completed 34-of-51 passes for 686 yards and 10 TDs. That's correct. He threw four in the first, two in the second, three in the third and one in the fourth quarter. Folsom defeated Woodcreek High School (Calif.) 68-28.
QB Jalin Marshall experienced one for the ages as the Ohio State commit ran 23 times for 322 yards and three TDs. He threw for another 87 yards and one score. Unfortunately for Middletown High School (Ohio), the Middies lost to St. Xavier High School (Cincinnati, Ohio) 43-39 in a thriller in the Skyline Chili Crosstown Showdown. The two teams combined for 981 yards, 311 in the pivotal fourth quarter.
Elbert Jacob ran roughshod over Middletown Christian High School (Franklin, Ohio), totaling 430 yards on 29 carries and five TDs. Bishop Brossart High School (Alexandria, Ky.) spanked Middletown Christian 42-20.
Junior QB Will Grier passed for 493 yards and six TDs as Davidson Day High School of North Carolina beat North Raleigh Christian Academy 42-35. The son of head coach Chad Grier, Grier is starting to gain national attention from Division I college recruiters.
A four-star prospect from Sandalwood High School in Jacksonville, Florida, DeMarcus Walker verbally committed to Alabama. He is the No.3-ranked DE in the ESPN 150. Recruiting analyst Tom Luginbill reported it Saturday between games of the ESPN HS Football Kickoff. Walker is huge and fast. His 6'4", 280-pound body runs a 5.0 40-dash.
A Sept. 7 showdown between Skyline High School (Sammamish, Washington) and Cottonwood High School (Salt Lake City, Utah) features two of the top quarterbacks in the country. Max Browne and Cooper Bateman will duel it out. Browne is committed to USC, and Bateman will play for Alabama next season.
It was a tough Saturday for QB Christian Hackenberg. He was sacked six times and fumbled once. The four-star Penn State commit completed 13-of-27 passes for 141 yards and zero TDs. And Hermitage High School blasted Fork Union High School 38-0 in a showdown of Virginia programs.
Keep Reading