San Diego Chargers: 10 Keys to Winning the AFC West in 2012-13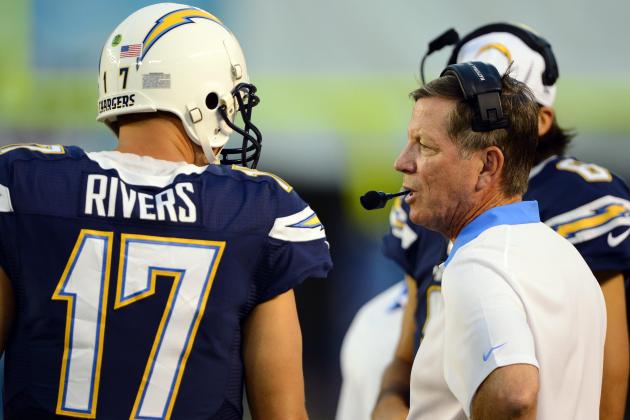 Christopher Hanewinckel-US PRESSWIRE

The quickest way to the playoffs is through a divisional championship. Period.
Especially in the AFC, where three teams in the AFC North made the playoffs in 2011.
Rather than hoping and praying for a Wild Card slot, the Bolts need to focus on dominating the division.
The Denver Broncos, Kansas City Chiefs and Oakland Raiders all want it, too. They definitely won't make it easy, but they are all beatable teams.
The division isn't spoken for, no matter how many people have already crowned the Broncos. It's definitely going to be interesting.
Let's examine the San Diego Chargers' ten keys to winning the AFC West and why they're built to do it.
Begin Slideshow

»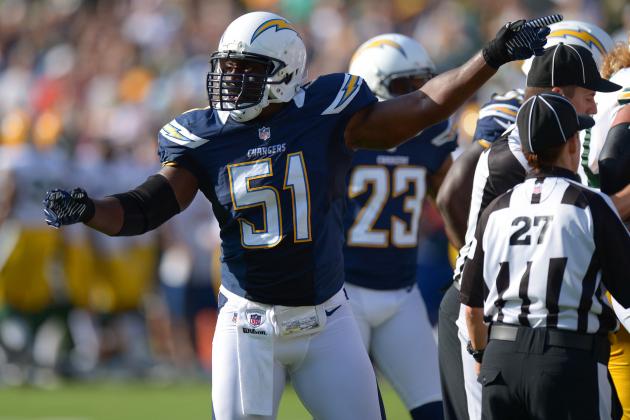 Jake Roth-US PRESSWIRE

San Diego has been in the midst of a youth movement, but that hasn't stopped them from adding proven veterans to every positional group.
Nose tackle Aubrayo Franklin is a big veteran presence in the middle of a youthful defensive line and it's easy to see that this unit is playing the run a lot better. Corey Liuget and Kendall Reyes are going to greatly benefit from Franklin's presence in the interior.
All big plays still have to go through Eric Weddle and company, and those will definitely be harder to come by. Weddle has certainly proved he is worth his paycheck and the Chargers are lucky to have him leading their defensive backs.
If you have talent without leadership, you have the Dallas Cowboys of the last couple of years. A talented team with their heads where the sun doesn't shine does not a champion make.
I can't remember the last time—before Takeo Spikes—that there was a truly vocal leader on the Chargers. The veteran inside linebacker has been around the NFL block a few times and knows how to inspire and fire up his teammates, but that's not the only thing that he brings to the table. He runs the defense on the field like the defensive field general that he is. He may not play nearly as well in space anymore, but he still brings a lot to this team.
Spikes has a decade-and-a-half of experience playing against the best. This is pretty important as, other than Shaun Phillips and Jarret Johnson, the rest of the linebackers on the Chargers roster are still very young.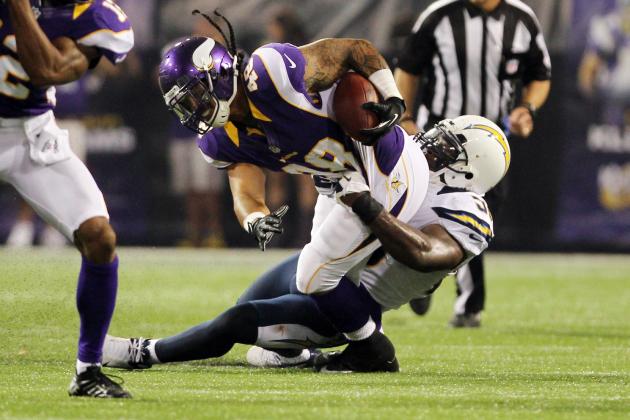 Brace Hemmelgarn-US PRESSWIRE

I really love this mixture of veterans and new young talent. The Chargers are set up to win sooner and later if this team can stay healthy and continue to improve.
San Diego's 2011 first-round pick—defensive lineman Corey Liuget—didn't make much noise in his first season, but he isn't a bust by any stretch. With a new workout plan and an off-season full of work, he is looking much better. He's slimmed down to around 300 pounds, and now he is noticeably more athletic last year. There's a side-to-side quickness and wiggle there that wasn't there last year and he looks stronger as well. He was getting great penetration in the run game with this new found strength and that new found wiggle will definitely help him register some sacks this year.
2012 second-rounder Kendall Reyes, on the other hand, will definitely make an impact in his rookie year. I'm very excited about his combination of speed and power. With him and Liuget, the Bolts have hit on two disruptive 5-technique (3-4 defensive ends) linemen two drafts in a row.
Another player worth watching is Donald Butler. He is flying all over the field and making plays on every down. He's excellent in coverage as well as against the run. Expect big things from him.
Having some great young bookends makes a huge different to guys like Melvin Ingram on the edge. They can only get better with each passing rep with and against their veteran counterparts. Ingram may be the big-name first-rounder, and for good reason, but this team is full of young talent and the window seems to be swinging open again.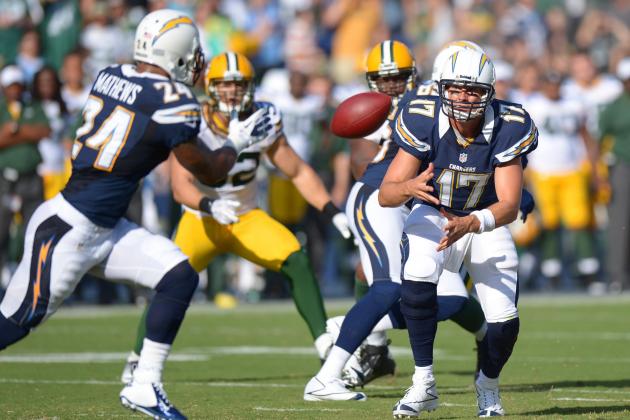 Jake Roth-US PRESSWIRE

Let's just say that Ryan Mathews isn't the only one that hopes he heals quickly from his broken collar bone. He is not only fast, but he is also bigger than last year. Hopefully, he's just getting his (hopefully not) yearly injury out of the way early.
Mathews is a great young running back and I would rather not see him suffer the same injury curse as Darren McFadden of the Oakland Raiders. Again, great player, but doesn't see the field enough because of injuries. Luckily, Mathews will see most of the regular season at the very least barring any further mishaps.
Having wide receiver Vincent Brown out for eight weeks is also a terrible shame. His big play capability will be missed. Hopefully Robert Meachem and Philip Rivers can develop some chemistry and timing in the meantime.
Once again, offensive linemen are dropping like flies and I'm getting concerned. Hopefully, Jared Gaither (back), Tyronne Green (foot), and Nick Hardwick (concussion) come back time for the regular season. Gaither has already said that he should be ready to go by then. With Tamba Hali and Elvis Dumervil in the division, that's not a moment too soon.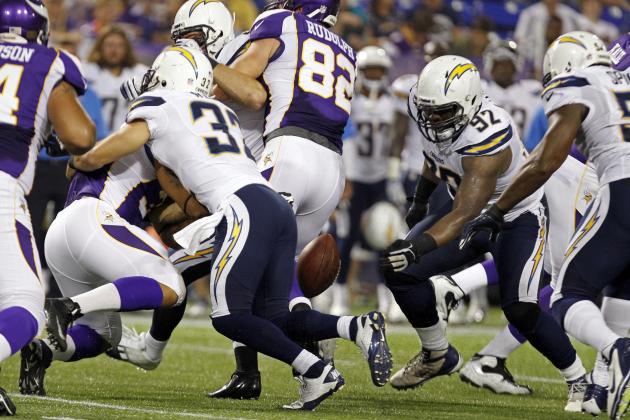 Bruce Kluckhohn-US PRESSWIRE

This was a big issue at times for this ball club. This season looks to be different. The defensive line is penetrating, the linebackers are flying to the ball and the secondary is showing great awareness in run support. Eric Weddle is known as a ball-hawk, but he can play the run as well.
I was very pleased to see all of the young Chargers defensive lineman holding the point of attack. In a 3-4 scheme like the Chargers run, it is important that the three down linemen don't give any ground. Cam Thomas, Corey Liuget and Kendall Reyes aren't letting themselves be pushed around by offensive linemen and that makes it a whole lot easier for the linebackers and safeties to get to the ball carrier.
It's very nice to have young players and veterans that can all flat-out play and this defense has a great mixture of both. The sheer numbers lean toward youth, but the veterans bring in their leadership and experience to make it all work.
The Broncos running game was nothing to be sneezed at last season. Darren McFadden of the Raiders and Jamaal Charles of the Chiefs are both great running backs and you can't make it easy for them. Stopping the run is key to winning this division.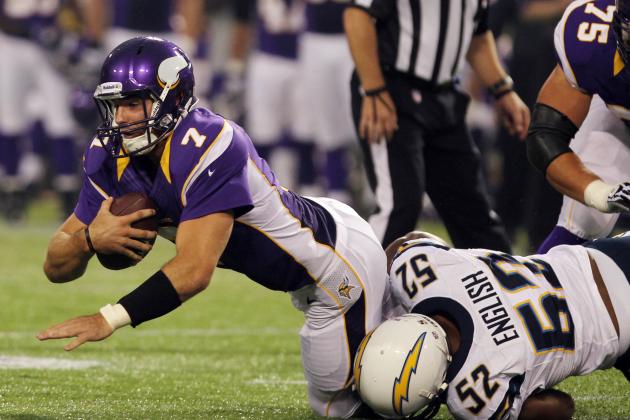 Brace Hemmelgarn-US PRESSWIRE

Being stingy against the run will make for a lot more 3rd-and-long situations. Be prepared to see a lot of the Chargers nickel defense this season. I, for one, am looking forward to it.
For those of you who don't know the language, a nickel defense uses five defensive backs on the field at one time. The nickel consists of two safeties and three corner backs along with different combinations of linemen and linebackers.
The nickel 2-4-5 combination (two down linemen, four linebackers, and five defensive backs) has been gaining popularity in recent years. Some would argue that it was made famous by the Green Bay Packers and their "Psycho" package. The Chargers seem to like the 2-4-5 set, and with the personnel they have it is easy to see why.
Getting pressure out of the nickel is huge. It creates turnovers and helps defenses get off the field on third down. Jarret Johnson and Takeo Spikes will come off the field on third down to make room for pass rushers like Melvin Ingram, Antwan Barnes and Larry English to come in and create pressure. These guys are built for it.
With a legendary passer like Peyton Manning in the division, the nickel package is more important than ever.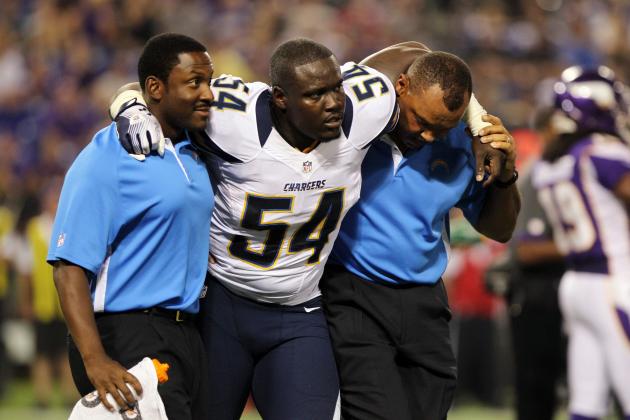 Brace Hemmelgarn-US PRESSWIRE

I know this term doesn't get thrown around a lot, but it's actually a pretty big deal.
Adding top-end depth with new starters allows players who aren't quite ready to start the time and opportunity to develop. Quarterbacks are the most babied in this way, but they aren't the only ones that are developed over a longer period.
A great example of that lies with Atari Bigby and Brandon Taylor. Could Taylor start right now? Maybe. However, Bigby and his experience are valuable. Not only to help the Chargers win now, but also in the development of Taylor. Bigby will pass the torch down to Taylor sooner or later. For now, Taylor can develop with a lot less pressure on his shoulders.
Another thing top-end depth does is improve your special teams. The addition of fullback Le'Ron McClain takes the pressure of the offense off of Jacob Hester, and a potential special teams star could be emerging out of the move. Trust me, this is key in the AFC West with teams like the Chiefs having success returning kicks.
Special teams meltdowns have lost the division for the Chargers in the past and the Chiefs and Raiders have never shown any mercy when the opportunity presented itself. Losing your top-end depth doesn't just hurt the starting units, it destroys special teams and loses games.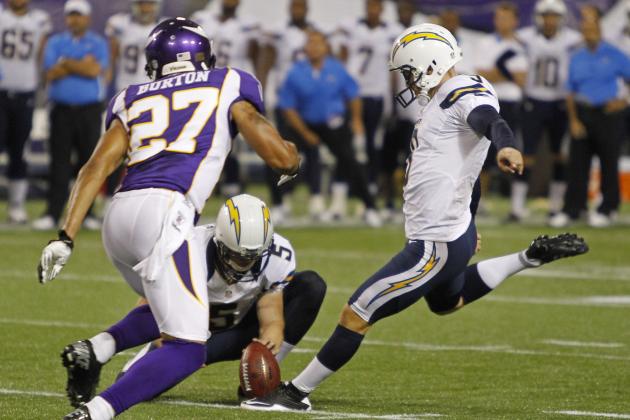 Bruce Kluckhohn-US PRESSWIRE

Even decent special teams would be lovely. Please, please, please, no more special teams meltdowns. Not much more needs to be said than that. The Bolts can't afford to give games away in such a close division.
Jacob Hester seems to be the one to replace Mike Tolbert's contributions on special teams. I love when top end depth makes the whole team better.
Outside of Kansas City, no other team in the AFC West has a threatening return game. Kick and punt coverage have been solid this preseason and punter Mike Scifres can still boom it. As long as there is disciplined coverage, the Chargers should be fine.
They need to protect Scifres from opportunistic teams like Oakland. Cheap scores still put points on the board and cost games.
Establishing a return threat would be nice. Being able to score in multiple ways helps you match points with guys like Peyton Manning. Morgan Spurlock is no Darren Sproles, but any contributions from him in the return game would go a long way.
Jake Roth-US PRESSWIRE

Everyone knows that the NFL is a passing league. The analysts won't let us forget it.
It's very hard to hide poor coverage. Hell, three quarterbacks threw for over 5,000 yards in 2011. It was a pretty historic year for passers. None of them were in the AFC West, but they're out there and teams have definitely taken notice.
As passing becomes more prolific, the coveting of good cover corner backs becomes more and more desperate.
Luckily, Quentin Jammer has something left in the tank. While Antoine Cason hasn't proven he can be a No. 1 corner, there is a guy named Shareece Wright that seems to be making a case for himself to replace Jammer as our No. 1 starting corner back.
Not now, not tomorrow, but soon enough Shareece Wright will make a name for himself in a big way. It has already begun.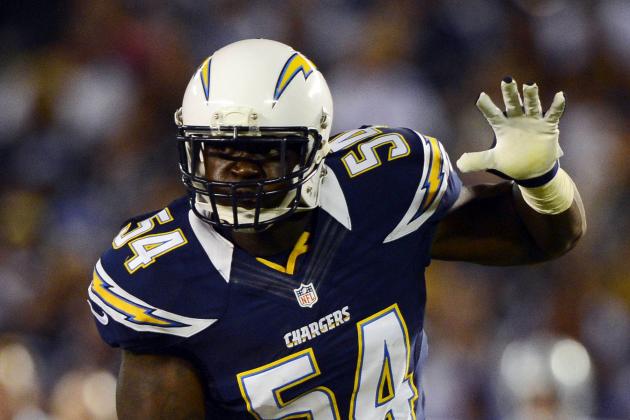 Christopher Hanewinckel-US PRESSWIRE

Peyton Manning is a master at sliding protection to where he needs it and there is only one answer for that.
If you have multiple guys that can get to the quarterback, then it doesn't matter where the opposing QB slides his protection. Base defense or not, you can't give the offense time to move the ball down the field.
Look at the New York Giants. They have just won their second Super Bowl title in five years thanks to their stable of pass rushers. It's a fact that just can't be argued with. If you want to argue, go argue with their defensive line and see how that works out for you.
The nickel defense isn't just for third down. As teams pass more and more, the nickel formation will be used more and more on multiple downs.
Two short seasons ago, when the 2010 Green Bay Packers won their most recent Super Bowl title, it was not uncommon for them to come out in the nickel on first and second down. They had the open mind that allowed them to deal with high-powered passing offenses and it helped win them a championship.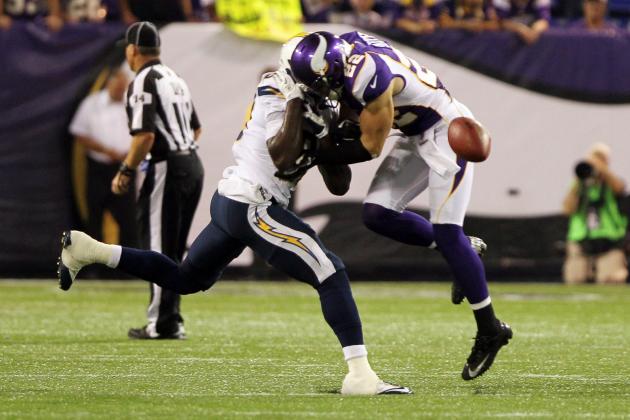 Brace Hemmelgarn-US PRESSWIRE

It all comes down to third down. It's where the drive is either extended or ended. Short or long, it's important and demands respect.
This is where it matters. This is where we find out who won the drive. Either the defense will get the ball back for their offense, or the opposing offense gets their way and extends the drive.
It doesn't matter if it's 3rd-and-long or 3rd-and-inches. The defense wants and needs a stop. Not only does it get the ball back for the offense and provide opportunities to score, but it gives the defense much-needed rest as long as the offense doesn't give it right back.
A fresh defense is an effective defense. Holding the Dallas Cowboys to 3-for-13 on third down is a great start.
This team is built to win the AFC West as long as they can stay healthy. The Chargers have the depth to deal with injuries to a lot of positions, but the jury is still out on the depth of the offensive line with such a big series of injuries. Hopefully the Chargers can stay healthy, take back the divisional crown and at least make a deep run into the playoffs.
After two years without making the playoffs, a deep run is long overdue. This team has the proper tools, they just need to stay healthy. When healthy, this offense can put up points with the best of them with long scoring drives and big shock plays.
We all love those big-shock plays.