Houston Texans Preseason Week 3 Review: Fun in the Big Easy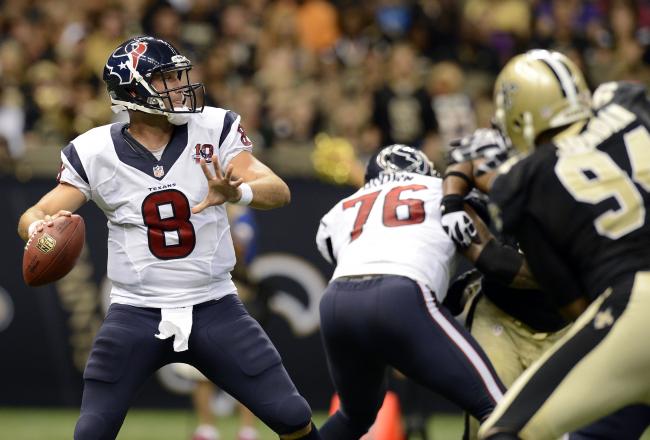 Schaub: "Oooh! It's the Saints secondary! Goody!"
John David Mercer-US PRESSWIRE
The New Orleans Saints beat the Houston Texans 34-27 on August 25th. That fact is totally irrelevant.
Here's what does matter from the Texans' third preseason game.
Don't Judge the Defense
Drew Brees was built for the preseason, where he can light up vanilla coverages like a twist of chocolate. Come to think of it, Brees does the same thing in regular season.
Oh, and in the postseason.
He lit up the Texans last year, and he did it again in Week 3. If they played in three or four weeks, he'd probably light them up then too, just like he did against San Francisco in the playoffs.
What was the biggest storyline of the game?
On one hand, the Texans' starters weren't particularly effective in generating pressure on Brees, though rookie wunderkind Whitney Mercilus did pick up yet another sack against the Saints backups.
The Texans were playing down several starters, and with Wade Phillips unwilling to release the hounds—begging your pardon, I mean bulls—in the preseason, there's really nothing to glean from this. It's unfair to grade secondary players against Brees, though Glover Quinn's forced fumble early came on a savage hit.
Don't Judge the Offense
The Saints have a terrible defense. Yes, Matt Schaub was immaculate in carving up the Saints secondary, but the savvy fan will remember that Blaine Gabbert did the exact same thing to the Saints last week.
Well, nearly the exact same thing.
Schaub was outstanding at spreading the ball around to a variety of targets and he moved the Texans up the field seemingly at will.
The game didn't do much to answer any of the significant questions facing the offense, despite its prolific output. Derek Newton and Rashad Butler each played some with the first unit, and I'm not convinced either is going to be as good as departed right tackle Eric Winston was.
The two young receivers Keshawn Martin and Lestar Jean had three catches between them and each was an adventure. Martin fumbled on both his catches, and Jean didn't catch his ball cleanly, but he did show incredible strength to hang on to the ball with a defender draped all over him. Note: Martin's second fumble came on a reverse, not a catch.
It was an impressive play to be sure.
In the preseason, fans often get excited about players in new positions, because all offseason they've wondered who was going to play right tackle or third receiver. After glowing training camp reports and a couple of preseason games, they become convinced their team has found a future star. Most of the time, however, just because a team has an answer at a position, doesn't mean the answer is a good one.
The Texans still have question at several positions, and it's far too early to say if any of their answers are right.
Ice cream is not the best metaphor to describe this contest. Cotton candy works better. It was a delicious watch on a Saturday night, but if we're honest, there wasn't much substance here. Coaches will be glad to get tape on individual players and matchups, but none of the big questions were answered.
Mostly, we had reinforced what we already knew. The Texans are a talented team poised to do big things in 2012.
This article is
What is the duplicate article?
Why is this article offensive?
Where is this article plagiarized from?
Why is this article poorly edited?