Pros and Cons of Every Projected Detroit Lions Starter in 2012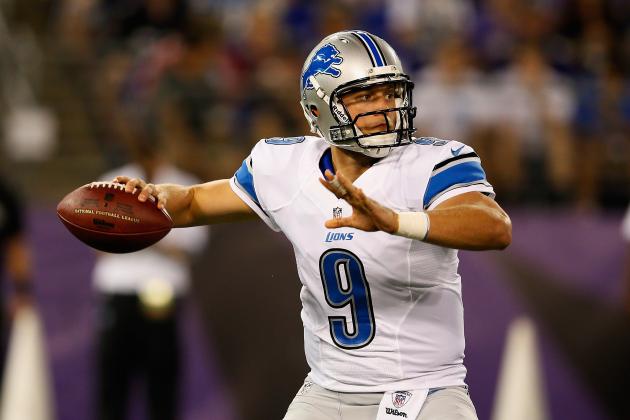 Rob Carr/Getty Images

The Detroit Lions have some roster battles going on as the preseason wraps up, but the team is returning 21 of 22 starters from last season.
So much of the mystery there is pretty well gone. Even at the most contentious positions, we have a pretty good idea of who is going to serve as opening day starter at what position.
However, most of the Lions starters are human, and not supreme football machinations hiding their whirring gears and hydraulics behind the No. 81.
That is to say there are both strengths and weaknesses for almost all of the players we expect to be Lions starters, even the really good ones. Consequently, I have taken it upon myself to present said strengths and weaknesses for your discussive purposes.
Enjoy, contemplate and take to the comments if you wish to discuss these things further.
Begin Slideshow

»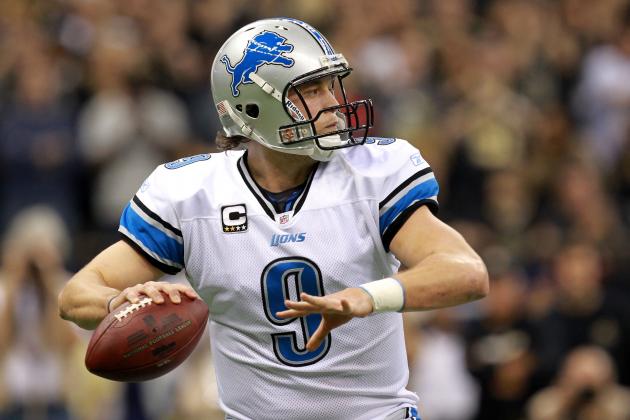 Ronald Martinez/Getty Images

Pros
Elite arm strength
Unshakable confidence
Improved decision-making
Finally played a full season of football
At home in the Lions' offensive system
Cons
Still hasn't gone a year without injury (he played through a broken finger in 2011)
Can hold the ball too long waiting for routes to develop
Sometimes over-reliant on his receivers to make plays
Trusts his arm more than his brain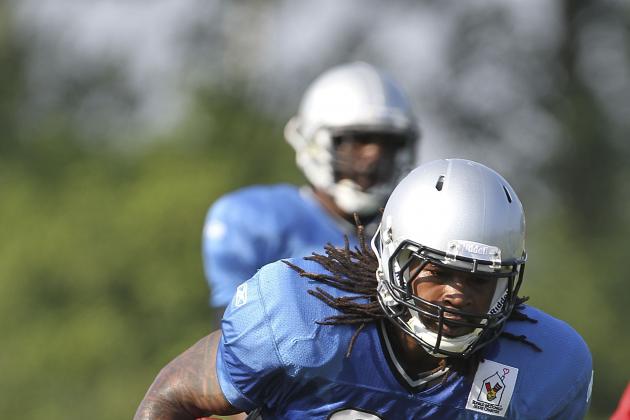 Leon Halip/Getty Images

Pros
Actually healthy now, missed out on a year of NFL-level punishment
Theoretically the best between-the-tackles rusher on the team
Able to catch passes out of the backfield
Cons
Achilles injury makes him a complete unknown in terms of ability
Lacks explosive breakaway speed
Was intended to be part of a 1-2 punch with Jahvid Best; is now just a jab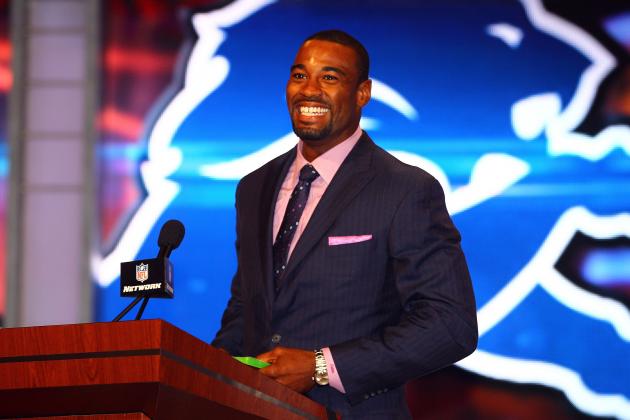 Al Bello/Getty Images

Pros
Is bigger, faster, stronger, more athletic, more agile, more aware than any combination of defenders trying to cover him
Tireless worker, even when at the peak of his sport.
Could set records with his talent-to-humility ratio.
Can pull off a pink shirt with his suit
All the other things I haven't mentioned yet
Cons
Only one of him
Hasn't yet broken all the records ever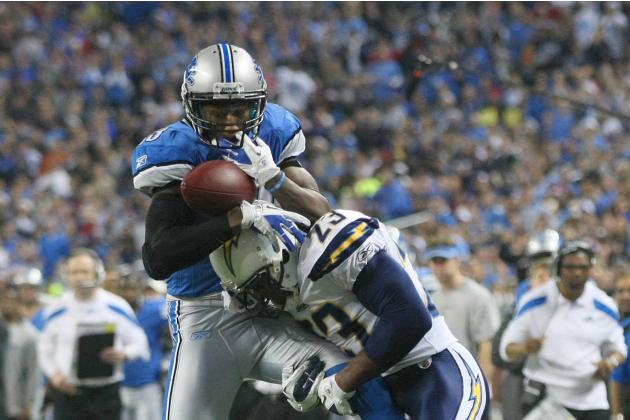 Dave Reginek/Getty Images

Pros
Exceptional team leader
Natural skill set as possession/slot receiver, great YAC
Seems to step up when most needed
Model citizen on and off the field
Cons
Surprisingly inconsistent production for a veteran
Lacks explosive athleticism
Probably on the downside of his career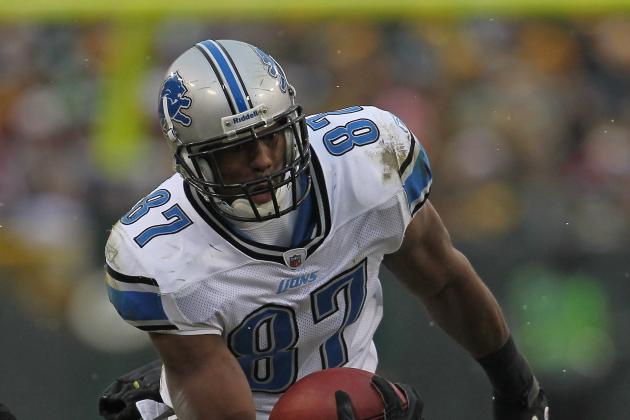 Jonathan Daniel/Getty Images

Pros
Excellent both as a blocker and receiver
Effective pressure release for Stafford
Athletic enough to generate YAC
Huge red-zone target
Cons
Still doesn't have the most reliable hands
Not fast enough to stretch defenses downfield
Averages less than 10 yards per reception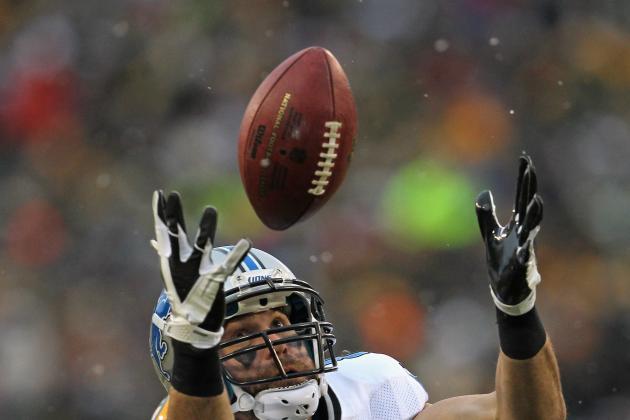 Jonathan Daniel/Getty Images

Pros:
Better downfield target than Pettigrew
Perfect fit in Scott Linehan's frequent 2TE sets
He and Pettigrew complement one another's skill sets
At 6'5", another great end-zone target
Cons:
Not a great blocking TE
Likely to lose targets as young WRs emerge
Inconsistent production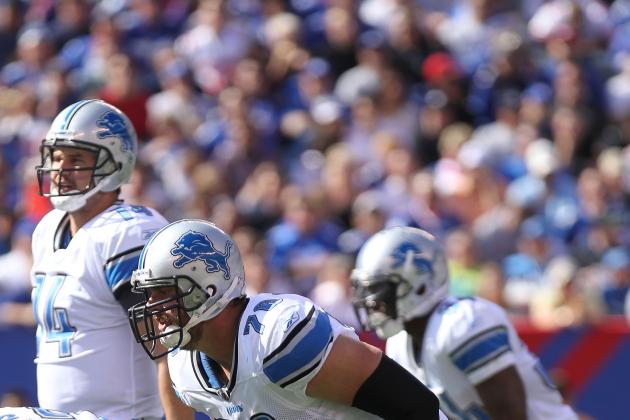 Nick Laham/Getty Images

Pros
Rock steady for 11 seasons and counting
Coming off two of his better career seasons
Natural fit at guard when Riley Reiff is ready to take over at LT
Cons
In the twilight of his career
Despite a career of solid, consistent work, has never been a top-tier player
Has a bad tendency to play very well, then implode in the most notable way possible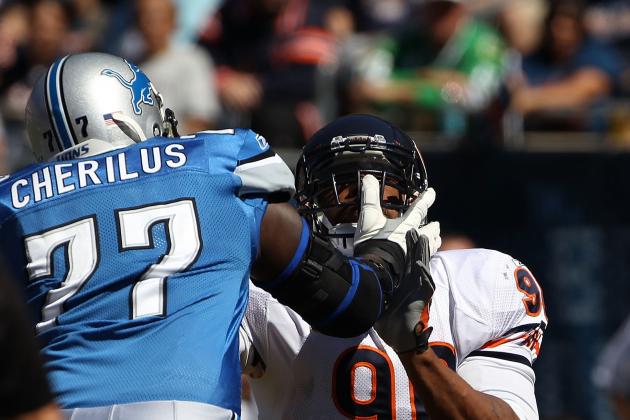 Jonathan Daniel/Getty Images

Pros
When he's on, actually looks like a former first-round pick
Particularly good run blocker
In the final year of his rookie contract
Cons
Frustratingly inconsistent
Takes way too many penalties
Probably just taking reps away from Riley Reiff/Jason Fox at this point
Matt Millen's final first-round pick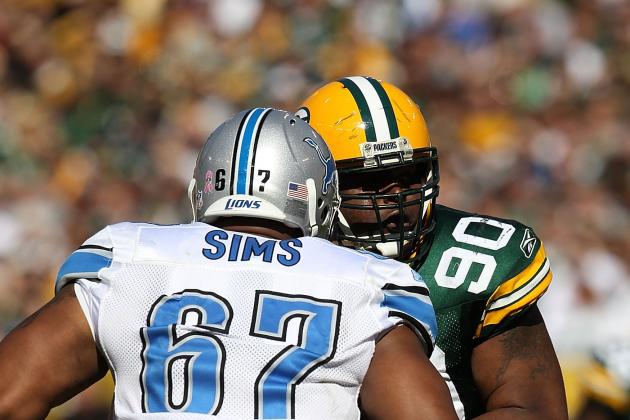 Jonathan Daniel/Getty Images

Pros:
Way, way better than any other guard on the team
Put on an additional 20 pounds for more power at the point of attack
Gives Backus some much-needed consistency and a reliable line partner
Cons:
Doesn't generate much push on running plays
Only the Lions' best guard because the Lions don't care about guards
Little upside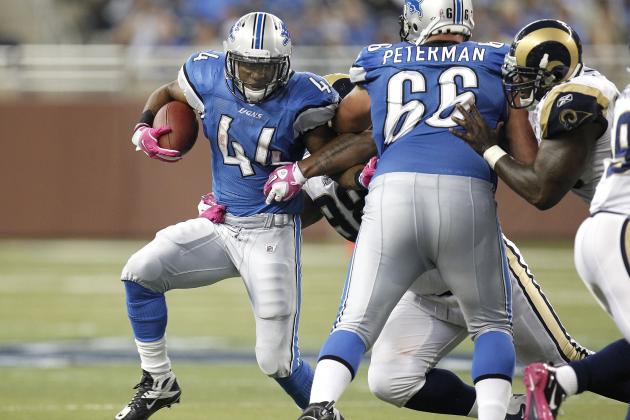 Gregory Shamus/Getty Images

Pros
Has been relatively quiet in preseason, which means he might be doing a good job
Isn't always the worst starting guard in the league
Will likely play out his contract because the Lions don't really care who starting guards are
Cons
Is out of excuses for poor play
Inconsistent
Struggles with run blocking
Struggles with pass blocking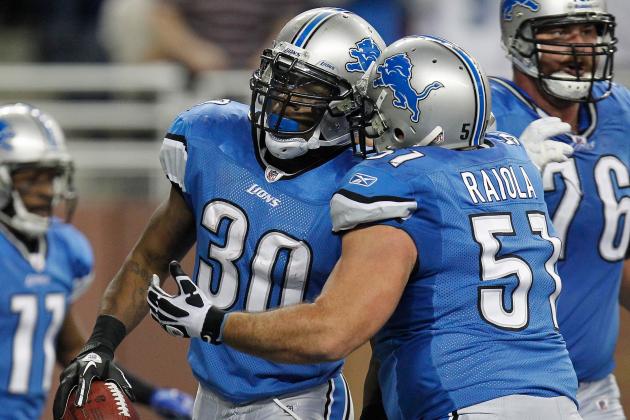 Gregory Shamus/Getty Images

Pros
Extremely vocal team leader
Exceptional football IQ and technique
Great upper body strength
Cons
Too undersized to match up against heavyweight DTs (especially NTs)
Advancing age will start hitting him hard because of his stature
Can get a little hotheaded (though isn't often penalized because of it)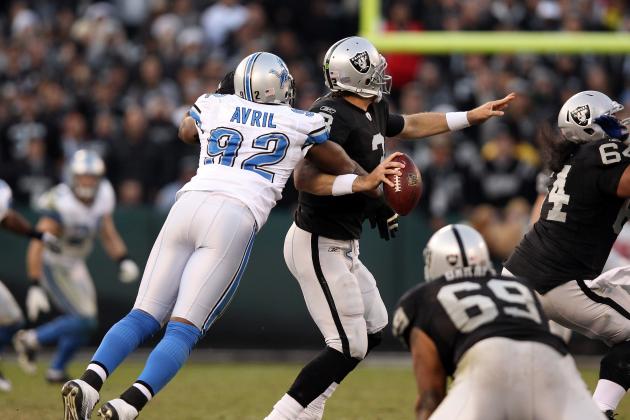 Ezra Shaw/Getty Images

Pros
Extremely productive pass-rusher
Statistically, forces a fumble roughly once every two sacks
Has improved his sack production every year since his rookie season
Cons
Still a liability against the run (though that seems to be a scheme philosophy these days)
Franchise tag thing may become a distraction (for fans, if not for Avril himself)
Has only played all 16 regular season games one time in four seasons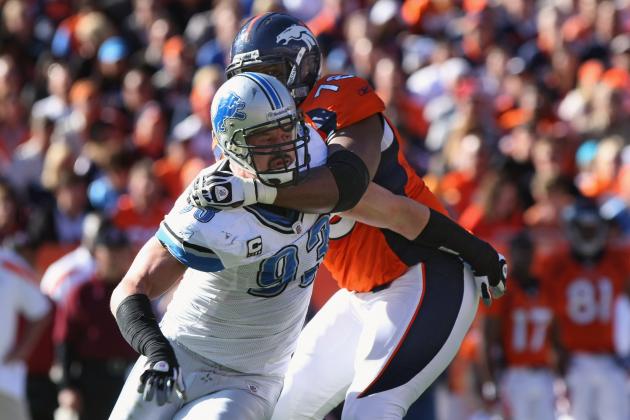 Doug Pensinger/Getty Images

Pros
Never-quit attitude makes him a leader by example
Despite declining athleticism, high motor keeps him effective
A madman on the field (in a good, generally non-penalty-drawing kind of way)
According to Aaron Rodgers, apparently sounds like Christian Bale as Batman
Cons
High motor won't cover for declining skills forever
Often injured
Effective, but not terribly efficient as a pass-rusher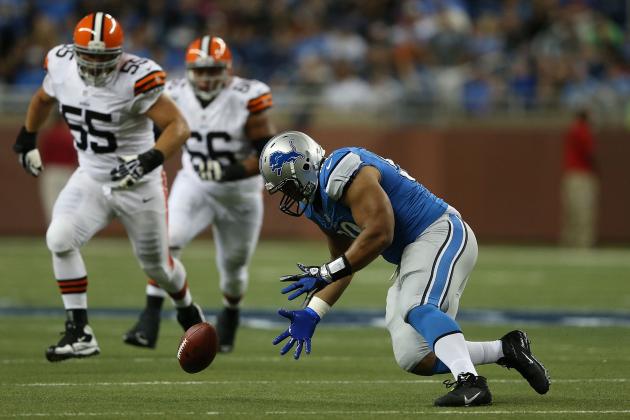 Leon Halip/Getty Images

Pros
Unmatched combination of size, power, explosion and agility for a DT
Can push pocket even when double-teamed
Still has plenty of upside
Cons
Limited repertoire of moves
Has not adjusted to opponents' plans to neutralize him
Overblown or not, does have a tendency to lose his composure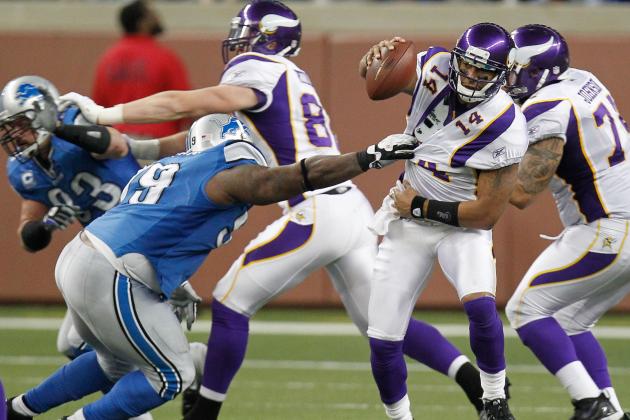 Gregory Shamus/Getty Images

Pros
Maybe the best run defender on the Lions defensive line
Space eater
"Stay home" nature makes him ideal complement to aggressive Suh
Cons
Better at holding the line than pushing it back
Not quick enough to get past blockers—has to go through them
Jumps offsides a lot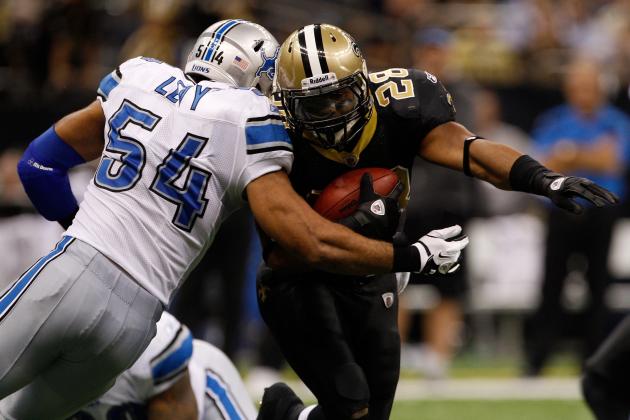 Chris Graythen/Getty Images

Pros
Versatility to play any LB position
For an LB, not a total liability in pass coverage
Decent (not elite) speed, quickness, positioning
Cons
Misses more tackles than he should
Technically can play all positions, but wasn't very good in the middle
Lacks a true specialty—more of a solid all-rounder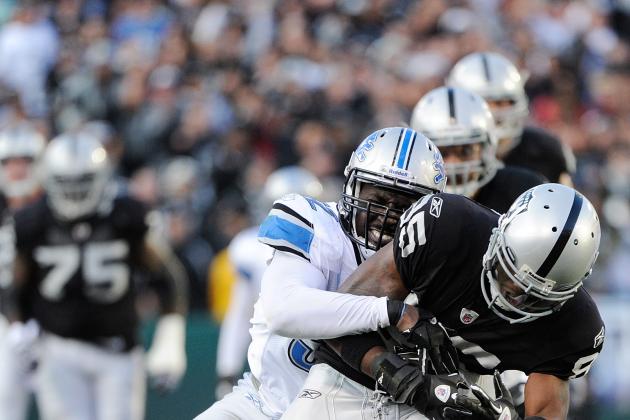 Thearon W. Henderson/Getty Images

Pros
Thumping hits cause lots of fumbles
Despite hitting ability, still a good wrap-up tackler
Generally positions himself relatively well
Should be comfortable in his second year with the same scheme/teammates
Cons
Missed time due to concussion last season
Not incredibly athletic
Many of his tackles come downfield, not near the line of scrimmage
Played for the Jacksonville Jaguars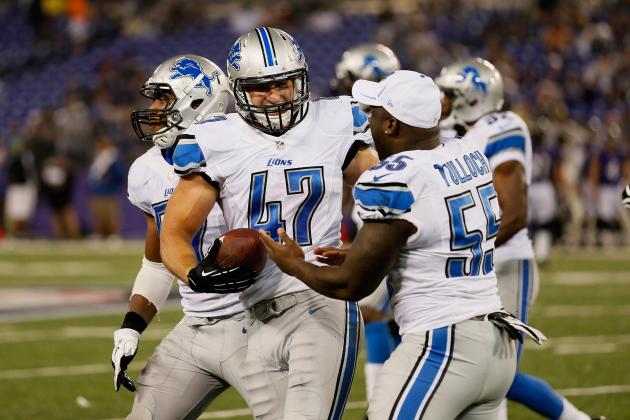 Rob Carr/Getty Images

Pros
Speedy, can makes plays anywhere on the field
Excellent at reading a play before it develops
Hard hitter and sure tackler
Can stay with most TEs in coverage
Never missed a game due to injury
Cons
Small for his position
Not a great blitzer
Sometimes gets beat when spying running QBs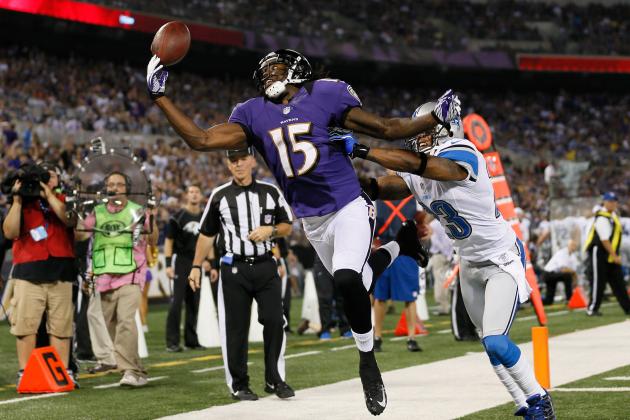 Rob Carr/Getty Images

Pros
Quietly became a ballhawk with five interceptions in 2011
Very fast, good recovery speed (and return speed after INTs)
Has learned to diagnose routes and jump short ones
Cons
Might not actually be a starter Raiders if he's not healthy
Considering his history, 2011 might be a flash-in-the-pan year, not the new norm
Not a great tackler, especially on running plays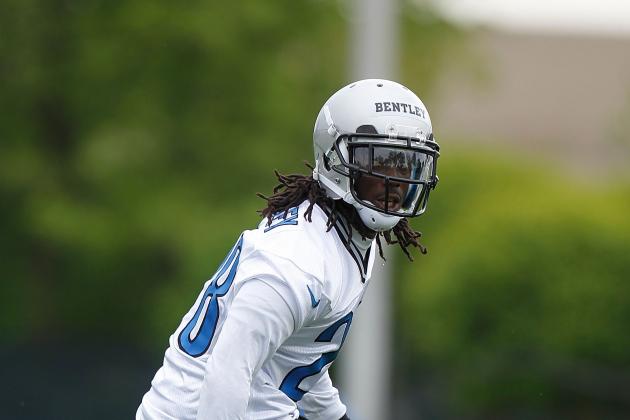 Gregory Shamus/Getty Images

Pros
Shows good playmaking ability
Good athleticism allows him to cover for technical mistakes
Inquisitive, quick and anxious to learn
Cons
Is a rookie cornerback
Small-school background makes him ill-prepared for elite NFL talent—so far
Got beat twice and injured against Oakland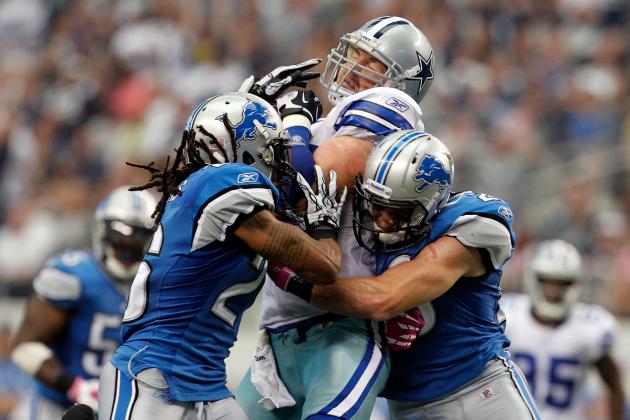 Tom Pennington/Getty Images

Note: Louis Delmas is not being considered an opening day starter as of yet, though he obviously will be if healthy.
Pros
Pulls double-duty as a safety and All-Pro-quality special teamer
Hits like he's on special teams, even when he's not
Great positioning, athleticism
Cons
Relatively new and inexperienced with safety work
Effective, but unpolished in pass coverage
Playing on defense and special teams will wear him down faster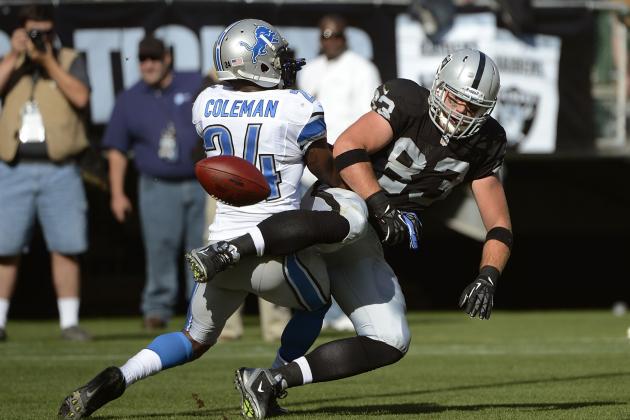 Thearon W. Henderson/Getty Images

Pros
Thoroughly outplayed Amari Spievey in the preseason (but who hasn't?)
Extremely sound tackler, especially in short-yardage situations
As bad as the Lions secondary has been, Coleman has not been part of the problem
Provides badly needed veteran experience in the secondary
Cons
Hasn't notched an interception in over three years
Spent all but four games last season on IR
Rarely opts to play the ball instead of the man
Entering his 10th NFL season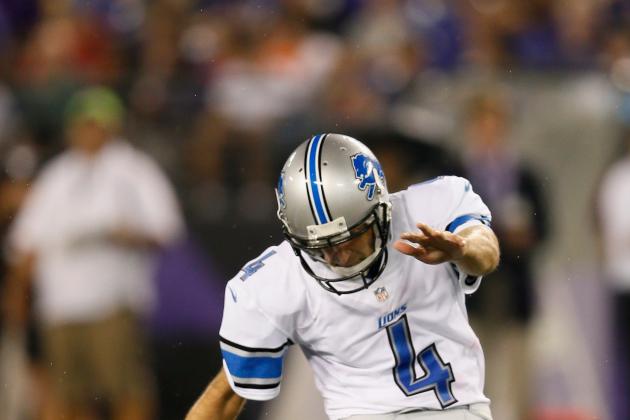 Rob Carr/Getty Images

Pros:
One of the greatest kickers in the history of the NFL
At age 42, still has FG power from 50+ yards
Cons:
Doesn't bomb his kickoffs out the back of the end zone anymore
Won't last forever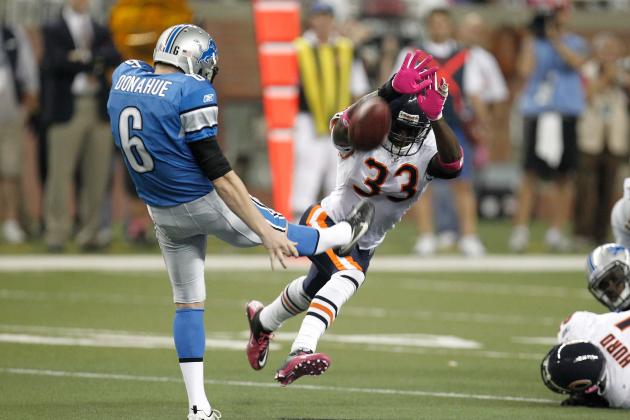 Gregory Shamus/Getty Images

Pros
Has a powerful, accurate punting leg
Can angle his punts out-of-bounds without sacrificing too much distance
Great at getting punts to stay inside the 20
Cons
Spent more of last season on IR than he spent playing
Can outkick his coverage at times
Lions locker room will miss Ben Graham's sweet Australian accent