Chicago Bears vs. New York Giants: Final Report Card from the Bears 20-17 Win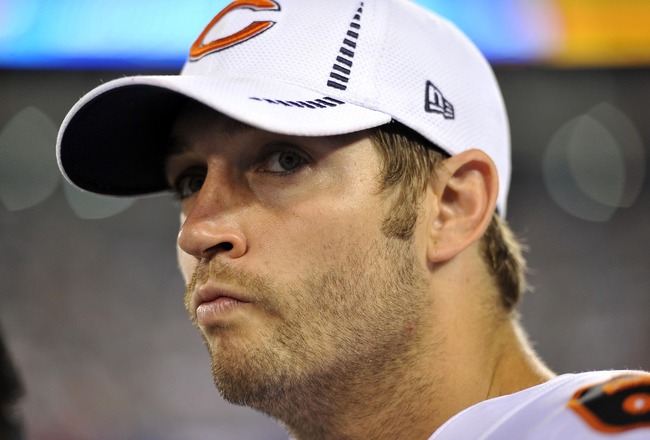 Jay Cutler
Joe Camporeale-US PRESSWIRE
The Chicago Bears came away with a very disappointing 20-17 win in a game that saw the starters play a series into the third quarter.
Overall, the first half was ugly, and the second quarter was especially bad for the offense and the defense.
There's a lot of work to be done and the Bears have one game left before the games start to count in the standings.
There were a few small bright spots in this game, but like a shooting star, they were very rare and burned out quickly.
First Quarter Grades: Big Opening Quarter for Brandon Marshall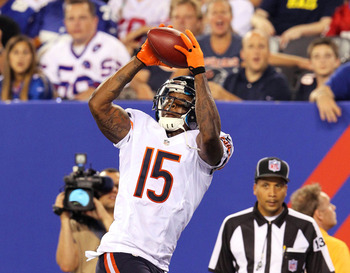 Brandon Marshall
Brad Penner-US PRESSWIRE
First quarter grades:
Quarterback Jay Cutler, C
Cutler was clearly not on his game early. He overthrew multiple receivers.
Cutler bounced back late in the first quarter on the scoring drive with a great throw to Marshall for the touchdown.
Cutler looked average. He looked like he was a little too hyped up early, then got a little frustrated; it appeared to stoke his competitive fire late in the first quarter. He then settled in on the touchdown drive. Fans were left hoping that Cutler had his rhythm at this point and could lead the Bears on multiple scoring drives in the game.
Running Back: Incomplete
Matt Forte had four carries but didn't get very good blocking early in the first quarter. He ran hard but didn't get much help from the blocking up front.
Wide Receivers:
Brandon Marshall grabbed a touchdown and a couple of other passes.
Marshall had a big opening quarter, with four catches for 41 yards and a touchdown. Marshall grades an A.
Earl Bennett grabbed a nice catch over the middle for a first down.
Devin Hester ran well on a nice speedy end around.
Alshon Jeffery had what looked to be a big catch couldn't hold on; the ball got punched out by the defense.
Offensive line: C
Gabe Carimi gave up a big pressure on third and short on the first drive. Carimi's knee is still a problem and may bother him all season long.
The rest of the O-Line settled down in pass protection and gave Cutler time. The Bears chose to focus on the pass; they did not run the ball much early.
J'Marcus Webb whiffed on a block on Giants DE Osi Umeniyora, Worse yet, there was a complete inexcusable missed block by Webb in the run game. He didn't even come close to firing off the football and his head was down.
Pass protection on the offensive line was okay; there were some breakdowns and some well blocked plays. The touchdown pass was very well blocked, as was the throw to Jeffery, although Jeffery came up short on his end when the ball got punched out.
Tight ends:
Evan Rodriguez missed a big block in the run game which caused Forte to get dropped for a big loss.
Rodriguez got a good block in to get Devin Hester the edge on the previously mentioned end around. If that's the Hester package, it promises to work well for the Bears during the season.
Defensive Line: C
There was not much pressure up front, and there certainly was no penetration in the run game early. Israel Idonije got some key pressure on second down in the red zone.
Julius Peppers had a key tackle for a big loss; it was a veteran move to keep containment as he got up field.
Linebackers: D
Lance Briggs slipped out of his gap and missed a key run fill that allowed the RB to get big yards.
Briggs had another big missed tackle on the wide receiver late in the quarter.
Briggs did not have a good opening quarter, but he did have one good tackle
Nick Roach missed a big tackle as he got trucked by the RB.
The Bears linebackers struggled in coverage in the first quarter; there were lots of missed tackles to start the game. It's as if they always struggle to tackle against the Giants.
Secondary: C
Tim Jennings had a big tackle early.
Craig Steltz did some C-grade filling in the run game, then snuffed out a screen pass to make a good tackle for a loss.
There was a big penalty on Steltz for an unnecessary roughness on the hit on the RB out of bounds.
The second drive was not so good; coverage breakdowns and broken tackles plagued the Bears D.
Special Teams: A
There was good blocking and returns in the kickoff game to go with a decent punt return.
Lorenzo Booker had a good return after the Giants scoring drive. He got some big props from Dave Toub, who congratulated him on the sideline.
Second Quarter Grades: Secondary Is Awful Cutler Horribly Inconsistent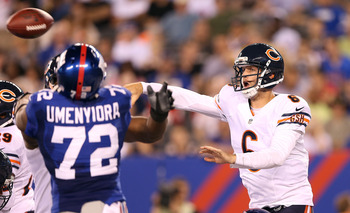 Jay Cutler
Elsa/Getty Images
Second quarter grades:
Quarterback Jay Cutler: F
Misses Marshall early in the quarter on a third and long. Cutler's shakes are back in this quarter.
Cutler misses a wide open Earl Bennett on second and eight with no one in his face.
Cutler gets a chance to run the two-minute offense.
Jay Cutler looks like white hot garbage for the most part in this game. He had a good scoring drive but his consistency has been absolutely deplorable.
This is the ugly inconsistency we see from Cutler all the time. A combination of panicking under pressure or just flat out overthrowing wide open receivers. This is the worst of Jay Cutler and the type of inconsistency he needs to overcome in order to be an elite QB.
This is the type of performance that stands out as the fault of the offensive line, but Cutler has been equally bad as the offensive line. His inconsistency in finding the open receiver was absolute inexcusable for a QB of his caliber.
Running Back: Incomplete
Matt Forte
Michael Bush:
No running room blocking not good. If the backs don't have room to run it's hard to give them any sort of grade.
Wide Receivers: Incomplete
Nice concentration and a snag by Jeffery after the ball was batted into the air. Jeffery struggled in this physical match up.
Offensive line: F
Run blocking is poor.
Chris William is flat out garbage at LT.
Chilo Rachal gets beaten bad in pass protection
The Giants have all of the momentum they just miss getting a safety.
Offensive line is bad, extremely bad in this quarter. Run blocking is awful pass protection is nearly as bad.
Pass blocking was bad especially on the left side between Williams and Rachal.
Tight ends: Incomplete
Defensive Line: D
Melton good pressure and penetration gets in Manning's face.
Peppers with a good run penetration.
Pass rush is not very effective on the scoring drive. Definitely a step down from last week.
Pressure is not really get to Manning in this quarter Giants close to scoring more than half way through the quarter.
Linebackers: D
Nice run fill by Nick Roach
Nothing special on run defense late in the second quarter.
No real physical play from the linebackers most of the coverage is going out of their range.
Secondary: F
Quick passes against the secondary devastating in this early second quarter. More well executed against the off man coverage than really bad coverage.
Victor Cruz tearing up the Bears secondary at the moment.
Major Wright can't cover the TE
Secondary looked like absolute garbage in the second quarter on the Giants touchdown drive. Manning was 7 for 7 for 59 yards and a touchdown. It was a combination of good execution by the Giants receivers and really bad coverage later in the touchdown drive.
Charles Tillman had one of the worst quarters of football I've ever seen from him. He was absolutely torched and it was a point to watch in the 10 key players article I wrote previously.
Special Teams: F
Quigley with two consecutive quarters of good punting, not that that will matter if Podelesh comes back healthy.
Second team coverage unit gets burned return brought back on a holding call.
Big punt block late in the third quarter puts the Giants in scoring position.
Eric Weems fumbles late on the kickoff return.
Last note:
The New York Giants seem to consistently bring out the worst in the Chicago Bears. The Bears are consistently over-matched when facing the Giants. I don't know if it's lack of preparation from the coaching staff to get these guys ready to play, or just a bad match up of physical skills.
The Bears cannot handle playing the Giants and have not been able to over the last three seasons. Obviously it's the preseason so none of this counts, but the overwhelming theme is the Bears do not match up or play well against the New York Giants.,
Cutler lost his concentration the offensive line couldn't block and the defense was horrible.
Third Quarter Grades: Backup Players into the Game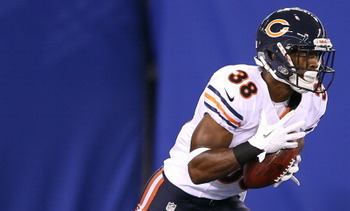 Lorenzo Booker
Elsa/Getty Images
Third quarter grades:
Quarterback: Jason Campbell D
Not going to grade the Bears starters against the Giants backups that we saw to start the third quarter.
Campbell refuses to throw the football down the field. I've taken to calling him "Checkdown Charlie" because every one of this throws goes to either the underneath man or the RB out of the backfield.
Running Back: C
Armando Allen C Decent running with the football showed some promise.
Lorenzo Booker Booker showed good hands out of the backfield and got yards in the passing game. He also showed some decent blocking and blitz pickup.
Wide Receivers: Incomplete
No one was targeted down the field so it's not really fair to judge the receivers. Jeffery and Earl Bennett each had drops on their lone target.
Rashied Davis had a truly bad drop that should end his career in Chicago. I honestly wouldn't keep him but the Bears may feel differently given his reputation on special teams.
Offensive line: C
Better run blocking and pass protection by the backups on the backups. Nothing really notable in this series for the offensive line.
Not bad blocking from the RT Brown and the interior did it's job.
Williams looks good against backups, but he was so bad against the starters I think he lost his job tonight.
Tight ends: Incomplete
Defensive Line: B
Give credit to a decent effort by the backup defensive line on their first drive in the game.
Defense did it's job better in the third quarter. Shea McClellin brought pressure off the edge, as did Corey Wootton. Nate Collins continued to look good.
As to Wootton, I'd like to see a bit more from him, since this was just an average effort. I could see him on the roster bubble possibly getting cut.
Chauncey Davis played and stayed healthy; at DE I could see him making the team and Wootton getting cut.
Linebackers: C
Blake Costanzo had a good blitz and a hit on the QB early. There were some good keys and fills in the run game. Overall, it was a decent effort by the LBs.
Secondary: C
Nothing really notable happened in the second half in the secondary.
Special Teams:
Last note:
The New York Giants withdrew their starters, so their backups played the second half.
Jason Campbell didn't look good at all; his constant checkdowns are a huge disappointment. Whatever confidence he did have during the Redskins game is gone. He's not worth the money he's getting paid if those are the plays he's going to make.
Fourth Quarter Grades: Bears Comeback Win Led by Campbell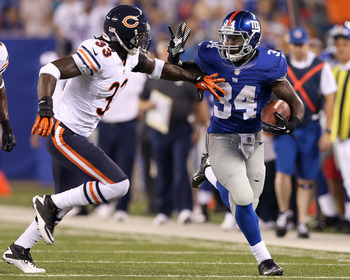 Charles Tillman
Elsa/Getty Images
Fourth quarter grades:
Quarterback: Jason Campbell/Josh McCown
Campbell showed a lot more confidence in this quarter going down the field and leads the Bears on a scoring drive. Campbell settled down and made plays that he didn't earlier in the third quarter.
Josh McCown incomplete
Running Back:
Lorenzo Booker may be ahead after this game. Booker had a strong game, especially as a backfield receiver catching the football.
Armando Allen was also not bad catching the football in this game.
Wide Receivers: B
Joe Anderson hauled in two receptions, including a touchdown catch.
Offensive line:
Bears backups performed better than the starters did as they protected Campbell and McCown. James Brown looked better out there than either Williams or Webb, but it was against far lesser competition.
Tight ends: Incomplete
Defensive Line: B
Brian Price got big penetration and nearly sacked the QB. He drew the holding call. Cheta Ozougwu picked up the sack on a very good pass rush to the outside. Nate Collins is solid up front. Wootton was nothing special, but showed that he has ability off the edge.
Aston Whiteside was the victim of a bad penalty call; he got called for a shot on the head that was clearly on the shoulder.
Linebackers: C
Give credit to some good run defense from the linebackers; Jabara Williams got some good penetration. JT Thomas played hard and showed hustle out there.
Patrick Trahan could play in coverage; he got himself a good tackle.
Secondary: C
Isaiah Frey was awful in coverage. Anthony Walters got beaten very badly in coverage late in the game. On a late Giants drive, Walters made up for his earlier mistake with a great break on the football and batted the ball to a point where Frey could pick it off.
Mark LeGree came up with an interception that unfortunately came back on a roughing the passer penalty.
Overall Game Grades: Quarterbacks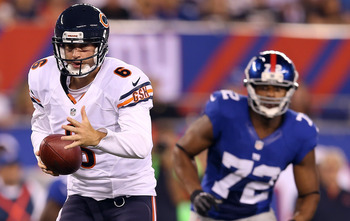 Jay Cutler
Elsa/Getty Images
Overall Game Grade - C-minus
Quarterbacks C-minus
Jay Cutler D-minus
The only thing keeping Cutler's grade from being an outright F is his one nice touchdown throw to Brandon Marshall.
Other than that, this was a game that you don't see very often from elite quarterbacks. Cutler had an absolutely awful game, some of it attributable to being under pressure, but most of it primarily due to Cutler himself.
To say that Cutler was errant on a few of his throws is an understatement. He was airmailing throws and has had a problem throughout his career with his accuracy. This accuracy issue hasn't changed, and I don't believe it will change for the rest of his career.
For better or worse what we saw from Jay Cutler is what he can be, an inaccurate gunslinger who fails to make plays in the clutch.
We need to see more consistency out Cutler than inconsistency this season. This team has very little room for error in this division.
Cutler's problem with being such a streaky QB is going to make it extremely tough for the Bears to go through the playoffs undefeated en route to a title.
Jason Campbell-C
Campbell got most of his yards on checkdowns. In the fourth quarter, when he finally put together the go ahead scoring drive, he was able to make plays down the field then cash one in for a touchdown. Campbell needs to keep his confidence high and not be afraid to take shots down the field. He needs to trust the receivers to make plays.
Josh McCown Incomplete
McCown was one out of two in this game.
Running Backs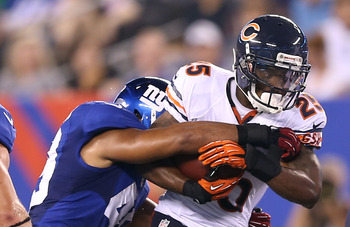 Armando Allen
Elsa/Getty Images
Matt Forte-C
Forte deserves absolutely no criticism in this game; he had nowhere to run due to the poor blocking up front. When Forte finally did get some blocking against the Giants second team defense in the third quarter, he rattled off two big runs. Most of the problems in the run game stemmed from the lack of blocking up front.
Michael Bush-Incomplete
Bush had one carry for two yards in the game.
Armando Allen-C
Allen had five carries for 11 yards and four receptions for 41 yards. He got positive yards on some swing passes and dump offs from Jason Campbell. Overall, I wasn't impressed with Allen in this game.
Lorenzo Booker-B
Booker to me had the better game; he had four receptions for 40 yards, five carries for 15 yards and a really strong kickoff return.
Booker may not get a chance to return kicks in the regular season (unless—knock on wood—something happens to Devin Hester), but his value is there. He looks good enough in the run game to make the team, but Allen seems to be the coaches favorite.
Next week, these two will determine the winner of the third RB competition.
Wide Receivers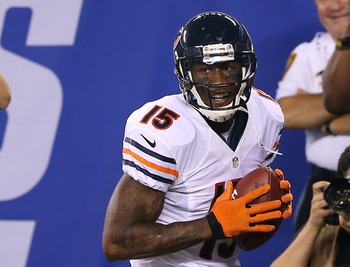 Brandon Marshall
Elsa/Getty Images
Wide Receivers: Grade C
Brandon Marshall: C
Overall, this was an average game by NFL standards from the receiving corps. It was nothing to get too excited about, with a solid effort from Brandon Marshall, but it wasn't a spectacular game by Marshall standards.
It was, however, a spectacular game by Bears wide receiver standards, which may put it higher up on the scale of other analysts and fans.
The standard for a top-five NFL receiver is higher than that of a top-five Chicago Bears receiver. So by that standard Marshall's game was average.
Devin Hester: C
Hester had two catches; one was a decent catch, but an average catch by Hester standards. Again, this was nothing spectacular, just good play from Hester. Hester also got loose on a well-designed end around that was blocked well by TE Evan Rodriguez.
Alshon Jeffery: C-minus
Jeffery had an off game based on the standard he's set for himself through the first two games. He had one drop and one strip that will likely go on the stat sheet as a drop. He also had one catch that he had batted from his hands but that he managed to focus in on and catch. On his lone reception, the DB was a lot more physical than what we've seen CBs get with Jeffery and he looked partially rattled. It's nothing alarming; he'll only learn from it and get better.
The rest of the bunch: C
Joe Anderson made a couple of receptions.
Kyle Adams had a couple of good catches in the game. He's doing everything he can to stick on the roster.
Evan Rodriguez whiffed on one block and had a good block on the Hester end around.
Earl Bennett had one typical Bennett clutch catch.
Overall this grade is simply affected by the higher standard that is demanded of a much more talented receiving corps.
Offensive Line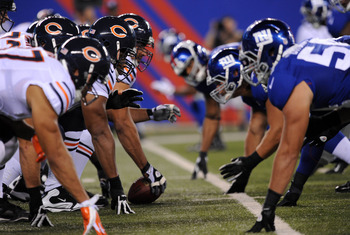 Bears offensive line
Joe Camporeale-US PRESSWIRE
Offensive line: D-minus
Where do I start with this grade?
The run blocking was bad all the way around and the pass blocking wasn't much better. On the one touchdown drive when Cutler had time the Bears marched down the field.
However it wasn't the only point in the game where Cutler had time so this unit is not completely at fault.
The run blocking grades out worse than the pass blocking; the Bears gave up only one sack in the game.
Cutler wasn't running for his life like he has in other games, but he wasn't as comfortable in the pocket as he could have been.
If this is the game to name the winner for the left tackle and left guard battle, then J'Marcus Webb and Chris Spencer are the starters.
Gabe Carimi was beaten cleanly around the edge, Webb was beaten, Williams got flat out embarrassed and Webb whiffed monumentally on a run block.
The run blocking is where this unit really came up short, but I'm sure they'll improve upon this debacle. This offensive line simply doesn't match up well with the Giants' personnel.
James Brown was the lone performance at tackle that even qualified as average in this game and raises questions about the other two OTs and their competency. Keep in mind however that Brown looked good against the scrubs.
Defensive Line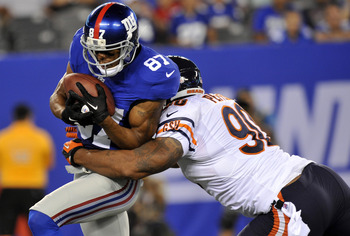 Julius Peppers
Joe Camporeale-US PRESSWIRE
Overall Grade: C-Minus
Julius Peppers: C
Julius Peppers had an average day in this game. He had a couple of pressures and a big tackle for a loss when he went unblocked on an end around attempt. That was simply his job—to keep containment—and you don't get credit for just doing your job. To stand out, you must exceed expectations, not just meet them.
Peppers, however, didn't get a lot of pressure when it mattered most, specifically on the drive where Manning was 8-for-8 and then a touchdown.
Henry Melton: C-minus
Expectations are higher for Melton this season. He was disruptive on a couple of plays, but overall you saw the inconsistency that cropped up during the 2011 season. Melton may be just that, just good enough of a player to make plays one game and then disappear in the next.
Overall, it's not easy for anyone to make a consistent living in the trenches.
Israel Idonije: C-minus
Didn't see a lot from Idonije; he needs to try and be consistent game to game. The Redskins game from a week ago doesn't need to be a weekly occurrence, Idonije just needs to be more consistently good rather than hot-and-cold.
Matt Toeaina: D
I didn't see anything from Toeaina to excite me; he seemed washed out a lot in the run game. I'll have to go back and watch the tape on the defensive line to get a full feel of how they did.
Overall:
This unit was very lackluster. There's a lot of homework to be done here to completely evaluate how well this unit did and whether they even deserve this high of a grade.
Compared to last week though, it's night and day.
Brian Price made a couple of plays, Chauncey Davis isn't going down without a fight and there was some pressure off the edge from McClellin and Wootton. Again, this was nothing like last week and further evaluation is in order.
Linebackers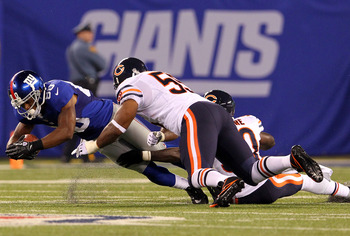 Lance Briggs
Brad Penner-US PRESSWIRE
Grade: D
Overall, I was not impressed with this group in this game. There were a couple of plays that were average plays, and then the rest of the play was completely disastrous on all levels.
I don't even want to break this group down individually because the overall performance by everyone was consistently bad.
Lance Briggs was bad, Nick Roach was bad, but each also made two plays that were good. The good did not outweigh the overall bad, especially against a rookie running back.
If this were a game where you were going to try and determine how much Brian Urlacher will be missed, the answer is Urlacher will be missed a lot.
The Secondary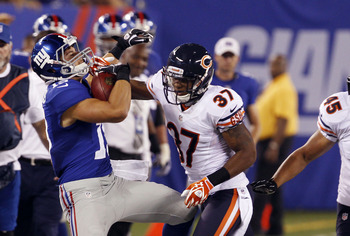 Greg McCoy
The Star-Ledger-US PRESSWIRE
Grade: F
There's no sugar coating this game in any form whatsoever.
The entire unit was awful in pass coverage and only Craig Steltz made a couple of plays early.
Tim Jennings made, I think, two plays that stood out on the positive side of things.
However, when you allow Eli Manning to pick apart your secondary for eight straight completions and then a touchdown, you don't get any good ratings.
Charles Tillman had one of his worst performances in a Chicago Bears uniform against Victor Cruz. Tillman looked bad primarily because Cruz is so much faster than he is.
Cruz wasn't the only one that got the best of Tillman however. There was plenty more from Ramses Barden that made Tillman look bad.
Anthony Walters had one horrible play and then one good play to close out the game.
Major Wright was his typical self, which is to say he was awful.
DJ Moore struggled a lot in this game as well.
Isaiah Frey will not be in the NFL beyond this preseason.
Just a down right godawful effort by the secondary tonight, a lot of concern if they put together this type of collective effort against the Packers or Lions this season.
Special Teams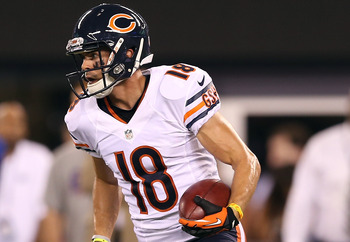 Dane Sanzenbacher
Elsa/Getty Images
This one was a tricky one to evaluate because some of the punt coverage units looked good early.
All told though, I'd have to give this group a C based on the Giants' punt block. Lorenzo Booker had a decent return, and Dane Sanzenbacher is going down fighting if he is going down at all.
He's making it hard to cut him because he's willing and doing everything he can to keep his job.
This wasn't one of their best games, but it wasn't a bad game either.
Keep Reading

Chicago Bears: Like this team?