Chicago Bears vs. New York Giants: Preseason Week 3 Live Score, Analysis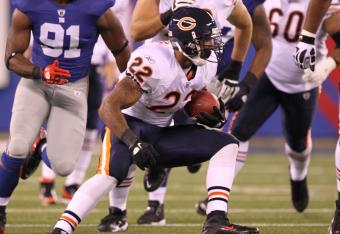 Matt Forte
Al Bello/Getty Images
The final score with the Bears winning 20-17 will not tell the story of the game. The reserves rallied in the second half to outscore the Giants 13-0 but it was the starters who will grab the headlines.
Eli Manning looked sharp in what is most likely his last tuneup before a week one matchup with the Dallas Cowboys. The reigning Super Bowl MVP went 17 for 21 with 148 yards and a touchdown.
Jay Cutler and Brandon Marshall looked sharp early and the two eventually hooked up for their first touchdown pass since being members of the Denver Broncos in the second quarter. Rookie Alshon Jeffery dropped a tough ball inside the five yard line.
The Bears defensive starters did not get much of a pass rush against Eli Manning tonight and Charles Tillman was torched by Ramses Barden throughout the night to the tune of thee receptions for 46 yards and a touchdown.
The Bears struggled to move the ball on offense with their starters only gaining 29 rushing yards and 101 total yards in the first half. Their offensive line struggles continued as neither J'Marcus Webb or Chris Williams stood out as viable left tackle options.
Quarterback Jason Campbell was often erratic but was still able to move the football on key drives even finding receiver Joe Anderson for a touchdown. The battle of the night goes to Lorenzo Booker and Armando Allen as the two fought hard for the last running back spot.
The defensive reserves rebounded from a rough game last week against the Redskins to shut down the Giants' reserves and stop a late two minute drive securing the win with the game's only turnover.
Both teams will look towards roster cuts this Monday before preparing for their final preseason games.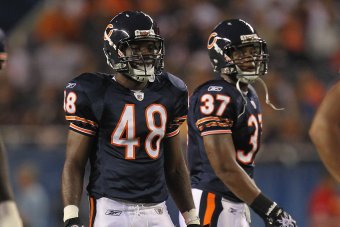 Jonathan Daniel/Getty Images
The Bears will win as their reserves carry the starters for the first time this preseason. Anthony Walters with the tip of the game as he should have a spot locked on the team. Rookie Isaiah Frey comes down with the game sealing pick.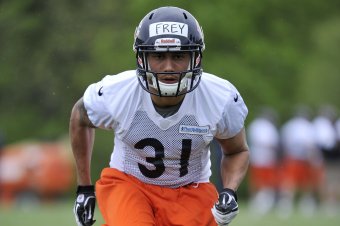 Brian Kersey/Getty Images
Good defense by the Bears reserves in the second half after getting gashed by the Redskins last week. Lot's of these guys are battling for roster spots and they played hard tonight.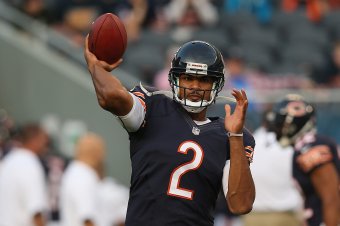 Jonathan Daniel/Getty Images
Joe Anderson makes a couple of nice catches and moves to bail out an erratic Jason Campbell. The Bears still get the touchdown and take the lead.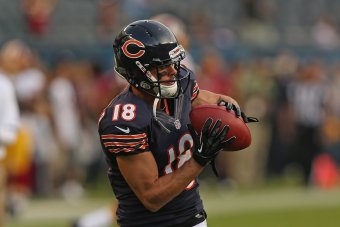 Jonathan Daniel/Getty Images
Not seeing much of Dane Sanzenbacher has to question whether or not he will be one of those early cuts on Monday. The Bears seem content on going with Rashied Davis at the final spot.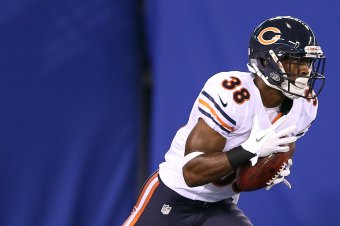 Elsa/Getty Images
The best battle of the night is Armando Allen against Lorenzo Booker. They are going at it and neither guy is backing down.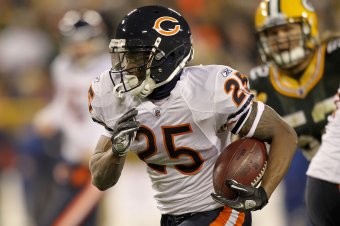 Matthew Stockman/Getty Images
Armando Allen has a strong shot to win the last running back spot. Lorenzo Booker provides a lot on special teams but his return game will not be needed in the regular season. Allen runs better and can still give you something on special teams. He has to show something here tonight though.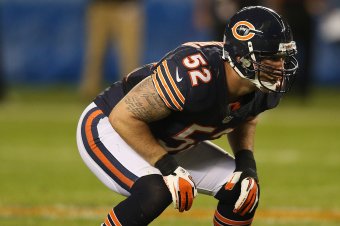 Jonathan Daniel/Getty Images
Great series by Blake Costanzo after struggling the first game. He had a solid game against the Redskins too. Nice gap movement by Shea McClellin as well.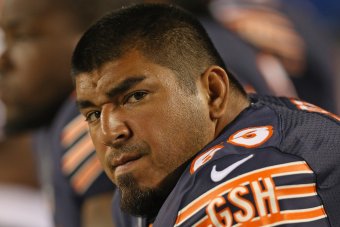 Jonathan Daniel/Getty Images
The Bears offensive line looks good...against the backup defense. Still it's nice to see them get some blocking down and smart of Lovie to keep them out there for extra work and get some sort of confidence.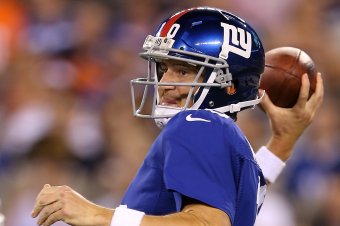 Elsa/Getty Images
It's time for the Bears to get some pressure on the quarterback and start running the football here in the third quarter. It's only the preseason so those things are more important than the outcome of the game.
Eli Manning exits early after a fine first half of football.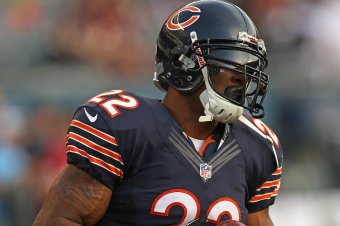 Jonathan Daniel/Getty Images
The Bears usually put forth a great effort on special teams. This second quarter has just been brutal. Not as bad as the Bears offensive line play though. At this point Matt Forte should just probably get the rest of the night off before he gets hurt.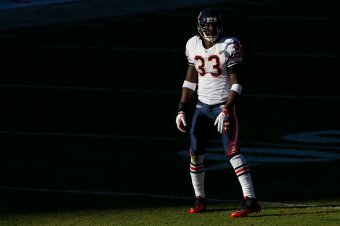 Justin Edmonds/Getty Images
Dear Ramses Barden,
Glad I can help you make the team this year. Anything else you need from me please let me know.
Sincerely,
Charles Tillman.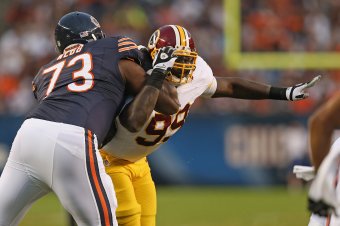 Jonathan Daniel/Getty Images
J'Marcus Webb and Chris Spencer have won starting jobs tonight. Chris Williams and Chilo Rachel have been brutal. They both should probably be cut and the Bears go out and find veterans as backups for the season.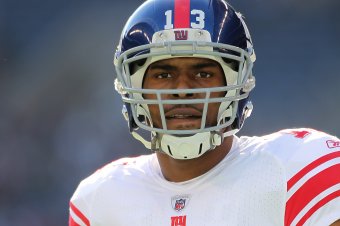 Otto Greule Jr/Getty Images
Ramses Barden has 15 recptions in his three year career with no touchdowns. You wouldn't know it after watching tonight.
Jonathan Daniel/Getty Images
Chris Williams gets his shot and Osi Umenyiora just makes him look silly. The Bears have a serious problem at that left tackle spot. Also, they have not been able to run the ball at all tonight. Forte only has four yards on six attempts.
Drew Hallowell/Getty Images
Whether it's a lack of a pass rush or good pass protection, if you give Eli Manning that kind of time he is going to pick any defense a part. He just walked his team down the field on that last drive. Ramses Barton had the 11 yard touchdown reception.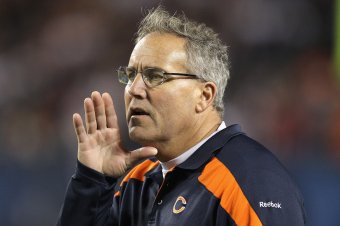 Jonathan Daniel/Getty Images
The Bears' special teams coverage looks a lot better this week than the first two preseason games. Dave Toub has to be happy with that. Every time I look up Evan Rodriguez is hustling down the field to make a tackle.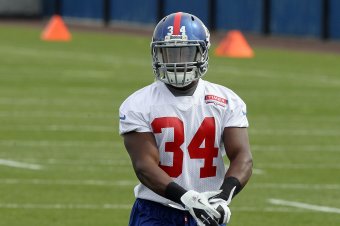 Jim McIsaac/Getty Images
David Wilson had 1,709 yards on 290 carries on pace to being the ACC Offensive Player of the Year last season at Virginia Tech. He is a compact runner with soft hands who shows great power and a good ability to keep his legs moving even when stopped.
He will be the starting running back sooner or later as Ahmad Bradshaw has never shown an ablity to stay healthy throughout his career.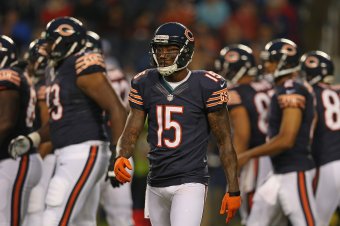 Jonathan Daniel/Getty Images
Couple thoughts on that last drive. It would have been nice to see Alshon Jeffery make that tough catch near the goal line. J'Marcus Webb just got destroyed in run blocking and the Giants recognize that side is a weak spot as they continue to send pressure from there.
Also, Brandon Marshall's reputation as being the most physical receiver in football is well deserved.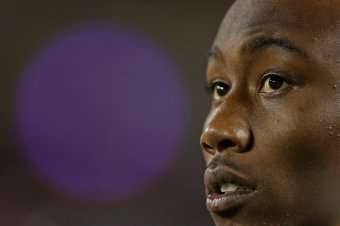 Jonathan Daniel/Getty Images
This just in...Brandon Marshall is good, big and physical. Cutler is having a blast throwing him the football. That's the first reunited touchdown for the two.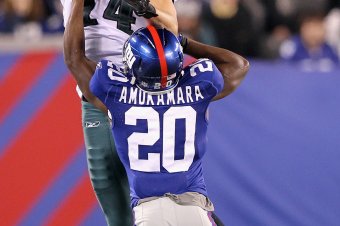 Al Bello/Getty Images
Prince Amukamara just can not stay healthy in his young career. The Giants' issues in the secondary continues. He played in only seven games last year.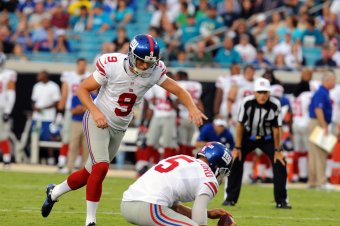 Al Messerschmidt/Getty Images
The Giants drive stalls after the David Wilson Show gets put on hold Lawrence Tynes still puts them on the board with a field goal. The Bears' run defense looked rough last week and still doesn't look as sharp early on.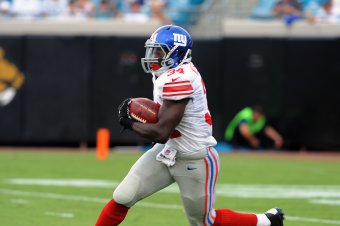 Al Messerschmidt/Getty Images
Craig Steltz continues to play well making a strong play blowing up the screen. David Wilson is a powerful back who was able to take advantage of no Urlacher on a misdirection play. Expect him to be the number one guy for the Giants as the season unfolds.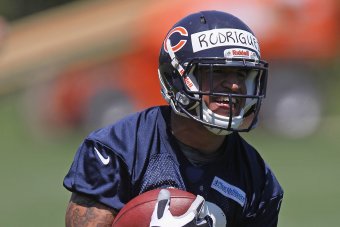 Jonathan Daniel/Getty Images
Two series in and the pass protection looks sharp for the Bears. Evan Rodriguez missed an assignment in the run blocking but has hustled down the field on two punts getting a tackle on the first.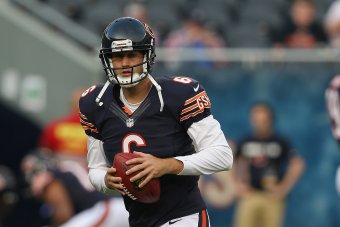 Jonathan Daniel/Getty Images
In a regular season game Cutler goes for that first down. Webb got some help on that first series from Matt Forte but overall it wasn't bad.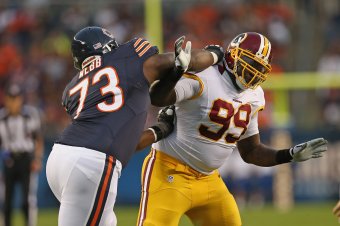 Jonathan Daniel/Getty Images
The Bears will get the football first. Under the microscope right away will be J'Marcus Webb.
This article is
What is the duplicate article?
Why is this article offensive?
Where is this article plagiarized from?
Why is this article poorly edited?

Chicago Bears: Like this team?