Sunrise in the NFC East: The Division's Top Links on August 23, 2012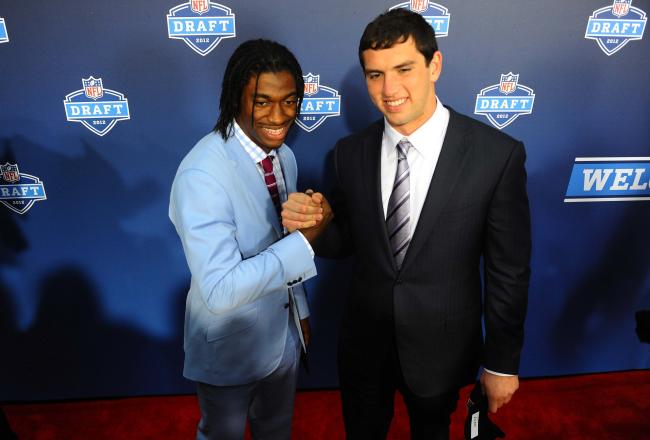 James Lang-US PRESSWIRE
We turn to Week 3 of the preseason tonight, but no one in the NFC East is in action until tomorrow night. We'll have full previews of this weekend's action tomorrow, but today we'll look at some of the most notable boom-or-bust players in the league's most popular division. Stay tuned.
But first, the division's top links on the second-last Thursday of August.
From Tim MacMahon of ESPNDallas.com: Cowboys fans will have to be patient with rookie corner Morris Claiborne:
Not that the Cowboys aren't truly in love with Claiborne. There's no question they envision him developing into an elite player at a premier position.

Right now, though, they need to make sure Claiborne is buckled up for what will almost certainly be a roller coaster rookie season.

That's not a knock on Claiborne, whose credentials include the Thorpe Award and an SEC Defensive Player of the Year honor. It's just NFL reality for rookie cornerbacks.
There are those who seem to believe Claiborne is an exception to that rule, but with wrist surgery and a knee injury costing him all of the offseason and a good chunk of training camp and the preseason, the odds are stacked against the No. 6 overall pick. Dallas is lucky to have Mike Jenkins stashed away on the roster. Now, can Jenkins get healthy?
From Steve Serby of the New York Post: Breaking down the Giants' woes, which could keep them from bridging the end of last season to the start of this season. The first woe is the most important one:
Your quarterback's blindside

Will Beatty (back) can't get on the field. Until Will Beatty can get on the field, the left tackle is journeyman Sean Locklear. Until the Giants move Dave Diehl back to left tackle and switch Locklear to the right side.

That sound you just heard was DeMarcus Ware licking his chops. Not to mention every frenzied Eagle predator Andy Reid will be unleashing on Manning once he and Cullen Jenkins stop screaming at one another. Not to mention Redskins outside linebackers Brian Orakpo and Ryan Kerrigan.
The Giants survived despite poor pass protection last season, but that doesn't mean they'll be so lucky this year. Super Bowl teams have to improve in order to defend, and it doesn't look like the line is in much better shape this summer.
From Kevin Callahan of the Courier Post: Eagles QB Michael Vick might have a whole new incentive to change his game: the great performances being delivered by rookie Nick Foles.
Vick will get to see his health insurance play like the rest of us. Yeah, Foles should help keep Vick healthy.

You see, Vick sees what Andy Reid sees, too. The Eagles coach said he never had a rookie quarterback perform at the level of Foles in their first two preseason games. Not Donovan McNabb. Not Kevin Kolb.

That is why there is even more pressure now on Vick to stay on the field. If he gets hurt for an extended stretch in the season, Foles could step in and do what he has in the preseason where he has the highest passing rating in the NFL at 118.4.
It's a good point. Maybe a legitimate threat to his job will force Vick to finally play smarter. It's not completely far fetched, but I still don't see Vick altering his game very much at this point.
From Kareem Copeland of the Washington Post: There are quite a few glaring difference between Robert Griffin III and Andrew Luck, and one is in the field of marketability.
Yet while Griffin is seemingly everywhere, endorsing everything, Luck has yet to star in his first commercial as a professional. He is considered the surest quarterback prospect in more than a decade, but his efficient throws, superb footwork and cerebral approach to the game often draw a ho-hum response — a marked contrast to the Griffin mania in Washington.

And the Colts, without Manning, haven't exactly been the talk of the NFL after a 2-14 record in 2011. ESPN reported that the photogenic Griffin currently has the second-best selling jersey in the NFL, while Luck is No. 4.
Redskins fans probably couldn't care less, but it's good to have an ambassador for your city. That's not to say that Luck can't play that role in Indianapolis, but he appears to lack that star power possessed by Griffin, as well as his predecessor Peyton Manning.
This article is
What is the duplicate article?
Why is this article offensive?
Where is this article plagiarized from?
Why is this article poorly edited?