Comparing the First 8 Seasons of Shaq's Career to Dwight Howard's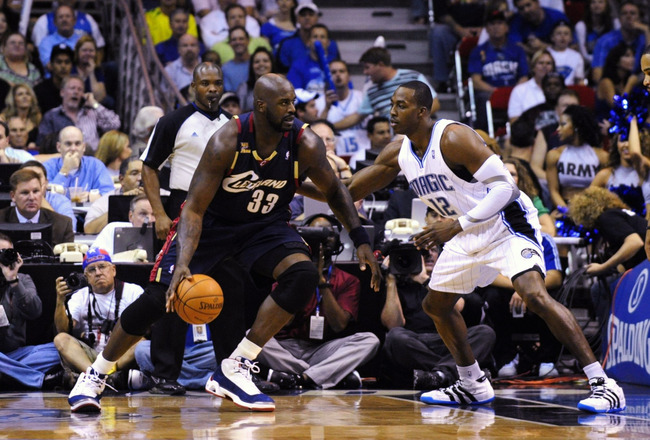 Sam Greenwood/Getty Images
Before Dwight Howard decided that he wanted out of Orlando, another center desired the exact same thing. That center achieved many things with his new teams, and some of those achievements will not be easy for Howard to match.
Of course, the man I am talking about is Shaquille O'Neal, one of the most unguardable players in NBA history.
The Orlando Magic selected O'Neal with the first pick in the 1991 NBA Draft and did the same with Howard in 2004.
Both players had what should be considered successful tenures with the Magic, but both left the team under unfavorable circumstances. The way in which they left has and will always tarnish the level of success that they had in blue and white; that is one thing that both centers share.
While Shaq is undoubtedly more talented offensively than Howard, the latter makes a far bigger impact on the defensive end of the floors.
Honestly, it would have been a spectacle if these two behemoths could have faced off in their respective primes.
Since that is impossible, the next best way to compare the two is to put their seasonal achievements side-by-side.
Season 1
Tim DeFrisco/Getty Images
Shaquille O'Neal's Stats in First Season: 23.4 points, 13.8 rebounds and 3.5 blocks
Dwight Howard's Stats in First Season: 12 points, 10 rebounds and 1.7 blocks
Based upon that stat line, it becomes obvious that Shaq was the better offensive player from the start and had a far better rookie season than Howard.
In terms of minutes played per game, O'Neal averaged 37.9 and Howard 32.6. While the five extra minutes of playing time per game definitely helped in Shaq's statistical dominance, it isn't enough to tilt the balance back into Howard's court.
Another reason that these two big men are always linked is due to their poor free-throw percentage. In their first seasons, O'Neal converted on 59.2 percent of his free throws, and Howard converted on 67.1 percent of his.
While it appeared as if Dwight would be a somewhat decent free-throw shooter, the next seven years of his career would dispel that myth.
In O'Neal's first season in Orlando, the Magic went 41-41 and missed the playoffs. That didn't stop Shaq from winning the Rookie of the Year award, as he asserted his dominance in every game that he played in.
Although the Magic didn't make the playoff in O'Neal's first season, they did win 20 more games than the year before. Shaq is without a doubt deserving of a lot of the praise that came with that turnaround.
In Howard's first season, the Magic went 36-46, which was fifteen games better than they finished the year before.
Similar to Shaq's first season, Howard did not lead the Magic to the playoffs, but he did improve the team immediately.
From the start, Shaq outproduced Howard in all of the important statistics, including leading his team to a more successful season.
Season 2
Doug Benc/Getty Images
O'Neal in Second Season: 29.3 points, 13.2 rebounds and 2.9 blocks
Howard in Second Season: 15.8 points, 12.5 rebounds and 1.4 blocks
On paper, both men improved in their second seasons offensively. In fact, Shaq increased his scoring production by almost six points and carried the Orlando Magic to a 50-32 record.
O'Neal played 39.8 minutes per game, so clearly, he wasn't given much rest, which makes the fact that he played for 19 seasons even more amazing.
As for Howard, he played an extra four minutes per game, coming in at 36.8 minutes and really started to become the face of the Magic franchise. He led the team to an identical 36-46 record, but the future was clearly bright for both Dwight and the Magic.
Both men got to the line more in their second season, but they also saw their free-throw-shooting percentages go down from their rookie campaigns.
As the stat lines show, Shaq was much more productive and once again topped Howard in every important statistic.
What the city of Orlando can look to at this point is that O'Neal was already half way through his tenure with the team, while Howard still had six more seasons.
That being said, Shaq's production was unprecedented, and he proved that he was one of the best players in the league at both ends of the court.
While both men had successful careers in Orlando, it cannot be argued that Howard produced anything near what Shaq did in his first two seasons.
That isn't a knock on Dwight, rather it is an indication of just how dominant O'Neal was early in his career.
Season 3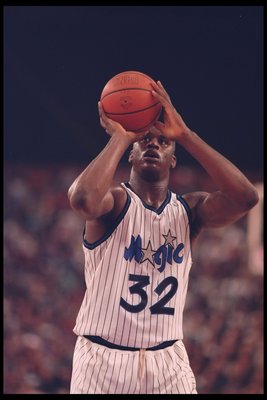 Clive Brunskill/Getty Images
O'Neal's Third Season: 29.3 points, 11.5 rebounds and 2.4 blocks
Howard's Third Season: 17.6 points, 12.3 rebounds and 1.9 blocks
Shaq once again dominates Howard, although Dwight out-rebounded O'Neal for the first time.
In his third season, Howard helped the Magic snag the eighth spot in the Eastern Conference, but they were swept by the Detroit Pistons.
In Shaq's third season, he led the Magic to the best record in the conference and to the franchise's first NBA Finals. Although they got swept by the Houston Rockets, Shaq and the Magic had an excellent season, and he cemented himself as the best center in the Eastern Conference.
It should be noted that O'Neal was playing with Penny Hardaway while Howard had an often-injured Grant Hill, so Shaq had the clear advantage in that sense.
As the increase in scoring indicates, Howard was constantly getting stronger and refining his post game. That being said, he wasn't nearly the threat that Shaq was on offense.
In their third seasons, both players exceeded expectations and were noticed nationwide. As it would turn out in both cases, heartbreak would eventually ensue for those in Orlando.
Dwight has never had O'Neal's dominating size and athleticism, thus his inability to dominate offensively. The reason that the two have been compared is due to the lack of competent big men in today's game.
Howard is without a doubt the most talented center in today's NBA, as Shaq was when he played. Add in the fact that both of them go their start in Orlando, and the comparisons were inevitable.
Season 4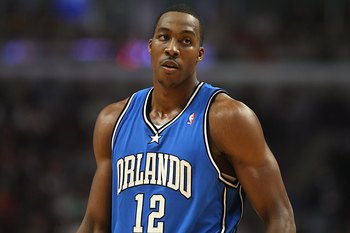 Jonathan Daniel/Getty Images
O'Neal's Fourth Season: 26.6 points, 11.1 rebounds and 2.1 blocks
Howard's Fourth Season: 20.7 points, 14.2 rebounds and 2.1 blocks
After their fourth seasons, Howard began to show more statistical progression than O'Neal. However, the only reason that it appears that way is because Shaq had nowhere to go but down due to the high level he set in his first three seasons.
Howard's fourth season saw the Magic win the Southeast Division for the first time and their first playoff series victory since 1996.
In what would be his final season in Orlando, O'Neal led the team to another Atlantic Division crown and Eastern Conference finals appearance. Unfortunately for the Magic, Michael Jordan was in his first season following his return to the NBA, and his Bulls team was bulletproof.
Following the sweep at the hands of the Bulls, O'Neal signed with the Los Angeles Lakers in free agency. The rest is history.
One difference between O'Neal and Howard is the role they played in their respective offenses.
While Shaq was always the No. 1 option, he averaged 19.1 shots in his final season in Orlando, but Howard wasn't the primary option.
In fact, Dwight shot only 11.9 times per game on average, about seven times less than O'Neal did in his fourth season.
For what Howard lacked offensively, he made up for on the glass and on defense, where he was emerging as the league's best defender.
This is the first season where Howard and O'Neal start to get a little comparable.
While Shaq is still far superior offensively, Howard proved to be better on the glass and on defense.
This is where the debate could begin, but Shaq still owns a clear advantage over Howard at this point.
Season 5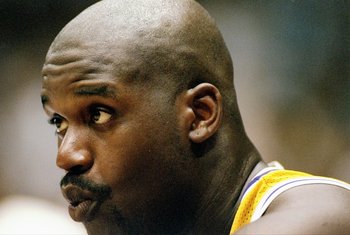 Elsa/Getty Images
O'Neal's Fifth Season: 26.2 points, 11.1 rebounds and 2.1 blocks
Howard's Fifth Season: 20.6 points, 14.2 rebounds and 2.1 blocks
In O'Neals first season in Hollywood, he led the Lakers to a 56-26 record and into the second round of the playoffs. It should also be noted that it was in the summer of 1996 that the Lakers acquired Kobe Bryant, pairing what would become one of the most effective duos in NBA history.
As it would turn out, Howard's fifth season in Orlando turned out to be his most successful. The Magic represented the Eastern Conference in the NBA Finals for the first time since O'Neal defected to Los Angeles, but they ironically lost in the finals to the Lakers.
Howard also won his first Defensive Player of the Year award in his fifth season, a feat that O'Neal never accomplished.
At this point, both players had appeared in the NBA Finals once and had been named to the All-NBA first team.
One key difference is that Howard was still in Orlando in his fifth season while Shaq had already left town for a bigger market.
Holding resentment toward Howard for wanting out of Orlando is prevalent at the moment, but at least he played for the franchise twice as long as O'Neal did.
If Dwight wasn't on the team in 2009, then the Magic would not have made it to the NBA Finals. That cannot be disputed.
Howard's loyalty to Orlando may now be mocked, but at least he didn't bail on the city the first chance he had.
Season 6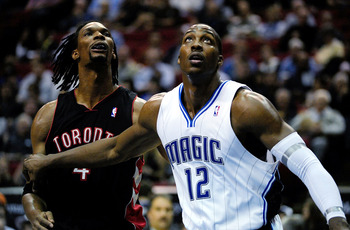 Sam Greenwood/Getty Images
O'Neal's Sixth Season: 28.3 points, 11.4 rebounds and 2.4 blocks
Howard's Sixth Season: 18.3 points, 13.2 rebounds and 2.8 blocks
Another season, another statistical advantage goes to Shaq.
Howard claimed his second consecutive Defensive Player of the Year award, but that doesn't make his season equivalent to Shaq's.
O'Neal was once again unstoppable offensively, as his size and explosion made him a nightmare to guard. If he had ever learned to shoot free throws effectively, something Howard is yet to do, then he would have been the most dominant offensive force in league history.
Howard led the Magic to the Eastern Conference finals, where they lost in six games to the Boston Celtics. As history tells us, Howard would never lead the Magic into the playoffs that far again.
Oddly enough, Howard's sixth season was the only one in his past five in which he didn't average at least 20 points per game. What makes it even odder is that Howard shot 61.2 percent in his sixth year, which is his career high.
If you're counting, this was the sixth straight season that Shaq outperformed Howard statistically. If it isn't already obvious, the comparisons between the two should be curtailed.
Dwight Howard is better than Shaq defensively, but he wasn't even nearly as dominant offensively.
O'Neal's ability to score at will alone makes him more valuable than Howard has ever been. In reality, that doesn't matter because Howard won't have to guard Shaq on the way to an NBA title.
Season 7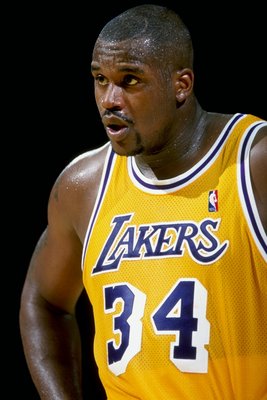 Vincent Laforet/Getty Images
O'Neal's Seventh Season: 26.3 points, 10.7 rebounds and 1.7 blocks
Howard's Seventh Season: 22.3 points, 14.1 rebounds and 2.4 blocks
O'Neal's seventh season was cut short due to the NBA lockout that pushed back the start of the season, which is exactly what happened to Howard during his eighth season.
At this point in O'Neal's career, the Lakers were only getting better as the members of the old guard were wearing down. Jordan won his final title in Shaq's seventh season, and the Lakers would soon become the class of the Western Conference.
Shaq averaged only 34.6 minutes per game in the 1999 season, which was very low for him. This may indicate that he didn't return to camp in basketball shape; if he had, who knows how dominant he would have been over the course of a short season.
Howard's seventh season saw the Magic's house of overloaded contracts implode on the team, which in turn led to a first-round exit against the Atlanta Hawks.
The difference between their respective seasons?
O'Neal's team entered the offseason knowing it was almost their turn to win an NBA title, while Howard's Magic team was in disarray.
Season 8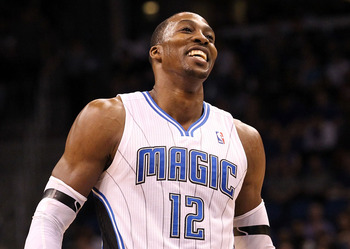 Sam Greenwood/Getty Images
O'Neal's Eighth Season: 29.7 points, 13.7 rebounds and 3 blocks
Howard's Eighth Season: 20.6 points, 14.5 rebounds and 2.1 blocks
Howard suffered through injuries for the first time in his career and was shut down for the season due to herniated discs in his back.
O'Neal led the Lakers to the NBA title, as they beat the Indiana Pacers in six games.
If Shaq needed another accolade over Howard, he earned it with the Finals MVP award that he won in defeating the Indiana Pacers.
While Howard may be the best big man in today's game, he doesn't compare to Shaq if you look at the numbers and results.
In fact, Shaq was just getting started at this point in his career.
Sure, Howard is on a very good Lakers team, but it remains to be seen if he will be able to succeed with his new teammates.
If he hopes to compete with Shaq, then he will need to start winning titles before Kobe Bryant gets too old to help. Not to mention that he will need to do more offensively if he hopes to earn the honor of truly being compared to Dr. O'Neal.
Keep Reading

Los Angeles Lakers: Like this team?