Report Card Grades for Every New York Jets Rookie Through Preseason Week 2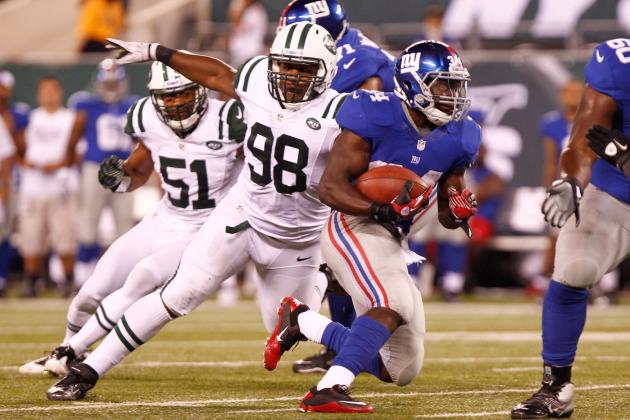 Debby Wong-US PRESSWIRE

Now that we are roughly halfway through the preseason and just a few weeks away from the start of the regular season, we can start to make real assessments on the short NFL careers of the Jets' rookies.
Obviously, the higher draft picks like Quinton Coples and Stephen Hill have put out more preseason tape to review, but just about every rookie has had some kind of positive or negative impact on the team in camp.
Here are report card grades for every Jets rookie after the second preseason game.
Begin Slideshow

»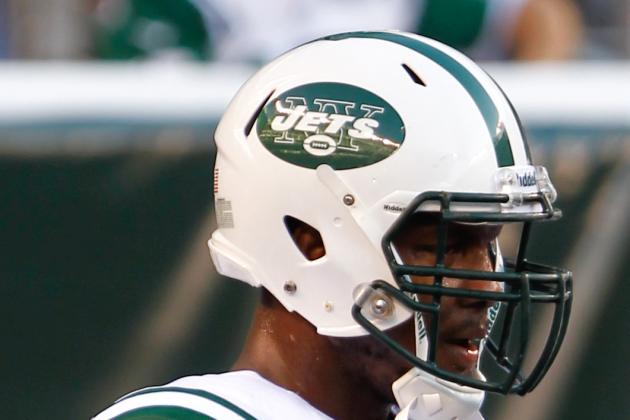 Debby Wong-US PRESSWIRE

It has been a bit of an up-and-down August for the Jets' first-round pick.
After having been demoted from his starting position at the start of training camp, Coples exploded in his preseason debut with a three-sack performance. His follow-up performance with the Giants was a bit of a letdown, but he was able to nab a sack against the Giants' backups.
The issue for Coples appears to be his practice habits. Defensive coordinator Mike Pettine wanted Quinton to wear his game jersey in practice, but the jerseys were not available.
Veteran linebacker Calvin Pace also commented Coples' practice habits: (via Rich Cimini of ESPN):
One thing I'd like to see with Q is just urgency a little bit in practice.
Right now, Coples is living on pure talent and his physical prowess to dominate backups, but he struggles to get a big push against veteran starters because of his lack of discipline and technique. While this approach may work for the rest of the month, Coples needs to step up his practice play to become more dominant once the regular season starts.
GRADE: B+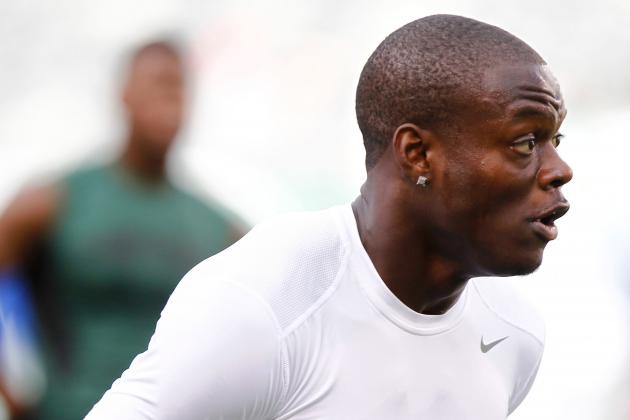 Debby Wong-US PRESSWIRE

In a lot of ways, Hill's preseason games have been very much like that of fellow rookie Quinton Coples: Hill is able to get separation and make some plays working against second-team cornerbacks, but he struggles to get away from experienced NFL starters.
Whenever you see Mark Sanchez holding the ball for too long, part of the reason is because none of his receivers are getting open.
Not helping his cause are two crucial drops in two preseason games, including one that would have been a sure-fire touchdown (and would have been the only touchdown of the Jets' preseason).
However, unlike Coples, Hill is making more plays in practice than he has in games. He was able to beat the likes of Darrelle Revis on a few long passes, so the potential for Hill to be a deep threat is there. Also, once Santonio Holmes is back in the lineup, he should draw more coverage away from Hill than Patrick Turner currently is.
Hill is supposed to be the team's downfield threat, but if the Jets don't fix their protection issues, they will never be able to take advantage of Hill's speed.
GRADE: B-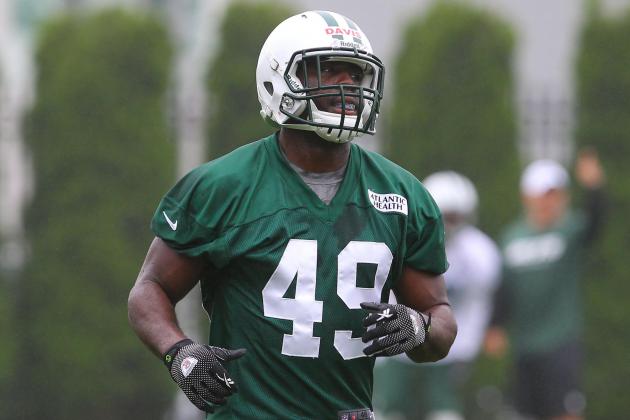 Ed Mulholland-US PRESSWIRE

Davis got a late start to training camp because of a hamstring injury, but he has been able to make the most of his opportunities since returning to the field.
He was all over the field in more extensive time against the Bengals, making five tackles, including one for a loss. He was also very active on special teams.
Davis was much quieter in the second game against the Giants, but he also had far less playing time with the starters playing an entire half.
In any case, if Davis can avoid the hamstring bug that has consumed the entire receiving corps, he should continue to improve and earn a bigger role in the Jets' defense as he gains more invaluable experience.
GRADE: B+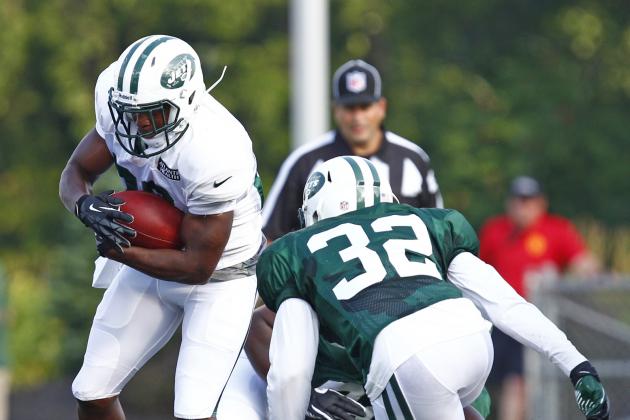 Mark L. Baer-US PRESSWIRE

While the Jets may have neglected their huge holes on the offensive line, they at least put plenty of resources into solving the safety position, starting with sixth-round pick Josh Bush.
As the only natural coverage safety on the roster, Bush has a chance to get onto the field this year, especially if Eric Smith struggles to come back from his injury.
Partnering with fellow rookie Antonio Allen with the second team, Bush has been solid in coverage and has been a sure tackler. For a player who is pegged as a coverage player, he has been a bit more physical than expected in the run game as well.
GRADE: B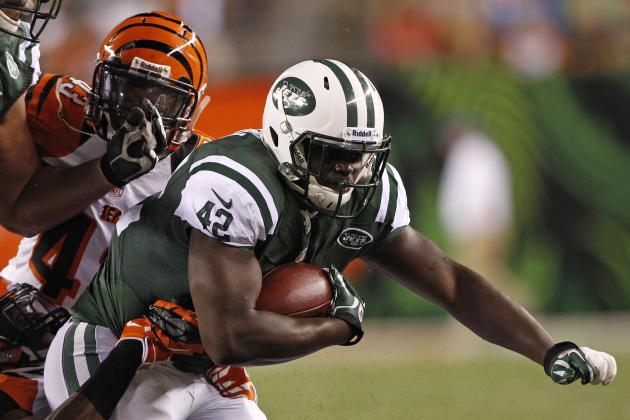 Frank Victores-US PRESSWIRE

Because of the emergence of Bilal Powell, Ganaway's impact, so far this summer, has been minimal, only getting four carries in the opener against Cincinnati.
The good news is that those four carries were good for 16 yards, a four-yard average.
As the fourth running back, Ganaway is going to have a tough time getting on the field, but based on his skill set as a quicker version of Shonn Greene, the Jets were hoping to get him on the field at some point during the regular season.
While he has not been a liability by any means, he has not made much of a splash either.
Rex Ryan also singled out Ganaway for being the root cause of one of many training camp fights, as told by ESPN's Rich Cimini.
I saw a young rookie (Terrance Ganaway) run through a guy in a 'thud' period. That's not what you're looking for. That's not being physical. That, to me, is being selfish. I told guys about it and, sure enough, apparently somebody didn't get the message.
As of now, it appears as if the Jets are going to keep Ganaway on the bench and special teams this season, which is a big disappointment for those expecting more from Ganaway this season.
GRADE: C-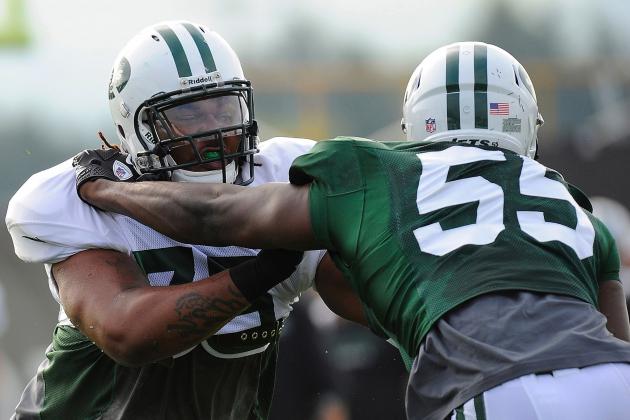 Rich Barnes-US PRESSWIRE

Probably the least-talked about rookie on the team, Griffin is slowly fitting in with the Jets, even if the playbook is a huge jump from Baylor's relatively simplistic offense.
Griffin was one of the few linemen who held up rather well in the second half against the Giants and got a decent push in the run game.
Still, Griffin is listed below several other interior lineman on the depth chart, which given their depth issues, is a bit of an indictment of how he has looked in practice.
"RG300" is still a young, developing player who does not let the negative plays get to his head, which is a quality this team desperately needs to get over their recent struggles. He may not be making a big impact right now, but his arrow is pointing up as he gets better with the mental aspects of the game.
GRADE: C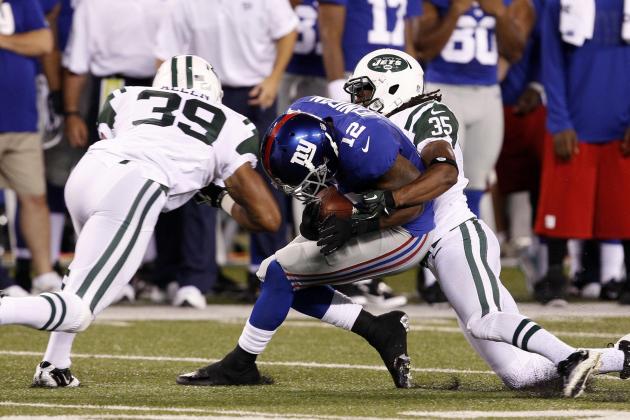 The Star-Ledger-US PRESSWIRE

Judging both by what we have seen in preseason action and what coaches are saying at camp, the Jets may have found a gem in the seventh round.
Allen was one of a few bright spots in Saturday's game against the Giants, and Allen was always around the ball, making plays all over the field. He had three tackles, including two for a loss, in about a half of football alone.
What makes Allen's performance even more impressive is that he is making the unique transition from a hybrid safety/linebacker position he played at South Carolina into a more traditional role as a strong safety in the NFL.
Many thought he would struggle in coverage because of his lack of experience in such situations, but so far, Allen has been rock solid playing in space.
So far, Allen is giving the Jets the most bang for their buck out of any Jets rookie so far. It's just a bonus that he plays in what was viewed as a position of need for the Jets headed into the offseason.
GRADE: A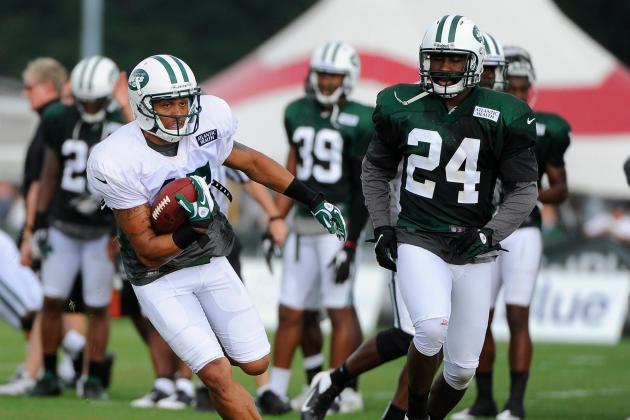 Rich Barnes-US PRESSWIRE

Now that he has fully recovered from a broken foot that sidelined him in OTAs, White is showing why he was such a productive player at Western Michigan.
While White does not have the incredible athletic gifts that fellow rookie Stephen Hill has, White has a knack for getting open and has great hands.
In the second preseason game against the Giants, White led the team in both catches and receiving yards, going 3-of-28 (which maybe more of an indictment on the Jets' passing game than a highlight of White's supreme talent).
With Jeremy Kerley out, receivers coach Sanjay Lal has stated that White is in the mix to be the team's slot receiver, as reported by Manish Mehta of the New York Daily News:
If Jordan White comes back strong, he could be an inside player…. The guy has some instincts.
While I expect Kerley to seize his job back as soon as he returns from his nagging hamstring issues, there is no doubt that the Jets have to like what they have seen from the seventh-round pick.
Grade: A-