How the LA Lakers Won the Offseason with Steve Nash and Dwight Howard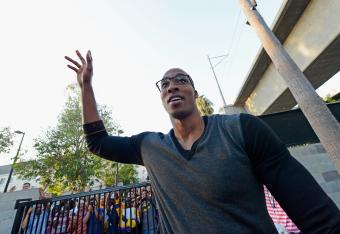 Kevork Djansezian/Getty Images
The Los Angeles Lakers have had the best offseason of any team in the NBA.
The move to trade four draft picks for Steve Nash was brilliant on the part of Mitch Kupchak, as that acquisition alone was enough to make the team contenders out West next season.
The Dwight Howard trade?
Icing on the cake.
Not only did the Lakers get their guy in Howard, they avoided taking back bad contracts that the Orlando Magic would have loved to send their way.
The Howard-Nash combo is going to create for one heck of a potent offense next season. Jameer Nelson has been a serviceable point guard for Howard in Orlando, but the big man has never played with anyone who can get him the ball exactly where he wants it the way Nash has proven he can throughout his career.
The two new pieces are going to be key parts of the rotation, but don't forget that this team still has one of the greatest players of all time sitting in the shooting guard spot ready to win his sixth NBA championship.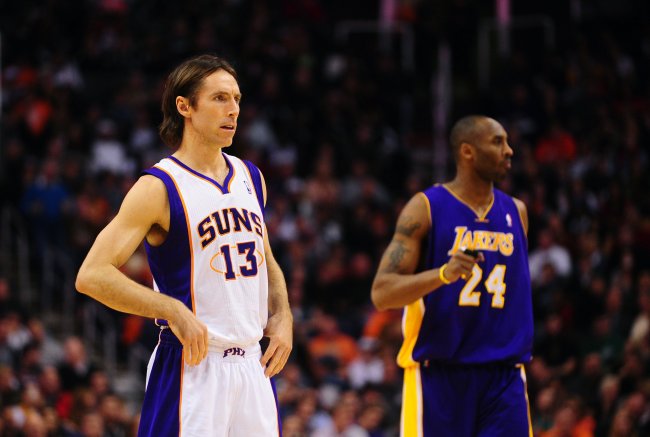 Mark J. Rebilas-US PRESSWIRE
If you believe Nash and Kobe Bryant will clash in styles, you have a valid argument. The two need the ball in their hands to make plays, and you have to wonder if Bryant's shot total will decrease, and how he'll handle it next season.
Don't be surprised, though, if the two competitors end up collaborating to make up one of the most dangerous offensive backcourts in the NBA.
On top of acquiring two of the league's top stars at their own positions, the Lakers were able to keep one of the biggest parts of their recent championship runs, Pau Gasol.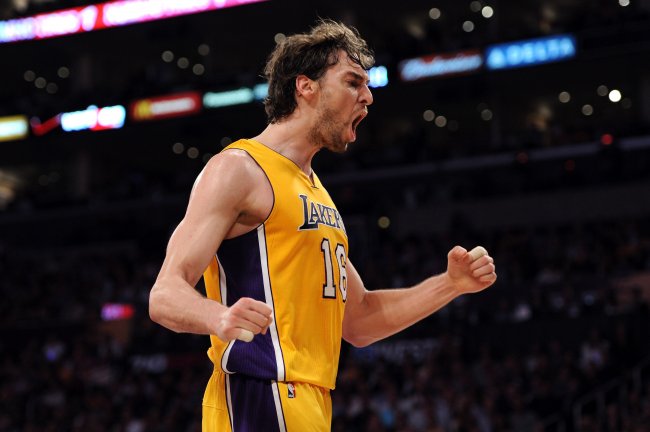 Harry How/Getty Images
If you're of the mindset that Gasol regressed last season, you're not alone. His playoff performance was underwhelming at best and his name was floated about early this summer in trade rumors, according to ESPN.
Gasol, a true seven-footer, will certainly take up space alongside the team's new center, but his pick-and-pop abilities will be a nice complement to the pick-and-roll game that Nash and Howard will put on display throughout next season.
A lineup of Nash, Bryant, Gasol, Howard and Metta World Peace will compete with any team in the league, and is perhaps the best starting five that the NBA has to offer.
Yes, it's true that the team got rid of a young, up-and-coming big man whose low-post game is arguably more refined than the one they got in return.
Are the Los Angeles Lakers Primed For A Championship Run In 2013?
That being said, Howard has proven to be a franchise player, and his impact in L.A. will be felt, as you know what you're getting from him each time he steps on the court.
Following the Lakers' disappointing second-round elimination to the Dallas Mavericks in 2011, the team's big move to get back on track was sending away Lamar Odom for a trade exception. In Kupchak's defense, the team did try to acquire superstar point guard Chris Paul, but after the deal was rejected by the league, they never turned around and recovered heading into the new year.
Last season, the team was once again knocked out by the soon-to-be Western Conference champions, and they could have continued to slowly fade away from championship contention if not for the big-time roster moves this summer.
One of the biggest problems for L.A. last year was bench production, and since Howard and Nash are far from reserves, the signings of Antawn Jamison and Jodie Meeks are two moves that have been greatly overshadowed.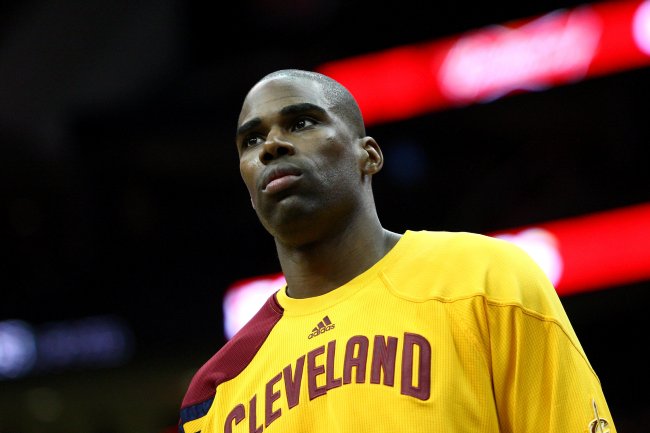 Chris Chambers/Getty Images
Meeks is a young 2-guard who is going to help the Lakers spread the floor with his knock-down three-point shooting, which is a category the Lakers ranked 25th in throughout the 2012 season.
Jamison, a 14-year player, can still score, can still rebound and signed with the team for one year at the veteran's minimum—in case you're wondering, that's a steal for a player who averaged 17.2 points, 6.3 rebounds and shot 34.1 percent from beyond the arch a season ago.
Jamison is past his prime, and Meeks has yet to hit his, but the two of them together will help round out a roster that struggled throughout portions of 2012.
But let's not kid ourselves here; there's a reason Nash and Howard have stolen all the headlines.
Dwight Howard will be putting up great performances for the Lakers—not against them—in 2013.
This summer is about a proven point guard and the league's best center taking their talents to Los Angeles and making the Lakers one of the favorites to compete for an NBA championship.
The past two years have seen the Lakers exit the playoffs in the second round, and in response, they made hands-down the two biggest moves of the entire summer.
This team has done what it needed to do, and as a result, they are set to contend for a shot out West once again next season.
This article is
What is the duplicate article?
Why is this article offensive?
Where is this article plagiarized from?
Why is this article poorly edited?

Los Angeles Lakers: Like this team?