Report Card Grades for Positional Groups so Far in 2012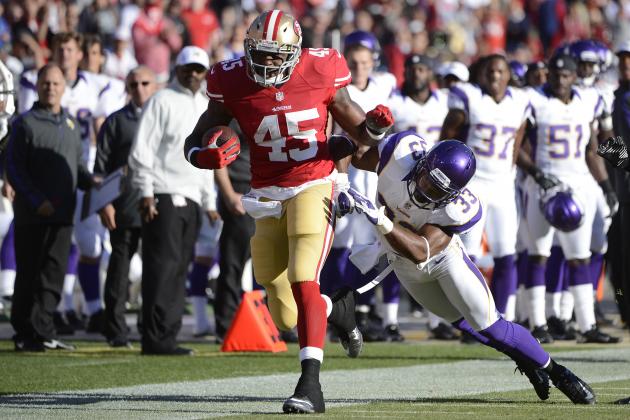 Thearon W. Henderson/Getty Images

With the NFL offseason fully underway, complete with preseason games and all, the 49ers are due for an analysis. San Francisco acquired a lot of new faces this offseason and have a lot of returning players in different situations in terms of what role they are playing.
The 49ers had their first exhibition game on 2012 on Friday against the visiting Minnesota Vikings.
Since the game, there have been some change-ups at position groups in terms of competition and injury. In this piece, we'll break down and update the position groups on the San Francisco 49ers roster, complete with letter grades.
Proceed through the following slides for this offseason report card.
Begin Slideshow

»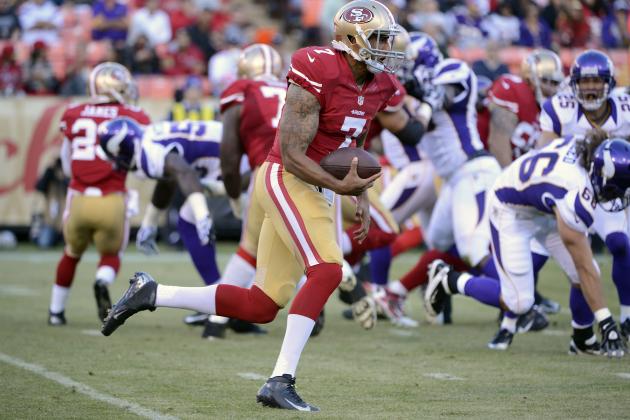 Thearon W. Henderson/Getty Images

The quarterback position in San Francisco is an evolving group; finally one with depth and certainty.
Alex Smith will be the starter for the 49ers in 2012 and has had a strong offseason thus far. Smith is working hard to bring his game to another level, but conscious of not shouldering too much responsibility that it changes the way this team plays offensive football.
On top of the added weapons for the quarterback, Smith himself has taken drastic steps to improve his mechanics and mental approach as a passer.
Meanwhile, Colin Kaepernick had quite the start to his second year in the league. The 49ers' 2011 second-rounder showed much improvement from his ghastly rookie preseason to what he displayed against the Minnesota Vikings on Friday.
Kaepernick connected on several throws, including a beautiful laser in coverage, complete to rookie receiver A.J. Jenkins, who made an athletic, high-focus catch on the sideline. Besides his arm, Kaepernick posted the play of the week when he took a QB-keeper 78 yards, splitting the Vikings defense for a huge rushing touchdown.
The depth continues.
Quarterback Scott Tolzien saw a fare share of reps during the Week 1 exhibition game at Candlestick Park. Tolzien looked sharp, finishing 10 of 13 for 84 yards, but threw a late red-zone interception. It was a ball Tolzien should have never let get as he was getting hit in the process; he tried to do too much.
Tolzien is battling former Jim Harbaugh understudy Josh Johnson. Johnson only had a chance to throw four times against Minnesota in which he completed 50 percent of his passes for 30 yards. This battle is still ongoing, but many think Tolzien is the most pro-ready backup the 49ers currently have on the roster.
And even though they do not have an elite passer leading the pack, the depth and efficiency of this group makes them a well-respected unit.
Position Grade: B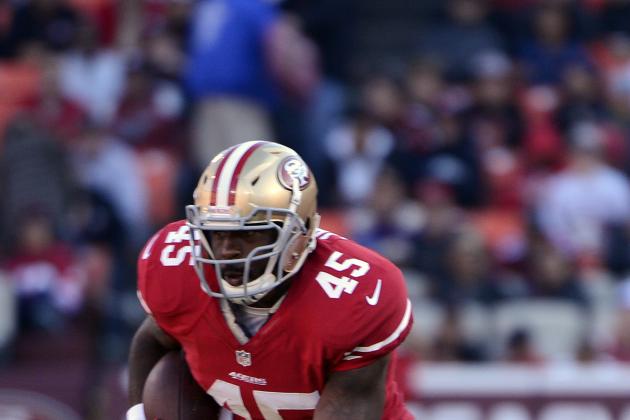 Thearon W. Henderson/Getty Images

In 2012, Frank Gore is expected to lead perhaps the deepest group of running backs currently assembled in the NFL.
Gore, a perennial Pro Bowler and top NFL back, is now joined by high-profile runners Brandon Jacobs and LaMichael James, with Kendall Hunter returning. The 49ers have been an effective ground-and-pound team, even through their porous years.
Much of the team's success on the ground can be attributed to running backs coach Tom Rathman. The former 49er ball-carrier has been a pillar for the running back unit, maintaining consistency even through personnel change. He has even taken on projects like Bruce Miller and produced results.
This season, Rathman has a bunch of toys at his disposal. Each 49ers back is a physical freak in their own right, and being in the right system with a competent staff, they should all see a certain level of production.
In the 49ers first preseason game against the Minnesota Vikings, Gore sat out, allowing the newer backs to get reps. Hunter started the game at tailback, with Jacobs behind him on the depth chart that day.
Against Minnesota, the 49ers ground game looked unstoppable, bringing an array of elements—particularly size and speed—that kept defenses on their toes.
Including Kaepernick's TD break, the 49ers accumulated 198 first-half rushing yards against the Vikings. Of the running backs, Jacobs' performance was particularly encouraging, as he carried the ball four times achieving four first downs with a long run of 23 yards.
San Francisco proved its depth even further when newly-acquired special teams ace Rock Cartwright had eight carries for 44 yards. The 49ers had good blocking up front, and the backs were hitting holes with authority, leading to a productive overall day on the ground.
The 49ers rushing attack could be one of the more effective units in 2012.
Position Grade: A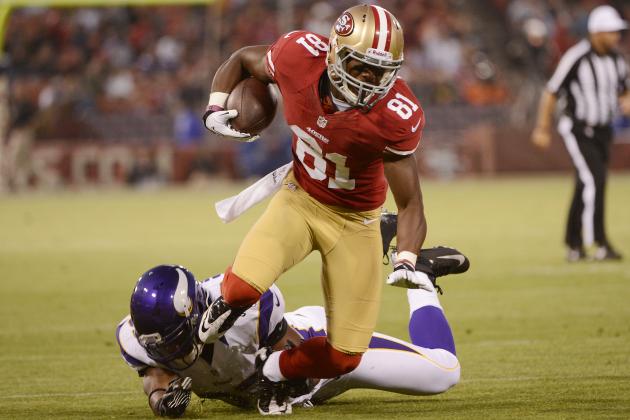 Thearon W. Henderson/Getty Images

The 49ers drastically upgraded their wide receiving corps in the 2012 offseason. With Michael Crabtree, Ted Ginn, Jr. and Kyle Williams returning, San Francisco's notable acquisitions at the position were Randy Moss, Mario Manningham and A.J. Jenkins.
San Francisco's receiving corps is otherwise loaded now after an abysmal showing in 2011.
The general consensus is that the 49ers will see improvement from their passing offense this season. San Francisco's training camp has had a few visitors, a number of which have left with an enlightened perception of what the offense is truly capable of.
One such visitor, NFL.com's Bucky Brooks, came away impressed after attending practice in Santa Clara this offseason.
@desimone80 Very impressed by the execution in practice. Balls didn't hit the ground and the chemistry between Smith and WRs stood out

— Bucky Brooks (@BuckyBrooks) June 16, 2012
In addition to the more high-profile payers the Niners have at wide receiver, they also brought in a talented group via the UDFA pool. Rookie wide receivers Chris Owusu (Stanford), Nathan Palmer (NIU) and Brian Tyms (FAMU) have also gotten noticed this offseason.
On a team with such depth already, the 49ers face the challenge of keeping a UDFA receiver based on the high level of competition. Owusu and Palmer in particular have performed in training camp and in the exhibition, warranting consideration from the offensive staff.
The ceiling gives them a high grade, but the uncertainty at the position prevents them from receiving the highest grade.
Position Grade: B+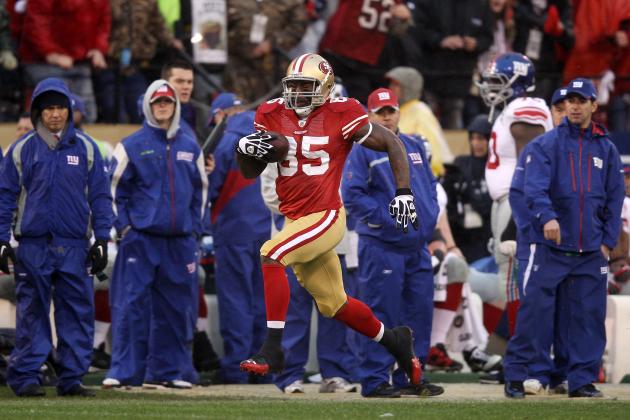 Ezra Shaw/Getty Images

Luckily for the San Francisco 49ers, they possess a top-three player at the tight end position in Vernon Davis.
Davis is an elite tight end with a rare combination of size and speed who should thrive in 2012. He is now surrounded by pass-catchers, which has never been the case since he was drafted in 2006.
Unfortunately, the 49ers have sustained injuries at the position this offseason. Both backup tight ends, Delanie Walker and Nate Byham, have incurred injuries this offseason. It means less for Walker than it does for Byham.
While Walker is playing out the final year of his contract in 2012 as a real role player in the 49ers offense, Byham is fighting off competition at the No. 3 spot.
The 49ers have Konrad Reuland and Garrett Celek competing at the position.
Additionally, defensive lineman Demarcus Dobbs has made a case for himself at tight end. He belongs in the discussion, as he has emerged as a favorite to see time at the position during the season. As a two-way player, the 49ers will be able to save themselves a roster spot and retain an extra standout they otherwise wouldn't be able to keep.
Position Grade: B-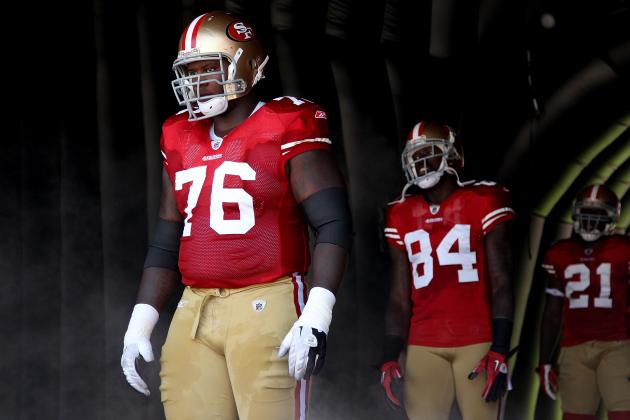 Jed Jacobsohn/Getty Images

The 49ers have solidification at the tackle spots in Joe Staley and Anthony Davis. In 2011, in his fifth season as a pro, Staley made his first Pro Bowl as a left tackle.
Davis, the former first-rounder, has showed improvement annually and could be in for his best year yet. He is a very physical player, particularly in the run, but could improve as a pass protector.
Right now, the 49ers like who they have starting at tackle.
However, depth at the position is a serious concern. San Francisco's offensive line prospects are mostly made of small-school tackles who project as interior linemen. And the one player that could fill in if one of the tackles were to go down is Alex Boone, and he's preparing to start at right guard.
This is the reason why there is a belief out there that it would be wiser to start Leonard Davis at guard and allow Boone to continue his role as a backup tackle.
And that brings us to our next slide...
Position Grade: C+/B-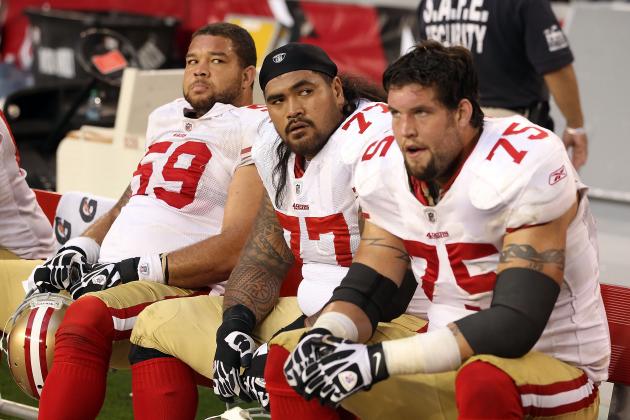 Christian Petersen/Getty Images

San Francisco has locked down the left guard position with Mike Iupati, who continues to be a presence day in and day out for the 49ers. He plays a major role in the success of the Niners run game and is arguably the line's most physical starter.
Iupati loves contact. It shouldn't surprise anyone if Iupati gets the nod to his first Pro Bowl in 2012.
On the other side, there is an open competition at right guard, with Alex Boone leading the race. Boone, 6'7", is a natural tackle who's been asked to switch to an interior line position, now playing with two people playing directly next to him instead of one.
While I applaud Boone's effort this offseason—and he did look good in preseason—if he starts, San Francisco immediately becomes weak when it comes to tackle depth.
The 49ers have players like Joe Looney, Jason Slowey, Daniel Kilgore and Mike Person, all of whom project as interior line guys. Boone may win the job outright with this sort of competition; however, his competition cannot do what he can at tackle.
On the other hand, the 49ers recently signed a Pro Bowl guard in Leonard Davis. Davis signed a short-term deal with San Francisco with the hopes to provide knowledge and compete with Boone.
As is the nature of a Jim Harbaugh training camp, the job will be rightfully up for grabs, but right now, Boone maintains the edge.
Position Grade: B-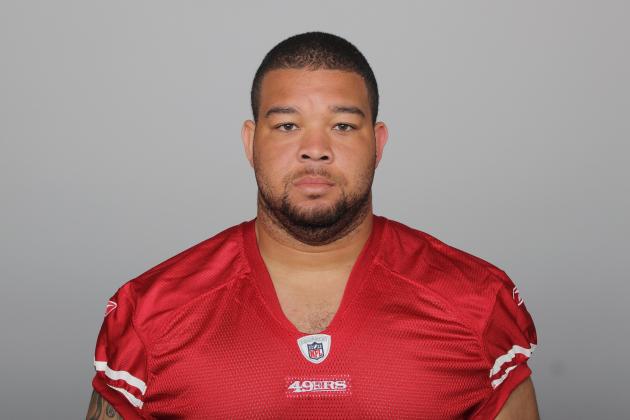 Handout/Getty Images

Jonathan Goodwin is a Pro Bowl center, but he struggled a bit in his first year with San Francisco. He allowed Alex Smith to be sacked five times. Coming to the Bay Area from New Orleans in 2011, Goodwin needed to adjust to the 49ers system.
Goodwin will be the starter in 2012, but whether or not he will be re-signed beyond the 2013 season is yet to be determined.
The 49ers have also returned Chase Beeler to training camp, the former Stanford offensive lineman. Beeler is currently backing up Goodwin at center and could be a player to watch as San Francisco searches for a long-term solution at the position.
With Goodwin having another year in the system, he should be back to Pro Bowl form. He will be a good example for Beeler to learn from this offseason.
Position Grade: B-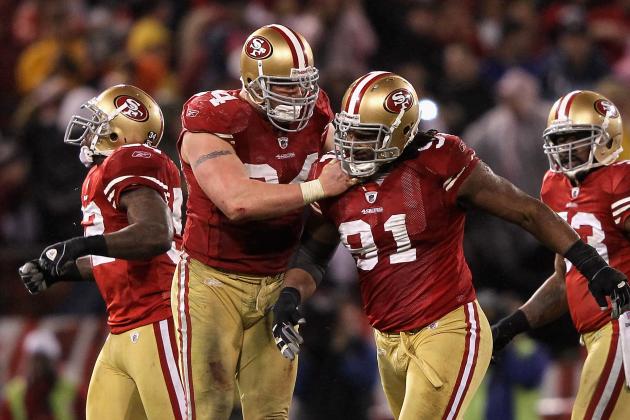 Jamie Squire/Getty Images

The 49ers have a dynamite defensive front from left to right. They have three starting defensive tackles in Ray McDonald, Isaac Sopoaga and Justin Smith that can pressure, stop the run and are arguably the best in the business when it comes to gap control.
The starters in San Francisco are determined, and they even have a primary backup in Ricky Jean-Francois. The 49ers staff views Jean-Francois as a starter, as he comes with the versatility to play outside or interior line. Time after time, he has effectively subbed in and even started a few games during the 2011 season.
The 49ers have depth beyond Jean-Francois in Demarcus Dobbs and Ian Williams, but could be in the market for more. A prospect out of Texas A&M, Tony Jerod-Eddie, could step up as an undrafted free agent.
San Francisco also brought in Patrick Butrym and Matthew Masifilo as UDFA's to compete for depth and perhaps the right to remain on the practice squad.
Against Minnesota, Justin Smith did not suit up, and Vikings backup running back Toby Gerhart had a hot start against the league's No. 1 rushing defense. It was eerie to see a running back get past the line of scrimmage, much less the 49ers entire defensive front.
Even though that was the case, it's nothing to panic over. Last season, the 49ers front did not hit their stride until the season began and the games mattered. This should remain one of the fiercest defensive line groups in professional football.
Position Grade: A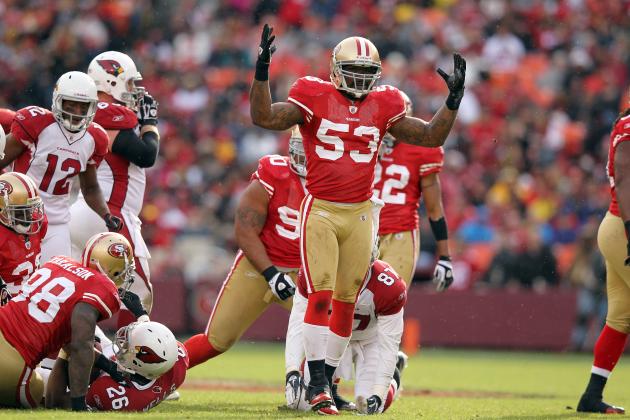 Ezra Shaw/Getty Images

At inside linebacker, it does not get much better than two All-Pros, Patrick Willis and NaVorro Bowman. The league's best two inside linebackers are returning for their second year starting together after a dominant debut campaign in 2011.
Larry Grant and Tavares Gooden are also reliable backups who double as special teamers. The 49ers get a lot of production out of their inside linebackers. Grant stepped into a starting role in 2011 during Willis' brief absence, and the 49ers defense remained strong.
As starters, Willis and Bowman make up the nucleus to one of the league's fiercest defense and a dominant linebacking corps.
Position Grade: A+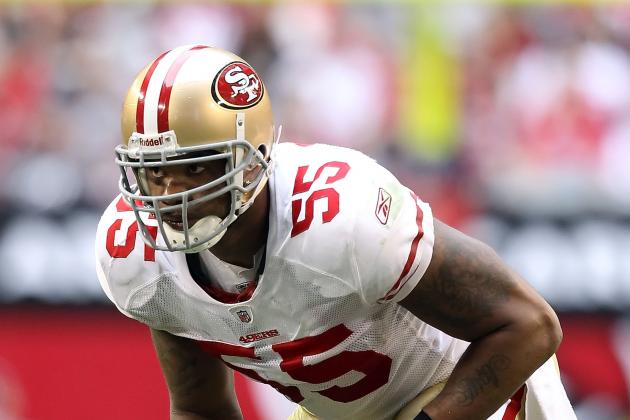 Christian Petersen/Getty Images

Aldon Smith and Ahmad Brooks are the projected starters in 2012. Brooks is coming off a strong first year as a starter and looks to improve on his 2011 campaign that saw him get 7.5 sacks. Smith is where Brooks was last year, transitioning from a backup to a starter.
Smith has massive potential, which is why San Francisco would like to have him on the field as much as possible. He is still adapting to the position, learning zone coverages, but is coming along well. The good news for Smith is that he should have plenty of opportunities to rush the passer because in Vic Fangio's 3-4 system, the OLB rarely covers.
The competition at outside linebacker that really matters is more geared toward depth and adding a dimension.
The 49ers drafted Darius Fleming and Cam Johnson to provide depth and be potential situational rushers. However, Fleming tore his ACL before training camp begun, and Johnson is yet to make waves. This leaves the position open for players like Eric Bakhtiari, Kourtnei Brown and Joe Holland.
Eric Bakhtiari has emerged as the leader of the backup outside backers not named Parys Haralson. In his first exhibition game this season, Bakhtiari had two sacks against the Minnesota Vikings.
With his two sacks in the exhibition game, the former University of San Diego linebacker took an early lead on his competition. There are three more preseason games left, so anything can happen between now and the end of camp.
Position Grade: B+/A-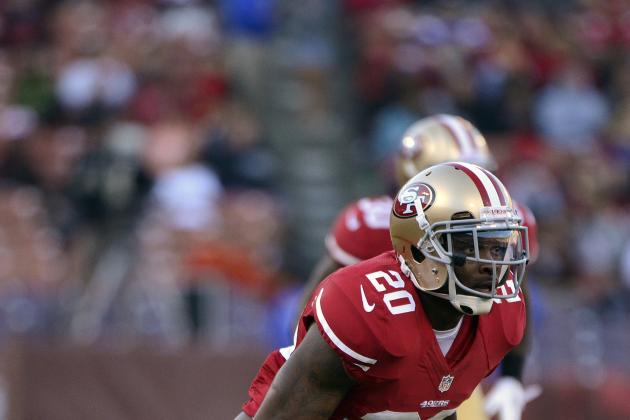 Thearon W. Henderson/Getty Images

The 49ers have made it their goal to make this a competitive secondary. Since Harbaugh's arrival, the secondary has undergone a pretty significant overhaul with Tarell Brown and Dashon Goldson being the only survivors from the old regime.
Tramaine Brock, however, is still competing hard and is well-liked by the staff.
At the cornerback position, the 49ers expect to start Carlos Rogers and Tarell Brown for a second consecutive year. The duo had a successful campaign together in 2011, improving a secondary that has been a serious weakness for this team recently.
Rogers made his first Pro Bowl in his first year with the Niners, tallying a career-high six interceptions. Brown even surprised folks with his reliable coverage against some of the league's best receivers.
The 49ers have great depth behind these two, though.
Chris Culliver and Perrish Cox are two very good corners who could be their own starting pair on another team. An organization like the Detroit Lions or Miami Dolphins would do a lot for a corner tandem as good as San Francisco's No. 3 and 4.
Culliver had strong play in 2011, seeing significant time as the team's go-to No. 3 cover guy. He saw time against receivers like Calvin Johnson and did not wilt. Cox debuted as a 49er on Friday against the Vikings, getting a good number of reps and even coming up with an athletic, late-game interception.
With four cornerbacks this talented, the 49ers look primed to make a title run in a pass-heavy NFL.
Position Grade: A-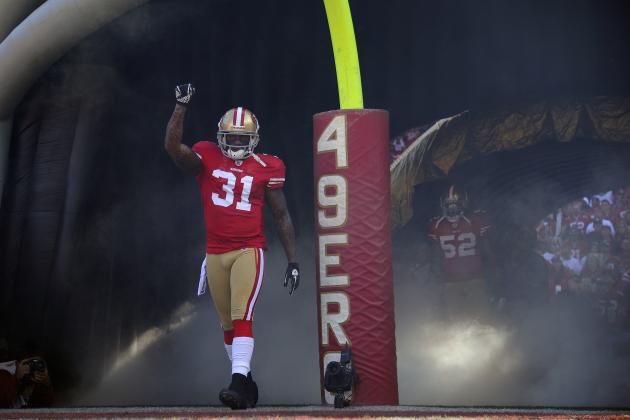 Thearon W. Henderson/Getty Images

The 49ers would have a much lower grade at safety had Dashon Goldson decided to hold out further. His absence did appear to have affected him already, blowing the coverage on a 52-yard pass play against the Vikings. Goldson has a few weeks to get back into it, and his presence being back with Donte Whitner is huge for the 49ers.
Goldson and Whitner combine for quite the safety tandem. As a unit, these two are one of the better duos in the league, right with the Steelers, Ravens and Seahawks.
San Francisco also has a number of prospects competing for depth at the position.
C.J. Spillman, Michael Thomas and Trenton Robinson are three major competitors for depth at safety. San Francisco just got its starting safeties situated, so it has yet to establish any real depth; it's not like the other positions on defense.
This is Spillman's second year with the 49ers. As a special teams ace in 2011, Spillman has earned a right to compete at safety. However, Thomas and Robinson are probably the more natural selections at the position. They have more upside and can play a role in this defense.
With uncertainty surrounding Goldson's future with the 49ers, fans should keep a close eye on the backups competing at safety.
Position Grade: B-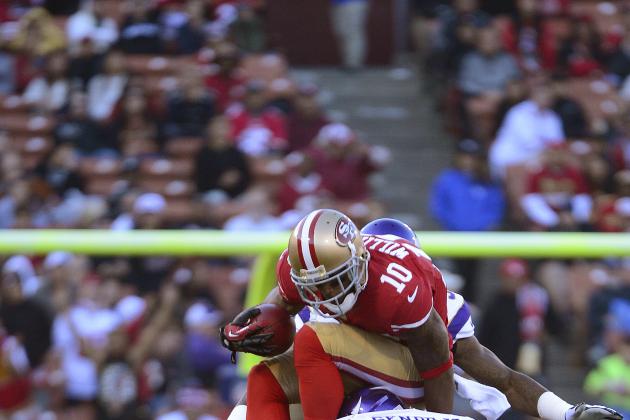 Thearon W. Henderson/Getty Images

San Francisco's star return man, Ted Ginn, Jr., returned to the team on a one-year deal after failing to seek the contract he desired elsewhere. Ginn returns kickoffs and punts for the 49ers, and among Devin Hester and Patrick Peterson, is a top-three returner in this league.
The Niners did add a lot of explosiveness to the team this offseason, so there are plenty of other options at returner outside Ginn. While Ginn has the best track record, players like A.J. Jenkins, Chris Owusu, Kyle Williams, LaMichael James, Kendall Hunter and Perrish Cox could all add value.
All of these players have experience and success at one point or another as return men. They are speed players with good field vision, known for making plays with the ball in their hands. While Ginn is the unquestioned No. 1, he may share work this season.
Position Grade: B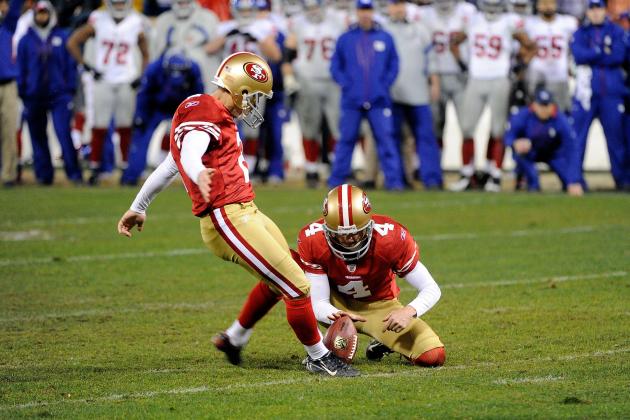 Thearon W. Henderson/Getty Images

The Bay Area in general has the best special teamers in the league. David Akers and Andy Lee make up one half of that fun fact.
Akers and Lee were both record-setting in 2011 and are as elite as they come. They are established veterans who help make the 49ers an effective three-phase team. San Francisco relies on field position and playing chess with their opponents.
Having a top-tier special teams kicker/punter tandem allows the 49ers staff to play the sort of game they want to. Akers and Lee will always help to increase the offense's and defense's chances of success.
Position Grade: A+