Power Ranking the Greatest Starting Lineups in Lakers History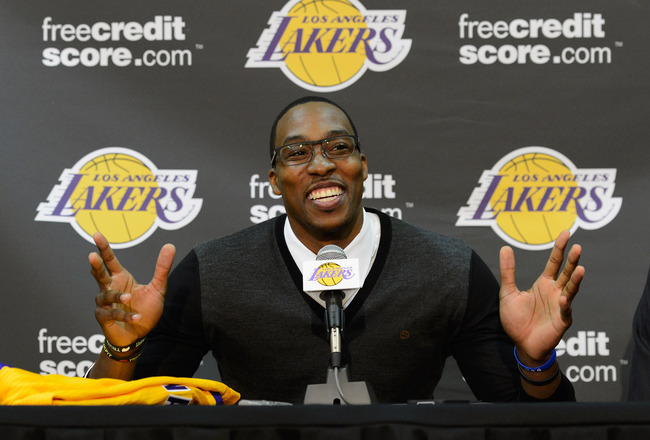 Kevork Djansezian/Getty Images
Now that the Los Angeles Lakers have landed Dwight Howard, while only having to give up Andrew Bynum, Christian Eyenga, Josh McRoberts and a protected first-round pick, their starting five next season will not only be one of the greatest in Lakers' history, but also one of the best in NBA history.
The Lakers' five projected starters next season—Steve Nash, Kobe Bryant, Metta World Peace, Pau Gasol and Dwight Howard—total a ridiculous 33 All-Star game appearances among them.
Even though Howard will be the only Lakers starter under the age of 32 next season and seems to be in the worst health of any starter as he rehabs from back surgery, this starting five is extremely formidable, regardless.
On paper, the Lakers are absolutely stacked with talent. While most Lakers fans and some NBA experts already seem to be crowning this revamped roster before the season has even started, they still have everything to prove and a lot of tough teams to beat.
So where does the current Lakers' starting five stack up with other starting lineups in the franchise's storied history?
Well, even though this team has bolstered their odds at a championship, and they'll be grossly popular in NBA2K13, they haven't played a single game together.
There have been plenty of starting lineups in Lakers history that have won it all, so until this current roster does the same, they can't be considered the greatest in franchise history (but they are darn close).
Note: Thank you to the website Basketball Reference for making all the research possible. With that said, "games started" did not become a recorded statistic until the 1981-1982 season. Since the majority of those seasons fall 10-20 years before I even existed as a human being, I had to guess some members of starting lineups based upon games played, minutes and positions. If you happened to watch those Lakers teams back in the day, feel free to correct me by pointing out which players really did start on a regular basis.
12. Pre-Kobe, Mid-to-Late 90s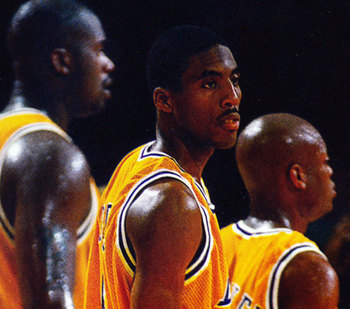 Starting Lineup: Nick Van Exel (PG) Eddie Jones (SG) Rick Fox (SF) Elden Campbell (PF) Shaquille O'Neal (C)
This Los Angeles Lakers starting five was prevalent during the mid-to-late 90s. Although future superstar Kobe Bryant was on the roster as a rookie in 1996, he had a bench role for a few years before he took over as the starter at shooting guard.
The most successful Lakers season with the Van Exel/Jones backcourt tandem came in 1998.
The Lakers finished with a 61-21 record under coach Del Harris and made the playoffs by finishing second in the Pacific division.
In the postseason, the Van Exel/Jones Lakers often couldn't make it past the second or even first round. In 1998, however, this lineup beat the Portland Trail Blazers 3-1 in the first round and the Seattle SuperSonics 4-1 in the second round before getting swept by the Utah Jazz in the Western Conference finals.
Although the Lakers didn't win it all with Shaquille O'Neal until Bryant established the killer one-two punch, the Lakers teams with Van Exel, Jones and Elden Campbell are still remembered fondly.
11. Start of a Dynasty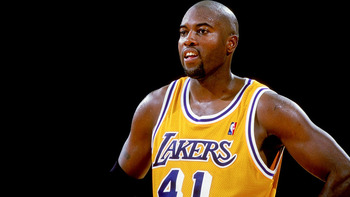 Photo Courtesy ESPN Los Angeles
Starting Lineup: Ron Harper (PG) Kobe Bryant (SG) Glen Rice (SF) A.C. Green (PF) Shaquille O'Neal (C)
Despite being the team that started the Lakers' decade of dominance, outside of Bryant and O'Neal, this starting five wasn't all too compelling.
Sure, Glen Rice and A.C. Green are two of the league's most underrated players who put together stellar careers, but they were clinging to the spotlight in the year 2000.
Rice was the third leading scorer on this championship Lakers team and averaged 15.9 points for the season.
Averaging 15.9 points per game is nothing to sneeze at, but the other two starters honestly had no business being there.
Ron Harper played 80 games during the season (78 starts) and averaged 25.5 minutes per game. Over the course of the season with decent minutes, Harper only notched seven points per game.
The 36-year-old Green started all 82 games, but he averaged just five points and 5.9 rebounds per game.
Needless to say, this team was carried by the greatness of Shaq and Kobe.
10. The Least Magic
Starting Lineup: Magic Johnson (PG) Byron Scott (SG) James Worthy (SF) Sam Perkins (PF) Vlade Divac (C)
Even though the "Showtime" Lakers were watching the curtains close on the show in 1991, they still managed to make the NBA Finals.
Although the Lakers failed to win it all in 1991 (losing 4-1 to the Chicago Bulls), the then 31-year-old Magic Johnson still found a way to lead the Lakers to an NBA Finals appearance, without assistance from his longtime running mate Kareem Abdul-Jabbar.
While Vlade Divac was still a very solid NBA player over his 16-year NBA career, he was no Kareem.
In addition, although Sam Perkins was no slouch, he wasn't a part of the truly great Laker teams led by Johnson. We'll get to those later on.
9. 2009 Champions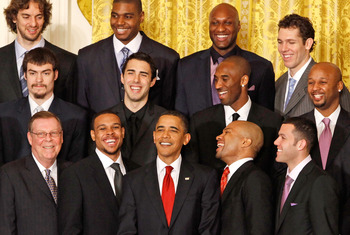 Chip Somodevilla/Getty Images
Starting Lineup: Derek Fisher (PG) Kobe Bryant (SG) Lamar Odom/Trevor Ariza/Luke Walton/Vladimir Radmanovic (SF) Pau Gasol (PF) Andrew Bynum (C)
Even though this starting "five" won the NBA championship in 2009, the fact that it had a revolving door at the small forward position hindered them greatly.
Although Lamar Odom was meant to be the team's sixth man, the inconsistency at small forward, coupled with Andrew Bynum's injury troubles, led to eight separate Lakers starting 20 or more games over the course of the season.
After failing to win it all in 2008 when the Boston Celtics came out victorious, the Lakers' second season with Pau Gasol turned out to be the one that returned the Lakers to glory.
This Lakers starting lineup is no doubt solid, but the question mark at small forward, teamed with the fact that Bynum missed 32 games due to injury knocks this championship team to No. 9 on the list.
8. Three-Peat™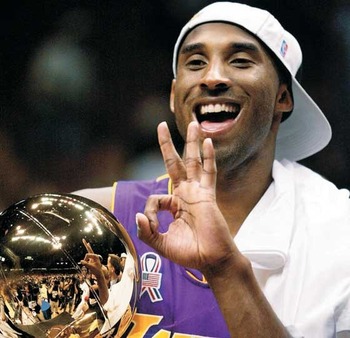 Starting Lineup: Derek Fisher (PG) Kobe Bryant (SG) Rick Fox (SF) Robert Horry (PF) Shaquille O'Neal (C)
In retrospect, it's amazing to see just how much the Lakers' starting lineup changed over the three-year span from 2000-2002 when the team won three straight NBA titles.
This starting lineup, which is perhaps the most recognized—thinking back to when the Lakers won three straight championships—won it all in 2002 to round out the Lakers' three-peat.
Shaq and Kobe established themselves as one of the NBA's greatest one-two punches of all time, Derek Fisher and Robert Horry gained notoriety for hitting clutch shots and Rick Fox was busy daydreaming about his acting career.
While there wasn't a boatload of talent outside of Bryant and O'Neal, the three role players in the starting five knew what their roles were and executed them accordingly.
7. Chasing Rings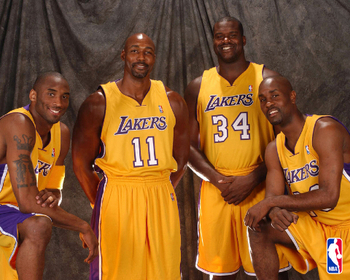 Starting Lineup: Gary Payton (PG) Kobe Bryant (SG) Rick Fox/Devean George (SF) Karl Malone (PF) Shaquille O'Neal (C)
At the tail end of their careers, both Gary Payton and Karl Malone joined forces with Kobe Bryant, Shaquille O'Neal and the Lakers in hopes of winning their first NBA championship.
At 35 years old, Payton still managed to play in all 82 regular season games for the Lakers. "The Glove" averaged 14.6 points and 5.5 assists per game.
Malone, on the other hand, was 40 years old. Despite that lofty number, there were high expectations for Malone, who had averaged 20.6 points per game with the Utah Jazz as a 39-year-old.
Malone's longevity in the NBA is one of the most impressive in history, but the years caught up to Malone when he left Utah for Los Angeles. "The Mailman" averaged a career low 13.2 points per game and only played 42 regular season games due to injuries.
The assembling of NBA legends eventually ended in disappointment when the Lakers fell in the NBA Finals to the Detroit Pistons 4-1.
6. The Latest Rings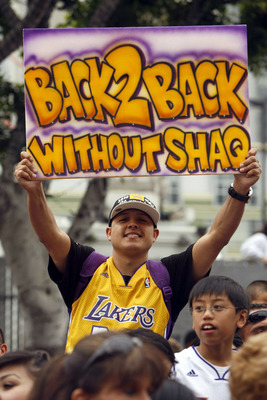 David McNew/Getty Images
Starting Lineup: Derek Fisher (PG) Kobe Bryant (SG) Metta World Peace (Ron Artest) (SF) Pau Gasol (PF) Andrew Bynum (C)
Unlike the 2009 championship team with that revolving door at small forward, the 2010 Lakers added Ron "crazy side of normal" Artest (now known as Metta World Peace) to solidify the position.
World Peace brought defensive toughness and wasn't as offensively inept then as he is now.
Even though both Gasol and Bynum played 65 games apiece due to injuries, they got healthy in time for the NBA finals, where they gritted out a tough a seven-game series win against the Boston Celtics 4-3.
The 2010 championship team gets the nod over the 2009 championship team, in my mind, because it had continuity at the small forward position and because Luke Walton wasn't playing a significant role.
5. Your Dwightmare Is Our Dream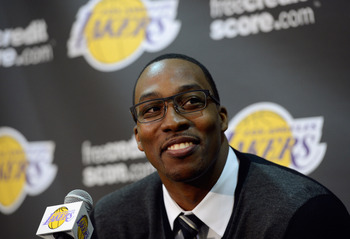 Kevork Djansezian/Getty Images
Starting Lineup: Steve Nash (PG) Kobe Bryant (SG) Metta World Peace (SF) Pau Gasol (PF) Dwight Howard (C)
With three MVP awards, 33 All-Star game appearances and four Defensive Player of the Year awards strewn throughout this unit, the pedigree speaks for itself.
You could argue that this starting rotation deserves to be higher, and you could argue that it does not earn a spot in the top five. However, even though this squad has yet to play a single minute together, it is among the favorites to win a championship this season.
On paper, this team is brilliant:
A two-time MVP manning the point guard position, a five-time NBA champion leading the way at shooting guard, a former Defensive Player of the Year avoiding the amnesty clause at small forward, the leader of Spain's Olympic team as the second or third best offensive option at power forward and a three-time Defensive Player of the Year defending the rim at center?
Are you sure this isn't just a squad somebody cheated to get while playing NBA2K12?
It's astounding how whenever the Lakers appear to be "done," they simply retool for more relevant playoff runs.
With that said, if this Lakers team doesn't end the season by raising the Larry O'Brien trophy, it should be viewed as a massive failure.
4. 1985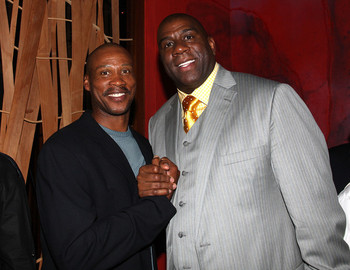 Starting Lineup: Magic Johnson (PG) Byron Scott (SG) James Worthy (SF) Kurt Rambis (PF) Kareem Abdul-Jabbar (C)
Although the 1985 Lakers squad wasn't the best team involving Magic Johnson and Kareem Abdul-Jabbar, it still make the top four of all time for winning a championship and being solid from top to bottom.
Byron Scott and James Worthy solidified their spots in the Lakers starting lineup over the years, but Kurt Rambis was better suited to a role where he could come off of the bench and bring toughness and grit.
This starting five is hindered in the standings for having Rambis, who is better suited as a role player off of the bench, start the majority of games.
However, this group of five won a championship together and have a lot of the same pieces that we'll get to shortly.
3. 1982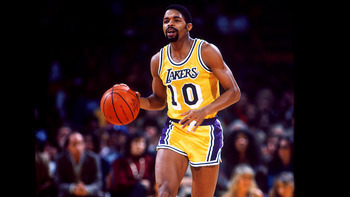 Norm Nixon is perhaps one of the most underrated Lakers of all time.
Starting Lineup: Magic Johnson (G) Norm Nixon (G) Jamaal Wilkes (F) Kurt Rambis/Mitch Kupchak (F) Kareem Abdul-Jabbar (C)
Needless to say, the Lakers earned their nickname "Showtime" for a reason.
Not only does this starting lineup have the best point guard to ever play the game of basketball in Magic Johnson, but the underrated Norm Nixon also acted as a point guard of sorts in the same highlight-filled backcourt.
In 1982, the year that this starting five won its championship together, Nixon averaged 17.6 points and eight assists per contest, while Johnson averaged 18.6 points, 9.6 rebounds and 9.5 assists per game.
The playmaking ability in this backcourt was simply off the charts.
Since Norm Nixon was a huge upgrade when compared with Byron Scott and Jamaal Wilkes, who put up similar career stats to James Worthy, this starting five gets the nod over the 1985 team.
2. Old School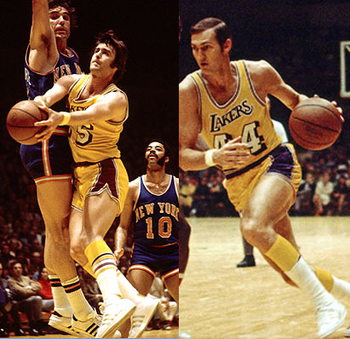 Gail Goodrich (left) and "The Logo" Jerry West.
Starting Lineup: Gail Goodrich (G) Jerry West (G) Elgin Baylor/JimMcMillian (F) Happy Hairston (F) Wilt Chamberlain (C)
In my opinion, this starting lineup plays host to the Lakers' best backcourt in franchise history.
Here are their career numbers:
Gail Goodrich: 18.6 points, 4.7 assists and 3.2 rebounds per game.
Jerry West: 27 points, 6.7 assists and 5.8 rebounds per game.
Throw NBA legends Elgin Baylor (even though he retired mid-season) and Wilt Chamberlain into the mix and you have one of the best teams not only in Lakers' history, but also league history.
Although the Lakers were mostly outmatched by the Boston Celtics in the 60s and 70s, this team managed to win the NBA championship in 1972.
1. Continuity Plus Rings
Mike Powell/Getty Images
Starting Lineup: Magic Johnson (PG) Byron Scott (SG) James Worthy (SF) A.C. Green (PF) Kareem Abdul-Jabbar (C)
While every other starting five on this list has either won one championship as a group, come close to winning it all as a group or are still waiting on its shot, this five-man starting rotation managed to win two NBA championships together.
The Johnson/Scott/Worthy/Green/Abdul-Jabbar grouping won back-to-back NBA titles in 1987 and 1988. Although Kobe Bryant and Shaquille O'Neal won three straight from 2000-2002, they had a different band of players surrounding them all three times.
Bryant, Pau Gasol and an injury-prone Andrew Bynum won back-to-back championships in 2009 and 2010, but they did so with five different small forwards and Derek Fisher (who, although respected, is far from being one of the best point guards that the league has ever seen).
The fact that this starting five won two straight NBA titles with every position solidified should mean something.
Sure, teams can win again and again with the same two or three players leading the way, but the fact that this exact starting five did it twice is something special.
Please feel free to leave your own list of starting lineups in the comment section!
Keep Reading

Los Angeles Lakers: Like this team?