Detroit Pistons: Why Dan Gilbert Should Mind His Own Business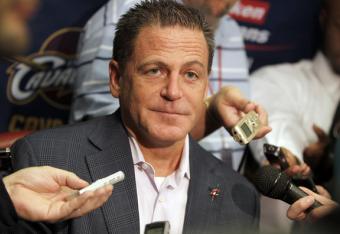 zimbio.com

Everyone knows Dan Gilbert, the billionaire owner of the Cleveland Cavaliers, because of his bitter and over-the-top response to LeBron James' decision to leave the Cavs back in 2010.
His prediction that karma would bite James in the you-know-what was laughable.
Did anyone really think the Cavaliers would win a championship before LeBron in Miami?
It goes without saying that, among NBA fans, Gilbert is known more for what he says than for what he does.
So when news came out several weeks ago that Gilbert had some choice words about the Detroit Pistons, my ears certainly perked up.
While visiting Detroit in July, Gilbert decided to share his opinion on where the Pistons play their home games. Specifically he criticized the Pistons' decision to play in Auburn Hills rather than in the city of Detroit.
According to MLive.com, Gilbert pointed out that the Pistons are only one of two teams in the entire NBA—the Sacramento Kings are the other—that don't play downtown. He went on to say:
"There's a reason why most sports teams are in a downtown core,"
The MLive article also reports that Gilbert was in Detroit because his company, Title Source, is moving its headquarters—and 1,500 workers—to the First National Building in downtown Detroit.
From that aspect, Gilbert should be applauded. He's a native son that is doing what he can to bring business back to the city.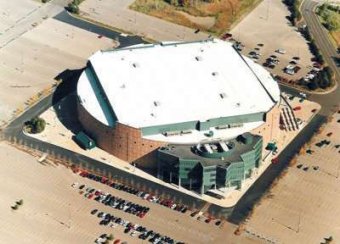 Aerial view of the Palace via seemyseats.com
However, when it comes to commenting on the site of the city's professional basketball team, Gilbert should mind his own business.
The funny thing is, this isn't the first time Gilbert has felt the need to comment on the Pistons. Last December, in an open letter to David Stern about the Chris Paul trade, Gilbert included the Pistons in a group of teams he compared to the Washington Generals.
Enough is enough. Gilbert needs to mind his own business.
Just because he's from Detroit does not give him free reign to say whatever he wants about the Pistons.
Some people want to give him a pass. He's bringing big business into the city and is trying to revitalize the downtown. Perhaps he should be able to say what he wants.
He's free to say what he wants, but when he's disingenuous, people tend to get irked.
According to this article, Gilbert has invested heavily in land in the downtown area. Obviously there's plenty to be had. So why would Gilbert want the Pistons to move downtown?
Because then his land's value would soar and he could sell it for a mighty profit and add to his already substantial fortune. That's the rub.
If Gilbert's comments were simply about the benefits of a sports franchise being downtown, no one would have a problem.
How do you feel about Dan Gilbert's comments?
However, that's not the case. His comments are motivated by greed and nothing else.
Pistons owner Tom Gores probably loved to hear Gilbert opine about the location of his franchise. I'm sure he called Expert House Movers to come over. They'd put the Palace up on hydraulic jacks, slide a flat-bed truck underneath, haul her downtown and unload her right next to Comerica Park and Ford Field.
As unrealistic as that sounds, the usual way teams change locations is even more so.
When a new arena is needed, who usually pays for it? The NBA? The owner? No, most of the time it's the taxpayers—the fans—who pay the price.
It goes without saying that one of the last things the citizens of Detroit, or Michigan for that matter, need are higher taxes.
Gilbert should know that the implications of what he suggested is unrealistic in these tough economic times. If the Pistons relocated they'd have to build a new arena. Taxpayers had to pay 51 percent of the total cost of Ford Field back in 2002, and they paid a hefty price for Comerica Park in 2000.
Gilbert is out of touch with the world most people live in.
Besides, the Pistons aren't in a position to move. Tom Gores is a new owner and is currently renovating the Palace to give it a modern feel. The team is in the midst of rebuilding and getting back on the winning track. A move would simply disrupt their momentum.
One day, the Pistons probably will relocate downtown, but now is certainly not the time. Doesn't Gilbert have enough to worry about in Cleveland?
This article is
What is the duplicate article?
Why is this article offensive?
Where is this article plagiarized from?
Why is this article poorly edited?

Detroit Pistons: Like this team?