Washington Redskins Training Camp: 3 Things We Learned This Week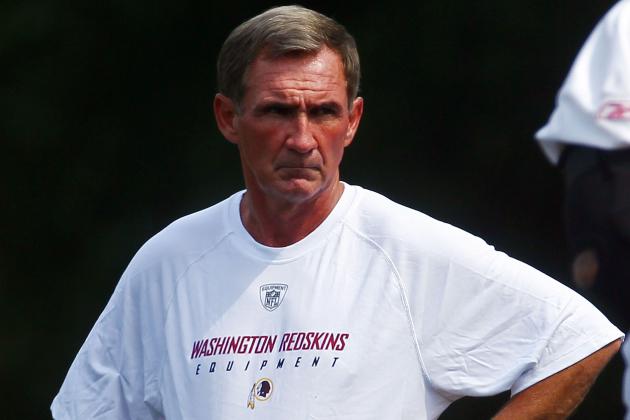 Win McNamee/Getty Images

Nine days into Washington Redskins training camp, there have already been quite a few highs and lows.
In case you missed it Wednesday, we took a look at what kind of first impressions the Washington rookies have made so far. Today, we'll take a broader look at coverage from the first week of camp in order to draw three concrete conclusions.
It would be easy to go far beyond that, but we're doing our best not to overreact to each good or bad play. Twitter makes it easier to track camp, but the drawback of instant coverage via social media is that the media and fans seem to be reacting in knee-jerk fashion more than ever.
Here's a chance to focus on three trends that have overcome 140-character barriers.
Begin Slideshow

»
Mitchell Layton/Getty Images

Believe me, Captain Negativity over here did his best to find something—anything—that didn't claim Williams was dominating, but it just wasn't there. By all accounts, the first draft pick of the Mike Shanahan era is finally putting it all together.
The left tackle has consistently been one of the team's top performers in practice, causing many to believe that this'll be his big breakout season. Of course, it looked as though that was happening last year before Williams lost the final four games of the season due to a drug suspension.
If not for Williams, this offensive line would be in shambles. Jammal Brown and Kory Lichtensteiger are both out with injuries and Robert Griffin III has been holding onto the ball too long, but at least RG3's blind-side protector has been killing it thus far.
"I feel more comfortable with the game in and of itself. I'm older, I'm learning more. I'm still a young guy, but your third year in, you're considered a vet. I feel like it," Williams said on Thursday, according to Mike Jones of the Washington Post.
"It's just slowed down, period. It feels like college again for me. I'm sure of my assignments, I'm sure every snap. It makes it easier for me to handle my business."
Right now, he's handling guys like Brian Orakpo and Ryan Kerrigan. 'Skins fans are praying that carries over to regular-season matchups against guys like Jason Pierre-Paul, Trent Cole and DeMarcus Ware.
While No. 2 overall pick Robert Griffin III has been inconsistent thus far in camp, it should be noted that he's been asked to do quite a lot. This isn't your standard Rex Grossman training camp.
"What I think you do is, you feed him everything," head coach Mike Shanahan said this week, via ESPN.com's Dan Graziano. "For people to grow, in my opinion, you teach them everything and then you find out what they're able to do.
"So we teach him everything, see how much he can handle, knowing he's going to get better and better every year because he's smart enough to get it. And then that'll be our job here for the next three weeks, really after this week, to isolate it down more to what we're going to do this season -- get a package for him that he's most comfortable with."
I like it. See what he can and can't do, implement what catches on quickly and store the rest for the future. The only drawback is that he's going to appear to struggle a little more than usual early, which has been the case.
I'm confident that Griffin will start to get into a groove by the middle of the month, so long as he can improve his mechanics on throws rolling out to the left and work on delivering his throws more quickly. This isn't Baylor anymore.
One thing the 'Skins are doing to help Griffin focus squarely on absorbing as much football as possible? They're keeping him away from the media. RG3 has just one media session per week, which seems to be making things difficult on the local reporters.
From Rich Campbell of the Washington Times:
Since QB Robert Griffin III is being kept away from reporters as though we have the plague or something, we're left to talk to the defenders who intercept him in order to glean insight on his mistakes and learning points.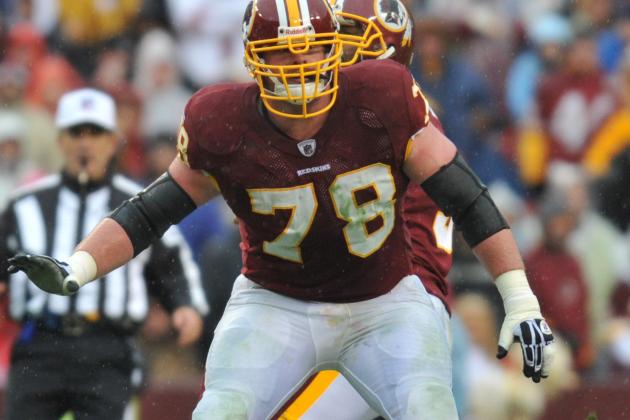 Larry French/Getty Images

Due at least in part to the fact the Redskins were docked $18 million from this year's cap for front-loading contracts during the uncapped 2010 season, the team didn't spend any money in the offseason to improve a lackluster offensive line.
Now, Mike Shanahan has yet to reveal to me whether they would've used that extra cash to bolster the line, and they've been inexplicably loyal to this group ever since the beginning of the Shanahan era.
But you'd have to believe that a team that gave up that many hits on the quarterback last year would've invested at least some of that money in the line this offseason.
Now right tackle Jammal Brown is out indefinitely with not one, but two injured hips, while left guard Kory Lichtensteiger is once again having knee trouble. Lichtensteiger missed the last 11 games last year for the same reason, so there's a good chance the issue lingers.
There's really no one of quality behind Brown, but he's played so poorly the last two seasons that it's hard to downgrade. Still, a team coming off a 5-11 season has to look to get better at their weakest spots, not just slap Band-aids over them.
The line took a serious hit when Lichtensteiger went down last year, and it showed in the win column. They were 3-1 in games he played fully and 2-10 in the rest of 'em.
If he's forced to miss time, that puts a lot of pressure on rookies Josh LeRibeus and Adam Gettis, as well as fellow youngster Maurice Hurt.
On the bright side, it appears as though Gettis is off to an especially good start to camp.