TNA Impact Wrestling: Complete Preview, Rumors, News and More for August 2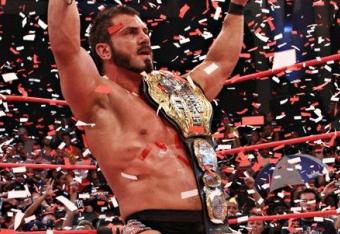 With another week of TNA Impact Wrestling action under our belts and Hardcore Justice just under two weeks away (August 12), this week's episode is sure to be a great chance for the company to shine.
TNA has wowed us with its creativity over the past few weeks, but the main event tag match of Austin Aries and Kenny King vs. Bobby Roode and Zema Ion is something that will be good for everyone.
It's great to not only see Impact's dedication to Aries, Roode and the heavyweight title, but the newfound love for the X-Division.
Kenny King on my TV with Austin Aries? Yes, please.
Will TNA Impact disappoint this week?
Where: Universal Studios, Orlando, Fla.
When: Thursday, August 2 at 8 p.m. ET
Watch: Spike TV
Austin Aries and Kenny King vs. Bobby Roode and Zema Ion
As we saw last week, Bobby Roode cost Kenny King his chance at X-Division glory. While King didn't get the finish he deserved, the fact that he is now in the main event is a testament to just how good he really is.
Question on Everybody's Mind: Will this match be as great as we think?
As much as Roode is the odd man out in this match in terms of sheer in-ring skill, he is a classically trained wrestler that knows how to sell and work with faster high-flyers. As for the other three stars, there is no doubt they will be ready to show off.
Hype Meter: 5 out of 5 potentially great main events
There are such amazing wrestlers in this match that there is only one way that it can be screwed up: Aces and Eights. As much as I like the injection of this storyline into the main event of TNA, this match is too potentially great to have it screwed up.
Bleacher Buzz: Which Star Should Be Behind the Aces and Eights Group?
Kurt Angle vs. James Storm
There is no better pure wrestler in all of wrestling than Kurt Angle, and James Storm has turned into one of the bigger homegrown stars in TNA history. They were supposed to fight a few weeks back, but Angle was attacked by Aces and Eights.
Question on Everybody's Mind: Is James Storm turning heel?
All of the signs are pointing to Storm to be the leader of the new gang beating everyone up, but this is setting up to be a classic WCW-style swerve. Storm will take the brunt of the blame, but it will be a returning Jeff Jarrett that is pulling the strings.
Hype Meter: 4 out of 5 evil Beer Moneys
As much as it won't be Storm, it would be amazing to get a heel James storm and an evil Beer Money. The problem is that TNA doesn't have elite faces, and turning arguably its best face wouldn't make much sense.
Storm being blamed for the Aces and Eights attacks will get fans to sympathize with him when it's discovered it wasn't him.
Rumor Mill: Why TNA "injured" Kurt Angle (TNAWrestlingNews.com)
In-Ring Debut for Chavo Guerrero
Let's be honest here: As much as TNA wants me to be excited for Chavo Guerrero, his promo last week offered nothing for fans. It was a terrible segment and a midcard feud at best.
Question on Everybody's Mind: How big is Chavo's push going to be?
While the fans hope he is just coming back to fill out the roster and add some depth to TNA, the feeling is that he was promised a nice push to appear in TNA. We can't forget that Guerrero worked for TNA with Ring Ka King within the last year, so this could be payback for that.
Hype Meter: 2 out of 5 mediocre returns
As much as I love the name "Guerrero," Chavo is not as good as everyone has claimed throughout his career. While TNA may be trying to sell him to the fans as a star, he is a middle-aged midcarder at best.
Rumor Mill: Jim Ross not interested in a job with TNA (TNAWrestlingNews.com)
If you need more wrestling, check out Ring Rust Radio's first annual draft!
Check back for more on the World Wrestling Entertainment as it comes, and visit Bleacher Report's Wrestling Page to get your fill of WWE/TNA. For more Wrestling talk, listen to Ring Rust Radio for all of the hot topics you just can't miss (some language NSFW).
This article is
What is the duplicate article?
Why is this article offensive?
Where is this article plagiarized from?
Why is this article poorly edited?