Breaking Down Biggest Concerns for Boston Celtics Before Next Season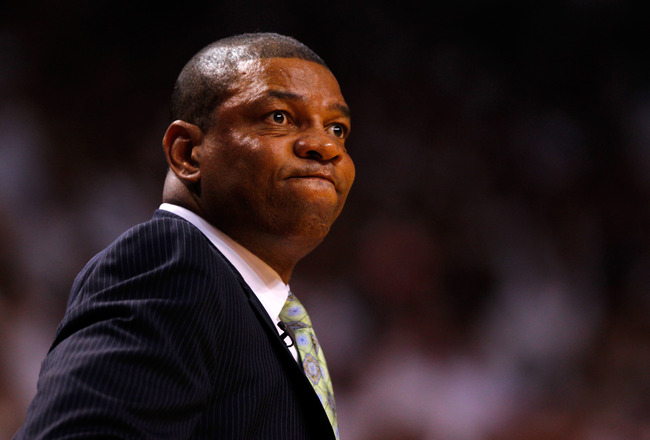 Mike Ehrmann/Getty Images
In what was an uphill battle of a season the Boston Celtics undoubtedly exceeded expectations.
However, a 3-2 lead in the Eastern Conference Finals against the Miami Heat was quickly erased, and the Celtics fell short in a tough Game 7 in Miami. Yet it was the fact that the Celtics' superstars had to take down countless obstacles in the postseason was precisely the problem.
Rondo was playing far too many minutes, Garnett seemed to be the only consistent threat offensively and Pierce struggled in multiple games against the Heat.
Heading into this next season, the Boston Celtics are now even more ready for an NBA title run than last season. Adding Jason Terry and Courtney Lee, along with two stud rookies in Jared Sullinger and Fab Melo, is exactly what this team needs to build off of.
Yet the struggles of last season and playoffs need to be erased in order to move forward. These are the five biggest concerns Doc Rivers and the Celtics must address prior to next season's tip-off.
Make Sure Jason Terry Is Well Integrated into Team's Offense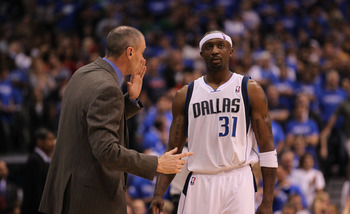 Matthew Emmons-US PRESSWIRE
Ray Allen has left the building, but Jason Terry is undoubtedly set to fill the void.
He is a top-notch three-point shooter, can score by taking the ball to the basket and plays especially intelligent basketball. Add in the fact that Terry is an NBA champion and has taken down LeBron James in the postseason, there is plenty of promise for this talent.
The fourth-best bench scorer in the NBA last season is going to have to spend time understanding this team's offense. That will be best be achieved by getting in the necessary practice reps with the team and adjusting to Rajon Rondo's game.
Integrating Jeff Green in the offense following the the trade with Oklahoma City was exponentially difficult.
This will need to change with Terry because the Celtics know they have to win sooner than later. Kevin Garnett and Paul Pierce are not getting any younger, as Rivers clearly has to know the time is now for another NBA title.
Kevin Garnett Needs to Stay in Shape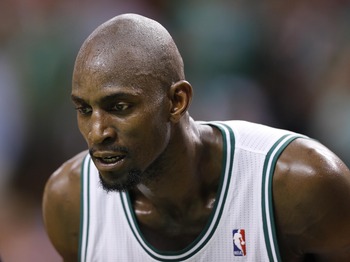 Greg M. Cooper-US PRESSWIRE
The slow start is exactly what these Celtics don't need, KG.
Boston was a horrid 15-17 heading into All-Star Weekend and lost their first three games of the season. And it was Garnett's lack of production that put the Celtics in this especially tough position midway through the season.
Garnett has just nine contests with 10-plus rebounds in his first 32. Not to mention, he failed to be aggressive offensively and settled for tough jumpers.
Yet in his final 34, Garnett had 12 double-digit rebound games and posted four-straight post All-Star break. As a result, the Celtics went 24-10 to finish off the regular season.
If Boston wants to do damage next season, it will take an impressive start from "The Big Ticket." This is a team predicated on Garnett's defensive play, which is something he failed to do well early on last season.
Give Rajon Rondo Better Security at PG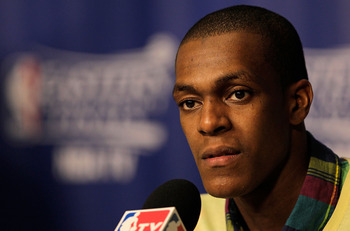 Mike Ehrmann/Getty Images
According to an Associated Press news release on Yahoo! Sports, the Celtics have agreed to sign PG Keyon Dooling to help back up Rajon Rondo at the position.
Yet if Dooling puts up the type of minutes he did last season, Rondo will be at a major risk for injury.
The 42.6 minutes per game Rondo was positing last playoffs is unacceptable. He is the point guard of this team's future and can't afford to be putting his body on the line each night.
The Celtics need this top-notch guard to continue orchestrating the offense for years to come. If Rondo continues to play the large chunk of minutes, there will be no Rondo.
Last season, Dooling posted just four points and 1.1 assists per game in his 14 minutes played per contest. Rivers must also give Dooling the extra playing time in order to help Rondo rest.
In the 2008 championship season, having Sam Cassell as a back-up point guard was one of the things which propelled the Celtics to an NBA championship.
Re-Sign Marquis Daniels and Mickael Pietrus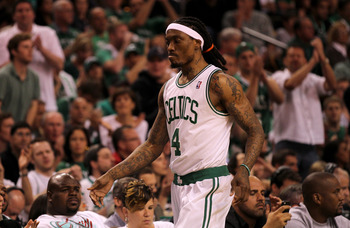 Jim Rogash/Getty Images
Mickael Pietrus was outright impressive last season and has earned himself a contract extension with the Boston Celtics.
Although the Celtics have not signed Pietrus yet, there is no denying the talent this team knows he brings. He best served the squad as a knockdown three-point shooter and only got better throughout the course of the season.
His best playoff series came against the Philadelphia 76ers in the second round. Pietrus posted a solid 1.9 three pointers per game and hit 37.1 percent of his three-point attempts.
Meanwhile, Marquis Daniels is a player that struggled mightily on the offensive end of the floor. There has to be a grand amount of question marks surrounding Daniels. But people tend to forget that Daniels is a defensive machine on the perimeter.
Bringing both players back next season is essential for Danny Ainge and the organization. Daniels brings the one thing that these Celtics do best, while Pietrus will help to lessen the wound Ray Allen left by hitting the three.
Non-Existent Rebounding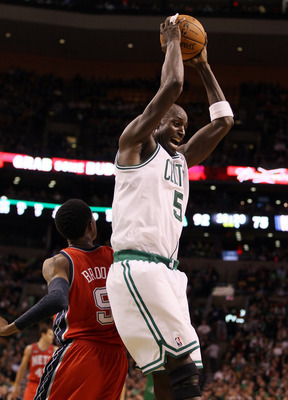 Elsa/Getty Images
For the entirety of the 2011-12 season and since the beginning of the Big-Three era, the Boston Celtics have been atrocious in the rebounding department.
The Celtics were not merely a poor rebounding team. They were as bad as they could be in this regard. The team ranked dead last in the NBA last season at 38.8 rebounds per contest.
This mark was worse than the 39 boards per contest posted by the seven-win Charlotte Bobcats last season.
It has to be a major point of emphasis this offseason for head coach Doc Rivers and company. Make no mistake about it.
Keep Reading

Boston Celtics: Like this team?