Miami Heat: How Ray Allen Signing Will Impact LeBron James and Dwyane Wade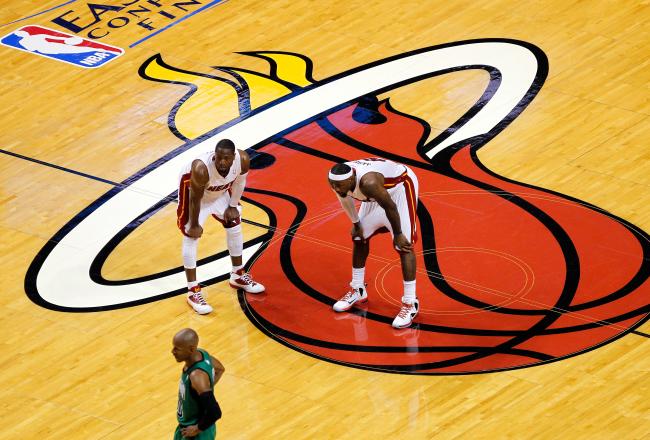 J. Meric/Getty Images
I may be pointing out the obvious when I say that this Miami Heat team became substantially better with the acquisitions of Ray Allen and Rashard Lewis.
Yes, Allen and Lewis don't exactly fit into the dynamic of this Heat team being more focused on creating offense from their defense, but having them on the team limits its dependence on constantly attempting to force turnovers.
According to Tom Haberstroh, the Heat had the league's top half-court offense to the surprise of many. The Heat were able to thrive so well in the half-court this year, as opposed to the questionable plays that were run the previous season, because of the team's desire to take high-percentage shots.
It's no coincidence that Miami started to become one of the league's most efficient teams on the offensive end once LeBron James started working out of the post. Having him down in the post is a pick-your-poison sort of deal for opponents, as they either decide to allow James to be single-guarded or throw a double-team with the risk of giving up an open three-pointer.
Because LeBron has excellent court vision, stands at 6'8" and is a natural-born facilitator, he's capable of seeing and finding these open shooters for good looks. As LeBron stated, and what I stated months prior, the 2011 NBA Finals were the best thing to happen to James' career because it motivated him to become a better all-around player.
Now that he has a post game—one that's only going to improve—the Heat add another dimension to the offense, which became a bit of a necessity. There are certain parts of this team that don't fit together and the offense doesn't run as fluid as you would hope an offense containing James, Dwyane Wade and Chris Bosh would. Unfortunately, it takes far more than talent to make these things work.
By incorporating the post-ups of James, the Heat are able to cut more, attract more double-teams leading to open players and are also happening to have a definitive advantage because of LeBron's size. Opponents don't have a choice but to double-team James or risk giving up a high-percentage shot, because of the size advantage he possesses.
If you throw a smaller defender, LeBron is going to overpower him; throw a bigger defender and he's going to speed right by him. If LeBron continues to work on this part of his game, he'll become as close to unstoppable since Shaquille O'Neal in his prime.
I'm speaking of James' post game so much because this is what the Heat's offense will rely on once Allen and/or Lewis hit the floor. Not to say that the Heat won't rely on James' post game when they aren't on the floor, but it will be at its most effective once either of those famed three-point shooters hit the court alongside LeBron.
Miami gave $30 million to Mike Miller because it knew the Big Three would constantly attract the influence of multiple defenders. However, because he hasn't worked out as planned and appears to be one wrong step from being confined to a wheelchair, the Heat needed to find a player who could earn their money as a perimeter shooter.
That's where Ray Allen comes in. Say all you want about his age and a relatively poor performance in last year's postseason run, Allen knows how to shoot better than any player this league has ever seen. Last year, at the age of 35 mind you, Allen shot a career-high 45 percent from deep while converting 2.3 three-pointers per game in 46 games.
Think that's not enough of a sample size? In 80 games the previous season, Allen shot 44 percent and converted 2.1 three-pointers per.
Basically, what I'm trying to say here is that the guy can shoot extremely well. That just so happens to work out well in the Heat's favor because Allen is going to constantly be open due to the influence of guys like James and Wade. It's doubtful Allen is going to miss so often because he's too open; he's perfected a rhythm and stroke that he has maintained since his basketball playing career started.
Allen shoots it the same way every time. Nothing is going to change just because he's in a new uniform.
What some us may not realize is that Allen is capable of attracting some influence of his own. In case you have yet to hear, Ray has developed this label as a notoriously good shooter. He's shooting 40 percent for his career and leads the NBA in total three-pointers made, historically speaking. He's posting up these averages despite taking nearly six three-pointers per game.
Because Allen has created this influence, defenders will have to hone in on him. As threatening as it is to have LeBron James and Dwyane Wade doing what they do on a consistent basis, defenders also need to worry about what Ray Allen can do on consistent basis.
Hear that? That's the sound of the plot thickening.
Allen's notoriety as a feared shooter is going to lead to opponents having to guard him or risk giving up open shot after open shot to a knockdown three-point shooter. It's going to put defenders in a bind, which will only lead to over-rotations, thus leading to open lanes for Dwyane Wade and LeBron James to drive into.
Before Allen joined the team, defenders will allow Mario Chalmers and Shane Battier to get their shots off. If some happen to go in, then it's fine, because they're allowing anyone else outside of the Big Three to beat them, which is something that can't last for 48 minutes. Ray Allen, however, garners a lot of respect from defenders, which is going to cause opponents to always keep an eye on him.
Remember that whole talk of spacing the floor? This is what Pat Riley envisioned. When the 2012-'13 season gets churning, we're going to see a more efficiently run Heat offense because of the team finally obtaining players who can consistently space the floor because of their ability to make shots.
Ray Allen making shots from the outside and LeBron James and Dwyane Wade driving into open lanes because of Allen's ability to stretch the floor...what a beautiful thing. Not to mention that they can begin setting multiple screens and running the pick-and-roll in order to get Allen open. Utilizing James as a screen should only aid at that aspect.
Allen on the team also keeps constant movement in the offense. Like Richard Hamilton, Allen finds ways to get open by weaving in and out of players from both sides in order to lose his defender and spot up from beyond the perimeter.
The Heat can also continue running small-ball and the idea of a "positionless" lineup. Allen is capable of playing at the two or three, which would leave James most likely to play either at the one, four or five depending on the situation. If it's late in the game, he could facilitate at the one and still have Wade, Bosh, Allen and possibly either Shane Battier or Udonis Haslem on the floor as well.
But wait! There's more!
Having Allen on the floor also gives plenty of rest for Wade and James. This whole experiment of the Heat's hasn't been nearly as easy as so many envisioned it to be. Having two of the league's top players and one of the league's top stretch-fours doesn't cut it. At some point, they needed help in order to win a title.
They didn't have that type of help in 2011, but got plenty of it in 2012 from the likes of Chalmers, Battier and Mike Miller.
What Allen provides to this team is a safety blanket. He's a huge boost off the bench for a team that had inconsistent and oft-injured players riding it for the past two seasons. That's going to be a huge relief to the likes of LeBron and Dwyane, who may be forced to support the team a little too much, and that's even with Chris Bosh on the floor.
The team can get overwhelmed at times. Opposing defenses are constantly watching every move of Wade and James and are allowed to get away with it because of the inconsistencies of the role players. It allows teams to pack the paint more often and to stray away from the perimeter, keeping all the defenders within the three-point line in order to defend drives to the lane.
It becomes considerably more difficult for James and Wade to find ways to score. However, with Allen now on the squad, those two could look at him as a player who can be relied on to hit shots in crucial moments, or at any moment for that matter. They no longer have to think of themselves as saviors, as they now have someone to share with that type of responsibility.
I'm pretty sure we all know about Allen's ability to hit shots at timely moments, so I won't get into it.
Mostly, it just gives those two someone else to rely on outside of Bosh. Chalmers can be streaky, Battier is a wild-card after what we saw last year and Miller's timetable is still up in the air, which would leave the Heat in an awkward position had they not picked up Allen, as well as Rashard Lewis.
The Heat want to start making things easy. They've got the defense down pat, but the offense has run into its fair share of problems over the past two seasons. Too much dribbling, not enough passing, not enough movement; I could go on and on over the criticism and scrutiny this team has faced on the offensive end of the floor.
However, this team's offense focuses mainly on getting high-percentage shots for LeBron James and Dwyane Wade. Having those two work off each other and getting them good looks near the rim is the key to a well-run offense for this team and one that's only going to more assure a victory. Every part of this team must revolve around those two and getting them in prime position to score.
There isn't a player in the NBA who is more perfect for this type of situation than Allen. He's the consistent perimeter threat the Heat have needed in order to make this offense work at maximum efficiency. The great thing about this Heat team is that they don't need any type of complex offense to make things work. They can rely on drives and kick-outs because of their talent.
Let Dwyane, LeBron and Ray go to work and do what they do best. The results should be fun to watch.
This article is
What is the duplicate article?
Why is this article offensive?
Where is this article plagiarized from?
Why is this article poorly edited?

Miami Heat: Like this team?