Dwight Howard: No Positive Solution for Orlando Magic During the D12 Mess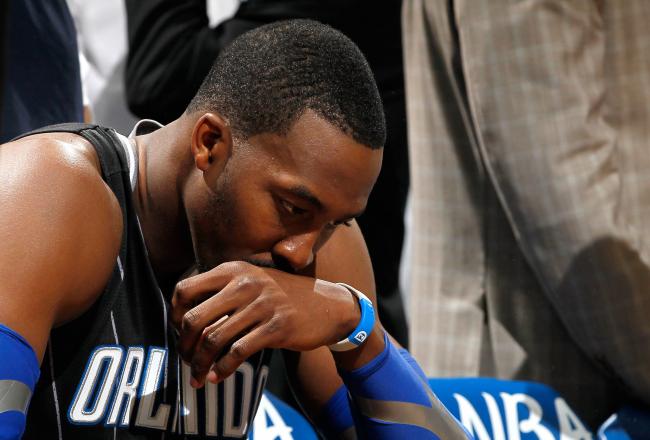 Kevin C. Cox/Getty Images
If Dwight Howard is trying to wreck the Orlando Magic's plans to move him and rebuild, he's doing a masterful job of it.
On the heels of the announcement that Howard won't be willing to sign an extension with any team in the NBA until he tests the waters of free agency, the Magic's options are extremely limited.
The following comes from ESPN's Ric Bucher:
The agent for Orlando Magic center Dwight Howard refuted reports that his client has decided he will sign an extension with the Los Angeles Lakers -- if traded to them.

"Dwight's position has remained unchanged since the end of this past season," said Dan Fegan of LaGardere Unlimited. "He fully intends to explore free agency at the end of next season, regardless of what team trades for him, including Brooklyn."

A source said the Nets never insisted Howard commit to an extension as a prerequisite for acquiring him, which Nets president Billy King confirmed in a text message.
By refusing to commit to an extension, Howard has left the Magic between the proverbial rock and hard place.
The Rock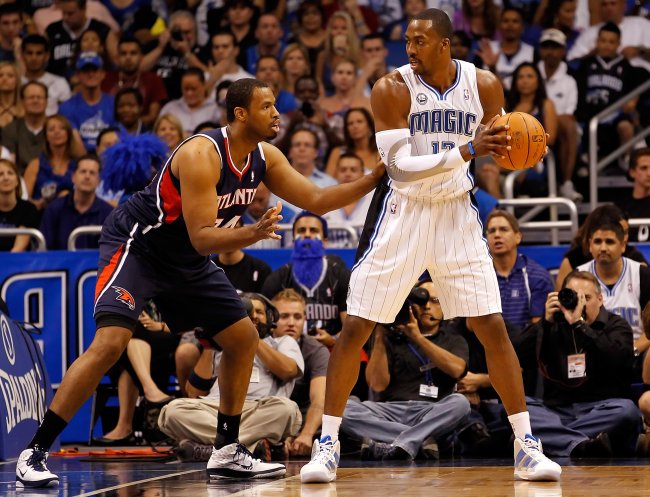 J. Meric/Getty Images
If Rob Hennigan bites the bullet and pulls the trigger on a trade that would send Dwight to another team, he'd be doing so for a return that is decidedly below market value.
Without the ability to count on Howard's services for anything more than a one-year rental—even in Brooklyn now, according to Bucher's report—teams aren't going to be willing to give up as much for Superman.
Cape and all, Howard won't be able to guarantee a title in his first year with a new team, no matter how stacked that squad may be. No contender for Howard's services would be better with him in the paint than the Los Angeles Lakers, and even they might not be able to beat the Miami Heat or Oklahoma City Thunder next year.
As LeBron James' first season in Miami proved, a certain level of cohesion is necessary for a super-team to win a title.
Howard's unwillingness to extend with any team is inexplicable. If he is going to end up playing in Los Angeles, for example, why not commit to them now and get an extra year of Kobe Bryant before the inevitable decline occurs?
To make a trade, Hennigan is going to have to budge from his firm position of receiving young players and draft picks. He shouldn't be the one forced to make a sacrifice in this situation.
The Hard Place
Kevin C. Cox/Getty Images
If Hennigan decides not to trade Howard and waits until the summer of 2013 to release the big man from the clutches of the employer he's contractually obligated to serve during the 2012-13 season, he's going to receive even less in exchange for his services.
This would also be the case if Howard's anti-extension ultimatum completely scares off his suitors.
The very most that Hennigan's organization would manage to get if they went with "The Hard Place" option is a few spare parts in a sign-and-trade. It's just as likely that they would receive absolutely nothing as Howard enjoyed the attention a free agency courtship would bring about.
Howard leaving via free agency would leave the Magic with a mid-first round pick and absolutely no one to build around. You aren't going to find a guaranteed franchise player in the teens of the 2013 NBA draft and something tells me that the Magic aren't too keen on making Gustavo Ayon or Jameer Nelson their player to build around.
No matter what the Magic end up doing, D12's indecisiveness and unwillingness to compromise has killed the Magic's chance at maximizing the return for his rights.
Orlando has to keep trying to find a trade, but it's going to be tougher and tougher to find one that Hennigan is content with.
The Magic may have helped put Howard on the map, but Howard is doing his best to make sure the Magic are wiped firmly off of it.
This article is
What is the duplicate article?
Why is this article offensive?
Where is this article plagiarized from?
Why is this article poorly edited?

Orlando Magic: Like this team?