Dwight Howard Rumors: Bynum Must Sign Extension with Cavs to Justify Deal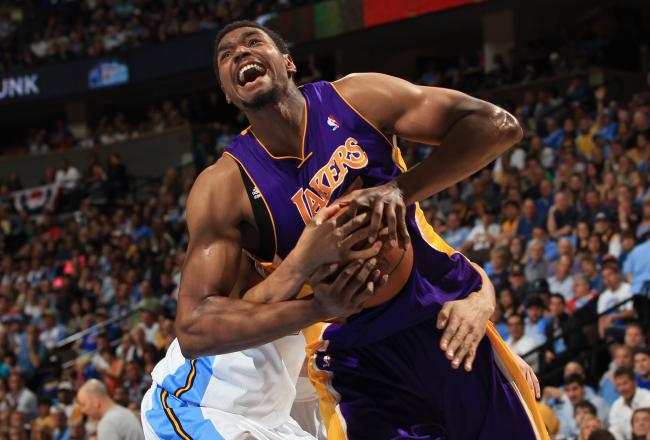 Doug Pensinger/Getty Images
If the Cavaliers trade for Andrew Bynum without extending his contract, they would be sacrificing the future of their franchise for some short-term improvement.
The Cavs have recently jumped into the Dwight Howard trade negotiations, angling to bring back their own elite center for their trouble.
According to rumors reported by ESPN, Cleveland is willing to facilitate an end to the "Dwightmare" by giving up future draft picks and taking on some unsavory contracts from the Orlando Magic. Howard would then go to the Lakers, and the Cavaliers would receive Bynum from Los Angeles as compensation.
On paper, Bynum is just what the Cavs need. In lieu of a true center, power forwards Anderson Varejao and Tristan Thompson have filled the role for Cleveland. Furthermore, Varejao and Thompson averaged 19.0 points per game last season; Bynum put up 18.7 points per game on his own, and he did it while sharing the paint with another quality post scorer in Pau Gasol.
Cleveland's rationale for chasing Bynum is clear; the Cavs need a center who can score, and shy of Howard himself, there is no better option in the league. However, they also would need Bynum for more than one season, and that is what is making things tricky.
According to Yahoo! Sports, the Cavaliers are not going to participate in trade negotiations until Los Angeles allows them to talk to Bynum about a long-term extension.
"Cleveland will only do the deal if Bynum extends," a league official directly involved in the talks told Yahoo! Sports.
This is the most reasonable stance the Cavs could take, as the price to acquire Bynum appears to be substantial.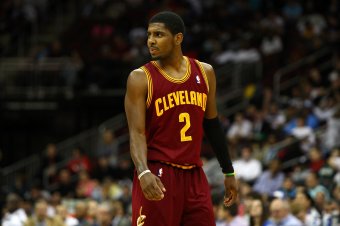 Kyrie Irving
Chris Chambers/Getty Images
If the Nets' negotiations with the Magic are any indication, Cleveland would have to give up at least three first-round draft picks. To make matters worse, Cleveland would also send Orlando a good player in Varejao. In return, the Cavs would take back guys like Jason Richardson, Quentin Richardson, and Chris Duhon, players whose serviceability is grossly overshadowed by their bloated contracts.
In this scenario, Cleveland would have a starting five of Kyrie Irving, Jason Richardson, Alonso Gee, Thompson, and Bynum, with Dion Waiters, Tyler Zeller, Omri Casspi, Samardo Samuels, and Duhon coming off the bench.
With the potent inside-out combo of Irving and Bynum, that team could certainly make the playoffs. However, it would be delusional to think a roster with that many holes could contend for a title. Come July 2013, Bynum could walk, and the Cavs would be left with a dearth of draft picks and a bulk of bad contracts.
On the other hand, perhaps the best way to convince Bynum to extend with Cleveland would be to let him see what it's like to play alongside a talent like Irving.
In Los Angeles, Bynum has spent his career playing with the likes of Derek Fisher and Steve Blake at point guard. With Kobe Bryant dominating the ball and Gasol in the paint, Bynum has never had the opportunity to be the number one option for a dynamic playmaker.
Irving is poised to breakout in 2012-13. Cleveland's explosive young point guard averaged 18.5 points and 5.4 assists per game last season even though he little offensive help. In order to improve, all Irving needs is more experience and more weapons around him. He's already racking up the former; the Bynum deal would solve the latter.
Bynum would allow Irving to play a pick-and-roll game with one of the best young big men in the league, but he would not be the only piece added to Cleveland's puzzle. Jason Richardson might be overpaid, but he is a veteran shooting guard who could take some pressure off of the rookie Waiters.
With improved options in the paint and at the wing, Irving should be able to take advantage of his All-Star-caliber talent. Cleveland believes that Irving's potential is enough to win Bynum over. Even if he doesn't immediately extend his deal, why not trade for Bynum anyway and talk finance once he sees Irving's potential realized?
Well, stop me if you've heard this one before: the Cavaliers have a prodigious talent poised to hit free agency. They hope to win him over with the complementary pieces around him, taking on salary in order to do so. Ultimately, he enters the offseason without extending, and he eschews Cleveland in favor of other opportunities.
Bynum's prospective situation is not perfectly analogous with that of LeBron James; the supporting cast is much more attractive for Bynum now than it was for LeBron in 2010. But like with James, banking on Bynum to sign an extension down the line is a calculated risk. For Cleveland to then pay for the privilege of going through that drama is excessive.
ESPN reports that no team has contacted the Lakers about speaking with Bynum, and his agent believes that no team should trade for him without doing so.
"I can't imagine any team foolish enough to do the deal without asking permission to speak to Andrew," Bynum's agent David Lee told ESPNLosAngeles.com. "That's beyond belief, but strange things happen."
The Cavs front office agrees with Lee, and that's what matters. If Cleveland were to acquire Bynum without an extension, it would be an old mistake undermining all the team's progress since.
This article is
What is the duplicate article?
Why is this article offensive?
Where is this article plagiarized from?
Why is this article poorly edited?

Cleveland Cavaliers: Like this team?