RGIII's Rookie Contract: The Numbers Don't Lie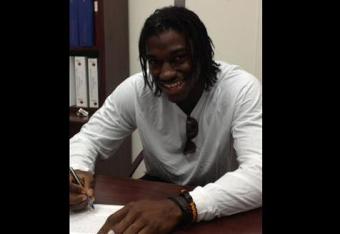 "Hello Washington! Are you ready for me?" (Photo: @Redskins)

What's in a number?
Apparently a lot for Washington Redskins rookie quarterback Robert Griffin III. On 07-18-12, No. 10 signed for $21.1 million over four years, with an option for a fifth, which could result in huge numbers, if the Heisman winner puts up big numbers for the 'Skins.
Griffin used his penmanship and his twitter account Wednesday morning, after cutting a commercial for Adidas on Monday and one for Gatorade on Tuesday. Pitching products for those companies should give him a nice nest egg to fall back on, but RGIII did not have much wiggle room to negotiate with Washington.
He can thank the NFL's collective bargaining agreement and the rookie wage scale for that. Now the remaining unsigned rookies from the draft's top 10 will fall into place.
Indianapolis quarterback Andrew Luck, who was picked one slot ahead of RGIII (with the first overall pick), will make similar numbers and nowhere near what St. Louis Rams quarterback Sam Bradford made in 2010. Bradford robbed the old CBA's bank to the tune of $78 million ($86 million with incentives) over six years and $50 million guaranteed. In May, he slightly tweaked the contract for its final two years.
Other rookie field generals who cashed in include Detroit's Matthew Stafford in 2009 (six years, $78 million, $41.7 million guaranteed), Atlanta's Matt Ryan in 2008 (six years, 72 million, $34.75 million guaranteed) and Oakland mega-bust JaMarcus Russell in 2007 (six years, $68 million, 31.5 million guaranteed).
Last year's top rookie quarterbacks suffered the same fate as RGIII because it was the first year the new CBA was in effect. As the top overall pick in 2011, Carolina's Cam Newton got $22 million, but he'll make every cent of it, no matter how many years he plays during the length of the four-year deal.
Prior to the draft, RGIII sat down with Bleacher Report to chat about Michael Vick, Cam Newton, Andrew Luck and Kirk Cousins. (BR Video)
According to Comcast SportsNet Mid-Atlantic, all $21.1 million of Griffin's contract is guaranteed and he pocketed $13.8 million, just by signing on the dotted line. As he matures, Griffin is sure to get better and his salary will get better too. RGIII is set to make $390,000 this season, $1.34 million in 2013, $2.3 million in 2014 and $3.26 million in 2014.
So what type of sum can year No. 5 bring?
If all goes well, an astronomical one. If the Redskins want to keep Griffin on their roster for the option year, they would have to pay him the transition number, which is the average of the top 10 quarterback salaries in the NFL.
As of today, that number is $11.5 million, but it can skyrocket to an average of $15 million when stars like Green Bay's Aaron Rodgers sign new deals. If that becomes the new average, RGIII will make out like a bandit in 2015, with a year five salary that could exceed $12 million.
That's a nice windfall, if he can produce the numbers on the field that fans are expecting.
Ah, those soon-to-be spectacular on-the-field numbers that we'll all bear witness to, when Griffin takes the field (for real) on September 9th in New Orleans. They'll start accumulating on that date because Griffin has already been handed the reins to the starting offense in Washington.
But how much can be expected from the newbie? Will RGIII come anywhere close to matching the output he had in his senior season at Baylor?
The Washington Times got up close and personal with RGIII and so can you! (WashingtonTimes.com)
Griffin was a unanimous choice for the 2011 Heisman Trophy because he dominated college passers in every statistical category. Griffin passed for 4,293 yards, threw 37 touchdowns passes to just six interceptions, while scrambling for 699 yards and 10 more scores.
But he is now in the NFL and that means "Not For Long" for over-hyped quarterbacks who do not live up to expectations.
Wouldn't it be great if Griffin can match what Newton did last year in his rookie campaign with the Panthers? 4,051 passing yards, 706 yards rushing and 35 total touchdowns are almost identical to Griffin's senior year totals, but they would shatter what any Redskins' rookie starter has done in the history of the franchise.
Check out the following stats provided by Comcast Sportsnet Mid-Atlantic and try not to gasp when you do. They represent the most passing yards by Washington rookie quarterbacks. And please note: Norm Snead, Heath Shuler and Patrick Ramsey were first-round draft picks (like RGIII).
Snead has been the front-runner in Washington for half a century. To this day, he holds the Redskins' rookie record for passing yards with 2,337, but he threw for just 11 touchdowns in 1961. That's right. 2,337 yards and it's not a misprint.
Snead actually lived up to his second-overall selection with back-to-back Pro Bowl seasons in 1962 and '63, but the Redskins weren't all that impressed and traded him to the Eagles in 1964, as part of a deal for fellow Hall of Famer Sonny Jurgensen.
Here are the next four Redskins quarterbacks, in order of most rookie passing yards. Mark Rypien holds the record for most touchdown passes among them with 18.
Mark Rypien—1,730 yards (1988) - Started 6 games, Played in 9.
Health Shuler—1,658 (1994) - Started 8 games, Played in 11.
Patrick Ramsey—1,539 yards (2002) - Started 5 games. Played in 10.
Jay Schroeder—1,458 yards (1985) - Started 5 games, Played in 9.
The numbers above seem like a lock to be broken, but that's what the guys above thought when they got a chance to start as rookies for the Redskins. Then again, it's 2012 and the NFL has predominantly become a passing league.
RGIII looks head and shoulders better in person and on paper than most of the Redskins top first-year quarterbacks. If he can stay healthy and keep his wits about him, he should easily topple Snead on top of the numbers heap.
This article is
What is the duplicate article?
Why is this article offensive?
Where is this article plagiarized from?
Why is this article poorly edited?

Washington Redskins: Like this team?