The Bluths Explain Football: The Tennessee Titans Head to Training Camp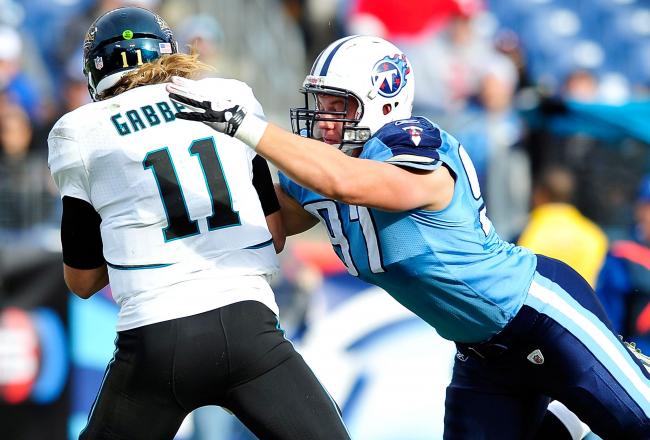 Klug has a nose for the ball.
Grant Halverson/Getty Images
Welcome back to the Bluths Explain Football, an ongoing series in which the cast of Arrested Development gives you insight into the AFC South.
Today's episode is "Staff Infection." Let's see what it can teach us about the Tennessee Titans' upcoming training camp.
Plot Summary
Michel tires of his family members collecting money for work they aren't performing, and forces his siblings to do jobs with the company. George Michael begins to wonder why his father can't spend more time with him.
In an effort to work, Lindsay manages to lose the office staff. Gob succeeds in stopping construction, and winds up in a game of chicken with Buster. George Michael discovers just how much his father loves him, and Michael solves a key problem.
Meanwhile, Tobias goes to prison to study acting, and well, yikes.
Quotes
Nice instincts, Son! Good Reflexes!
-Michael
Anytime a rookie taken in the fifth round or later puts up seven sacks, it's news. Karl Klug stunned everyone last year with unprecedented production. In fact, it's only happened seven times in history, and even more rarely to a defensive tackle.
Klug showed a nose for the quarterback in 2011, but he still has to win playing time in camp as the Titans have several excellent tackles. How they balance playing time between Klug, Jurrell Casey, Shaun Smith, and Sen'Derrick Marks will be a major camp issue to watch.
"I'm a scholar. I enjoy scholarly pursuits."
"Suddenly, playing with yourself is a scholarly pursuit."
-Buster and Lucille
Perhaps the most interesting aspect of Kendall Wright's adjustment to the NFL will be his ability to master the playbook. I have no doubt about Wright's intellectual abilities, but he's coming from a system without a set playbook.
An NFL playbook is not the same as a college read-spread offense. Wright's probably a bright guy, but he'll have to learn new study skills as he seeks to master the Titans' scheme.
In time, he'll overcome it and do quite well, but there might be some rough patches in camp as he gets used to a new way of learning routes and assignments.
If you want your money, you're going to have to work for it!
-Michael
Michael Griffin is a two-time Pro Bowl Safety, and the team awarded him with a $35 million contract, but if he wants to see the bulk of that money, he'll have to raise his game.
He's obviously capable of playing like one of the best safeties in the league, but wasn't at that level in 2011. He didn't have a poor season, but it wasn't elite.
Given the importance of the safety position in the NFL, if Griffin can be a difference maker who elevates the ceiling for the defense. He's outstanding in both run and pass coverage, and can stabilize a secondary that has to adjust to the loss of Cortland Finnegan in the offseason.
These people are sheep. And they'll wander off and we'll lose the sheep!
-Michael
The Titans' biggest free agency acquisition was Steve Hutchinson who will bolster the offensive line. He's a Hall-of-Fame caliber player who provides real leadership to the unit.
The key to any offensive line is the cohesiveness of the players, and while the Titans are still trying to find an answer at center, having Hutchinson could help help steer the overall unit toward improvement.
Lines work best when they act like sheep, all following in the same direction. If Hutchinson can shepherd the flock effectively, they could become a top ten line.
I don't like you calling me a chicken. I have nothing to prove.
-Buster
I really hate the offseason. The ugly truth is that there is nothing left to analyze that we in the media haven't already dissected six ways to Sunday.
At some point, everyone starts repeating himself. I feel like making a Chris Johnson observation is completely extraneous at this point, but it's better than bringing up Matt Hasselbeck and Jake Locker again. (Did you know they are competing for the starting job? Yeah! Seriously! They are!)
It's still another couple of weeks until anything happens that we can report as new, so in the meantime here goes nothing.
Chris Johnson need to bounce back this season. Um, uh, Never mind. I can't do it again.
This is a game of courage! A game for men!
-Gob
It's an uphill climb for the 2012 Titans. They face a brutal opening stretch that could knock them out of playoff contention before the season is even half over.
There's nothing to be afraid of, however. Tennessee doesn't need to start 5-0. They can muddle along at 2-3 and still be in great shape to feast on a weak back-end of the slate.
No team is going to go 16-0, so if the team can be prepared and steal a game or two early in the year, they'll have nothing to fear in December.
Analysis
The Titans will be working overtime all preseason to rush the developments necessary to save their 2012 season. There won't be anyone who is allowed to just show up and collect a paycheck.
Mike Munchak and his staff will spend the month of August training and reshaping players to make a difference this season. There will be plenty of teaching done.
The end result will be plenty of fans clapping and dancing.
Because if there's one thing we know, it's that chickens don't clap.
This article is
What is the duplicate article?
Why is this article offensive?
Where is this article plagiarized from?
Why is this article poorly edited?