Tennessee Titans and Canton: Can Johnson, Hasselbeck, and Hutchinson Get in
June 27, 2012

Ronald Martinez/Getty Images
The Tennessee Titans haven't been around long enough to fill the Hall of Fame with players. While the Houston Oilers sported some of the greatest names in NFL history, that doesn't mean much to the city of Nashville.
Looking at the Titans' roster now, there are three players with a legitimate shot at enshrinement in the Pro Football Hall of Fame.
Steve Hutchinson, Matt Hasselbeck and Chris Johnson all have a better than zero chance of making the Hall. Normally, I limit this search to players with at least five years in the league, but because of the unique case of Johnson, I have included him.
Chris Johnson
I'm not going to go into a detailed breakdown of Johnson here, because I already did that a few months ago.
Johnson has had a great start to his career, but he's at a crossroads. When you look at the list of most rushing yards in the first four years of a player's career, you see some Hall of Fame names, but you also see Clinton Portis and Jamal Anderson.
Johnson's early production is on par with some of the greats of the game, but that same list has plenty of cautionary tales.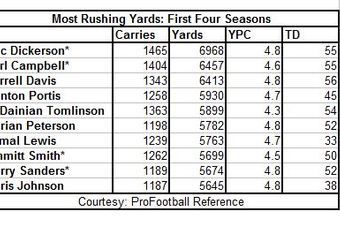 For a more detailed discussion of the threshold for enshrinement that Johnson faces, please refer to my article on Maurice Jones-Drew.
I'm not going to handicap Johnson's chances because he's too young, and this next year will reveal a lot about where his career is going. We will know very soon if Johnson is headed to Canton, Ohio, or to a place like Cleveland, Ohio like Anderson did.
Matt Hasselbeck
Hasselbeck has a curious resume. As it stands now, he has almost no chance for induction to the Hall of Fame.
Almost.
He's a three-time Pro Bowl quarterback with rankings in the mid-20s in most career categories. If you were going to make a list of the 50 best quarterbacks ever, you might find Hasselbeck somewhere near the end of it.
I only include him on the list because if by some miracle he were to win a couple of Super Bowls before he retires, he would be in very curious company.
The only retired quarterback to win multiple Super Bowls without making the Hall of Fame is Jim Plunkett. A couple of incredible runs to glory would put Hasselbeck in the Phil Sims, Plunkett range.
What would voters do with Hasselbeck if he wore two rings when he retired?
His resume is quite a bit stronger than either Sims or Plunkett. Voters are swayed heavily by the amount of bling a quarterback wears.
My best guess is that even with two rings, Hasselbeck would need more to win votes. If he was seen as the driving force behind a Super Bowl team, and maybe made another Pro Bowl or two, then he'd be a tough man to turn away.
Obviously, the chances of Hasselbeck winning not one but two titles before the end of his career are remote at best.
It's an interesting case to consider, though.
Steve Hutchinson
It's difficult to judge offensive linemen by any standard but Pro Bowls, All Pro selections, and rings. Those are terrible metrics to use, but that's the way the Hall of Fame works.
Hutchinson has seven seasons where he was a Pro Bowl player and is a five-time All Pro. He doesn't have any rings, but was on a conference champion. He also blocked for the NFL's rushing leader on two separate occasions.
Of 14 other guards and centers with at least five All-Pro teams, only five are not in the Hall of Fame, and two of those (Alan Fancea and Larry Allen) are not yet eligible.
The only thing holding Hutchinson back at this point is that for a lineman of his accomplishments, he's still had a relatively short career.
With a few more good seasons, he'll be a mortal lock for the Hall. If he manages to put up even one Pro Bowl caliber season in Tennessee, you can begin fitting him for his blazer.
He may well have already earned it.