Maurice Jones-Drew and the Hall of Fame: What Are His Chances?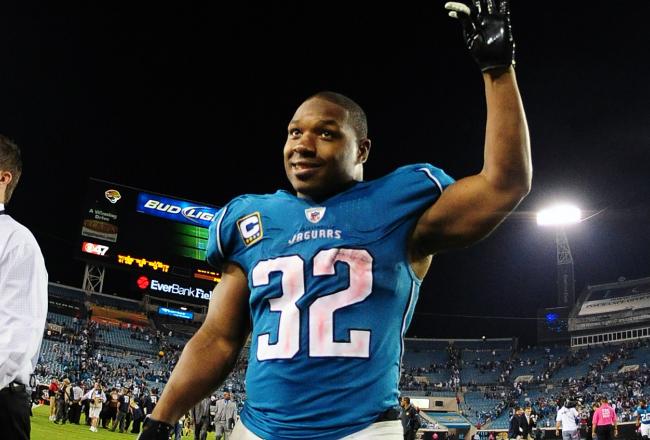 Don't prep his bust yet, but he's on pace.
Scott Cunningham/Getty Images
Maurice Jones-Drew is the center of attention in Jacksonville these days, as his holdout from OTAs has fans nervous.
MJD has been one of the most dynamic runners of the past half decade and is the focal point of the Jaguars offense. He's coming off a rushing title and is looking for financial security for the second half of his career.
Will that second half be enough to get him to Canton as a member of the Pro Football Hall of Fame?
Of the top 18 leading rushers all-time, 13 are in the Hall of Fame. The ones who aren't are Corey Dillon, Fred Taylor, Edgerrin James, Jerome Bettis and LaDainian Tomlinson. Bettis and Tomlinson are likely to get in. James is a borderline case, and Taylor and Dillon have little hope.
What Jones-Drew lacks that many of the top backs have is rings. Franco Harris is in the Hall in part because of his contributions to the Super Bowl-winning Steelers. Thurman Thomas doesn't have rings, but he went to four straight Super Bowls with the Bills.
For Jones-Drew to have any expectation of enshrinement, he needs to post at least comparable numbers to Thomas, Marcus Allen and James.
He is going to need roughly 12,000 yards, five Pro Bowls, 4,000 yards receiving and 80 total touchdowns. Those are the bare-minimum requirements to even merit serious consideration.
So where does he stand?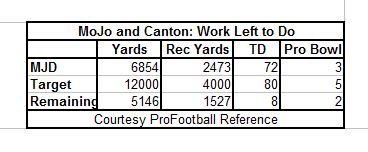 He's nearly there in terms of touchdowns. He already has an All-Pro season and a rushing title. The big test will be whether he can pick up the 5,000 or 6,000 more yards he needs.
If Jones-Drew can get 5,000 yards, he'll jump Taylor for 15th all-time. That probably won't be enough for enshrinement. If he can get 6,000 more yards, he'll vault into the top 10 all-time. That, coupled with the rest of his resume, would make him a mortal lock.
So how hard is it for a 27-year-old back to pick up 6,000 more yards? Harder than you think. Essentially, Jones-Drew is just past the halfway mark on the way to Canton. To get the rest of the way, he'll have to play at the same level from ages 27-32 that he did from ages 21-26.
Can it be done?
The good news for MoJo is that 18 backs have picked up at least 6,000 yards after age 27. Of those, 10 are in Canton, plus Bettis and Tomlinson.
Jones-Drew should watch the votes on James and Bettis carefully. If Bettis doesn't get in, it's unlikely Jones-Drew does. However, if James does make it, it will give Jones-Drew a clear, attainable target.
His chances for enshrinement are quite strong, really. He has what fellow Jaguar Fred Taylor never had: recognition. Taylor was a one-time Pro Bowl player who was never one of the top three running backs in football. He had strong totals, but was one-dimensional and rarely elite.
Jones-Drew already has a rushing title. He's already a household name nationally. He won't suffer from a lack of respect from the writers.
All he has to do is post the numbers.
6,000 yards to glory.
I think he gets there.
This article is
What is the duplicate article?
Why is this article offensive?
Where is this article plagiarized from?
Why is this article poorly edited?

Jacksonville Jaguars: Like this team?