WWE: What the Rock's Announcement Will Be on the 1000th Raw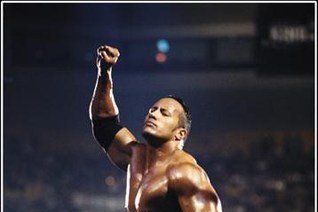 Monday afternoon I wrote how Cena would announce he's going to cash in at the historic Raw and win the WWE Championship—now I'll tell you what The Rock is going to do.
The Rock is coming to the 1000th episode of Raw and has teased on Twitter it has something to do with the WWE Championship.
The Rock will give us his normal 20-minute promo of comedy lines, but the point of it all will be to tell us he's entering himself in the Royal Rumble in January.
He wants in the Royal Rumble 'cause he wants to win it, go to WrestleMania and win the WWE Championship.
WWE just announced this week that the 30-man classic will be in Phoenix, AZ where Money in the Bank just took place. This would be a perfect way to give the extra boost months out for ticket sales when they are available.
More importantly than ticket sales (because its Royal Rumble and will sell out anyway), this gives WWE creative many options.
Booking for any wrestling event, especially WrestleMania, is a big puzzle. WWE has to figure out how many pieces they have and who can fit where. There are always several scenarios on the table about what's the best way to make it work within whatever limitations they face.
There are several options for The Rock, but WWE doesn't get to the point of really knowing what they are going to do for sure at WrestleMania until November. They might have an idea, but things and minds can always change.
By putting The Rock in the Royal Rumble, there are many options for what happens. He's in there with 29 others guys, so there is so much potential. The Rock could win it. The Rock could lose. If he loses, then who eliminates him? Can that be used to transition to a match at WrestleMania? Does he lose, so the match itself has no foreshadowing of his WrestleMania plans?
All are possible options WWE has time to weigh while they ride the hype of The Rock returning to the Rumble for the first time in years.
So John Cena wins the title from CM Punk at the 1000th Raw, while The Rock aims for Royal Rumble. Sorry Cena haters, The Rock won't come in and void Cena's Money in the Bank check.
Don't shoot me, I'm just the messenger of reality.
This article is
What is the duplicate article?
Why is this article offensive?
Where is this article plagiarized from?
Why is this article poorly edited?