Lakers News: Top 10 Potential Free Agents Based on Team Needs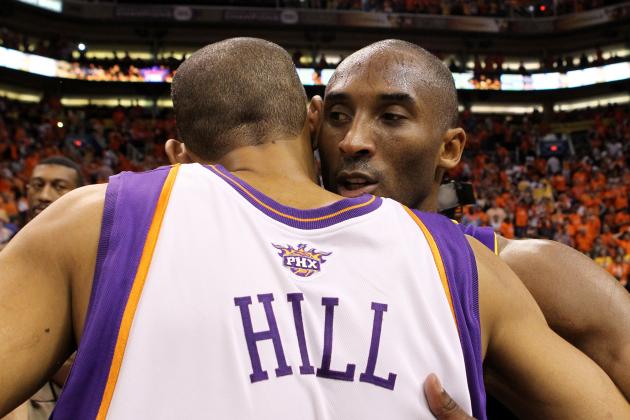 Ronald Martinez/Getty Images

Busy, active and engaged are all understatements in attempting to describe free agency during this year's NBA offseason. The Los Angeles Lakers have certainly played a major role and look to continue in doing so by making improvements as the team gears up for the upcoming season.
From making the biggest splash of the summer in Steve Nash to showing up in every Dwight Howard trade rumor, the Lakers are actively pursuing every avenue that would ultimately equate to an NBA championship come June.
With names being thrown around such as Grant Hill, Antawn Jamison and Brandon Rush, it is hard to not feel excited about the variety of possible outcomes regarding a revamped Lakers roster. Thus far, Mitch Kupchak and Co. have been patiently waiting for each opportune moment to poise their next attack and check-mate every team before the season even begins.
Steve Nash was the first step in Los Angeles' title quest this summer, and it only looks to be heating up from here.
It was a well known fact the Lakers unimpressively showcased the lowest scoring bench last season, so one must begin to wonder what changes will be made to provide the starting lineup with offensive backup.
Will the Lakers be considered a team of depth or will they continue to waddle in starting talent without relief?
Let's take a look at every remaining marquee free agent that has been linked to Los Angeles Lakers rumors thus far. Not only will we explore the impact they could have upon arrival, but we will also predict each player's salary and odds of landing in L.A.
Watch your step, the Lakers have some major holes to fill.
Begin Slideshow

»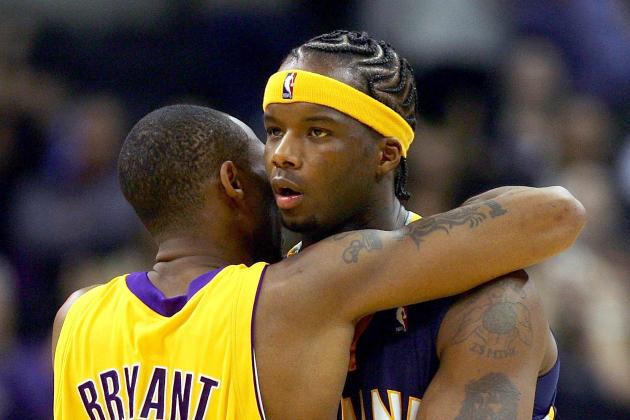 Jeff Gross/Getty Images

While Pau Gasol and Andrew Bynum are a frontcourt force to be reckoned with, the Lakers do not have much to offer beyond them. Last season, Los Angeles featured names like Troy Murphy and Josh McRoberts as backup bigs.
The results were unproductive and utterly inefficient.
In my opinion, Jermaine O'Neal would offer much of the same and ultimately find himself at the end of the Lakers' bench, a sad look plastered across his face and an enormous cast enclosing a damaged body part.
No thank you. Andrew Bynum is risky enough as is. You could substitute Dwight Howard into that last sentence as well.
In a lockout-shortened season containing 66 games, O'Neal only appeared in 25 averaging five points, 5.4 rebounds and 1.7 blocks per game while shooting a dismal 43 percent from the field. For a big man, this is considered highly inefficient. Not to mention he only played in a total of 24 games out of a possible 82 the year before. Yikes.
While Jermaine O'Neal used to be considered a perennial all-star, he has clearly entered into the downside portion of his career. He will be 34 years old when the season begins, not promising for a man with an injury-riddled past.
It is safe to assume O'Neal is probably considered a backup plan C at best, but let's hope that the Lakers aren't forced to go this low.
Predicted odds for this free-agent signing: 45 percent

Predicted salary if signed: Veteran Minimum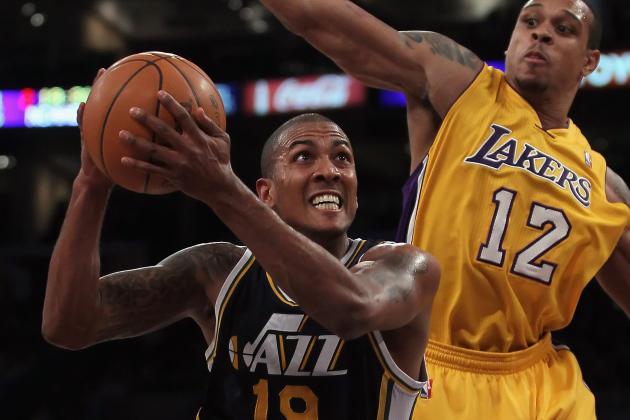 Jeff Gross/Getty Images

For Lakers fans, the thought of this potential signing has to stir up a mixed bag of headache-producing emotions, the most notable one being hate.
Raja Bell, another once-self proclaimed Kobe stopper, is famous for his cheap clothesline shot in game five of the 2006 NBA playoffs against the highly rivaled Phoenix Suns.
Unlike another once-hated nemesis--Steve Nash--Raja Bell has been considered a dirty player and obnoxious to say the least.
Have Lakers' fans officially moved on?
Raja Bell is entering the twilight of his career (35 years old), and is not the player he used to be.
In 23.4 minutes per game with the Utah Jazz last season, Bell posted 6.4 points, 1.4 rebounds and 1.1 assists per contest.
On the bright side, he has not lost his shooting touch as he shot an efficient 46 percent from the field and nearly 40 percent from the three-point line. This would prove to be beneficial to a Lakers bench sorely needing range from the outside.
If Bell can bring hustle and defense along with efficiency, the Lakers should be willing to give the former Los Angeles villain a chance to win.
Predicted odds for this free-agent signing: 45 percent

Predicted salary if signed: Veteran Minimum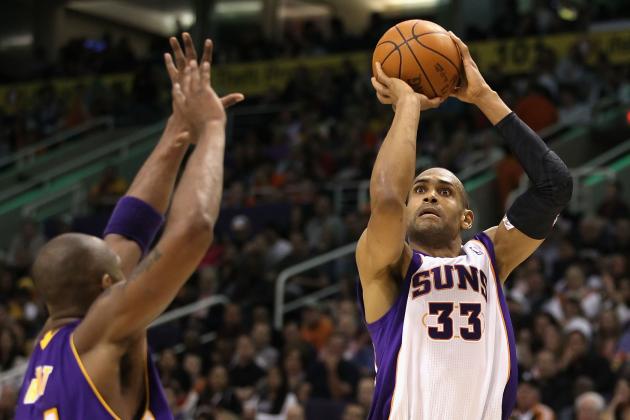 Christian Petersen/Getty Images

The once heralded "next Michael Jordan" is reaching the very end of his roller coaster career.
Grant Hill, an all-around professional and true gem to the game of basketball, is looking to accomplish one last thing before he leaves for good: an NBA championship.
Although Hill will be 40 years old when the season starts, last year proved the old man still has some game left in his legs. During the course of his career, he has been derailed with injuries and set back time and time again. But, it has been awhile since Grant was sidelined for a significant amount of time. The last time, to be exact, was during the 2006-2007 season.
While this would be too much for most NBA players to overcome, Grant Hill cannot be placed into the "most" category. His determination and will to succeed ranks with the all-time greats, and is the reason he is still producing today.
Hill is still widely considered a perennial defender and has been both efficient and dependable on the offensive end as well. In 28 minutes per game, he was good for 10.2 points and 3.5 rebounds per game while shooting a serviceable 44 percent from the field.
Along with the Lakers, it has been reported that Hill is also considering the Miami Heat, New York Knicks and Los Angeles Clippers.
Grant Hill, NBA's second oldest player behind Kurt Thomas, is considering Knicks, Lakers & Heat. Hill's wife, the singer Tamia, prefers NY

— Frank Isola (@FisolaNYDN) July 15, 2012
Despite outer interest, the Lakers were regarded as the easy favorites to land him as he is being recruited heavily by Kobe Bryant and former teammate Steve Nash.
Hearing Grant Hill leaning towards Lakers after big push by Steve Nash and Kobe Bryant

— John Gambadoro (@Gambo620) July 13, 2012
That has all changed since since this morning:
Not good news for Lakers, via The Times' Brad Turner. RT @BA_Turner: Grant Hill agrees to join Clippers, deal still being worked out.

— Mike Bresnahan (@Mike_Bresnahan) July 17, 2012
If the Lakers do acquire Grant Hill, they will have obtained a solid offensive and defensive bench booster and a calming veteran voice as well.
Predicted odds for this free-agent signing: 10 percent

Predicted salary if signed: Veteran Minimum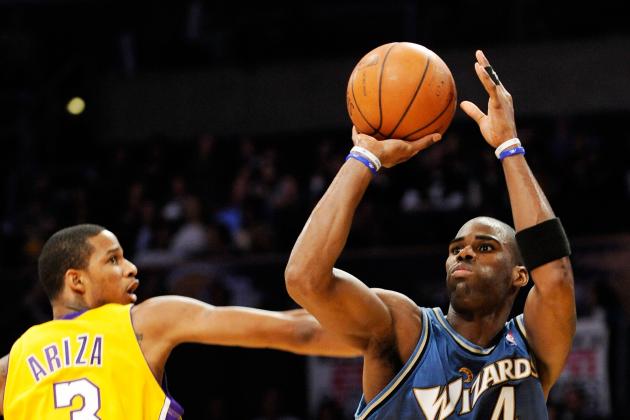 Kevork Djansezian/Getty Images

It seems like ages ago that we were hearing Antawn Jamison's name in the same sentence as NBA and basketball. The man is prehistoric and oh so old yet still quite productive.
At the age of 36, Jamison is still showing the world his ability to perform. He is posting some of the highest scoring numbers for players within his age range, all while starting every game and playing heavy minutes.
Last season with the Cleveland Cavaliers, Jamison posted an impressive 17.2 points to go along with 6.3 rebounds and two assists per game while playing 33.1 minutes each night.
The only knock on his game is his efficiency and defensive abilities.
Even though Antawn Jamison posted excellent scoring numbers, it came at the expense of an inefficient 40 percent from the field.
Also, according to basketballvalue.com, Jamison's defense was non-existent to say the least. While he was on the floor last season, the Cavaliers allowed 5.37 more points than when he was on the bench. This will not bode well with coach Mike Brown, who is famous for his defense-first basketball philosophy.
All in all, the Lakers were dead last in bench production last season, so Jamison would be a much needed spark off the bench.
And, if Metta World Peace does not show up in top form to start the season (again), Jamison can be shifted down to the small forward position. With Steve Nash now running the show, you could expect Jamison's efficiency numbers to take a hike.
Last year, the Lakers were burned by teams who went with small-ball lineups. Antawn Jamison would give Coach Brown capabilities of running this kind of lineup as well, putting opponents at a major disadvantage as the Lakers would be one of the very few teams that could feature a big or small lineup based on in-game situations.
If he can be had for a minimum salary, then the price is definitely right.
It was recently tweeted by Rick Bonnell of the Charlotte Observer that Antawn Jamison plans to sign with the Lakers.
A source tells me Antawn Jamison will be a Laker.

— Rick Bonnell (@rick_bonnell) July 16, 2012
Predicted odds for this free-agent signing: 95 percent

Predicted salary if signed: Veteran Minimum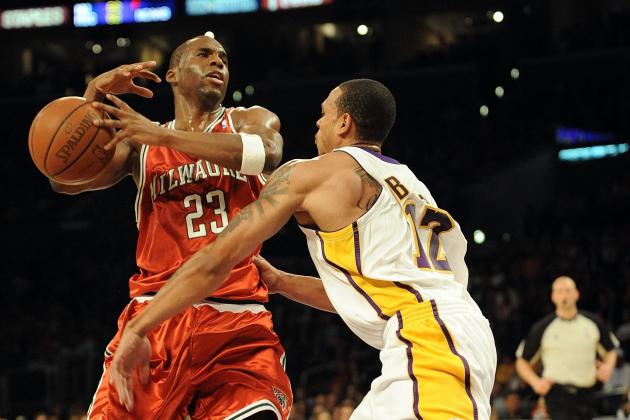 Harry How/Getty Images

It seems like the Lakers are getting older with each new acquisition, but a Jodie Meeks signing would provide Los Angeles with a fusion of fresh legs.
At the age of 24, Meeks has proven he can be deadly from three-point range. This is vital, especially as we witnessed opponents cheat with double-teams on Andrew Bynum and Kobe Bryant, daring others to hit their shots from outside. Of course, the others' results were mostly problematic last season.
With Steve Nash now in the fold, Meeks' floor-spacing abilities could prove essential to the Lakers' offense.
Last season, Jodie Meeks registered 8.4 points and 2.2 rebounds per contest. There is one knock on his game, however.
During the first half of last season, Meeks shot a notable 40 percent from three-point range and went on a downward spiral from there. During the second half of the season, he barely cracked 31 percent, and his shot was so inconsistent during the playoffs that he was only played 7.8 minutes per game off the bench.
This is where the problem lies.
Inconsistency was the name of the Lakers' game last season. Adding another shaky player certainly does nothing to remedy this glaring issue.
It can be argued that Meeks would be an upgrade over up-and-comer Andrew Goudelock, but the difference is minute at best.
The Lakers would be better served in allowing Goudelock to develop into his potential with summer league play and a full upcoming training camp.
Jodie Meeks is not the way to go.
Predicted odds for this free-agent signing: 50 percent

Predicted salary if signed: Mini-Midlevel Exception ($3.09 million/year)
Ezra Shaw/Getty Images

Among the most glaring of issues for the Lakers last season was their inability to hit from three-point range. When the team's three-ball did not fall, a loss was likely to be recorded in the books. This was due to the fact that opposing teams were able to cheat off Los Angeles' perimeter players by collapsing the paint and forcing hard double-teams.
Floor spacing became something of a foreign language last season, and it was a rough and bumpy ride to say the least. The Lakers finished 25th overall in three-point percentage last year.
This is where Brandon Rush would fit in nicely.
Last season with the Golden State Warriors, Brandon Rush proved to be more than efficient as he shot 45 percent from beyond the arc and 50 percent from the field. He posted averages of 9.8 points and nearly four rebounds per contest.
As mentioned before, Andrew Bynum, Pau Gasol and Kobe Bryant often found themselves faced against double-teams due to the Lakers' inability to spread the floor. Brandon Rush would provide the perfect remedy for all-around floor spacing and offensive efficiency.
He is the exact player the Lakers are looking for. There is one minor problem though, as he is sure to come with a hefty price tag next season. The restricted free agent has already been given a qualifying offer from the Golden State Warriors, so if the Lakers aggressively pursue him, he would most certainly arrive in a sign-and-trade scenario. There are several reports signifying the Lakers' interest.
Brandon Rush confirms the Los Angeles Lakers are interested in him. Negotiations are ongoing.

— Yannis Koutroupis (@YannisHW) July 16, 2012
Predicted odds for this free-agent signing: 70 percent

Predicted salary if signed: $5 million/year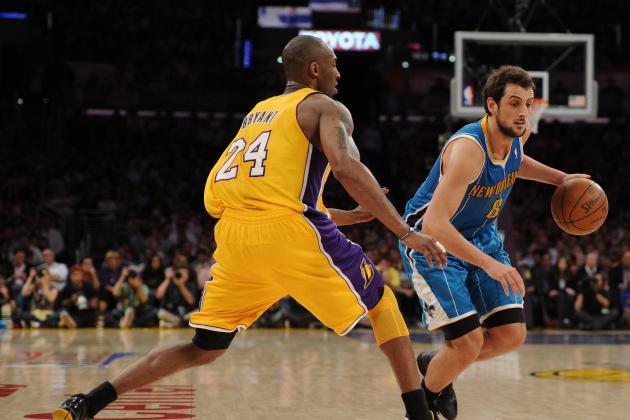 Harry How/Getty Images

A spot-on sharpshooter, Belinelli has proved throughout his career that he can hit the long-range shot seemingly with ease. The Lakers would be much better served with a player other than Steve Nash who can serve to spread the floor.
While Nash will be running the Lakers' offense, he will be much more efficient if he is able to find shooters who can consistently drain perimeter shots instead of having to generate offense for himself.
Marco Belinelli would help to do just that.
Last season, Belinelli posted a career high in points to the tune of 11.8 per contest while shooting 41 percent from the field. It was his three-point accuracy that is sure to have the Lakers' attention this offseason. He shot nearly 38 percent from long range.
It should be noted that when former Hornet Chris Paul was on the team, Belinelli shot a lights out 41 percent from beyond the arc. This can be attributed to Paul's playmaking ability to put the ball in his sweet spots, and more often than not he wound up with wide open shots on the perimeter. Think Steve Nash, who led the NBA in assists last year.
With several teams reported to be pursuing Belinelli, the Lakers' hopes in acquiring his services depend on whether he is looking for a maximized paycheck or an NBA championship.
Predicted odds for this free-agent signing: 40 percent

Predicted salary if signed: Mini-Midlevel Exception ($3.09 million/year)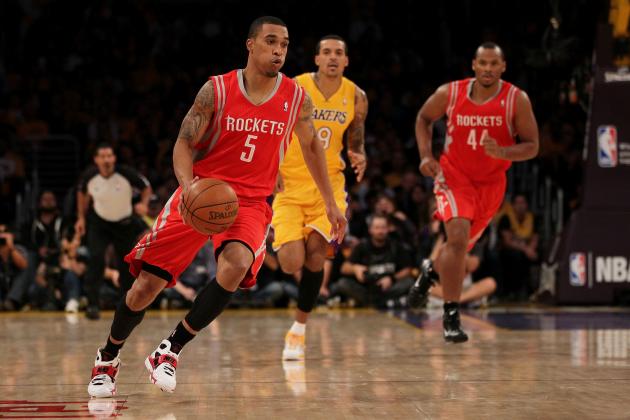 Jeff Gross/Getty Images

If the Lakers are looking for a player who provides all of the intangibles including size, hustle, defense and three-point efficiency, Courtney Lee is their man.
At 6'5", he possesses the attractive size that would fare well in coach Mike Brown's defensive-minded system.
Lee proved to be a valuable contributor for the Houston Rockets last season. In 30.3 minutes per game, he averaged 11.4 points, 2.7 rebounds, 1.5 assists and 1.2 steals per contest. Not bad for a contributing player. He was also highly efficient shooting 40 percent from behind the arc, which is something the Lakers are sorely lacking.
It is being reported there are multiple teams showing interest in the shooting guard including the Indiana Pacers, Chicago Bulls, Boston Celtics, Dallas Mavericks and Washington Wizards.
While the Lakers cannot offer the amount of money Lee is sure to attract, they do present him with a chance to be apart of a winning organization while still bringing in more dough than he made last year ($2.2 million)
If Mitch can sell him on Los Angeles, he would be one hell of a pickup.
Predicted odds for this free-agent signing: 60 percent

Predicted salary if signed: Mini-Midlevel Exception ($3.09 million/year)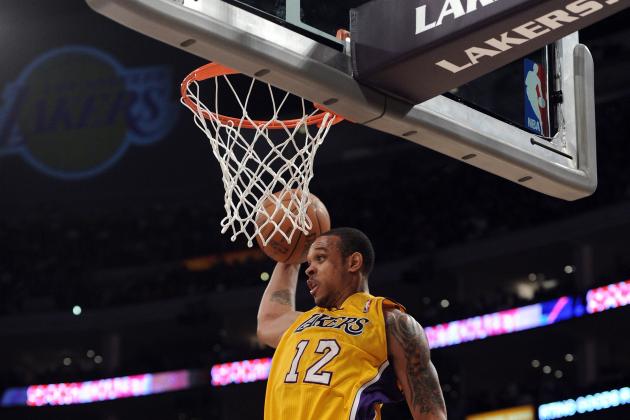 Harry How/Getty Images

The former high-flying Lakers' fan favorite, Shannon Brown, is coming off his strongest year yet with the Phoenix Suns.
While with the Lakers, Brown was easily the team's most athletic player as he was often running the court and finishing plays with eye-popping slam dunks. He has not lost the athleticism he was famous for while in Los Angeles, and with the Steve Nash-led Suns, he became more efficient and a more lethal scorer.
During the 2011-2012 season, Brown posted averages of 11.0 points, 2.7 rebounds and 1.2 assists per game while shooting 36 percent from the three-point line.
He is a pesky defender with a high-energy motor that seemingly never stops running.
It is no coincidence he had his best season to date last year in Phoenix. Steve Nash always brings the best out of his players, and should Brown follow his former teammate to L.A, you can expect the same kind of productive season next year.
There is no telling whether Phoenix would be open to helping Los Angeles obtain another player from their team should Brown demand more money than the Lakers can offer.
It was reported that they mightily struggled with the decision to trade Nash to his preferred destination, but they grudgingly did so. The backlash the team has received from its fans has been one of grief and hatred. As a result, a sign-and-trade scenario seems unlikely.
Should Shannon Brown become a Laker again, he will energize the team with his athleticism and provide floor spacing with his reliable outside shooting.
Because of the financial shackles the Lakers are currently wearing, they would have to convince Brown to sign for less should he want the chance at winning another title.
Predicted odds for this free-agent signing: 35 percent

Predicted salary if signed: Mini-Midlevel Exception ($3.09 million)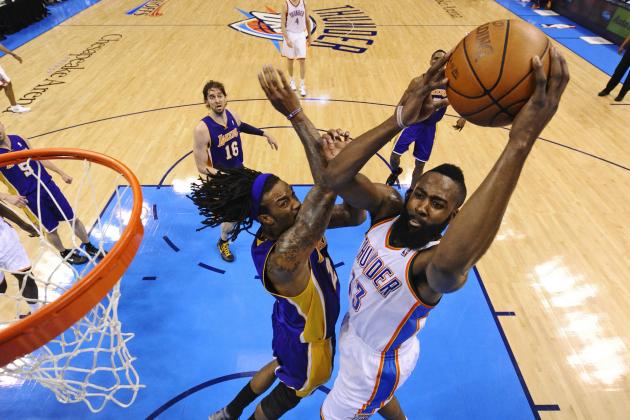 Pool/Getty Images

If there was a player the Lakers could label Mr. Energy last season, it was undoubtedly Jordan Hill. He possesses a high-octane motor that never stops running once his feet touch the basketball court.
He arrived in Los Angeles last season as part of the famous Derek Fisher trade, and found himself at the end of the bench until the end of the season.
When he was finally given the chance to prove his worth, he shined in a very surprising way. He notched several double-double games when given the minutes and by season's end was given a spot in the team's regular rotation.
The sting Los Angeles suffered from losing golden-boy Derek Fisher was somewhat patched over with Hill's inspiring play.
Lakers' management has made it clear that re-signing Jordan is a top priority this offseason. The two sides have met and negotiations are currently ongoing.
Whether he ends up with the Lakers or some other team next season, you can expect him to have a breakout year.
The Lakers do own partial Bird Rights to Jordan and can offer him $3,632,450 for a max of five years. With his ongoing legal battles, there is no telling what the current negotiation stance is on management's part.
Without trying to be obvious, it would be foolish to allow him to walk.
Predicted odds for this free-agent signing: 75 percent

Predicted salary if signed: $3,632,450.00/year - Three years