Jeremy Lin: Will NBA Fans Stop Caring About Linsanity If PG Signs with Rockets?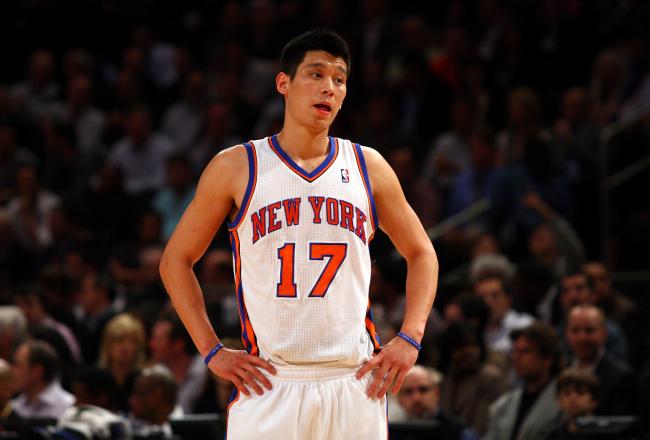 Chris Chambers/Getty Images
What was it exactly that made Jeremy Lin such a sweeping sensation among NBA fans last season? Was it the "unlikely" story of a Harvard grad making something of himself in this world? Was it the fact that he was cut twice—by the Golden State Warriors and the Houston Rockets—before finally finding the opportunity to shine?
Was it his ethnicity as the first Asian-American to achieve any measure of significant notoriety in the NBA? Was it his timing, as another surprising athlete to take the sports world by storm in the wake of Tebowmania?
The answer? Probably all of the above.
More importantly, though, what role did the New York Knicks play in the rise and sustaining of Linsanity?
If the recent reports about the Knicks' decision to let Lin walk are true, then we'll find out soon enough.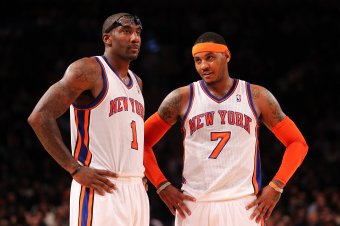 Al Bello/Getty Images
As with property value, Lin's value as a fast-rising star was all about location, location, location. Like Rihanna in search of love, the Knicks found Lin in a hopeless place last season, and Lin was prepared to make the most of his opportunity. New York was floundering on the fringes of the Eastern Conference playoff picture, with Carmelo Anthony soon to join Amar'e Stoudemire among the team's walking wounded.
Rather than fall off a cliff, though, the Knicks ripped off a seven-game winning streak, with Lin serving as savior and catalyst along the way.
Coincidentally (or not), New York's miraculous run began to peter out once STAT came back and even more so once 'Melo came back.
And then Lin injured his knee and the Knicks went 12-5 to finish the regular season before bowing out of the playoffs to the eventual-champion Miami Heat in five games.
But the "damage" (in the most positive sense of the word) had already been done. Lin had helped to rescue a moribund franchise from tumbling back into complete mediocrity. He played exciting, winning basketball in a town known for its hoops, albeit not necessarily the variety most often played at Madison Square Garden. He was a 23-year-old kid equipped with a narrative fit for silver screen adaptation and being spun in the biggest media market in America.
One that also happened to be thirsty for something good to happen on the hardwood.
To be sure, Lin may well have achieved some measure of attention had he emerged as a star elsewhere. His 26-game stint with the Knicks would've been cause for plenty of local fanfare had the Warriors or the Rockets not cut him, especially given the prominent ties to the Asian-American communities that each of those teams enjoys in its respective city.
Where will Jeremy Lin wind up?
That being said, neither of those teams can boast exclusive attachment to a regional TV conglomerate like the Knicks can with MSG. Nor is the Bay Area or Houston teeming with tabloids and loud-mouthed sports talk radio personalities like the Big Apple is.
In other words, while Linsanity may have sprung up in another city, it's tough to imagine it having become as big (or profitable) of a national phenomenon as it was without the New York media machine behind it.
Ultimately, trying to answer the counter-factual conclusively is a fruitless endeavor. The real question now is, can Lin keep the gravy train going in Houston, the 10th-largest media market in America according to Station Index?
That will likely depend on a pair of factors—how the Rockets fare with him on the court, and whether or not GM Daryl Morey is able to pry Dwight Howard from the Orlando Magic—both of which are closely intertwined. If the Rockets land Lin and trade for Howard (and Orlando's heap of bad contracts), then they'll almost surely find themselves back in the Western Conference playoffs for the first time since 2009.
Like any good rising tide, Superman's would lift all proverbial boats in H-Town, including (and especially) Lin's. The Rockets may not attract the sort of win-or-lost attention across the country to which the Knicks are privy, but with a blockbuster trade and a new superstar in tow, they'd at least be the flavor of a month or two (if not more).
Which, one might imagine, would extend Linsanity's shelf life as a pop culture spectacle accordingly.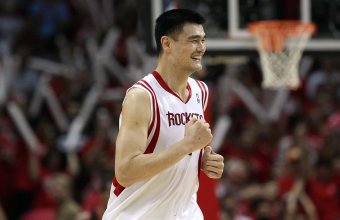 Ronald Martinez/Getty Images
Let's not forget, either, that the Rockets have a pre-existing connection to the East Asian markets in which Lin's ethnic appeal would be the strongest, internationally speaking. They benefited tremendously from the presence of Yao Ming, who was voted into eight All-Star Games (including seven straight) in nine seasons before retiring.
Lin doesn't enjoy quite the same degree of popularity in China and Taiwan that Yao did, if only because he's not native to either of those nations. But his ties to both nations were strong enough to incite a credit-taking race between them in February, and his connection to a largely-untapped domestic market of Asian-American basketball fans may be enough to keep his candle burning bright wherever he goes.
Then again, it's entirely possible that the Knicks move to match Houston's "poison pill" offer sheet anyway.
And, frankly, there's no guarantee that Linsanity would last all that much longer in New York. After all, that frantic media machine of New York's—with its ADHD-caliber attention span—has a tendency to chew up and spit out stars as quickly as it births them.
This article is
What is the duplicate article?
Why is this article offensive?
Where is this article plagiarized from?
Why is this article poorly edited?

Houston Rockets: Like this team?