Will Kevin Love Be the Next Disgruntled Dwight Howard?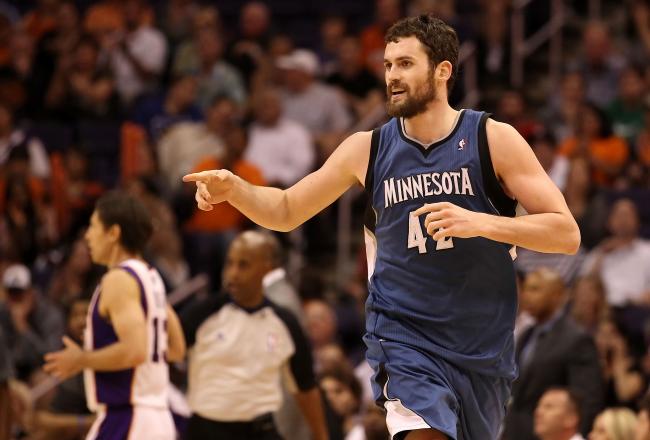 Christian Petersen/Getty Images
It appears to be time to add Kevin Love to the list of entitled superstars who just can't be too sure their sub-superlative teams are the right fits for them.
LeBron James popularized the ever suspenseful "decision," and Dwight Howard has proven just how unpopular such decisions can be. Will the Minnesota Timberwolves join the Cleveland Cavaliers and Orlando Magic as the next franchise that apparently shot itself in the foot by landing a superstar?
Maybe.
After spending some time with fellow prima donnas on Team USA, Love is sounding a bit put off. He wondered aloud to Yahoo! Sports, "If I don't make the playoffs next year I don't know what will happen."
He couldn't even manage to say, "If we don't make the playoffs..."?
That's the first bad sign.
It gets better, though. According to Yahoo! Sports' Marc Spears, the suddenly demanding Love is losing his patience after just four years in Minnesota:
My patience is not high[...]Would yours be, especially when I'm a big proponent of greatness surrounding itself with greatness? All these [Team USA] guys seem to have great players around them.
It's like love has spent six or seven years with this team. And, he's only played at a legitimately All-Star level in two of his four years. He still has his best years ahead of him and so do the Timberwolves.
Stephen Dunn/Getty Images
But, after just a little time with the league's big boys, the 23 year old is sounding like quite the precocious youngster. His demands of the front office are somewhat understandable, but they're also the kinds of things front offices do at the appropriate time.
Some years are building years, while others are opportunities to seize the moment.
It's hard to imagine that general manager David Kahn needs Kevin Love to tell him that now is the time for the Timberwolves to get better.
The man may have made some mistakes in his day, but it's no secret that Minnesota is an up-and-coming team. Neither Kahn nor Love can control when guys like Rubio get injured, and they can't make the rest of the Western Conference any less talented.
KLove could afford to lose the attitude, but could Minnesota afford to lose this?
Love should focus on his game and leave the roster to someone else. He should take a lesson from Dwight Howard, whose push for the Orlando Magic to improve the roster led to an influx of bad contracts and past-prime talent that ultimately precipitated his exit.
The Timberwolves would be wise not to make the same mistake, mortgaging a promising future so that Love can make the postseason before he's even turned 25.
You can't blame some of these guys for their short attention spans, but it sure would be nice if they focused on their own jobs instead of everyone else's.
Fans in Minnesota have been through enough. They don't need their one and only hope to start making thinly veiled threats.
In fact, hey probably need him to play a little defense before he decides to start playing GM.
This article is
What is the duplicate article?
Why is this article offensive?
Where is this article plagiarized from?
Why is this article poorly edited?

Minnesota Timberwolves: Like this team?