Minnesota Twins: Midseason Report Card for 2012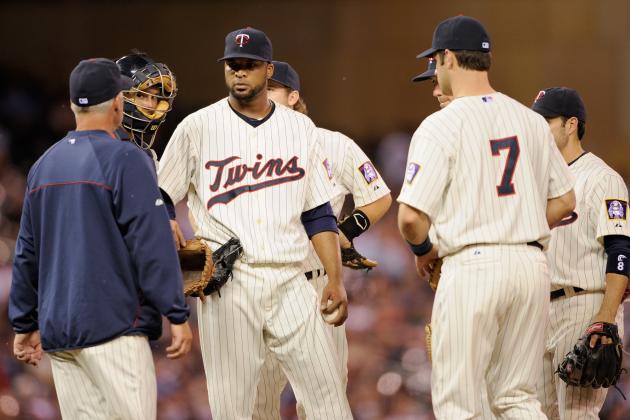 Hannah Foslien/Getty Images

As the Minnesota Twins play their final game before the 2012 All Star game, I thought now would be a good time to look back on the first half of the season and hand out some midseason grades to the players and team.
While the first half of the 2012 campaign has gone both better and worse than last year, there are some definite bright spots for the Twins (and fans) to be excited about. Some of the players have done exactly what they were brought in to do, others fell flat when they stepped on the mound and a handful have become mysteries.
The Twins are halfway through 2012. It is time to see how Joe Mauer, Justin Morneau, Josh Willingham and company are doing at midterm.
Begin Slideshow

»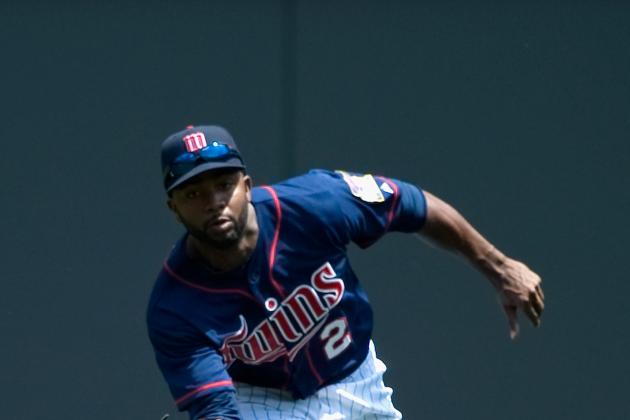 Hannah Foslien/Getty Images

After a concussion-shortened 2011 season, Denard Span has already played in more games than he did all last year. While he has not played in every game in 2012, Span has remained healthy and in the lineup regularly.
A reliable lead-off hitter, Span has continued his stability at the plate in 2012. At the halfway mark, Span is hitting .274 with a .340 OBP in 344 plate appearances. The center fielder has scored more runs, stolen more bases and collected more hits this season than the entire year last year.
Span's fielding continues to impress as well. Span has recorded just one error in 75 games in center field thus far. In 200 chances, Denard Span has 197 putouts (as of 7:30pm July 8th) and has tallied two outfield assists. With a fielding percentage of .995, Span currently ranks fifth among American League center fielders.
The speedy Span can cover a lot of ground in the outfield and on the base paths as well. He has nine stolen bases thus far in 2012 and is ranked 66th in the AL. As a lead-off hitter, Span is the "table setter." However, I think the Twins—and Span—could do a better job on the base paths. League leaders have stolen base totals north of 20, Dee Gordon leads the AL with 30. I have long felt that the Twins have been too conservative on the bases. They need to utilize Span's speed and create some havoc.
Span has been the model of consistency in center field and in the lead-off spot but I expected more out of Span on the base paths.
Midseason Grade: B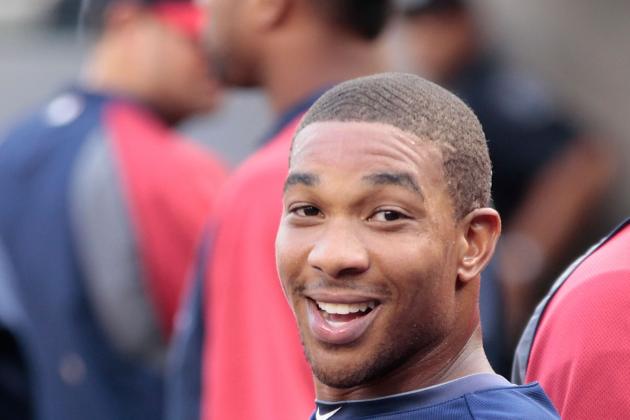 Leon Halip/Getty Images

The fleet-footed, always smiling Ben Revere began the 2012 season with the Twins and then was optioned to Rochester in April. After a brief stay in Triple-A, Revere was back with a vengeance.
Revere has been a solid No. 2 hitter in a lineup that seemed to try everyone and anyone in the second slot. In 50 games this season, Revere is hitting .320 with a .355 OBP in 221 plate appearances and ranks 12th in the majors with 18 stolen bases. Revere has also proven to be a reliable lead-off hitter when Denard Span is not in the lineup. Revere's hitting has improved; however, the speedy outfielder has had issues bunting when called upon and has lead to some wasted at-bats.
Ben Revere's fielding has been spot-on for the entire season. The right fielder has yet to commit an error through 48 games in the field. Like Span, Revere has two assists at the halfway mark. The one drawback of Revere's fielding is his arm strength. While improved from last year, Revere's arm is not well-suited for right field. However, Revere's world-class speed covers more ground in the outfield than is sometimes believed and has lead to numerous web gem catches.
Revere's raw speed makes up for the finer points that he has yet to hone in his game. The outfielder has been a bright spot in a relatively dank first half for the Twins.
Midseason Grade: B+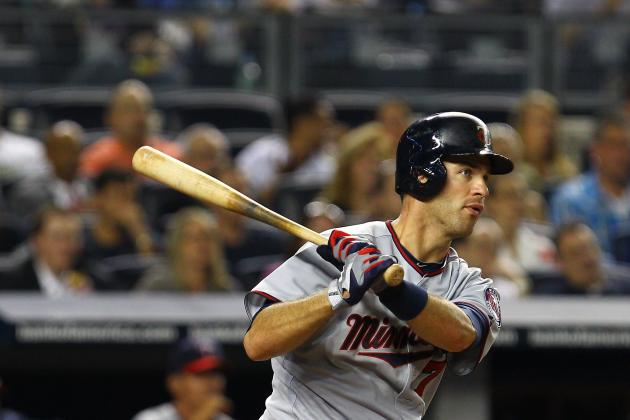 Al Bello/Getty Images

Despite an injury-riddled 2011 and a slow start in 2012, Joe Mauer once again finds himself making a trip to the All-Star game. Always a fan favorite, the catcher was quoted as saying he will be bringing all of his gloves to the game so that he can play where he is needed.
One of the best parts of the early parts of 2012 is the fact that Mauer has stayed relatively healthy. Limited to just 82 games in 2011, Mauer has been able to limit his time on the disabled list so far this season. I know that I still hold my breath every time he takes a foul ball behind the plate.
The first half of the 2012 season started slowly for Mauer at the plate but he has been gaining steam as the season rolls on. The catcher/first baseman is currently ranked fifth in the AL with a .327 BA (at 8:25pm July 8th) in 326 plate appearances. Mauer has five home runs in 76 games, two more than he hit all last year in 82 games.
He has increased his totals from 2011 in doubles, walks, stolen bases, hits and is boasting a .417 OBP—best in the American League. All things (and stats) considered, Mauer is on his way to competing for another batting title and well on his way to a standard Joe Mauer season.
Every day he shows fans and critics alike why 2011 was a fluke. On the other hand, Mauer has continued his singles hitting approach which also makes 2009 look like a fluke. The power numbers have never returned.
Joe Mauer has spent 38 games behind the plate, 22 at DH and 18 at 1B this season. While I would like to see Mauer spend less time DH-ing and more time at 1B when he needs a break (a subject I talk about in Future on the Line: Why Twins, Joe Mauer Should Consider Changing Positions), the time he has spent in the field has been solid defensively. Mauer has just a handful of errors in his time catching and at first base so far this year and has a fielding percentage of .996 behind the plate and .986 at first base.
Disappointing for Mauer in the field is his percentage of baserunners caught stealing. So far in 2012, Mauer has thrown out just 16 percent of runners—this is down from his career average of 34 percent.
Mauer seems to be back to his consistent self however there are a few areas that could be better, but that is true for any MLB player. I have been pleasantly surprised but expected more in the first half of the season.
Midseason Grade: B+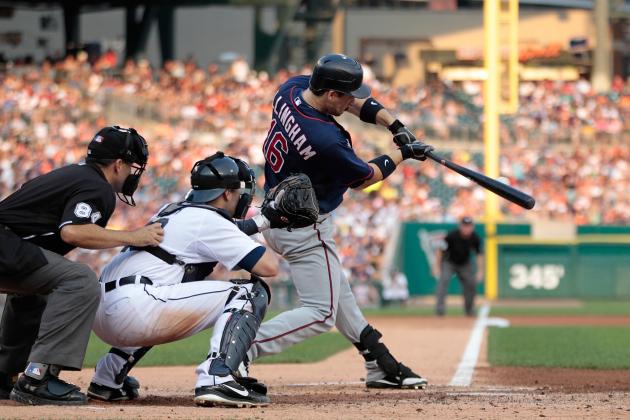 Leon Halip/Getty Images

Many people in Minnesota howled when the Twins parted ways with Michael Cuddyer after the 2011 season. When the Twins' front office brought in Josh Willingham to take over right and left field, some fans raised their eyebrows.
Was this just another cheap move by the Twins for another supposed "power hitter?" Would Willingham be able to pick up a lineup starved for an impact power hitter?
Yup.
2011 saw Josh Willingham have a career year in Oakland when he hit 29 home runs and drove in 98 RBI. Twins fans (and players, I'm sure) were reluctant to hope Willingham could repeat his performance in light of other players the team had brought over in years past. Can you blame them?
However, Willingham (lovingly referred to as Willinghammer or, as I prefer, simply "The Hammer") quickly laid these fears to rest in the first half of 2012 by hitting .265, smashing 19 home runs and driving in 60 RBI. The outfielder has far and away been the MVP in this 2012 season. He is on pace again to have another career year and has provided a jolt to a team sorely in need of a bat that can bring in the runs.
Willingham hasn't been noted for his fielding either negatively or positively. Simply put, he gets the job done. After beginning the season in right field and then shifting to left, Willingham has done a fine job of holding down his corner of the outfield. Willingham has tallied six assists so far which leads left fielders and is among the leaders in outfielders in the AL. Willingham had huge shoes to fill after Cuddyer left but has done a solid job.
Josh Willingham has been everything the Twins hoped for and more. After a monster first half, I can't wait to see what Willingham does down the stretch.
Midseason Grade: A+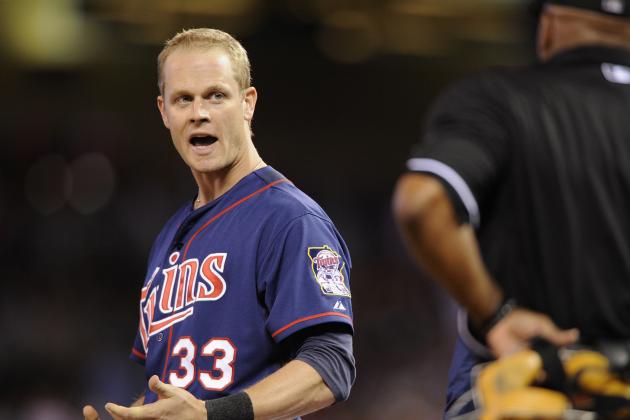 Hannah Foslien/Getty Images

Twins fans will never forget the year slugger Justin Morneau was having when on July 7th, 2010 he suffered a season-ending and career-effecting concussion.
After a dismal 2011 where Morneau played in just 69 games, 2012 saw a Morneau that was healthy and hungry to return to form. So far, we have only seen glimpses of the pre-concussion player. The shortcomings exhibited by the once-solid first baseman have given rise to trade rumors and whispers of whether or not the Twins should even consider keeping him (see Minnesota Twins 2012: 5 Midseason Moves The Twins Should Consider).
So far in 2012, Morneau has been inconsistent at best in the batter's box. Struggling to find his once-powerful swing, the first baseman is hitting .247 with 11 home runs and 37 RBI in 273 plate appearances this year. Morneau has struck out 53 times this season, up from his total last year and in fewer games.
Any fan that has had their eye on Morneau this year has seen him swinging at pitches out of the strike zone and letting the good ones go by. Pitchers are zeroing in on the fact that Morneau doesn't seem able to cover the outside corner as he is pulling almost everything he hits.
After the last two abysmal seasons for Morneau, it is clear that he is pressing at the plate and it is not going the way he would like. It is important to mention that he is on a 10-game hitting streak but I am not convinced he looks comfortable at the plate.
Thankfully Morneau's glove has remained the same through the first half of the season. In just 43 games at first base this year, Morneau has been his ever-solid self. Committing just two errors so far, his .995 fielding percentage would be among the leaders at his position if he had enough games/innings to qualify.
The first baseman continues to dig throws out of the dirt and make the catches reaching into the dugout. Once his weakness, Morneau's defense is his strength right now.
High hopes seem to have gotten to Morneau at the plate but he continues to be consistent in the field. I hope the second half of the season goes better for the beleaguered slugger.
Midseason Grade: C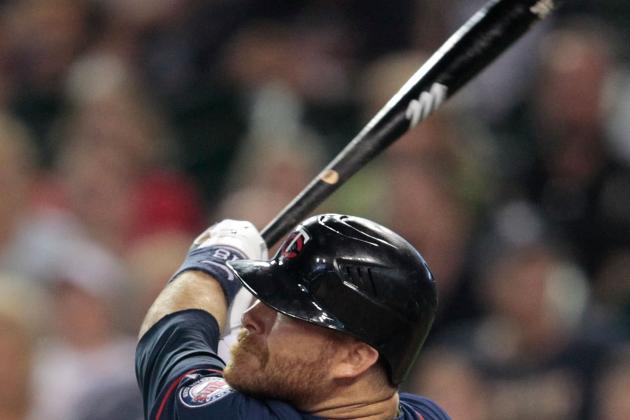 Leon Halip/Getty Images

Brought in to backup Joe Mauer behind the plate, Ryan Doumit is finding himself more and more as the catcher in the lineup. Doumit has been solid thus far and the Twins rewarded him with a two-year, $7 million extension.
Primarily the Twins DH, Doumit has been a good bat to have in the lineup or off the bench. Hitting .285, Doumit has been consistent in the batter's box and provides a respectable batting average when filling in for Joe Mauer behind the plate, which is something Drew Butera has yet to achieve. Not necessarily known for his power, Doumit has provided timely hits and home runs when it has mattered most early in 2012.
While Doumit has been steady behind the plate, I have been told by Pittsburgh Pirates fans that Doumit shouldn't be an everyday catcher. To date, he hasn't been and he has done a good job. Doumit has seen 31 games behind the plate and has posted a .994 fielding percentage and has thrown out 20 percent of would-be base stealers going into tonight's game. If Doumit qualified, he would be ranked third among AL catchers for fielding percentage.
Ryan Doumit was brought to Minnesota to catch Joe Mauer's off-days and to provide a little pop to the DH position. The Twins have been rewarded with a solid hitter and reliable glove behind the plate. Little to complain about here, Doumit is definitely doing what he was signed to do.
Midseason Grade: A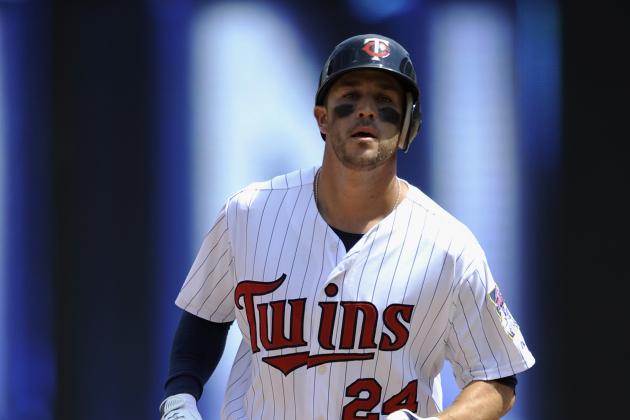 Hannah Foslien/Getty Images

Easily the biggest surprise of the 2012 season so far, Trevor Plouffe has all but shut and locked the revolving door that is the Twins' third base position. After a rocky start to this season, Plouffe has rebounded and has already had a career year.
Once the object of shudders and sighs when he came to the plate, Trevor Plouffe is now garnering the attention of Twins fans. After beginning the season struggling to reach the Mendoza Line (and after he got a much needed haircut), Plouffe has raised his batting average to .250 and has smashed a very surprising 19 home runs at the halfway mark. I didn't see that one coming—I'm not sure anyone did.
It seems no one really knows what happened to finally get him firing on all cylinders at the plate; I'm not sure if it matters. Plouffe is on pace to hit 36 home runs and drive in 69 RBI—both are obviously career highs for the 26-year-old.
Ever since the early exit of Corey Koskie, the Twins haven't been able to keep a third baseman for very long. 2012 may finally be the year to turn that around.
Trevor Plouffe has been steady at the hot corner in his 44 games at the position. He has a .943 fielding percentage at third so there is room for improvement but let me also mention that Plouffe has played or started games at shortstop, left field, right field, second base and first base this year. While he does have 10 total errors on the year, I'm impressed he can play multiple positions as well as he does.
Trevor Plouffe definitely takes home the midseason Most Improved Award and continues to surprise at the plate. His fielding will progress as he gains experience at third base. I am excited to see how he does after the All Star break.
Midseason Grade: A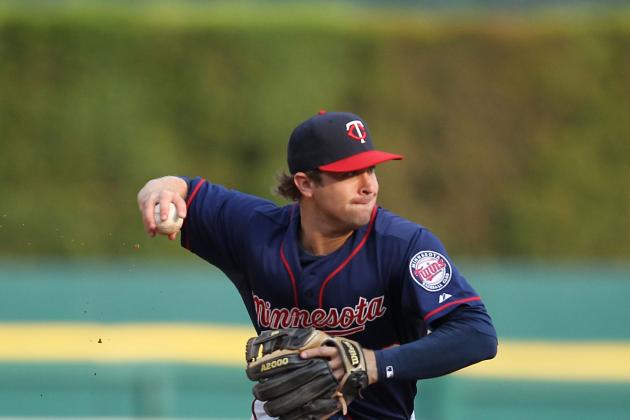 Leon Halip/Getty Images

Rookie Brian Dozier has been in the Twins' farm system for some time and fans were fully aware of who he was when he was finally called up this spring. Just like we read, Dozier's glove is solid and can dazzle at times.
Thus far, the rookie shortstop has held down the fort in the middle infield. Working well with Jamey Carroll, Dozier has been a large part of the 98 double plays turned (which ranks first among MLB teams) but has also committed his share of errors with 12.
With 53 games played at the position, Dozier does not qualify to be a leader in fielding percentage but if he did he would rank 14th among qualifying shortstops. While his rookie campaign has been solid at shortstop, he has room to grow.
The first half of the 2012 season for Dozier has been somewhat mediocre at the plate. Nothing major to speak of positively; however, I would like to call attention to the eight walks and 41 strikeouts. Not exactly a good ratio. With a .266 OBP, the Twins are not able to use him as a No. 2 hitter as they originally hoped. Hitting can be taught and learned. Dozier has some work to do.
Brian Dozier has plugged a gaping hole at shortstop and provided stability there but he is a rookie and makes rookie mistakes at the plate and in the field. I am looking forward to his development as the season goes on.
Midseason Grade: C+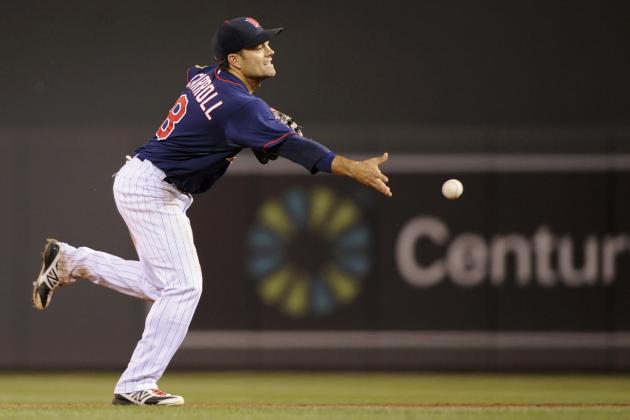 Hannah Foslien/Getty Images

Acquired in the offseason originally to be the starting shortstop, Jamey Carroll has been the model of versatility in the infield and has shown why and how a good fielder can stay in the majors for so long. One of the "good guys" in baseball, Carroll has brought consistency and a good attitude every where he goes on the field.
Not really known for his hitting, Carroll is hitting just .238 after batting .290 in his last season with the Los Angeles Dodgers. Somewhat disappointing so far. However, the utility man has shown he can get on base. Of course, there is room for improvement in the batting department but as I said before, Carroll isn't known for nor was he brought here for his hitting ability.
Carroll has provided a steady glove to a once-shaky infield. Now paired with Brian Dozier pretty regularly, Carroll has turned in some great plays at second base and shortstop alike.
Jamey Carroll has helped to keep the middle infield position functioning no matter which side of second base he is standing on. However, his six errors this year is the highest total in any one season save his 2008 and 2011 seasons where he tallied nine.
Carroll was brought to Minnesota to sure up the middle infield and he has done so. His bat has been spotty—great sometimes, absent others. While not always pretty at the plate, he usually gets the job done in the field.
Midseason Grade: B-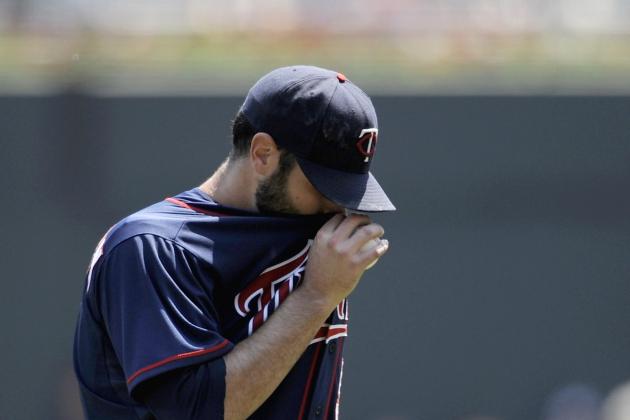 Hannah Foslien/Getty Images

Embarrassing. Painful. Terrible.
The Twins' starting pitching is the single worst facet of the team so far. With an AL-worst 5.77 ERA, a league-high 79 home runs allowed and a league-low 271 strikeouts, the starting rotation has been atrocious. With the exception of Scott Diamond and, on occasion, PJ Walters, there hasn't been many highlights coming from the starters—well, maybe for the teams they pitch against.
The Twins began the season by losing Scott Baker to Tommy John surgery. His career as a Twin is most likely over.
Nick Blackburn's pitching was something out of the Twilight Zone and has gone from bad to worse and has become a mystery to even the pitcher himself—the Twins finally sent him down to Rochester.
Jason Marquis, after missing spring training, looked like a pitcher who wasn't ready for the season. Yes, this was in large part due to the time he missed while caring for his daughter who was in a bike accident; however, when he returned after working out, he was just plain terrible. He was finally released after posting a 8.47 ERA.
Carl Pavano, considered the "ace" of this staff, was largely ineffective all season. He ultimately landed on the DL and is rehabbing his injured shoulder.
Francisco Liriano is enigma personified. After pitching so badly he was sent to the bullpen for exile, he seems to have regained some of his confidence. The fact of the matter is that Liriano is still a putrid 3-7 with a 5.08 ERA in 14 starts. Trade talks have been circulating.
The Twins have gone through 10 starters this season with no end in sight. Thank goodness I can be excited once every five games to see Scott Diamond (7-3, 2.62 ERA) pitch.
Midseason Grade: F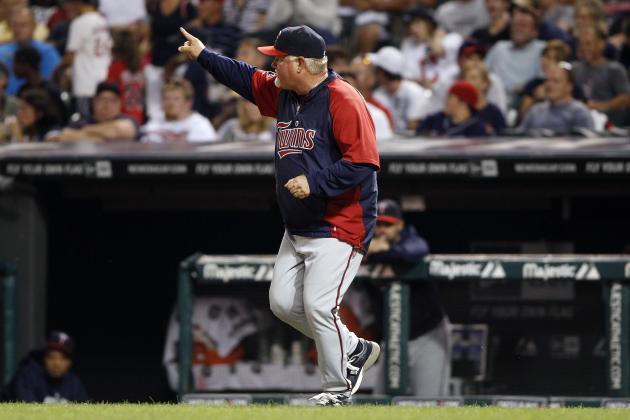 David Maxwell/Getty Images

This photo to the left is a scene that Twins fans have seen many times this season and far too early in the game.
The Twins' bullpen, despite being one of the league leaders in innings pitched, has done a relatively good job. The bullpen has held its own when the starting pitching has fallen apart.
The bullpen ranks 18th in the majors in ERA with a 3.67 mark, just a hair under the league average of 3.68. They rank third in innings pitched with 296.2 and have the third fewest blown saves with fifth.
Night in and night out, with the exception of when Scott Diamond starts, the bullpen is called on to go long innings or to hold down a slim lead for a team that can struggle to score runs.
One dank spot in particular in the bullpen has been Matt Capps. Now on the disabled list, Capps all but lost the closer's role to Glen Perkins this year. Perkins must have been doing his best Capps impression tonight when he blew his save in the 9th in Texas.
Despite the good work the bullpen has put in so far this year, the fear is if the starters don't hold up their end of the load the bullpen could crumble. Here is to hoping that doesn't happen.
Midseason Grade: B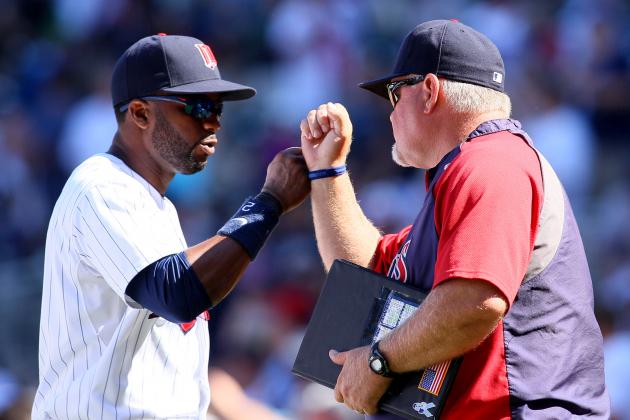 Adam Bettcher/Getty Images

After seemingly losing control of the team in 2011, 2012 didn't seem to start off any different for manager Ron Gardenhire. The Twins got off to a bad start and it left me wondering if Gardenhire needed to go.
While I haven't changed my mind that a change at manager would be a good idea to get a fresh perspective, I do believe in giving credit where credit is due.
Gardenhire gave this team its work ethic back and a passion that was lacking after a dismal 2011 campaign. He was able to keep this team together through a painful April that saw the Twins sink to the basement of MLB. It takes a lot to be able to do that and I respect Gardenhire for keeping the ship afloat even with its innumerable leaks in the hull.
I have been openly critical of Ron Gardenhire in a previous article and I have not changed my position but in the first half of the 2012 season, I believe Gardenhire has done a good job and may have averted another crash-and-burn season.
Midseason Grade: B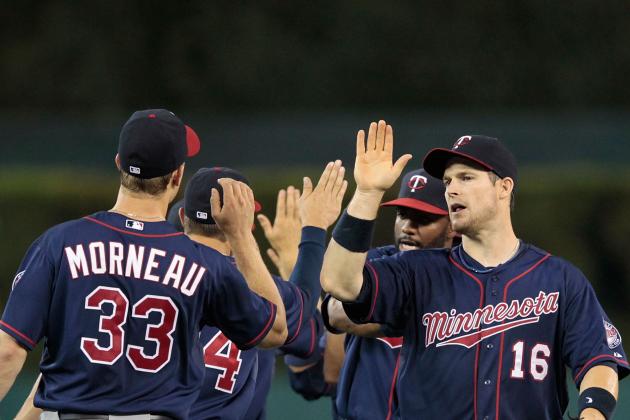 Leon Halip/Getty Images

Even though the Twins' 2012 season has had many more bright spots than 2011, it feels as though this season isn't meant to be a good one. It seems like no matter what they do on some nights, the team finds a way to lose. Sometimes I wonder if they are cursed with some bad luck of some kind.
The Twins have some players who earned decent grades for the first half of the season; however, the team as a whole has some issues, the largest of those being the starting rotation. Between the home runs allowed, runs allowed, hits allowed and the offense that can disappear at the drop of a hat, this team has problems that will not go away without help.
Ranked last in their division standings (a hilariously weak division at that) and dead last in the American League, it would be hard to give the team a good grade at midterm. If they did their homework over the offseason, maybe they wouldn't be where they are today. They haven't failed for 2012 yet but they are close.
Midseason Grade: D+