Future on the Line: Why Twins, Joe Mauer Should Consider Changing Positions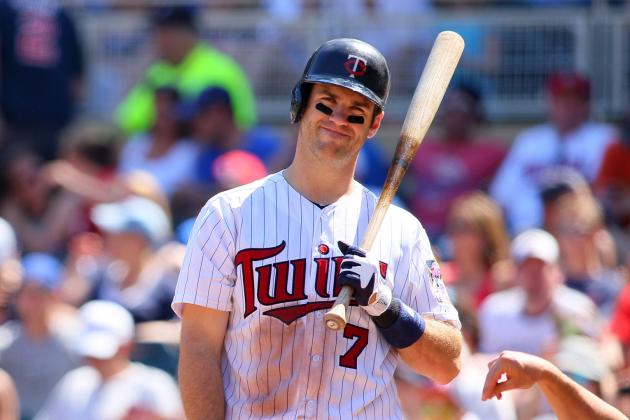 Adam Bettcher/Getty Images

Joe Mauer has been a fixture in the Minnesota Twins clubhouse for eight years and is the undisputed face of the organization. Many would rate Mauer among names such as Kirby Puckett and Harmon Killebrew for his approachability and star power.
Every year, fans knew what to expect from Kirby and Harmon—all star numbers and an all-go, no-quit style of play. As fans, we knew we could always count on Kirby and Harmon to be in the lineup.
As great as Joe Mauer is, his future presence and role with the club is not and has not been a certain thing since he went down with his first major injury in 2004. Since then, Mauer has missed time with injuries ranging from quad bruises to thumb sprains, bilateral leg weakness to pneumonia, back issues to everything in-between.
You name it, he has probably missed time because of it.
The Twins need Mauer on the field as much as he can be, but at this point in his career, I do not believe it will be or should be behind the plate.
As Mauer continues to age, the rigors of catching will hold him back more and more often. If the organization want to ensure Minnesota's future in baseball, Joe Mauer needs to change positions. Here is why:
Begin Slideshow

»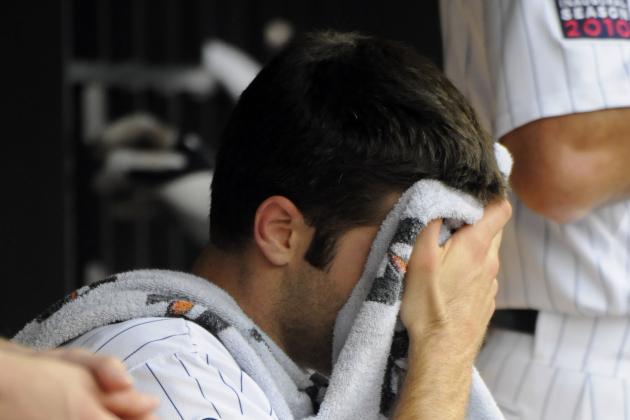 Hannah Foslien/Getty Images

Throughout his career, Joe Mauer has sustained many injuries and more than a few were season ending or kept Mauer sidelined for months on the disabled list.
Playing the catcher position is hard on the body. I know of what I speak. I won't forget what I felt like to catch in the hot summer afternoons at state softball tournaments nor what it felt like to have a girl twice my size bulldoze me over. Magnify that ten fold (at the very least) and you have what Joe Mauer is expected to do.
Mauer stands 6'5" and weighs 233 lbs. Tall for a catcher, a giant compared to most players in the league. But even for a man built the size Mauer is, catching is hard work and can be dangerous. Just ask Buster Posey (6'1", 218 lbs).
While not every injury Joe Mauer has sustained has been due to catching directly, many are made worse by catching or keep Mauer from being behind the plate more often.
The Twins will have Mauer in the field more often if he makes a permanent move out to the infield. I know that with every foul ball Mauer takes, every home plate collision that occurs, I am wondering how long that will cost Mauer on the DL. Many other fans I know think the same way.
Injuries shortened Mauer's 2011 season to just 82 games. 2004 saw just 35 games played for the catcher. Mauer averages for his career just 109 games per season. Most players play at least 130, give or take depending on DL stints. Forgive me for being a little gun shy with Mauer, every little thing that happens seems to turn into extend time away from the field.
Now, I am of the belief that Mauer could stand to at least try to play through some of the injuries he has sat out with but I also believe that if he wants to extend his career and if the Twins want him with the club and able to make an impact for the rest of his playing days that a change needs to be made.
It is no longer prudent health-wise for Mauer nor monetarily smart for the Twins (unless they like paying players $23 million to sit on the bench with injuries) to have Mauer as their long term solution at catcher. They are pushing their luck.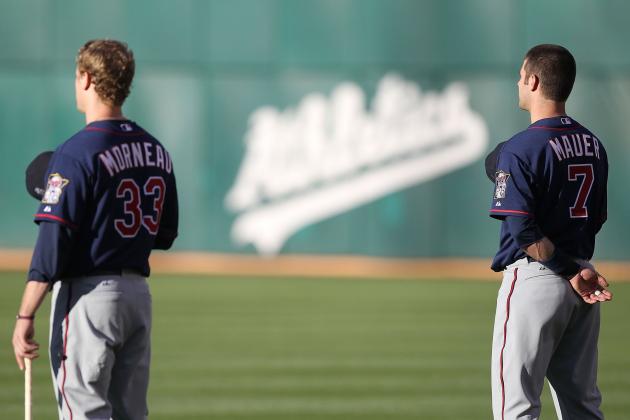 Jed Jacobsohn/Getty Images

With the rumor mill turning with whispers of the Blue Jay's interest in Justin Morneau, the Twins have to be thinking about moving Joe Mauer to 1B should Morneau depart Minnesota.
Since Mauer began to test the waters at first base in 2011, he has proven himself a competent fielder and appears comfortable at the position. Already the recipient of three Gold Gloves, Mauer would have the opportunity to compete for another at first base.
In 31 games at first base over the last two seasons, Mauer has recorded just three errors and has a total fielding percentage of .989 in 250+ innings at the position.
If Morneau does leave the team (and that is a big IF), the Twins would still have a solid first baseman should Mauer move there. Mauer has the glove, the reflexes, the reach, and the natural talent to make a great rest of his career at the first base position. The Twins wouldn't be giving up anything defensively other than experience by putting Mauer there if Morneau leaves.
What of Chris Parmalee? Many Twins fans have asked this question already. While he has proven he can field the position, his batting at the major league level doesn't touch what Mauer does day in and day out.
Parmalee is only 24 years old and needs time to develop in some areas. Right now Mauer would be a better choice for the Twins all around and, seeing as it would be easier on his body than being behind the plate all the time, it would be a better choice for Mauer if he would like to extend his playing career.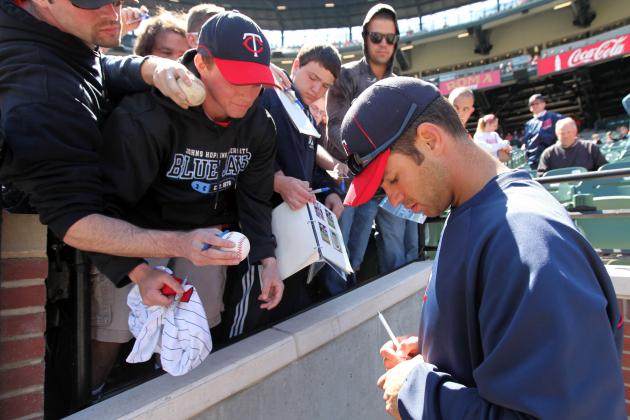 Rob Carr/Getty Images

Like any good business or company, the Twins need to consider the bottom line—the almighty dollar.
Of course, this can be taken in any one of one hundred directions but I would encourage the Twins to keep it simple.
They have been great at being simple (yes, that was tongue in cheek).
Every MLB team has a star player that sells tickets. Yankees fans will pay good money to see future Hall of Famers Alex Rodriguez and Derek Jeter. Baseball fans in Texas line up at the box office for a chance to see slugger Josh Hamilton hit a long ball into the seats. Likewise, Twins fans want to see their star in Joe Mauer.
The Twins have to realize that keeping Joe Mauer healthy, productive and on the field will sell more tickets and therefore generate more revenue; maybe the organization would be more comfortable spending money on some quality starting pitching.
Yeah, maybe that is a pipe dream.
Another reason the Twins need to move Mauer involving money is to protect their investment. In 2010, Joe Mauer signed a 8-year, $184 million contract extension. The catcher is paid $23 million a year and the Twins can't afford to have the oft-injured Mauer at a position where an injury can happen at the drop of a hat or, perhaps in this case, a bat.
If Mauer remains behind the plate, I can't see him playing another six years and being able to play to the level that $23 million a year would warrant. That is correct, he is only in his second year of his long term contract. Can you see him surviving behind the plate until 2018? Not me.
In order for Mauer to be worth the money the team is paying him (and so the Twins don't look like total idiots for investing so much money in the injury-prone catcher), it is a no-brainer that the organization needs to look at moving Mauer.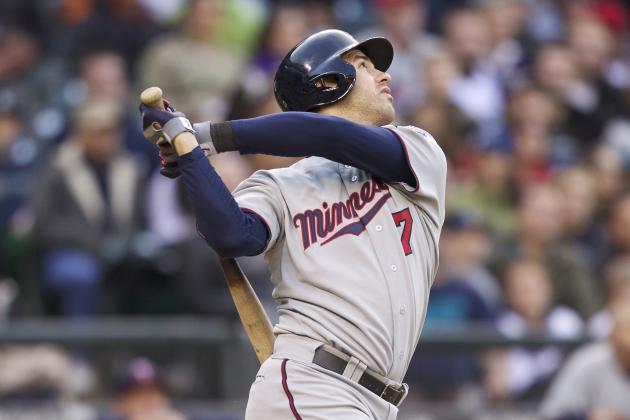 Stephen Brashear/Getty Images

In addition to the long list of injuries Joe Mauer has sustained, his productivity over his career is an important reason why to get him out from behind the plate.
Any major league ball player will tell you how important your legs are when in the batter's box. If you can't get your hips through your swing, you lose the ability to drive the ball. If you can't drive the ball, your RBI and home run totals will fall.
Joe Mauer has one of the nicest swings I have ever seen. In 2009, Mauer proved that he could hit for average and power (.365, 28 HR, 96 RBI). A player who bats in the three spot in the lineup should be the team's best all-around hitter, but also should have some power.
Throughout his career, Mauer has been batting third in the lineup except for a few appearances in the two spot. Theoretically, Mauer's 2009 season was the only season he posted prototypical three hole numbers. If you would like a comparison, a handful of other players that bat in the third spot are Josh Hamilton, Albert Pujols, and Evan Longoria.
I strongly believe that if Mauer makes a move to the infield (or even outfield if that was what was needed) that it could improve Mauer's productivity.
If Mauer were to move to 3B or 1B, the Twins would be able to keep his legs fresher over the course of the season. If Mauer has stronger legs, his power numbers could improve. He would also be available to play more often and need less rest days.
Of course, any Twins fan knows that during Mauer's monster 2009 season that he was behind the plate and no where else. That is why productivity gets "honorable mention." However, I would like to point out that his home run totals, slugging percentage and RBI totals have dropped significantly since his MVP season. I believe Mauer could get a boost in the batter's box from hanging up his catching gear.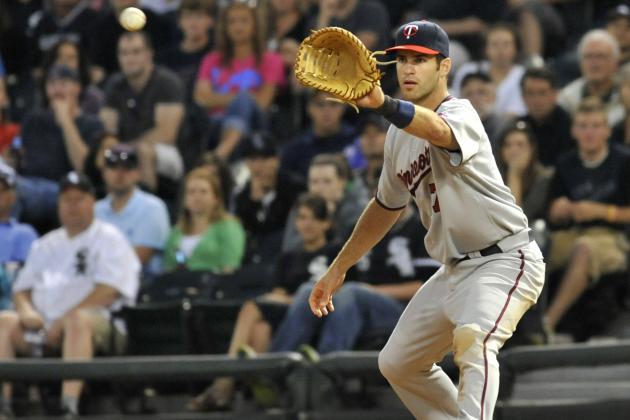 David Banks/Getty Images

The matter of whether or not Joe Mauer should move to first base is, quite frankly, going to effect the Twins organization's near future. Whether it be because Mauer sustains more injuries from remaining behind the plate or if it is a more constant presence in the lineup, the impact will be far reaching.
The Twins would gain an above average fielder and a great hitting first baseman. Joe Mauer would gain the ability to extend his career in the field and protect his body—a win-win situation for both sides.
Ultimately, the Twins are going to have to make a decision. Do they want to protect their investment in one of the best hitters in baseball by moving him to a less strenuous position or are they willing to take the risk? Yes, Mauer is one of the better defensive catchers in the league but what good is he on the disabled list?
Joe Mauer is also going to have to make a decision as well. Does he want to extend his playing days and make the move over to first or risk becoming a $23 million a year designated hitter?
As a fan, I know I couldn't stomach latter.