Ron Gardenhire: Is It Time for the Minnesota Twins Manager to Move On?
June 18, 2012

Hannah Foslien/Getty Images
When any professional sports team begins to do poorly, it is the coach or manager that takes the heat. Now, I do not believe that a manager should be the only one to blame when a baseball team falls apart, but I do believe that they should be the one to lead the accountability and to do it professionally.
Manager Ron Gardenhire has led the Minnesota Twins to six AL Central titles in 10 years, and that is impressive. However, the 2011 season and the first half of the 2012 campaign has me (and many other Twins fans out there) asking if it is time for the manager to move on.
Gardenhire took the helm for the Twins in 2002 and began a three-season streak of winning the AL Central. The Twins were generally in the mix for the next few years, until 2011 came around and the wheels came off, the bottom fell out, or everything went to heck in a hand basket—whatever you would like to call it.
To be sure, Gardenhire was not entirely to blame for the 2011 debacle. The unprecedented use of the disabled list last year by a lineup that could hardly take a step without hurting themselves could not have been predicted.
On the other hand, it is the opinion of this writer and many other fans out there that some of the injuries could have been prevented by coming into spring training with the proper off-season workouts in place. 
This was especially true of Joe Mauer who had a mysterious bout of "bilateral leg weakness." That three-word phrase caused more uproar and questioning of what was going on down in Fort Myers than anything else in the 2011 season.
Another example of players coming out of spring training not in playing shape is the pitching staff from both 2011 and 2012. The Twins pitching staff has an uncanny ability to be unable to last longer than five innings most nights and suffers "shoulder soreness" and "arm fatigue." It begs the question: Who is running the spring training workouts?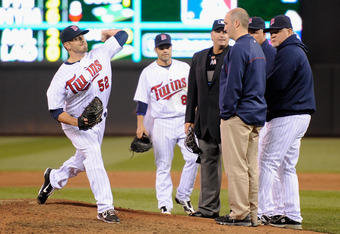 Hannah Foslien/Getty Images
Somewhere along the way from 2010 to 2011, Gardenhire seemed to lose control of the team. Suddenly the players were dictating when they played, how long they remained on the DL and whether or not they could play through their strained eyelid/hangnail injuries.
Last year's abysmal season saw the inmates running the asylum. Of course, the same could be said for the Boston Red Sox and their epic September collapse last year—but at least their pitchers were having fun in the dugout!
In his tenure with the Twins, Gardenhire has had some great players come and go—Torii Hunter, Jim Thome, and Johan Santana, to name just a few. Of course the trades that happen or don't happen are not to be blamed on the manager, as the front office handles those kinds of things. No, it is the players that seem to get more chances than they are worthy of that are the responsibility of the manager.
It is on this issue I wish to continue my article. Baseball is a business, not a family. Of course, you do want camaraderie between players and the coaching staff—but only to a certain extent.
Ron Gardenhire has had a few "golden children," as I call them, in his time with the team. These are his select few that have been given ample opportunity to prove themselves but have failed time and time again; yet there they are in the lineup day in and day out.
One of the greatest examples of this phenomenon is Alexi Casilla. A utility infielder himself, Gardenhire seemed to take a shine to Casilla as soon as the team acquired him. Fans watched as Casilla either couldn't handle fielding his position or couldn't handle major league pitching.
Every new season seemed to have Casilla in the starting lineup with the quote being, "It is his spot to lose." I thought I was going to lose it if we had to hear that again.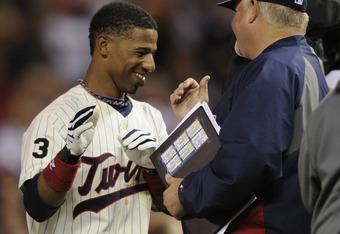 Hannah Foslien/Getty Images
This "golden child" syndrome also applies to Drew Butera, Nick Blackburn and Danny Valencia, when he was with the team.
Not only is it moronic to put the same player on the field every year knowing that he can't stand up to the major leagues and expect different results—it is crazy. 
"Insanity: doing the same thing over and over again and
expecting different results." —Albert Einstein.
Thank you, Albert.
Now, that is not to say that I think Gardenhire is clinically insane—not at all. I simply have a hard time understanding why changes do not happen when they should. I do not have faith in Gardenhire's ability to manage his players in a professional and business-like way. This is to say nothing of the pet names he uses to refer to his players in interviews.
Gardenhire has amassed a record of 892-794 in his 10 years with the Twins, and that is not to be discounted in this discussion. It is true that in his 10 seasons, he has won more games than he's lost. The sticking point in the win/loss debate comes when the Twins reach the playoffs. 
Ron Gardenhire has a postseason record of 6-21 in his time with Minnesota. What is the big deal? To many, including myself, this shows an inability to prepare. It is one thing to win six division championships in one of the historically weakest divisions in MLB, but it is a totally different thing when you have to win when it counts—against winning teams. Gardenhire hasn't shown he can do that. 
The majority of the playoff series that Gardenhire has managed have been resounding defeats: 2002 vs. Anaheim (1-4), 2003 vs. New York (1-3), 2004 vs. New York (1-3), 2006 vs. Oakland (0-3), 2009 vs. New York (0-3) and 2010 vs. New York (0-3). Not a trend to be proud of.
I know that many Gardenhire fans will think my timing is odd, seeing as the Twins have been playing better ball lately. That is great, and I am very happy to see some of the players finding their swing.
However, I believe there is something fundamentally wrong with a team that goes from winning 94 games in 2010 to losing 99 in 2011. Mind you, in 2010 Gardenhire won the Manager of the Year award and promptly followed it up with the disastrous 2011 season.
If one looks, there are many articles out there with fans sounding off either for or against getting rid of Gardenhire. There is no shortage of fans such as myself who think that Gardenhire needs to go. Of course, everyone is entitled to their opinion on the matter, and I strongly encourage debate on the issue.
It is clear that the way the Twins' ship is being captained is no longer working out. The 2010 and 2011 seasons are clear evidence that the "Twins' way"—be it on the field and in the offices—is no longer functioning.
Whether Gardenhire is burnt out or just inept at his job and was just plain lucky in his division winning seasons, it is time to move on. We need a fresh perspective and a new approach from the coaching staff.
Far be it for me to offer up any suggestions, but I firmly believe that the road back to contention starts with a change at manager. Twins fans deserve a shot at being a winning team again. We won't get there with Gardenhire in the driver's seat.