Highlighting the Best Upcoming Battle at New York Jets Training Camp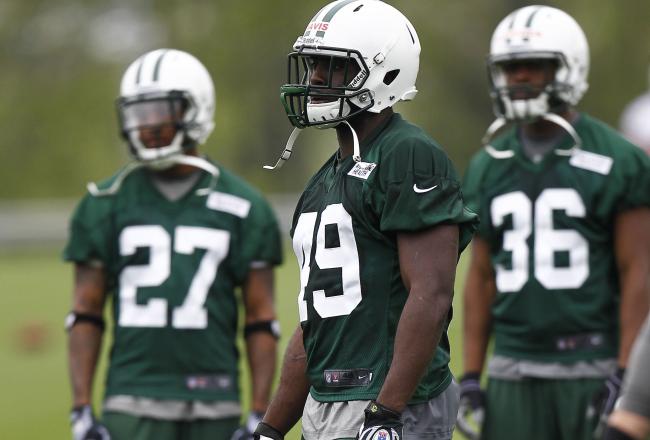 Demario Davis figures to be a key component to the Jets defense moving forward, but who is in the most trouble as a result of his arrival?
Jeff Zelevansky/Getty Images
3-4 or 4-3? That's the big question that surrounds the Jets defense this offseason, and they could be flexible in their fronts, but no matter which front they use more predominantly, the battle for starting spots at linebacker will be watched with great interest.
It's become clear that linebacker Demario Davis will see a fair share of playing time, but what's unclear is where he will see that playing time—or who will lose playing time to Davis as a result.
Former Jets scout Connie Carberg gave her thoughts on Davis' projected fit earlier this week:
I watched Demario Davis at the combine but we all know that can be "fools gold". Arkansas State wasn't on TV here but YouTube had quite a bit of his work, with his excellent sideline to sideline speed and special teams' coverage "hits".

He has a passionate personality, while being morally and ethically solid. This isn't the kid that'll get picked up for DUI the night before a game. He's got leadership potential once he proves it on the field. We obviously needed speed on defense, and he brings it, along with a series of other marketable skills (leadership, special teams).
Rex Ryan has already given him a huge seal of approval by comparing him to Ravens linebacker Ray Lewis. After listening to Davis on Jets fan webcast Flight 5, it's clear that Ryan wasn't making it up, at least on a personal level. In terms of a mental and emotional leader for the defense, Davis could eventually take Scott's place.
To expect a Ray Lewis-type career from Davis is premature, but it's never to early to postulate where he would best fit in an NFL defense.
Connie and I followed up with this one-two punch of tweets:
@ErikFrenz @patspropaganda @conniescouts I agree with Erik on this completely with speed of Davis - WLB

— Connie Carberg (@ConnieScouts) July 2, 2012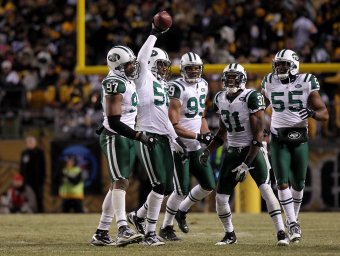 Bryan Thomas has played a big part in the Jets defensive success recently; will he continue to be a big part of the defense?
Nick Laham/Getty Images
If he's truly a weakside linebacker as Connie suggests, he's going to be fighting with Bryan Thomas for playing time. We've heard of Davis' versatility already, and he could be like Thomas in his ability to rush the passer. If Thomas' rehab after an Achilles injury ended his season—and a shoulder injury was later discovered as well—Davis could quickly become a candidate to take some snaps away from him.
Still, it looks like the battle will be between Scott and Davis. They're even the same size (6'2", 235 pounds). While Scott has value in running situations and is at least trying to rebound in 2012 after what many (Rex included) called a disappointing 2011 season, Davis' speed and ability to run sideline to sideline makes him an easy candidate to replace Scott on passing downs.
Where he lines up in 2012 may have an impact going forward; The Jets will be looking for new players to replace both the 31-year-old Scott and the 33-year-old Thomas sooner than later. At least with Davis, they have a building block to put in place for the future regardless of where he lines up, and they can let his work on the field reveal where he will fit best in their defense.
Erik Frenz is the AFC East lead blogger for Bleacher Report. Be sure to follow Erik on Twitter and "like" the AFC East blog on Facebook to keep up with all the updates.

This article is
What is the duplicate article?
Why is this article offensive?
Where is this article plagiarized from?
Why is this article poorly edited?