Boston Celtics: 5 Reasons Why Jason Terry Is a Better Fit Than Ray Allen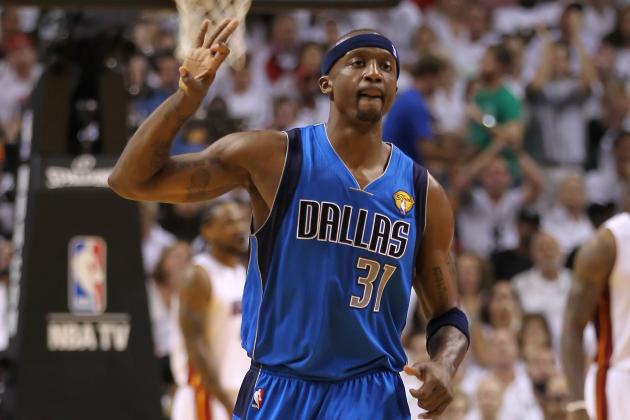 Mike Ehrmann/Getty Images

This offseason was supposed to be one of great uncertainty for the Boston Celtics.
After watching their team make an incredible run to Game 7 of the Eastern Conference Finals against the eventual 2012 NBA Champion Miami Heat, Celtics Nation was faced with the possibility of watching the "Big Three" of Paul Pierce, Kevin Garnett, and Ray Allen be broken up after five years of tremendous success that included two NBA Finals appearances, and a title winning season in 2008.
With both Garnett and Allen scheduled to become free agents, fans were preparing to brace themselves for the potential loss of the two future Hall of Famers that they have become so accustomed to during the Celtics' recent run of success.
Fortunately, Kevin Garnett decided to resign with the Green on a three-year, $34 million contract that pretty much ensures that the "Big Ticket" will finish out his career in Boston. The team also brought in two celebrated college players during last week's NBA Draft in Jared Sullinger and Fab Melo, which, coupled with the resigning of Garnett, helped to alleviate some of the feelings of anxiety many fans felt heading into the offseason.
Then the team made what could become one of the most important moves of the offseason when they agreed to terms with free agent shooting guard Jason Terry earlier this week.
Throughout the last five seasons, Terry has been one of the best bench players in the league and has perfectly executed the role of "sixth man"—a role that is vital to the success of any NBA team, but one that is not often met with the success that Terry has had while completely revolutionizing the role over the past half-decade in Dallas.
Even though Terry is unanimously known as a bench player, this does not mean that he cannot provide a team with contributions equal to that of a starter. Since 2007, Terry has averaged at least 15 points per game in each season and was a key player during the Dallas Mavericks' championship run in 2011. Terry is a player that any team in the league would be more than happy to have, and Celtics fans will soon learn to love the "Jet" with as much candor as any other member of the team in recent memory.
But one question still remains: What's going to happen to Ray Allen?
After speaking with teams such as the Minnesota Timberwolves, Memphis Grizzlies and Los Angeles Clippers this week, Allen is scheduled to meet with the Miami Heat on Thursday. Many believe that the league's all-time leading three-point shooter will decided to trade in his green jersey for the black and red attire of the NBA champions.
If Allen does decide to take his talents to South Beach, it will be a difficult pill to swallow for Celtics fans as they are forced to watch their beloved Jesus Shuttlesworth turn over to the Dark Side.
But I'm here to let my fellow Celtics Nation brethren know that it will all be fine. In fact, the signing of Terry makes the resigning of Allen a complete non-issue, and truthfully, the Celtics find themselves in a much better position with Terry coming off the bench next season as opposed to Ray-Ray.
Here are five reasons why:
Begin Slideshow

»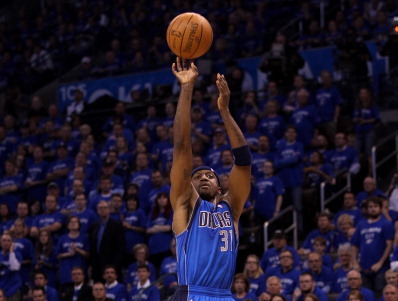 Christian Petersen/Getty Images

Look, there is no denying that Allen is the greatest shooter that the league has ever seen.
Not only does he hold the record for most three-point field goals made in NBA history, but his textbook shooting form is one that any young player should study as they try to improve their game. His sweet stroke is one of absolute beauty, and it is hard to imagine anyone ever surpassing his incredible three-point record.
But when it comes to shooting threes, Terry is certainly no slouch.
To the surprise of many (including this particular sports writer), Terry is actually fourth all-time in three point field goals made with 1,788. His career three-point shooting percentage stands at .380, which is just two percentage points behind Allen's career mark of .400.
So while anyone would be foolish to choose any other player over Ray Allen when needing a clutch three-pointer, one could still do much worse than turning to Jason Terry in the very same situation. Allen will always be the greatest of all time, but the Celtics will do just fine having another all-time top-five shooter to replace him if need be.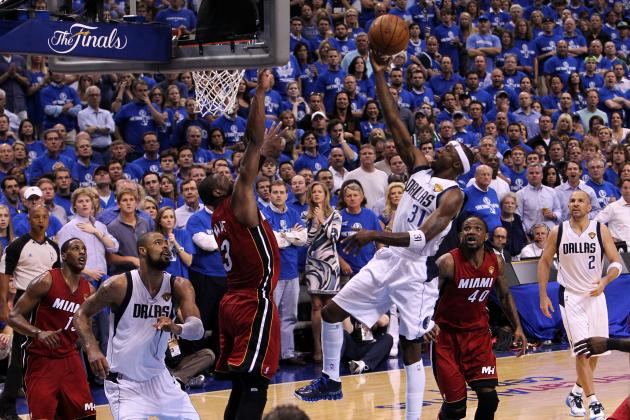 Ronald Martinez/Getty Images

One of the most frustrating and saddening parts of watching Allen over the past few seasons has been seeing the exponential deterioration of the legend's game from an all-around offensive force to a mere three-point specialist.
That is not to say that Allen is completely incapable of making a layup anymore, but unless there is a wide-open lane to the basket, Allen will most likely be found running around the perimeter waiting for an open look. Once a slasher as well as a three-point God, Allen is strictly a shooter now at the ripe age of 36.
Yet Terry, who is only 34, has shown an impressive ability to get to the hoop throughout his entire career, and can provide a much more well-rounded offensive game for the Celtics next season than they could ever hope for from Allen.
Over the past three seasons, Allen has combined to attempt just 578 free throws compared to Terry's total of 593. This does not seem like much of a disparity at all until you consider the fact that Allen has played 182 more minutes than Terry during this same time period.
Since free throw attempts are a good indication of a player's propensity to drive to the basket, these numbers show how much more willing and able Terry is make a play down low as opposed to Allen.
For a team that relies so heavily on jump shooting (sometimes much too heavily), Terry's slashing style will be a welcome addition to a club that sorely needs someone coming off the bench with this type of skill set.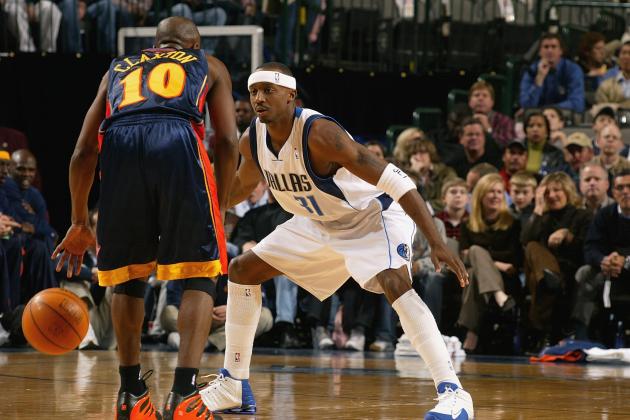 Ronald Martinez/Getty Images

Even though Terry is not considered to be a lock-down defender, he is still capable of keeping up with most of the game's premier wing players.
Terry is currently in ninth place among active players with 1.9 steals per game. While this stat can be a bit misleading at times and should not be the sole statistic used to judge a player's overall defensive ability, it still demonstrates just the type of nuisance that he can be.
To compare, Allen averaged just 1.2 steals per game last season, and there was one three-year stretch of time from 2007-2010 where he was not even able to muster up an average of over one per game. Again, steals are not the only thing that matter on defense, but these numbers simply highlight Allen's poor defensive effort over the past few seasons.
In fact, Allen's defense has now become so lackluster that he often cannot defend even the most average opposing player. For a team that relies so heavily on defense, Allen has been quite detrimental to the Celtics' success at times, and he even lost his starting role to the young Avery Bradley last season because of it.
So while neither one of the two should be considered a defensive stalwart, the Celtics are much better off having Terry (or any fan in the stands on any given night for that matter) provide defense off the bench over Allen.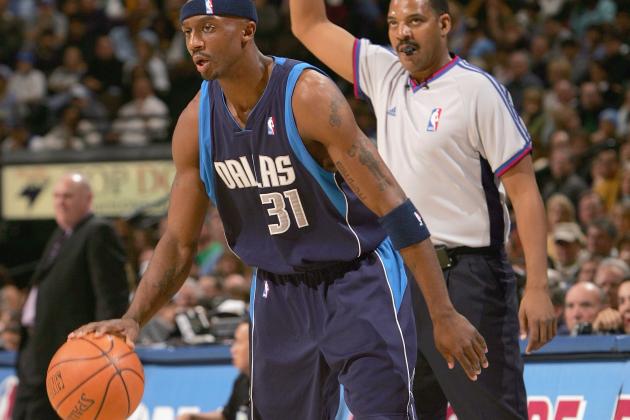 Doug Pensinger/Getty Images

One of the biggest weaknesses for the Celtics in recent years has been that they have had nobody that could come in and run the offense effectively when star point guard Rajon Rondo needs a rest.
To be fair, not many players in the league are capable of running a team quite like Rondo, but the Celtics have still done a poor job of finding someone who could step in and at least provide somewhat of a similar flow.
Here's where Terry can help.
Though he should always be considered as much more of a two-guard, Terry has certainly shown that he can play the point when necessary. He has terrific ball skills to go along with an extremely high basketball IQ, and his veteran experience will help ease some of the pressure off Rondo when he needs assistance in facilitating the offense.
Allen is solely a shooting guard at this point in his career, and could never be relied upon to run the team in Rondo's absence. The team tried using Keyon Dooling in this role last year, but it was met with limited success.
Terry will be able to provide the Celtics with a versatile, intelligent and extremely skilled veteran bench presence that they have severely lacked for quite some time.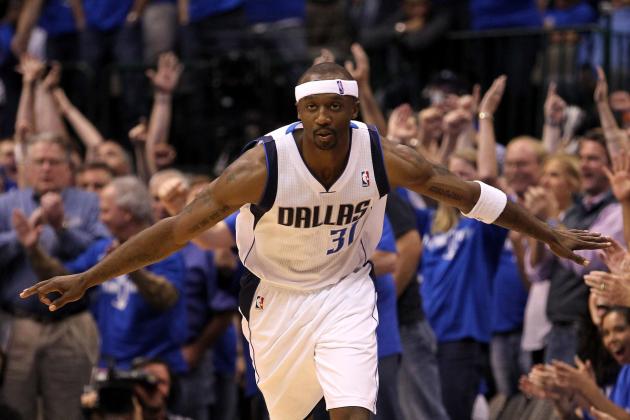 Ronald Martinez/Getty Images

Terry knows his role is to be a backup.
Although he undoubtedly has the skills to be an above-average starter in the league, Terry has reveled in his role as one of the NBA's premier sixth men throughout the past half-decade.
This is great news because the Celtics already have their starting backcourt all set for next season with Bradley at the two and Rondo running the point. So even if Allen were to return next season, he would still be sitting in his warmup suit when the ball tipped-off each night.
The only thing is, Allen is not so content with playing second fiddle.
Even though Allen was the one who volunteered to come off the bench this past April after coming back from an injury, it was only supposed to be for a short period of time. He said he would accept doing so temporarily, but he never expected to completely lose his starting job to second-year player Bradley.
He may have gritted his teeth and showed class by sticking with that role throughout last year's playoff run, but there is no way he is willing to sit behind Bradley once he is healthy again at the start of next season. In Miami, Allen would still be a backup, but it would be to one of the game's superstars in Dwyane Wade, so apparently he will be able to accept that role in South Beach.
Maybe it's simply not a good idea for Allen to come back next season. His displeasure with coming off the bench could lead to locker room issues, and that would not be good for a team that has worked so hard to create such incredible team chemistry over the past few seasons.
It is simply time to let Ray go. It will be sad to see him leave, and he will always be appreciated for his contributions in The Bean, but all good things must come to an end.
"The Jet" has landed, and it is time to usher in a new era of Celtics basketball.