Dallas Mavericks: Day 3 Free Agency, D-Will Staying in Brooklyn: What's Next?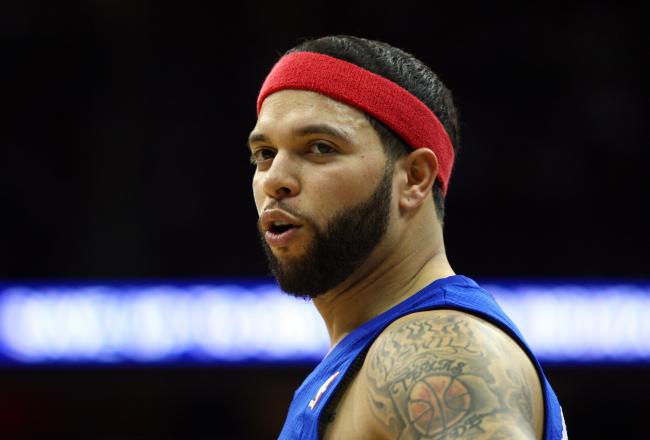 Chris Chambers/Getty Images
And with one emphatic tweet, a dark cloud overtook the city of Dallas.
Made a very tough decision today.... lockerz.com/s/222071318

— Deron Williams (@DeronWilliams) July 3, 2012
No announcement to the major media, no televised decision and no crying of where he wanted to go. Deron Williams made his decision and decided to re-sign with the Brooklyn Nets, instead of signing with his hometown Dallas Mavericks.
According to sources, D-Will agreed to a five-year contract worth approximately $98.75 million to usher in the Nets' new era in Brooklyn with new teammate Joe Johnson. The Mavs, as expected all along, offered—and could only offer—the All-Star point guard and Dallas native a four-year contract worth around $75 million.
When the Nets made the trade for Johnson on Monday, the Mavs seemed to be the proverbial favorites to land Williams because Brooklyn took on the All-Star shooting guard's absurd contract, and shipped off half of their roster to Atlanta.
But the longer the meeting with Brooklyn wore on, the anxiety began to build and the uncertainty was at its highest on where D-Will was heading. It was a huge risk for general manager Billy King to take, and it paid off bigger than ever.
As for the Mavs...Oh, boy.
Did Deron Williams make the right decision?
This is what Mark Cuban and Donnie Nelson wanted;They broke up the championship team from 2011 to provide themselves the chance to grab either Williams or, at the time, Dwight Howard.
Now that they don't have D-Will, it's time to look at Plan B for Dallas, and maybe Plans C, D, E, F. G, etc.
PLAN B: Bringing Back Nash to Dallas
Let's be real, here: This was going to be Plan B no matter what.
And although the Toronto Raptors have made a strong pitch to bring Steve Nash home to Canada, there's no question that Cuban and Nelson will do everything they can to bring the former two-time MVP back to Dallas.
The Dallas Mavericks are expected to turn their attention to Steve Nash. If they swing and miss on Nash, they'll take a look at Jeremy Lin.

— Alex Kennedy (@AlexKennedyNBA) July 3, 2012
In an interview with ESPN's Marc Stein on June 30, the former Dallas Maverick said he will listen to the Mavs' pitch for him if D-Will chose not to go to Dallas. Now that that's a reality, don't be surprised to hear Dallas contact Nash before the night ends, or at the earliest, tomorrow morning.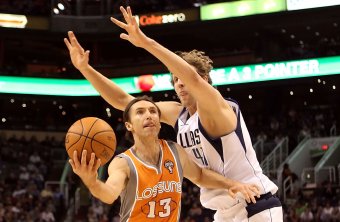 Christian Petersen/Getty Images
Nash was a member of the Mavericks from 1998-2004 and was named an All-Star twice during his tenure in Dallas. As a free agent in '04, Nash started his second stint with the Phoenix Suns, winning his two MVP trophies in the process.
PLAN C: Linsanity Coming Back to Where it All Began?
For this, I would ask that you refer to the tweet that was posted in the Nash brief.
For those who follow the Mavs in-depth, you know that before he etched his name into the realms of New York Knicks history, Jeremy Lin got his first opportunity with Dallas.
Lin was a member of the 2010 Mavs' summer league team and impressed many within the organization and around the league. Although he didn't make the Dallas roster, he did get a chance to play in the NBA with the Golden State Warriors.
But because of Stephen Curry and Monta Ellis hogging all the playing time at both guard positions, Lin never saw the floor until he got to Madison Square Garden, and the rest is history.
Although he hasn't mastered the point guard position to what many would hope, Lin would be a great alternative to Williams in terms of scoring. It's very questionable if he can keep up his outstanding play, but if the Mavs are desperate, no one should be surprised if Lin got a call.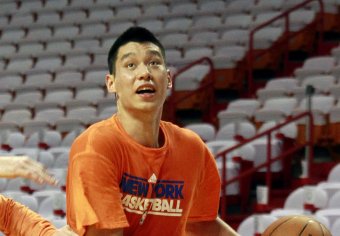 Marc Serota/Getty Images
Lin averaged close to 15 points per game in 35 games for the Knicks this past season, and started 25 of them. He missed the rest of last season, including the playoffs, on March 24 when he suffered a meniscus tear in his right knee.
PLAN D: D is for Dragic—Scoring Combo Guard on Mavs Radar
Keep this in mind: If Dallas wants to attempt all of these plans, they need to do them fast. And if Lin and Nash are gone, who's to say that Goran Dragic won't be claimed, too?
However, according to Adrian Wojnarowski from Yahoo! Sports, Dallas is cautious to offer a large amount to Dragic in the event that other teams have shown high interest in him, including Houston and Phoenix.
But if push comes to shove, Dragic is another scoring point guard that could be a good fit for Dallas. Not only that, but he's looking to be a starter with wherever he decides to go.
Dallas needs a starter, Dragic needs a place to play. See the connection?
But this would only be a backup plan if Nash or Lin decide not to come to Dallas, and it wouldn't be a bad pickup either. Dragic averaged 18 points and eight assists in 28 starts for Houston last year while filling in for the injured Kyle Lowry.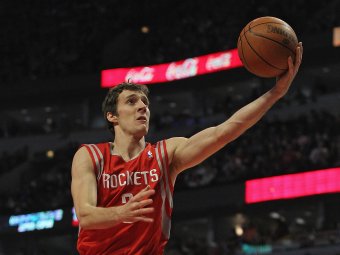 Jonathan Daniel/Getty Images
PLAN E: Everyone They Can Get

A good majority of talented players available this summer are restricted free agents, and it won't be easy to pry them away from their current teams.
JaVale McGee is one of the more notable names—and one that has been very quiet in free agency—on this list, and Dallas could use more athleticism and shot blocking in the worst way.
According to Wojnarowski, the Denver Nuggets met with McGee on Monday to discuss a possible extension, but nothing has been reported on since. Surprisingly, no other teams have made an inquiry about acquiring the athletic big man, according to sources.
You can cross Eric Gordon off this list, as he has agreed to sign a max offer with the Phoenix Suns, but as expected, the New Orleans Hornets will more than likely match that offer.
Brandon Rush is another guy that the Mavs should consider looking towards getting. Rush averaged close to 10 points a game this past season and shot 45 percent from behind the three-point line.
Courtney Lee is also a new name that's popped up, as he was declared an unrestricted free agent on Tuesday, and Brandon Roy is still a big-time candidate to come to Dallas and replace Jason Terry.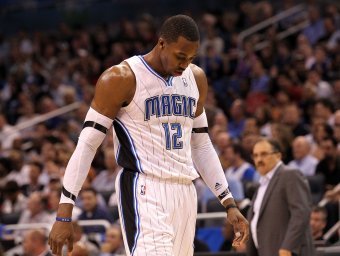 Sam Greenwood/Getty Images
Basically, anyone of value that could help would be nice at this point.
PLAN F: Find a Way To Get Dwight
Of all the plans, this one would make everyone forget about not grabbing Deron Williams.
Now before everyone goes crazy, this isn't a high possibility. But according to Dwain Price of the Fort Worth Star-Telegram, a source in the Mavs' camp feels that they have a fighter's chance of grabbing Dwight Howard.
It sounds great in hindsight, but Dallas wouldn't be able to offer anything better that Brooklyn would be able to send Orlando's way, so the idea seems so far out there, that it's almost to impossible.
But if, indeed, Orlando is interested in a numerous amount of expiring contracts and a couple of young players in Roddy Beaubois and Dominique Jones, then who knows?
Again, anything at this point would be positive. And with the possible cap space that would go Dallas' way, who's to say they couldn't make a run at grabbing Chris Paul or Josh Smith next summer?
Just a thought.
It's been a tough day, Mavs fans. Hopefully, it can continue to get better from here. But if today was an indication of anything, it's very simple:
It's finally time to look towards a new future with the Dallas Mavericks.
Need any more updates regarding free agency for Dallas? Make sure to check my page to get caught up on everything Dallas free-agency related.
This article is
What is the duplicate article?
Why is this article offensive?
Where is this article plagiarized from?
Why is this article poorly edited?

Dallas Mavericks: Like this team?