London 2012: Greg Monroe Should Be Added to USA Basketball Select Team Roster
July 3, 2012

Kevin C. Cox/Getty Images
With each day that the Team USA basketball training camp draws nearer, it seems as if another NBA star is opting against playing for this year's Olympic team.
While some have chosen not to play due to injury, such as Dwyane Wade, others, such as Lamar Odom, have recently announced that they will use the summer to train for the next NBA season instead.
With prior injuries to stars such as Dwight Howard and Derrick Rose and the recent withdrawal of Chris Bosh and uncertainty surrounding rookie Anthony Davis, this year's USA Olympic basketball squad has taken a bit of a hit as of late.
Of course, the team will still feature players such as LeBron James, Kobe Bryant and Kevin Durant, so anything less than a gold medal should not be an option.
However, a lack of height in the frontcourt could be an area of concern as the team's training camp begins.
Which is why Detroit Pistons' center Greg Monroe should be added to the select team roster.
With Davis' status for the Olympics uncertain following a recent injury, Team USA currently only has three players over 6'10".  Besides the 7'1" Tyson Chandler, the team does not have any players who are true centers.
Monroe, meanwhile, would receive a great deal of experience by training against the Team USA finalists and would eventually make a great addition to the team's frontcourt.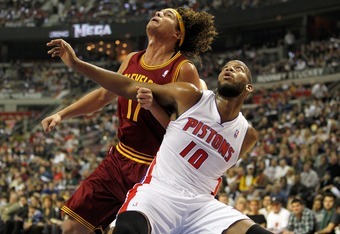 Gregory Shamus/Getty Images
At 6'11", Monroe is coming off his second season in the NBA, in which he raised his averages in nearly every statistical category.
During his rookie season, Monroe averaged 9.4 points and 7.5 rebounds per game and shot 62.2 percent from the free throw line.  In his second season, however, the Pistons' center raised his averages to 15.4 points and 9.6 rebounds per game and shot 73.9 percent from the line.
Unfortunately, even if Monroe is a late addition to the select team, he may not have a chance at making the Olympic squad.
As AP basketball writer Brian Mahoney of Yahoo! Sports recently wrote, USA Basketball chairman Jerry Colangelo and Team USA were already given permission once to add players to their roster after the initial deadline for adding players for the drug testing pool had passed.
If Monroe were added to the select team, Team USA would still need permission from the U.S. Olympic Committee to add him, or any select team member, to the national team.
However, with Chandler, Blake Griffin and Kevin Love as the only healthy finalists who are also 6'10" or taller, Monroe's presence could give the team depth going forward.
In 66 starts last season, Monroe recorded 30 double-doubles and had 18 games of 20 points or more.
Although his defense is still a work in progress, Monroe could earn his way onto the next Olympic squad, if not this year's team heading to London.
And with a potential matchup against Pau and Marc Gasol and Serge Ibaka of Spain, Team USA could use all the height it can get.
The 22-year-old Monroe is on his way to becoming one of the league's best centers and should join the other young centers currently on the select team in gaining valuable experience going forward.
Monroe's value currently and in the future is not something Team USA should pass on, especially given the improvements he has already made from his rookie season in the league.