USA Basketball: Golden State Warriors' Klay Thompson Takes Big Step
July 3, 2012

Ezra Shaw/Getty Images
Klay Thompson is headed to Vegas this week. But he's not visiting Sin City to gamble. Quite the opposite, actually. Instead, the second-year man for the Golden State Warriors is investing in his future.
You see, Thompson is one of just a handful of young players invited to join the 2012 USA Select team this summer. From July 6-12, Thompson will train with and against the 2012 USA Basketball Men's National team.
So while many of the rest of Thompson's young Warrior teammates are gearing up to play against a bunch of rookies and undrafted free agents in the regular Vegas summer league, he'll be knocking heads with Kobe Bryant and Kevin Durant.
For Thompson, who emerged late last season as a deadly perimeter threat, it will be an opportunity to hone the rest of his game against the world's greatest players. He'd be wise to take full advantage of the opportunity he's got, because it's a rare one.
If Thompson showcases his outside marksmanship and studies up on his opponents' more complete arsenals this week, he could find himself representing the USA with the big squad at the 2016 Olympic Games.
While Olympic dreams are a long way down the road, this is the first important step for Thompson. And judging by the way he played as a rookie, he's ready to take it.
Last season, Thompson led all rookies in three-point percentage and three-pointers made. He finished fourth among rookies in scoring, and made 86 percent of his foul shots. And his season line of 12.5 points, 2.4 rebounds and 2.0 assists is misleading because he accumulated those numbers as a part-time contributor for most of the year.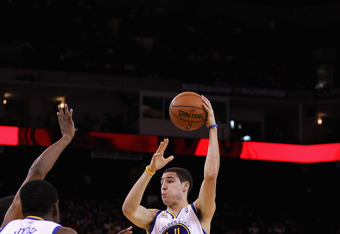 Ezra Shaw/Getty Images
Taking only his games as a starter, Thompson averaged an impressive 18.6 points, 3.3 rebounds and three assists in the final 28 games of the 2011-2012 season.
Statistics aside, Thompson showed a number of subtler skills last season. He proved he could move adeptly without the ball to free himself up for open shots. He also displayed the ability to make smart passes and improved his help defense as the year progressed.
Perhaps most telling, Thompson showed that he was not afraid of the league's toughest opponents. In one five-day span last April, Thompson lit up three marquee playoff teams. He dropped 24 against the Dallas Mavericks on April 12 and followed it up with 24 more against the Clippers on April 14. Capping off the week, Thompson piled up 29 against the San Antonio Spurs on April 18.
Did I mention he ran up those totals on 52 percent shooting? Not bad for a rookie.
Thompson's fearlessness and ability to rise to the occasion will both serve him well in what is sure to be some cutthroat competition against Team USA.
Another factor that favors Thompson as he squares off against the Olympic squad is that his game is uniquely suited to the international style of play. He moves brilliantly, without the ball, and is adept at using screens. His shooting is a huge asset against the more prevalent zone defenses in international competition, and he's a very heady player.
All that together could mean Thompson ends up playing for a gold medal one day.
Thompson shouldn't start counting his chips just yet, but this trip to Vegas could prove to be a winning one for the young Warriors sharpshooter.