Los Angeles Lakers: Can They Find Next Year's Jeremy Lin?
July 3, 2012

Chris Chambers/Getty Images
It really would be inaccurate for the New York Knicks to say they knew how good Jeremy Lin was when they claimed him off of waivers at the beginning of last season.  But, now that we all know what a transformative player Lin is, the Lakers have to hope their search for a new point guard will lead them down a similar path.
Finding this year's "Jeremy Lin" really means uncovering a player who can energize a stagnant offense and create new excitement in a city that thrives on entertainment.  That player doesn't necessarily have to be a point guard, though filling that position remains the Lakers' most pressing need.
So, is there a diamond out there that the Lakers can somehow uncover and polish into the next great thing?  There probably is, but the chances of finding him are never high.  So many pieces must fall into place and much of it is out of their control.
Former Knicks head coach Mike D'Antoni told the New York Post in February that Lin's emergence had as much to do with timing and luck as anything.  His comments are telling and mean the Lakers will not have an easy time in trying to find their own version of Lin.
We didn't get him until ( Dec. 27). He had one practice.  We had to see if (Iman Shumpert) was a point guard, if Mike Bibby could do it, if Toney (Douglas) could do it. 

We liked Jeremy, but him standing on the sidelines doesn't give you a lot of insight to whether he can play or not play. If we had summer league or whatever, it might have helped.  Even with that, you never know what a guy can do in crunch time until he gets out there.

He got his opportunity, which came fairly quickly, and he got lucky because we were playing so bad.  I think it's a normal process.  It's like other teams—why did they pass on him?  Because they just don't know.  We had an idea and we liked him and it worked out. You have to have luck in this league and we got a bunch of luck.  It worked out for us, and the end result of it is we're lucky.
Ok, so the Lakers need a lot of luck to find a Lin.  They almost had Chris Paul in purple and gold but guys like him don't count.  The entire world already knew about the NBA's preeminent point guard—and had Commissioner David Stern not vetoed the deal at the 11th hour, the Lakers would not be in the hunt for the next Jeremy Lin.
Lin is a restricted free agent this summer which means he can sign with another team but that the Knicks have the right to match any offer and keep him.  That's pretty heady stuff for a 23-year-old who never got an athletic scholarship (he played at Harvard but would have preferred UCLA), went undrafted and unloved by both Dallas and Golden State before New York decided to give him a look in late December.
Even then, it didn't happen right away.  Linsanity commenced on January 28 and consisted of 35 games, and breakthrough numbers of 14.6 points, 6.2 assists in 26.9 minutes as the Knicks' new man of the moment.  Laker fans remember the night in February when Lin outscored Kobe Bryant, 38-34, and the Knicks knocked off L.A., 92-85.
So, just who might be a "Jeremy Lin" for the Lakers in 2012-13? 
Perhaps Jonny Flynn, the former Syracuse guard who has bounced around in three years but was a No. 1 pick of the Minnesota Timberwolves in 2009 and has averaged 9.2 points and 3.9 assists in 22.9 minutes per game.  He had hip surgery and did not get much playing time with Portland, his last team, but looked good when he did, scoring 18 points with 11 assists in the team's final game of the year.
The potential is there for Flynn and he's expressed interest in coming to the Lakers.  He started all 81 games for the Wolves his rookie season, averaging 13.5 points and 4.4 assists.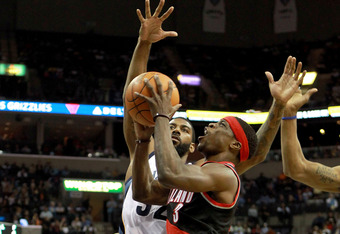 Andy Lyons/Getty Images
Ironically, Flynn's backup at Minnesota was Ramon Sessions who, by the way, may also be the next Jeremy Lin for L.A. if he re-signs with the team.  Sessions has shown enough flash to be considered and may just need a full season to really blossom.
Players like Jeremy Lin don't often come around.  And who is to say that Lin will continue to flourish in the NBA? Admittedly, his upside potential does seem limitless at this point.
Players often take several years to develop—look at Rajon Rondo and Steve Nash.  Both are now All-Stars and considered among the very best in the game.  Nash took four years to find his true game while Rondo blossomed in his third year with the Celtics.
For all we know, the Lakers could have a future superstar in their midst—second-year guard Darius Morris.  The 6'4", 190-pound second-year guard from Michigan played just 8.9 minutes per game in his first year and has not had the opportunity to show what he can do.
Morris averaged 15 points on 49 percent shooting and seven assists per game his senior year at Ann Arbor.  The Lakers extended him a qualifying offer, so the thought is he'll be back in the fold next season.
As Brian Kamenetzky of ESPN Los Angeles.com wrote:
Morris is long and young, and has genuine point guard skills and makeup. While he didn't light the world on fire in his limited playing time last season—did you expect he would?—at 21 years old there is real potential for Morris to grow into a solid NBA player. Certainly the Lakers don't have easy access to many other players like him.
You just never can be certain where the next surprise in the NBA will come from.  At this juncture, the Lakers owe it to themselves to leave no stone unturned.