Jeremy Lin: Breaking Down Why NY Knicks Won't Let Star PG Sign Elsewhere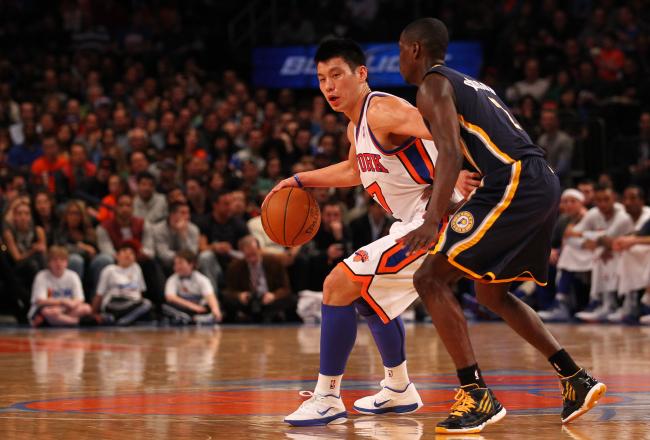 Al Bello/Getty Images
The New York Knicks have won the case over Jeremy Lin's Bird Rights, which basically means they can re-sign him without having to worry about going over the salary cap, but that hasn't kept teams from threatening to offer him money.
The Toronto Raptors are looking to swallow quite a pill should they miss out on Steve Nash, as they've been talking about back-loading a contract to the tune of a four-year, $40 million deal with the first two seasons paying out $5 million each and the final two paying out $15 million each. If New York were to match that deal they would end up with four players, Lin, Carmelo Anthony, Amar'e Stoudemire and Tyson Chandler making over $14 million in 2015. Yikes.
However, I'm here to tell you that not only would the Knicks be dumb to let Jeremy Lin go, it would be fiscally irresponsible.
Box Office Draw
Let's take a look at ticket prices for the Knicks first. Jeremy Lin's first start of the season came on February 6th, he had three good games against the Nets, Jazz and Wizards up to that point, but Linsanity hadn't hit its stride yet.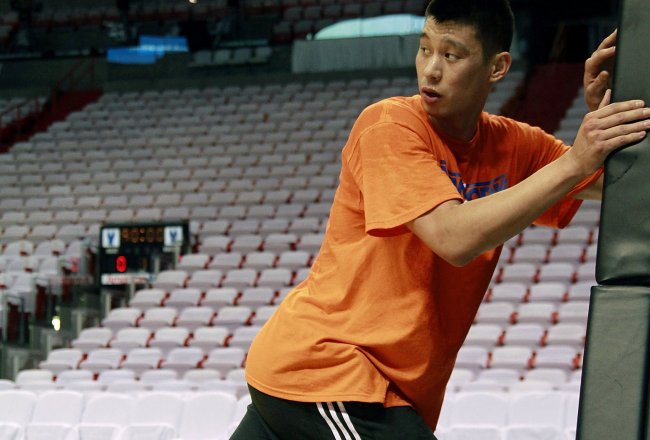 Marc Serota/Getty Images
On February 9th you could buy a ticket for the upcoming game against the Sacramento Kings and on February 15th for an average price of around $90. The next day Lin dropped 38 points on the Lakers and the average ticket price for that same game rose to around $140.
Four days later he hit a buzzer-beater against the Raptors. That one shot falling caused the average ticket price for a February game against the bottom-feeding Sacramento Kings to go from around $200 to $317. With that, Linsanity was in full form.
There's no telling that that trend will continue because it's impossible to tell whether or not Jeremy Lin will be able to continue such greatness. However, for a while at least the ticket prices in New York will be sky high.
Television Ratings
It may not be entirely true, but when bards sing about the legend of Jeremy Lin in the streets, they'll sing about how he single-handedly ended Time Warner not carrying the MSG Network.
Since December, Time Warner had dropped MSG Network after the two failed to reach a deal. Finally, on February 12th, nearly a week after Lin had entered the starting lineup pressure from fans got to the cable company and they caved. What followed were the highest ratings in MSG Network history.
Aside from that, a Knicks-Mavericks duel on ESPN yielded a rating that was the third-highest rated game of any non-Christmas Day game since 2002.
One final ratings boon he contributed to is probably the most impressive. Throughout my life I can't ever remember watching the Rookie-Sophomore Challenge on All-Star Weekend. I watched it this year for two reasons: Kyrie Irving and Jeremy Lin.
What happened to the ratings of the Rookie-Sophomore Challenge with Lin involved? It was just the highest rated Rookie-Sophomore Challenge ever, drawing 2.2 million viewers, 600,000 more than the 2011 Rookie-Sophomore Challenge.
Going Further
Is $40 million over four years too much to spend on Jeremy Lin
We've talked about the biggest moneymakers for the Knicks already, but it goes so much further than that.
Jeremy Lin had the second-most sold jersey of the season, losing out only to Derrick Rose in the jersey sales race.
Madison Square Garden's stock price has seen an increase since the emergence of Lin as well. Going from just under $29 a share at the end of January to just about $32 a share at the end of February.
These kids today are big into that internet stuff, and apparently Jeremy Lin's got a bit of popularity on there.
Web traffic for KnicksNow.com increased 550 percent during the week of February 5th marking the beginning of Lin's emergence, the team gained 125,000 Facebook "likes" and 12,000 Twitter followers, the team's iPhone app became one of the top five most downloaded sports app and the fan site Jeremylin.net saw traffic increase 15-fold in the first 10 days of Linsanity.
The people love Jeremy Lin, letting him walk away from one of the most visible franchises in sports would be a huge folly by the Knicks. However, if the Knicks don't win, it's all for naught.
This article is
What is the duplicate article?
Why is this article offensive?
Where is this article plagiarized from?
Why is this article poorly edited?

New York Knicks: Like this team?