Dwight Howard Trade Rumors: Why D12 Won't Get What He Wants from Rob Hennigan
Sam Greenwood/Getty Images
Dwight Howard can do whatever he wants—kick and scream, flail and flaunt, demand and threaten, or even smile and nod—but at the end of the day, his fate for the upcoming season is out of his hands.
Instead, it'll be up to Rob Hennigan, the 30-year-old general manager the Orlando Magic hired to replace Otis Smith, to determine where Dwight will play. Hennigan's decision, it would seem, will be based not on Howard's preference (i.e. the Brooklyn Nets), but rather on which interested team can offer the most attractive package of players and draft picks in return for the six-time All-Star.
Whatever leverage Howard once had to dictate the terms of his immediate future he relinquished back in March, when he opted into the final year of his contract. The circumstances surrounding that seemingly sudden change of heart remain somewhat murky, though Howard claims that the Magic didn't "blackmail" him into it, per Adrian Wojnarowski of Yahoo! Sports:
"I never used the word blackmail in reference to any of my dealings with the Magic," Howard said. "I never said that. It's defamatory and it's inaccurate. I know what blackmail means and any report that I used the term incorrectly is inaccurate."
And yet, according to ESPN's Chris Broussard, Dwight might have the Players' Association take legal action against the Magic on his behalf so that he can pursue free agency this summer:
Situation btwn Dwight Howard & Magic getting ugly. Howard feels Magic made him promises they didn't keep to get him to sign opt-in.(con't)

— Chris Broussard (@Chris_Broussard) July 1, 2012
Sources tell @RicBucher Players Assn is considering taking legal action against the Magic on Dwight's behalf. (con't)

— Chris Broussard (@Chris_Broussard) July 1, 2012
Goal would be to eliminate Dwight's opt-in and make him a free agent this summer.

— Chris Broussard (@Chris_Broussard) July 1, 2012
A move that, clearly, would weaken Hennigan's position on the trade market. In the meantime, Hennigan's footing as the negotiator of Howard's next destination is surprisingly strong, despite Dwight's best attempts to undermine it. He's gone so far as to claim (to Yahoo! Sports) that there's only one team (presumably the Nets) with which he'd be willing to sign a long-term extension upon arrival.
Photo Credit: Associated Press
Yet, that tactic hasn't exactly scared off other potential suitors. Broussard reports that the Golden State Warriors are still keen to acquire Howard if possible, even though they've already been rejected by both player and trading partner before. Sam Amick of SI.com adds that the Atlanta Hawks, Howard's hometown team, and the Los Angeles Lakers are both in the picture, as well.
Any of these three teams could likely offer Hennigan a more attractive package for his franchise cornerstone than would the Nets. The Lakers, in particular, could swap out Andrew Bynum, a 24-year-old All-Star center, in exchange for Howard. The Hawks, for their part, would likely offer wantaway near-All-Star Josh Smith as the centerpiece, while the Warriors might ship some of their young talent (i.e. Steph Curry, Harrison Barnes) off to Orlando.
Even the Rockets—who were busy prowling for picks to package for Howard ahead of the 2012 NBA Draft—could submit a solid, if unspectacular, package. They'd be able to deal away, say, Kyle Lowry, Luis Scola, Kevin Martin's expiring contract and (among other things) a couple of their first-round selections from the draft, for Howard and one or two of Orlando's problematic contracts.
Where will Dwight Howard be when the season begins?
As it happens, the Nets may well be in the weakest position of any Howard hopeful to satisfy the Magic's demands. Brooklyn GM Billy King can try to entice Hennigan with picks, the expiring deals of middling players, a signed-and-traded Brook Lopez and the cap space to take on some of Orlando's toxic assets.
But such a package isn't likely to keep the Magic competitive in the Eastern Conference, which could be a significant sticking point. Team owner Rich DeVos hasn't seemed all that keen to wait on another rebuilding project in Orlando, not at his age (86) and certainly not after seeing the Magic tank after the Shaquille O'Neal and Tracy McGrady eras went bunk.
More importantly for Hennigan, the Rockets and Nets might not be long for the Superman sweepstakes anyway. As Ken Berger of CBSSports.com points out, Houston appears prepared to move on after dishing out a three-year, $25.1 million offer sheet to Chicago Bulls restricted free agent Omer Asik, while Brooklyn might soon be fresh out of cap space and assets if/when they re-sign Deron Williams and Brook Lopez and lift Joe Johnson from Atlanta (on top of inking Gerald Wallace for four years and $40 million).
All of which leaves Hennigan in an ever-more-precarious position. On the one hand, it would behoove Hennigan to do his due diligence and exercise patience in pursuit of the best possible deal rather than pull the trigger on one that would make Howard happy. After all, his job is to get the most bang for his team's buck, not make sure said buck gets his wish.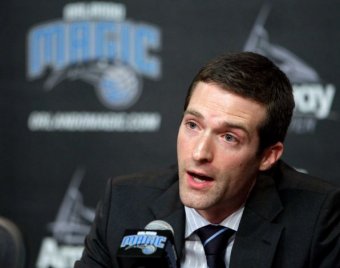 Photo Credit: John Raoux/AP
On the other hand, Hennigan can't wait around from here to eternity to move Dwight, lest he risk losing leverage as the pool of trade partners dwindles. Should Hennigan linger too long, he'd also risk putting himself, his organization and his fans through much the same, all-too-public ordeal that the Magic have endured with Howard since last December.
Furthermore, there are the not-so-small matters of Hennigan's glaring lack of experience for his position and Howard's own health to sort out. That is, will a GM so wet behind the ears be able to balance Howard's bad back and the conditions of an ever-changing market to make sure his team doesn't get the raw end of any deal?
Only time will tell, though whatever the end result may be, for better or worse, it'll be Hennigan's call, not Howard's.
This article is
What is the duplicate article?
Why is this article offensive?
Where is this article plagiarized from?
Why is this article poorly edited?