2012 NHL Free Agents: Can the Minnesota Wild Land Zach Parise and Ryan Suter?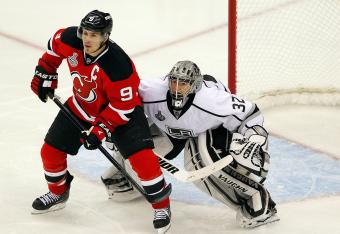 Paul Bereswill/Getty Images
According to their official Twitter account, the Minnesota Wild have submitted contract offers to free agents Zach Parise (New Jersey Devils) and Ryan Suter (Nashville Predators).
Both players would be assets to a team trying to muster attention after four years of futility.
Paired with center Mikko Koivu, Parise should put up big numbers on the first line, and he should allow struggling winger Dany Heatley to move to the second line. Suter would bring a strong defensive presence to a young blue line on a team that has, since its inception, been defense-oriented.
This is a pipe dream, though.
These are two of the league's best free agents, and the Wild are not a premier team in the league. Save for a Cinderella playoff run in 2003 and a division championship in 2008, the team has largely struggled since entering the league in 2000, although they've done significantly better than their expansion brethren, the Columbus Blue Jackets.
Parise and Suter will be courted by the league's strongest teams right now: the Detroit Red Wings, Pittsburgh Penguins, Philadelphia Flyers, Los Angeles Kings, etc. They will be offered millions of dollars, courted in beautiful cities and will have the ability to play alongside some of the league's best players.
So, why come to Minnesota?
Location is key.
Parise is one of ours. He's a Minnesotan.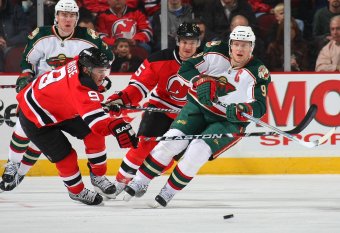 Bruce Bennett/Getty Images
Parise was raised in Minneapolis, his father JP played for the North Stars and he went to Shattuck-Saint Mary's School. He went to the University of North Dakota, but we can forgive him for that—it's Twins territory, anyway.
As for Suter, well, he's from…
Ah…dare I say it?
Wisconsin.
Yes, they are Packer fans over there. Yes, they like Badgers. And yes, that's the place where Patrick Kane got really, really drunk. But, like all 'Sconnies, they can be forgiven.
What we can offer Suter is a hockey team to call his own. It's as close to a hometown hockey team as he's going to get, unless he want to re-sign with the Preds and play for their minor league affiliate in Milwaukee (which, to be honest, would be kinda funny).
Signing with Minnesota goes beyond location. There is a strong, young core here,—Jared Spurgeon, Cal Clutterbuck, Matt Kassian and Devin Setoguchi are all under 26 years old—and the team has up-and-coming players in Mikael Granlund, Zack Phillips, Charlie Coyle and Jonas Brodin who should make an impact in years to come.
Then again, the Kings have a young core that have proven they can win and a big city to sell them. The Flyers and Penguins also are set to win now. The Wings have history on their side. And, of course, there will be other teams—say, the San Jose Sharks or Toronto Maple Leafs—that may come out of nowhere and do something dramatic to woo these two superstars.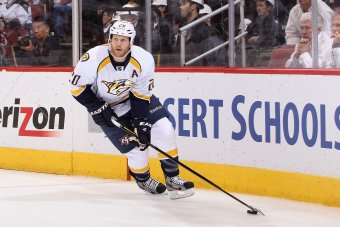 Christian Petersen/Getty Images
In short, other teams can offer Parise and Suter a lot of money. Other teams have strong players who can give them a good chance to win, and other teams are capable of winning sooner and more frequently.
In order for the Wild to woo Parise and Suter, they have to sell them on something very close to the heart.
Home.
Tom Schreier writes a weekly column for TheFanManifesto.com.
Follow him on Twitter.
This article is
What is the duplicate article?
Why is this article offensive?
Where is this article plagiarized from?
Why is this article poorly edited?

Minnesota Wild: Like this team?