Dallas Mavericks: Rumors After the First Hour of 2012 Free Agency
July 1, 2012
Brett Deering/Getty Images
We're already one hour in to one of the more exciting times of the NBA season, and free agency has already gone full speed with reports of rumors and meetings.
While the Dallas Mavericks wait for Deron Williams to decide where he wants to play this season, the Mavs seem to be working on ways to not only add depth on the wings, but also look for ways to clear more cap space in an attempt to get Williams and a few more players.
So now that the first hour of free agency is in the books, let's take a look at what's being heard in terms of Dallas' free agency.
As of Now, Vinsanity Is Coming Back for Another Year
The Mavs exercised the first of a two-year team option to bring back veteran shooting guard Vince Carter for another season.
Carter's first year in Dallas was one filled with many ups and downs—more downs than anything—as the 35-year-old former All-Star superstar averaged 10 points and three rebounds per game in his first season in Dallas.
VC had a good season shooting behind the three-point line at almost 37 percent, but had a tough time making shots on a consistent basis, shooting only 41 percent from the field overall.
Interest Between Mavs and Brandon Roy Is Mutual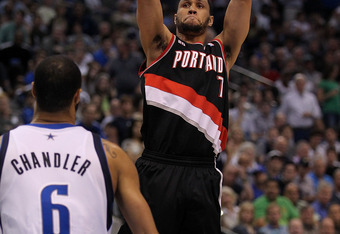 Ronald Martinez/Getty Images
After sitting out this past season due to retiring from knee complications, former All-Star guard Brandon Roy wants to make a comeback, and has narrowed his list of teams to five. Dallas is one of those teams.
Along with the Mavs, Roy has Chicago, Golden State, Indiana and Minnesota on teams that he would prefer to go to.
According to sources, the T'Wolves met with Roy on Friday and are in hot pursuit to bring him along to pair him with Derrick Williams, Ricky Rubio and Kevin Love. But free-agent guard Jamal Crawford said that Roy was meeting with Dallas either rather soon, or at the current time.
 

Jamal Crawford said at his charity game in Spokane tonight that Brandon Roy is a no-show b/c he's meeting with Dallas, one of 4 finalists.

— Jerry Zgoda(@JerryZgoda) July 1, 2012

 

 
Eric Gordon Wants a Max Contract
Barring if the situation between the Mavs and D-Will doesn't pan out, Eric Gordon is always a viable No. 2 option, and as expected, it will not come cheap.
ESPN's Chris Broussard reported that Gordon wants a four-year contract worth $58 million, and has meetings lined up with numerous teams.
 

 

Eric Gordon will visit Indiana Sunday, Houston Monday & Phoenix Tuesday. He will also meet with Portland & perhaps Charlotte & Dallas.

— Chris Broussard (@Chris_Broussard) July 1, 2012

 
It's not certain that the sharp-shooter will meet with Dallas, especially with the suitors that are lined up before him. Gordon played his college ball at Indiana and a return home to play with the Pacers would seem ideal. Houston seems like a stretch after drafting Jeremy Lamb and Phoenix is in desperate need of a scorer.
Gordon averaged over 20 points a game this past season, but only played a total of nine games.
Reports: Mavs are Interested in Michael Beasley
CBS Sports' Ken Berger is reporting that there is interest in the Mavs bringing in former No. 2 overall pick Michael Beasley to add depth on the wings.
Mavs may have interested in unrestricted free agent Michael Beasley, league source says.

— Ken Berger (@KBergCBS) July 1, 2012
Beasley played his last two seasons in Minnesota after being drafted by Miami in 2008, and averaged a career high 19.2 points in 2010 for the Wolves. His production declined this year due to Minnesota's drafting of Derrick Williams with the second pick of last year's draft.
Mavs May Make Cap Room by Moving Marion and/or Carter
Even though Vince Carter's option was just exercised, his time in Dallas may be done if the opportunity presents itself.
And the same would go for Shawn Marion.
Ken Berger also reported that Dallas could be looking to move Marion and/or Carter to create more cap space in an attempt to not only grab Williams, but maybe one more free agent.
 

Mavs believe they can move Shawn Marion and/or Vince Carter to create cap room, but are waiting it out for now, league source says.

— Ken Berger (@KBergCBS) July 1, 2012
While Brendan Haywood is projected to be the main candidate of the amnesty clause, Marion is actually making more money coming into this season at almost $8.65 million. Carter's option would only amount to $3.12 million
Things are already getting interesting, and although there may not be any announcements of signings in the early hours, mid-Sunday should provide some interesting news.